If you are looking to know how to develop a live streaming app? then you landed the right blog. Here we have shared a detailed guide that explains everything about the live streaming mobile app development process with cost and key features, required techstack, etc.
Did you check the video by KSI last night?
You saw how Vick showed his home around?
Well, with live streaming being popular these days, people over the internet are now more obsessed with the content that is being broadcast or going live. They want to enjoy the live streaming of games and other things. The only problem is there are not many applications that are dedicated to live streaming, so entering the market with a live streaming solution can easily help you be in a win-win situation and earn great revenue.
Twitch, the application, and the company is now an Amazon product and has seen its value increase every day.
If you are looking forward to entering the market with a solution that is similar to Twitch, all you need to do is just read till the end!
The Market Stats That Define the Popularity of Twitch
For some inspiration to affirm that you have no second thoughts about your Here in this blog, we will discuss how to build a live streaming app like Twitch, including the business model, features, and cost of Twitch app clone development, we have some amazing numbers to reflect the profits that you may make.
The application has been in business for a while now, yet the number of unique viewers is around 140 million.
The application engages 2.2 million game broadcasters.
The number of daily active users of Twitch on average is 15 million.
The highest viewership for the video of the application is as high as 6.5 million views.
On a daily basis, almost 71 million hours of content is consumed on the application.
The application has around 9.2 million active streamers who engage with the application.
Ever since 2017, the partner program of the application has constantly seen an upward graph with an average growth of 68%.
On average an active user on Twitch spends almost 95 minutes on the platform daily.
Surely, these numbers can help you be very sure that if you enter the market with a solution that is technologically stronger and easier to use you can ace the game. Now the next in the line is understanding how the application basically works.
Understanding the Working and Functioning of Twitch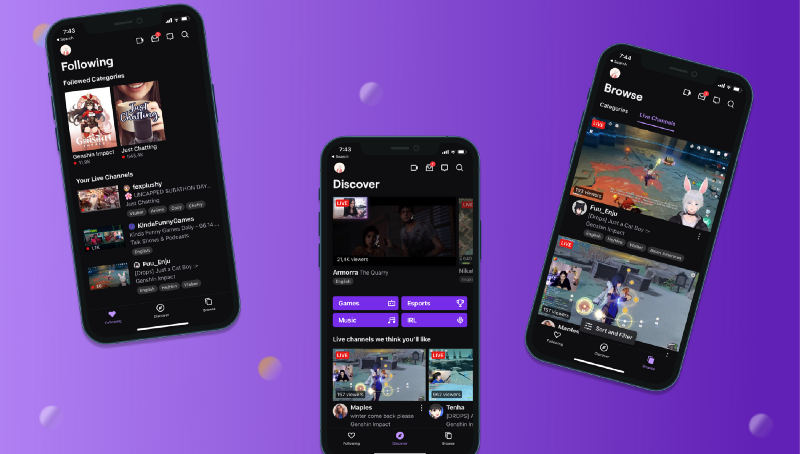 When one logs in to the Twitch application, one can see ample categories for the content and the games that are being streamed at a particular moment.
The homepage of the application hosts the most popular and latest games. One can easily choose the content they would like to see and enjoy. All one needs to do is click the live streaming of the video that they want to see.

The application lets you broadcast your video or go live as and when you want.
With a split-screen display option, one can check what the streamers see on their end.
From the edge of the live streaming solution screen, one can easily enjoy the solutions.
The video that goes live contains links where the users can buy the games or the elements from the game that help them earn well.
The revenue from the sold products would be divided between you and the streamer on the percentage basis that you decide.
When the user is enjoying a video stream, they can always connect with other users and streamers with an inbuilt chat option. One can easily ask questions, provide feedback, and receive responses that help you build a community that is growth-oriented.
One can easily save the live streams if they are occupied and later they can enjoy the game at a convenient time.
Read Also: How To Develop an On-Demand Video Streaming Mobile App?
Now that you understand how the app operates, next in the picture are the various models in which it can be easily used.
What Makes Twitch the Most Popular Video Streaming Application?
The application has earned itself a reputation as an undisputed leader in the online streaming industry by experts. The application is one of its kind and with some amazing perks, it walks the market domain with its chin up.
Some of the factors that make this application so popular in the market are:
Free Live Stream:
Simply create an account on the application to enjoy live streams. These streamings can be watched for free and help you build a strong presence in the market.
Real-time Interactions:
An in-built chat feature lets viewers and streamers connect in real-time. The users can encourage and interact like real-life all their favorite streamers and communicate with them.
Language Is No Barrier:
Your Twitch lets you broadcast your videos in multiple languages. This lets the wide audience enjoy the videos by their favorite streamers in their local language. Language barriers at times restrict the content creators from reaching a wider frame.
Massive Community:
The user community around the world enjoys and supports other creators around. One can not just enjoy the video, collaborate, chat, and learn easily.
These are some of the basic elements that make your Here in this blog, we will discuss how to build a live streaming app like Twitch, including the business model, features and cost of Twitch app clone development stand out of the crowd and help you be your audience's favorite.
Let's now explore the functions and features that would make your Twitch-like application impressive and engaging.
Visit Also: Top Mobile App Development Companies in USA 2023
Exemplary Features and Functions for Your Twitch App Clone Development
Amazing features and functions are the points that make your application earn better and engage your audience. With a set of features that are designed to impress your users, you can always take the lead.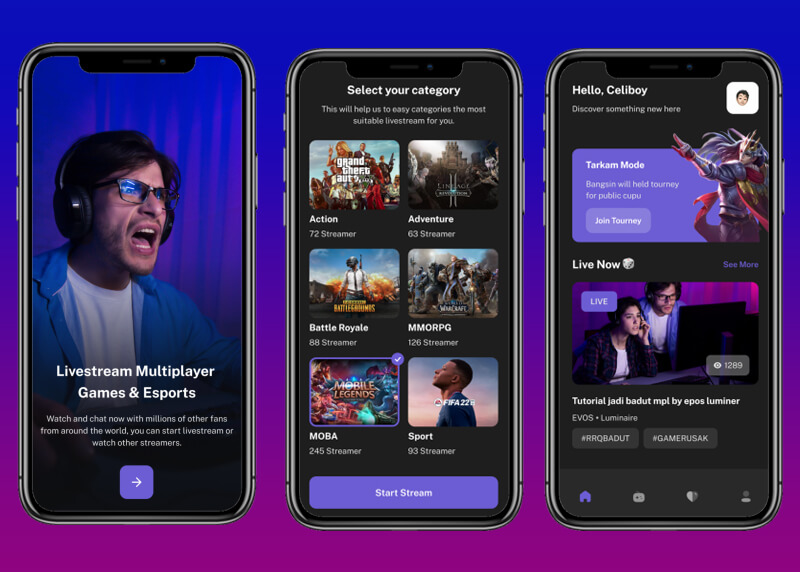 General
Easy Onboarding
An easy onboarding process helps your audience to get started with the application really fast. This adds to the engagement and popularity. No one likes to spend time filling in basic details that aren't required to access the application.
Many people often abandon the application if the sign-up process is time-consuming.
Stream Live
As already discussed the application is designed to stream your videos live. With some interesting filters and stickers, one can add a few more elements to their videos and go live.
Let your users upload pre-recorded videos that would make them build a more engaging and interesting profile.
Build/Check Video Library
One can add their favorite videos to the library. They can add their videos and other videos to the library. This would make it easier for them to check their favorite work on the application with less effort.
Let Them Watch What They Love!
Create Watchlist
One can add videos to the watchlist. If one is busy or cannot manage time to watch the video at the moment they can add it to the watchlist. This watchlist can be checked anytime.
Thus, they need not search for their videos over the application again, simply the right tab and done!
Cloud-Based DVR
With cloud-based DVR the application affirms that the videos that you are uploading are safe and secure. We affirm integrating the right cloud-based solutions with your application to affirm the videos are secure and safe.
Cloud partners associated with us are credible and privacy infringement is a big no for them.
Expansive Category
One can choose the categories where they want to add their videos. Instead of randomly adding videos on the platform, one can choose the category from the expansive list. This would help the users broadcast their videos to the right audience and make some good money.
Advanced Search Bar
When talking about the features that can make your Twitch clone application interactive, the most dominant one is the search panel. A search panel needs to not only search with the exact keyword but must show all the relevant results around the particular keyword.
Notifications and Schedule
One can schedule their live streaming and be reminded of it. They can even switch on the notifications for their favorite streamer. This adds to the engagement of the application and helps them stay entertained.
Checkout More: Advanced To-Do List App Development – Cost and Key Features
Invite Friends
Social integration is an important feature that would make your Twitch-like application fit. Let your users share the videos they like with their friends via various media.
As various people engage with the application the number of downloads would see a boost.
In-App Wallet
Our digital wallet app developers suggest integrating in-app wallets with your application to make sure that you earn the best. Here they may earn points for their videos and also, make payments for the premium features easily.
These are general features that must be included in any video streaming application. To affirm that your solution stands out of the crowd you need to integrate some advanced features.
Advanced Solutions to Help You Beat That Competition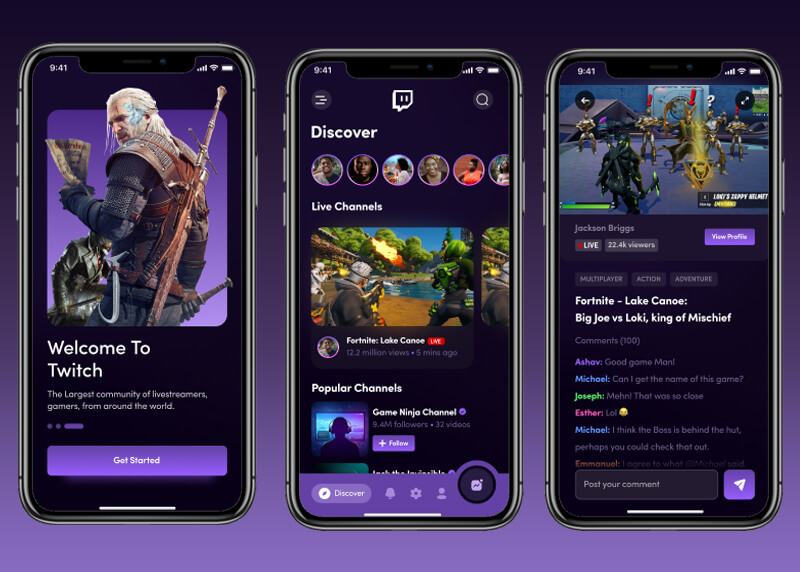 Screen Sharing
One of the coolest features of any video streaming application is screen sharing. Let your users enjoy their favorite videos with their friends who are far away. With a simple screen sharing feature you would engage more people at once.
Security Policies
It is important that your application has strict security policies to keep user information and data safe. If there is a threat to your users' content they will gradually stop engaging with your application making it a big fail.
In-App Chat
In-app chat lets users connect with their friends and others in the community to interact and talk about various things.
GPS
With a highly advanced GPS, it becomes easier for the people in your locality to find your videos. Also, you can easily tag the places that you are going live and check for the location of the steamers who are live.
In-App Camera
The in-app camera lets you go for live streaming. In-app cameras have great quality and you can even work on filters and stickers.
Now that we have a list of features that we may integrate with your application, let's see what next we expect from the solution.
UI/UX Development
Since the application is full of features and functions, it is important that the UI/UX design team reflects the solution in the most aesthetic way. It is not just the aesthetics that you need to focus on, one needs to take care of the solutions and the way they can be interacted with.
We have been building amazing solutions that help you earn great engagement on your applications without much marketing effort.
How to Make Money with a Twitch-like Application?
When working on a live-streaming app like Twitch, you get ample revenue-generating opportunities. You can come up with various app models to make money. Our on-demand mobile app development team shares here some of the best models that you can pick from.
1. Subscription Models
Step one is to decide how you want your app to monetize. You need to decide how your app will be perceived. Whether it would be a free model paid or hybrid. The most popular models to choose for your Twitch-like app are
The Free App with In-app Purchase Model
The Free App with Subscription Model
The Paid App Model
The Partnership Model
Choose any of these alternatives and let our experts know what you want. Our team would help you earn the best solutions that would abide by your business objective.
2. Banner Ads
A great way to monetize your channel is to place a banner ad on your on-demand video streaming application. You can ask the business owners to offer you compensation in return for placing the banner advertisement of their business on your application.
3. Video Ads
Another strong way to generate revenue from your application is to place some video ads and promote businesses with similar target audiences. Ask for a minimal fee and grow your businesses mutually.
4. Sponsor Listing
Wouldn't it be a great idea to charge the users to sponsor their streams on your live-streaming app? You can offer them a place in the top searches or trending section of your application in lieu of a small amount.
5. Affiliate
Another important point to notice here. You can earn a great amount by selling various products that are used in the video streams using the affiliated link. Partnering with the right team to make profits is always a tricky but highly rewarding decision.
Read Also: How to Create Video Streaming App like Netflix- Key Features & Cost
These are a few ways that you can make money with your mobile application. We strive to deliver solutions that are interesting and easy to understand. This adds to higher engagement and intuitive functioning of your product.
Hiring Tech Partners for Your Twitch like App Project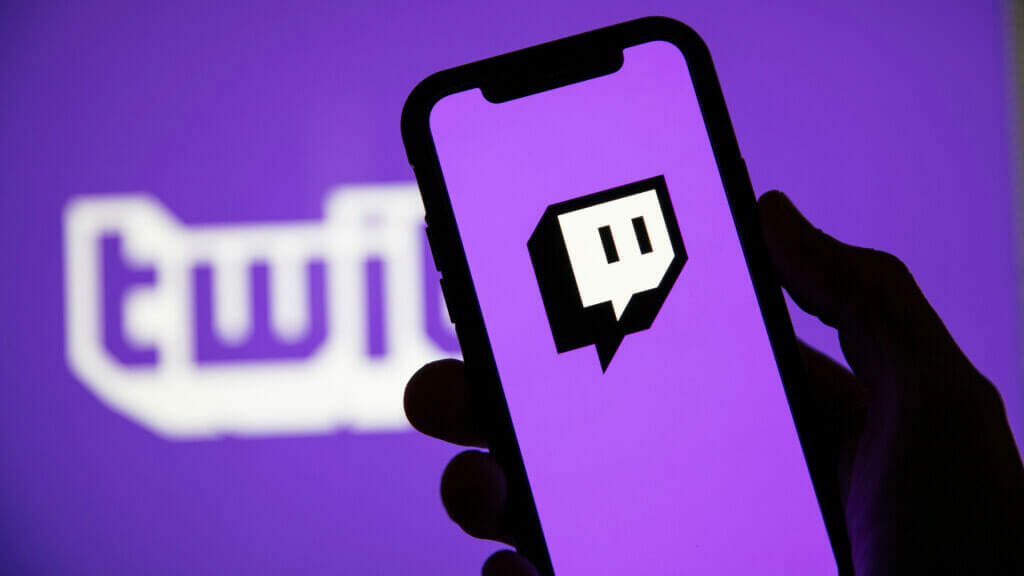 As you decide to enter the market with a Twitch-like app project, it is important that you be real quick in starting the project. If you are looking forward to building a solution that can help you earn great profits, risking a new team would be stupidity. A better idea is to hire a mobile app development company that has earned experience in the field.
Our social media app development team has worked on similar solutions and expects us to drop you with engaging solutions. They understand your market well and can come up with feature sets that hold your audience with the application. As the engagement with the application is high, so is your revenue.
An important question to address here is the cost of development. As we are talking about hiring a tech partner for your application the budget could be a constraint.
Live Streaming Mobile App Development Cost
When you hire a team of developers there are a few factors that decide the cost. You need to build your budget according to the business objective and the technology that would be needed. The most dominant factors for live streaming mobile app development are given below:
Feature Set
The feature set is one of the most dominant elements of your application cost. If you are looking forward to developing an application that is strong and highly rewarding you have to make sure it is engaging and intuitive.
If you are looking forward to entering the market with a solution that has basic features, then the budget of $40k to $75k.
In case you want to get a competitive edge and take to the market an innovative and technologically strong solution, then you may have to extend the budget from $90k to $120k.
Application Platform
Another important factor that would determine how much you would have to pay to your development team is the platform you are taking your application to. There are a few choices that you can make:
Native App Development
If you want to enter the market with a limited audience to use your application, you can choose to build your application platform-specific. You can enter the market with an Android or iOS application. For this, you can hire our native app development team that builds the best solutions to meet your business needs.

Cross-Platform App Development
A cross-platform app development team can help you with solutions that can be used on all operating systems. Gone are the days when iOS was considered for the professional circle.
The younger generation is now quite interested in the camera and features of the smartphone they use. A cross-platform application can help you expand the horizon and the audience group.
Region of Development Team
When hiring a mobile app development company, another important part is to see where they belong. Depending upon the area and the region you can decide the budget for your Twitch mobile app development.
The USA: $120-$150 per hour
Europe: $105-$115 per hour
Middle East: $85-$100
Southeast Asia: $50-$60
Required Tech Stack for Live Streaming Software Development
Another important factor that helps you decide the budget of your application is the technology that we may use.
Push Notifications – Twilio, Push.io
SMS, Voice, and Phone Verification – Nexmo, Twilio
Payments – Braintree & PayPal, Stripe, EWallets
GWT – for Powerful Programming
Datastax – for Data Management
Mandrill – for everything related to emails
Debian – the Universal Operating System
Database – MongoDB, HBase, Cassandra, Postgresql, MailChimp Integration
Cloud Environment – AWS
Real-time Analytics – Hadoop, Spark, BigData, Apache Flink, Cisco, IBM
Streaming Media System – Helix Universal Server, Wowza Streaming Engine, Nimble Streamer
This is the basic tech stack that we may use for your application. If you want any changes or suggestions the team is available for the discussion and help you through.
Conclusion
Surely, twitch has gained popularity over the years and the application is a pioneer in the market. But with some not-so-dedicated competition, your application if defined and curated a little thoughtfully can stand ahead of all.
Our experts help you enter the market with a solution that is easy to understand and navigate and has the latest technologies and trends to engage the audience easily.
FAQs: