Salesforce Commerce Cloud Development Solutions to Build Strong Presence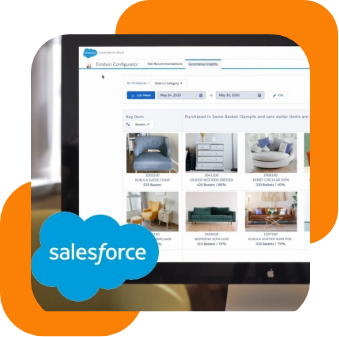 Wouldn't it be amazing if you can partner with a platform that can take care of your ecommerce needs from scratch? Well, Salesforce Commerce Cloud can take care of all your needs if implemented the right way. Partner with the expert Salesforce Commerce Cloud Development Service providers who can help you build a store that sells and offer you a solution that lets you focus on expansion taking care of the basic functioning of the eCom store.
A lot of big and small scale businesses, even startups rely on Salesforce Commerce Cloud for its extended features and automations that make things easier. You can take care of B2C. B2B, Payment Integrations, Customer Management, Order Management and other aspects of your business under one platform. Our techies can help you grow and build a strong, loyal customer base that would help you get great returns on your investments.
Salesforce Commerce Cloud Development B2C
Choose Nothing Less than the Best
Push your expectations and achieve more than set goals with Salesforce. The platform offers a great customer experience and our UI/UX design team affirms using the platform for 100% customer satisfaction.
Technology Meets Your Business
With Salesforce Commerce Cloud we can easily integrate the best APIs to help users have a seamless experience in all terms like making payments, adding products to the cart, and other things.
Go Global with an Amazing Platform
Go global with an eCommerce store that helps you stand the test of time. The features and functions that come with your Salesforce Cloud Commerce store give a seamless experience even during peak shopping seasons.
Earn Better Profits in a Click
With an advanced solution increase the revenue of your store. Enhance your store productivity and customer engagement across various sales channels with simple tools Salesforce Commerce Cloud offers.
Understand Your Customers
One important thing that you need to take care of when working on the Ecommerce solution is understanding your customers. When you go global there are various things like buyer's journey, marketing your product, setting up social storefronts, taking care of subscription packages, and other things that need to be focused on.
Salesforce Commerce Cloud Development Services & Solutions
01

Salesforce Cloud Setup & Configuration
If you are looking forward to setting up a whole new digital store or migrating your store, then you can hire salesforce cloud commerce developers to assist.
02

Salesforce Application Development
We can help you build ecommerce mobile app that is reliable and engaging. One important factor to take care of here is the ease of navigation.
03

Salesforce Theme Design & Integration
The salesforce cloud commerce developers help you choose the right theme and integrate.
04

Third-Party API Integration
No eCommerce store can function and reflect to its full potential if it is not supported by external APIs. The Salesforce Commerce Cloud developers can integrate third party APIs with your store to make sure that most tasks are organized and need least human intervention.
05

Support & Maintenance
At Octal IT Solution, we believe in building long term partnerships. We train your team to make the basic edits and updates in your Salesforce Commerce Cloud store. But if you need any expert assistance you can always connect with us without hesisting. We can help you with your stores updates if you need expertise.
06

Payment Integration
Payment integration is one of the most significant parts of building an Ecommerce store. Our experts integrate the payment section as and when required to make sure that the results that are deployed help you upscale your business easily.
Why Choose Salesforce Commerce Cloud?
Entering the market with an Ecommerce store that is automated, technologically strong, and user-friendly can be an amazing way to make profits more than anticipated. Salesforce Commerce Cloud over the years has marked its presence in the Ecommerce arena and can help you monetize your business easily.
Move Fast with Flexible Tools
The best part of Salesforce Cloud Commerce development is it comes with flexible tools that let you move fast in the ever-evolving world. Connect with expert developers and see your business grow by almost 8 folds as anticipated.
Automate from Discovery to Fulfilment
As Salesforce Commerce Cloud comes with some interesting tools, it is SEO friendly. Your store can easily be found over the internet as compared to your competition.
Win Loyalty with Seamless Commerce
The only thing that turns visitors into buyers and buyers into loyal customers is the store's experience. Win loyal customers with uninterrupted shopping experiences and take your store to new heights with great profits.
Personalize with Unified Data and AI
Offer personalized solutions using AI and other advanced technology. Salesforce Commerce Cloud developers make use of predictive analysis, big data analytics, and other technologies to offer customers personalized shopping experiences.
Unmatched Content Management
Content Management Solution integrated with Salesforce Commerce Cloud helps you easily reach your customers and share your ideas with them. Share relevant blogs, new offers, discounts, new inventory, and other attractive things with your users in a few clicks.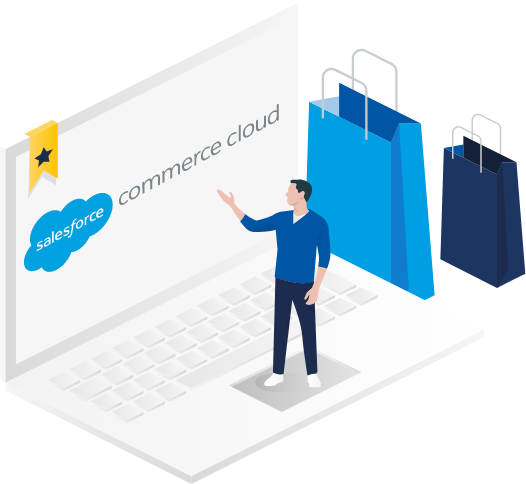 Why Choose Salesforce Commerce Cloud?
Connect to the Power of Salesforce
Salesforce itself has earned itself a great reputation and is one of the fastest growing platforms globally. Enjoy the benefits of collaborating with one of the world's best service providers and attract more users.
Salesforce commerce Cloud comes with elements and features that offer its users seamless experience that turns your visitors into customers.
Embrace API-first Commerce
With third party integrations it becomes easier to upscale your ecommerce platform and offer customers a never before shopping experience. Our Salesforce commerce cloud development company has been in the business for over a decade now and can help you build a strong presence easily.
Extend, Customize, and Innovate Your Sites
With some of the best technologies and easy customization the Saleaforce Commerce Cloud can help you be in the top of your business.
Salesforce experts understand any business reflects well only because of its users and thus try to build products that let users have an amazing shopping experience.
Mobile E-commerce
With Salesforce Commerce Cloud you get solutions that are easy to connect with. The solutions that are offered to you are mobile friendly and can be accessed over various platforms and are compatible with almost all devices.
We make sure that you reach a wide audience range when it comes to selling your products online.
Reduced Ecommerce Complexities
Ecommerce stores come with extended assistance and complexities. With tech support and customization alternatives of the store we make sure that your Ecommerce store offers ease of shopping exactly like a physical store. This makes it easier to engage users and assist them make better decisions.
Code with Developer-friendly Tools
Salesforce Commerce Cloud comes with developer-friendly tools that make maintaining and adding features to the store easy. We can teach your team to use these tools and make edits with the store as and when required.
Salesforce Commerce Cloud Development B2B
01

Customize B2B eCommerce Site to Fit Your Business Needs
The B2B on-demand mobile app developers use the tools that the platform offers. These tools support building a reliable solution that is scalable and generates great sales with high user engagement.
02

Reduce Costs and Reallocate Resources
The Salesforce Commerce Cloud developers make use of the latest technology and automate organization functioning. This helps you focus on growth of your core business and save and money by reallocating the amount at various other places.
03

Optimize B2B Functionalities
We make sure the solutions that are deployed make handling an online store easy. You can maintain inventory of retail stores, last visit of users, most selling products, least selling product, most returned product, etc. if you use B2B salesforce commerce cloud for your ecommerce store.
Partner with Octal IT SOlution for Salesforce Cloud eCom Development
Choosing the right ecommerce store development team to enter the market is a must. With reliable technology and strong online presence we affirm that your Salesforce Commerce Cloud store would reach wider audience and help you earn great returns on your investments.
Try and Buy Model
We understand collaborating with another team is a challenge and risk at once. We let you connect with our team and work with them for a few days and if it goes well you can avail our services.
This would help you understand our working style and make a smarter decision.
Confidentiality Policy
Your business idea is safe with our Salesforce Commerce Cloud developers. We sign a Non-Disclosure Agreement to maintain the confidentiality of your project. Privacy infringement is a big no for us and we take strict actions against someone exploiting it.
Custom Salesforce Commerce Cloud Development
The developers associated with us bring to the picture a solution that is tailored to meet your business needs. Salesforce Commerce Cloud comes with some impeccable features and functions that make you make choices according to your business needs.
Salesforce Commerce Cloud for B2C
Salesforce Commerce Cloud for B2B
UI/ UX Development for Impressive Solutions
One major part of any application is the look and feel of the application. Our UI/UX Development team affirms to bring to the picture a solution that is interesting and impressive. The elements used make your store more interactive and thus add to the urge to shop more.
Seamless Communication
Our team is available to connect with you when you want to share the reviews or feedback. We make sure there is no loophole in the working of the developers. Despite the timezone difference we can connect with your team as and when required.
Qualified Developers
We have a team of qualified and experienced developers who take care of all the aspects of your Salesforce Commerce Cloud and help you build a strong presence online.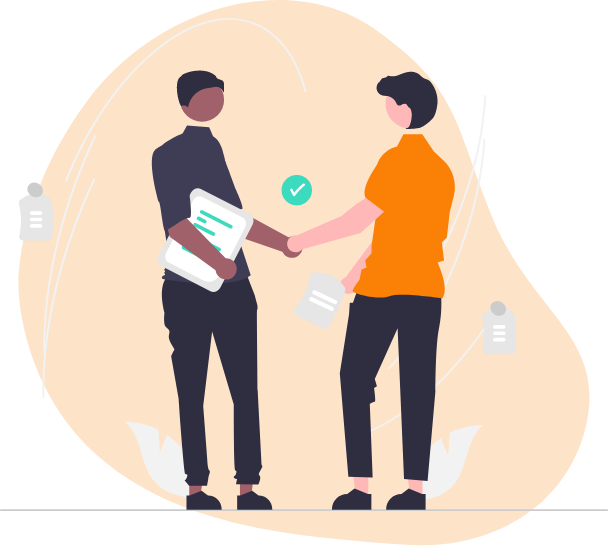 Frequently Asked Questions
Our team strives to deliver the solutions in stringent deadlines. The time taken for your Salesforce Commerce Cloud Development depends majorly on the features and business type.
We try to deliver the projects within 6 weeks to 12 weeks.
We understand that you may not be well-versed with the Salesforce Commerce Cloud. Our app development team brings to the picture a reliable solution. We would train your team with the basics and advanced development process where you can take care of your application easily.
In case you need any extended assistance we would be available over the call.
To avoid any confusion and miscommunication, we try you have just one point of contact. You can connect with the project manager and share you feedback and reviews. They would share it with the Salesforce Commerce Cloud Development team and get back to you after specific changes are done.
What Makes Us the Buzz of Tech Town
Here's what our business partners say about us.
Tech Talk: Stay Up-to-Date with Our Latest Insights
We have our eyes on what's new in the tech world and bring you the latest updates here!
Octal In The News
Octal IT Solution Has Been Featured By Reputed Publishers Globally
Let's build something great together!
Connect with us and discover new possibilities.






Gain More With Your Field Service
We're always keeping our finger on the pulse of the industry. Browse our resources and learn more.
Let's schedule a call