Bespoke Big Data Services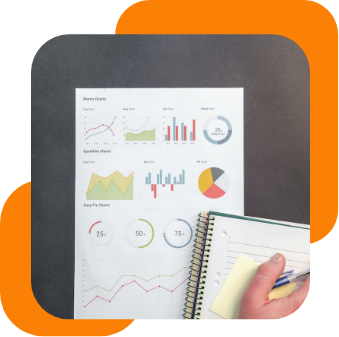 Our end-to-end Big Data Solutions and Services allow modern enterprises to focus on core Business Area as well as operational activities.
Nowadays the businesses have an easy access to data with the exponential growth of emerging digital Big Data Offering technologies. This poses a challenge to manage the burgeoning volume of data every day. However, our Big Data solutions and services help you handle the data well despite the size as well as allow you to re-imagine your business through our focused research.
Big Data has become a trend, giving your business competitive advantage over others while also gives all kinds of access to Big Data that's growing in volume, variety, velocity & complexity. No matter data is local, in the cloud or both, you're promptly flooded with massive amounts of information. All that's required is experience, skills and tools in order to thrive and turn your business problems into business insights.
At Octal IT Solution we make collaborative efforts to bring order to your Big Data while our team of senior-level consultants helps in implementing the technologies required to manage and understand your data, enabling you to predict customer demand and make better decisions at the right time. Analyzing your business challenges well, we offer you the strategic guidance needed to succeed, leveraging the power of data you accumulate, to your advantage.
Our Offerings
01

Consulting & Development
With great expertise in the domain, our professionals offer advice around developing big data consulting services, comprising of building use cases, preparing staff, standing out among competitors and uncovering opportunities. Our experts in Big Data offer architectural consultancy, Capacity planning for quicker time-to-market, while we also develop MAP Reduce Code, Custom Code and Data integration Services using proven components of the Big Data ecosystem.
02

Big Data Batch Processing
Batch Processing in the arena of Big Data is a brilliant way to process high volumes of data, where a group of transactions is collected over a period of time. Batch processing system has access to all data and it might be able to compute something that's big and complex. Generally this system is more concerned with throughput instead of latency of individual components of the computation as well as it has latency measured in minutes or more.
03

Real Time Data Processing
Stats say major number of organizations uses batch data processing, however there are times when an organization requires real time data processing as well. Real time data processing enables an organization to take immediate action for those times when it's requisite to act within seconds or minutes. The motive here is obtaining the insight necessary to act wisely at the right time – which increasingly means instantaneously.
04

Data Storage & Playback
This feature is useful in populating chat, collaborating and machine configuration on app load. It stores message streams with real-time data management and retrieves historical data streams to serve the purpose for reporting, auditing and compliance. You can also replay live events with realtime data delivery during rebroadcasting as well as confine storage to EU points of presence ensuring privacy & legal compliance.
05

Real Time Data Analytics
Nowadays it's not just enough to perform historical analysis and batch reports, as there are times when situation arises when you are required to make well-informed decisions in real-time, the data and insights need to be timely and immediately actionable. Real time Data Analytics allows you to easily integrate with almost any data source, both live/in-motion as well as bulk/at rest.
06

Mobile Push Notifications
These are alert-like messages on a smartphone that are displayed when the app is not being used actively. Also called a mobile push message, these appear as a pop-up badge, sound or banner. These messages are aimed to draw the attention of users as well as to get the user to dive back into the app. You get them on iOS, Android, and other major platforms.
07

Real Time Data Streaming
Real time Data streaming allows big data to become all the more effective, with the benefits going beyond more efficient business operations. It ensures improved e-Commerce, faster analysis of mobile apps data, system monitoring for efficiency and a lot more. It enables businesses to keep track of the actions of their customers, mainly as they visit a website. Meanwhile, the need for real time data streaming will go up as the Internet of Things (IoT) gets prominent.
08

Real Time Chart & Dashboards
These Real Time Chart & Dashboards allow Data to be visualized in real time. You simply need to point your chart to a data source, set a refresh rate and start monitoring your data in real time. We allow you to create a data analytics dashboard with just a single chart and then add to it as required. You can quickly build, edit, filter, and delete dashboards; move and resize them; and then share them or integrate them within your web application.
Data Collection
Among small to large business enterprises, Big data collection holds extreme significance as this process enhances business intelligence while marketing strategies are optimized. You can choose your data collection strategy depending upon the types of technologies you're using.
Data Processing
This technique used by Octal is helpful in analyzing big data sets at even petabyte scale. Off-line batch data processing is usually full power & full scale, tackling arbitrary BI use cases, whereas real-time stream processing is executed on the most current slice of data for data profiling to pick outliers etc.
Data Analysis
This analysis is completed with the software tools commonly used as part of advanced analytics disciplines such as predictive analytics, data mining, text analytics and statistical analysis. Technologies like Hadoop and related tools such as YARN, MapReduce, Spark, Hive and Pig as well as NoSQL databases are used by our experts.
Data Execution
Our experts use a variety of frameworks suiting your business needs and there are a new series of execution frameworks added to the Hadoop ecosystem like Spark, Tez, Flink, Storm and Samza. Thus, we choose the best execution framework for the problems you need to solve.
What Makes Us the Buzz of Tech Town
Here's what our business partners say about us.
Tech Talk: Stay Up-to-Date with Our Latest Insights
We have our eyes on what's new in the tech world and bring you the latest updates here!
Octal In The News
Octal IT Solution Has Been Featured By Reputed Publishers Globally
Let's build something great together!
Connect with us and discover new possibilities.






Gain More With Your Field Service
We're always keeping our finger on the pulse of the industry. Browse our resources and learn more.
Let's schedule a call