On Demand Car Wash App Development Services at Your Doorstep
Working on any mobile app development project is quite a difficult task. On demand car wash app development is a complex project and it needs expertise to integrate APIs and other complex aspects in the final solution. Get a feature-rich car wash mobile app development that can help you be in the business.
Octal IT Solution has a team of mobile app developers, creative professionals and project managers who know how to make things happen. With our technical expertise, we have helped various businesses to make a strong presence. The aficionados make sure to use the best of the technology and the latest advancements to deliver solutions that are highly reflecting. When it comes to building iOS or android apps, hiring a reliable and trustworthy car wash app development company is significant. If you want to own a feature rich car wash app, you are surely at the right place.
How Car wash App Development Helps Your Business Grow

Faster Operations
As we talk about the ready-made on-demand car wash app development, it becomes easier to integrate the features, and the app operations become faster. It saves time for the user and service provider.

Reduce Expenses
You can control your expenses with the help of the best car wash app development company that will build a solution for you within stringent deadlines and help you reach a wider audience.

Marketing on the Go
With a good car wash application built by professionals, you can simply connect with the experts and market your business to bring in more customers and grow stronger.

Customer Acquisition
With a dedicated on-demand car wash app development, sharing your services with your customers would be easier. Also, you would have to worry less about the operation and functioning and focus on quality more.

Improved Management
When the reminders are automated, scheduling, checking, picking up, and dropping off vehicles is easier. You don't have to put your energy into remembering things, simply focus on your core business and expand.

On-time Delivery
With a dedicated car wash app development company working on your application, you can customize it to fit your business and customer needs, which would help you deliver the cars in a limited time.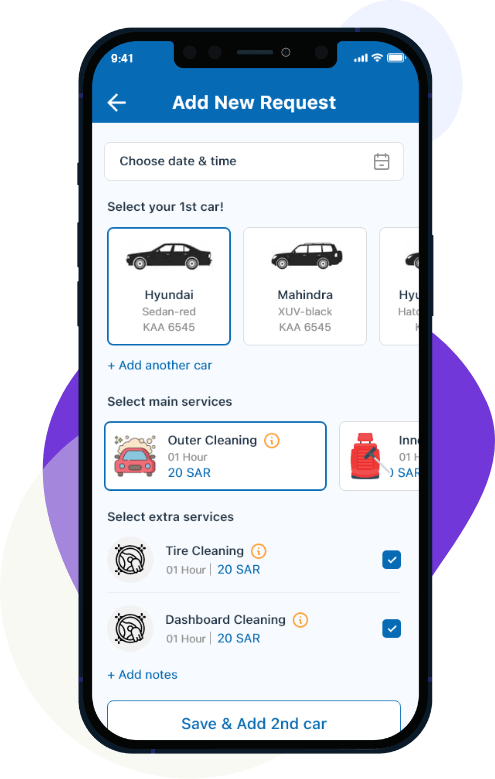 Developing Car wash Apps That Suits your Business Models
Stand Alone Car wash App
The stand alone carwash app helps expand your business and focus on it as more customers visit your application and reach to you. We provide stand-alone car wash mobile app development for car wash businesses that want to leverage the benefits of technology and reach to a wider customer base through their mobile application.
Aggregator Carwash App
As we talk about the aggregator car wash app, you offer users a platform where they can choose the service they want and the service provider. Our aggregator on demand car wash app development services allows you to build an app that connects different car detailing services under one roof, serving a larger customer base.
Exemplary Features for Each Panel
Car Wash application development service is a complicated process. It involves working on different panels for admin, detailer and users.
Let Users Have It Sorted
Sign Up/ Login
Check Technician Availability for Preferred Location
View Past Order Details
Pay Technician Through System
Cancel Request
Track Technician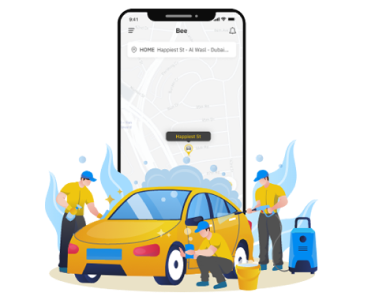 Let Service Provider Be Updated
Sign Up/Login
Add Service Locations
Update Availability Status
Request for Payment from Admin
View Completed Job History
Accept/Reject Service allotted By Admin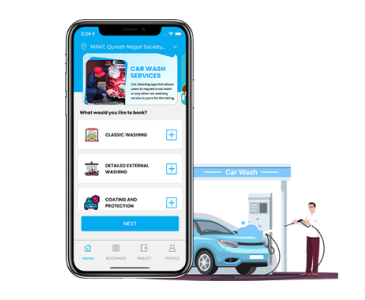 Manage Your Business As It Should Be
Registration of Technician
Manage User Jobs
Manage Technicians, User Profile and Credentials
Manage Services
Manage Ratings & Feedback
Manage User Payment History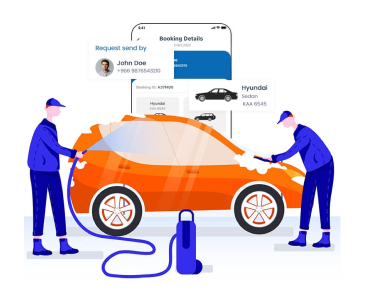 Bespoke Car Wash App Development to Help You Skyrocket Your Sales
Car Wash and Car Maintenance App Development with Latest Technologies to Give You an Edge Over Your Competition!
Talk to IT Experts

Feature-Rich On-demand Car Wash App Development Solution for Win-Win Situation
Feature Rich, Affordable and Customized Car Wash Mobile App Development Solutions, Timely Delivered

Rating & Review
When you reach to car wash app developer for car cleaning app development make sure your users can easily review and rate the detailers or application, enabling highest rated detailers to show first.

Accept/Reject Requests
According to the availability, number of drivers available and the pending deliveries, accept or reject the orders through mobile car detailing app. Car wash app developer eliminates wait time.

Promo Code & Referrals
Promote your on demand car wash app & service by offering special promo codes & discount offers that are well managed through push notifications and promotional messages.

Booking Notifications
In case a particular order is placed, the orders are being notified to the detailers, for making the provisions for quick deliveries and turn-around with on demand car wash app development.

Wallet Manager
Users can pay directly through the digital wallet that we integrate at the time of car wash app development services. In-app wallet enables cashless payment without requiring any card / net banking within the online car service app.

Get Support
Allow your users and drivers to reach you in case of any emergency. The on-demand car wash app development solution comes with in-app communication that makes help & support hassle-free.

In App Chat/ Voice Call
Allow your users to communicate with your detailing partners and drivers through in-app chat and voice call in the event of any query / order status inquiry or other enquiry.

Place Bids
Different car washing service providers may place their bids for different orders, which eventually makes the car detailer selection process easy for your car wash app customers.
Developing Feature Rich Carwash App With Amazing User Experience
Hire a reliable car wash app development company that gives you a competitive edge over others.
Let Your Application Be the Fastest Lane to a Sparkling Clean Car
At our company, we offer top-notch car wash app development services designed to meet the specific needs of your car wash business. We understand that the car wash industry has unique requirements, and our team is dedicated to delivering a comprehensive solution that caters to your business goals.
Push Notifications

Floating Window

Split the Bill

Voice Assistance

In App Chatting and Calling

Re-Order/Favorite

Auto Recommendation

Phone Number Masking

Reward & Discounts

Give Delivery Instruction

Multi Lingual & Currency
Car Wash App Monetization Models
Here's how you can make more money with your car wash application.
Subscription Model
You can charge users a one-time fee to download and install the app from the app store. This approach works best if your app offers unique and valuable features that set it apart from competing free apps. You can let users subscribe an annual, monthly, or quarterly plan.
Advertise Others
The car wash app development company incorporates advertising into your app to generate revenue. You can display ads from third-party advertisers, such as car care product companies or local businesses, within the app. Be mindful of the user experience and avoid excessive or intrusive ads that might drive users away.
Sponsorship Model
Collaborate with local car wash establishments, auto dealerships, or automotive service providers to establish sponsorships or partnerships. They can pay you for featuring their services prominently in your app or for exclusive advertising rights.
In-App Purchases
Let users make additional purchases within the app. For your car wash app, include premium services, such as upgraded wash packages, waxing, or interior cleaning. Sell car wash memberships or subscriptions that provide discounted rates or exclusive benefits.
Recently Developed Car wash Mobile App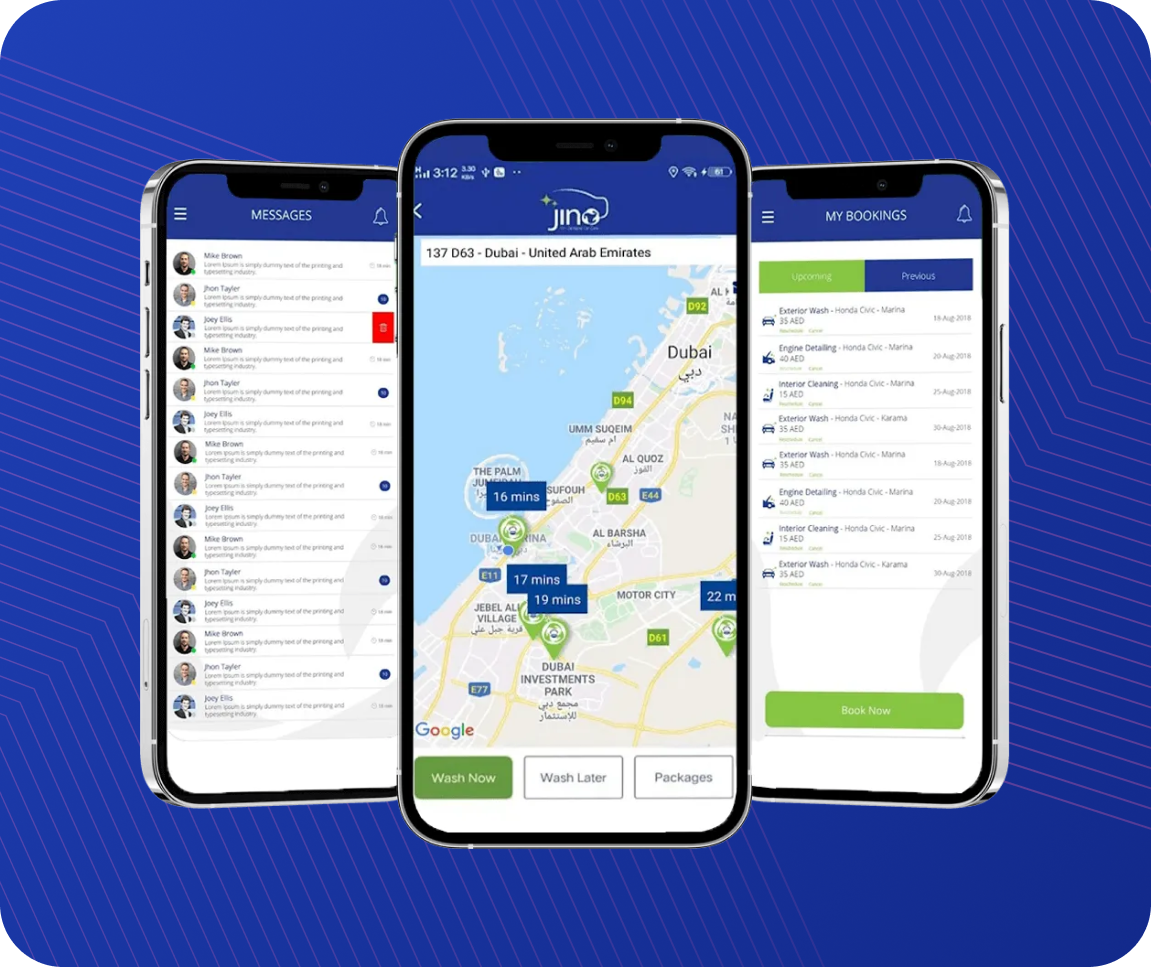 Jino
This is recently launched Car Wash App. JINO offers a unique experience and ensures a high-quality car wash service. JINO provides eco-friendly waterless car-washing services at customers' doorstep using premium products. Since our customers are our main priority. Please have a look links of the applications.
Explore Details Here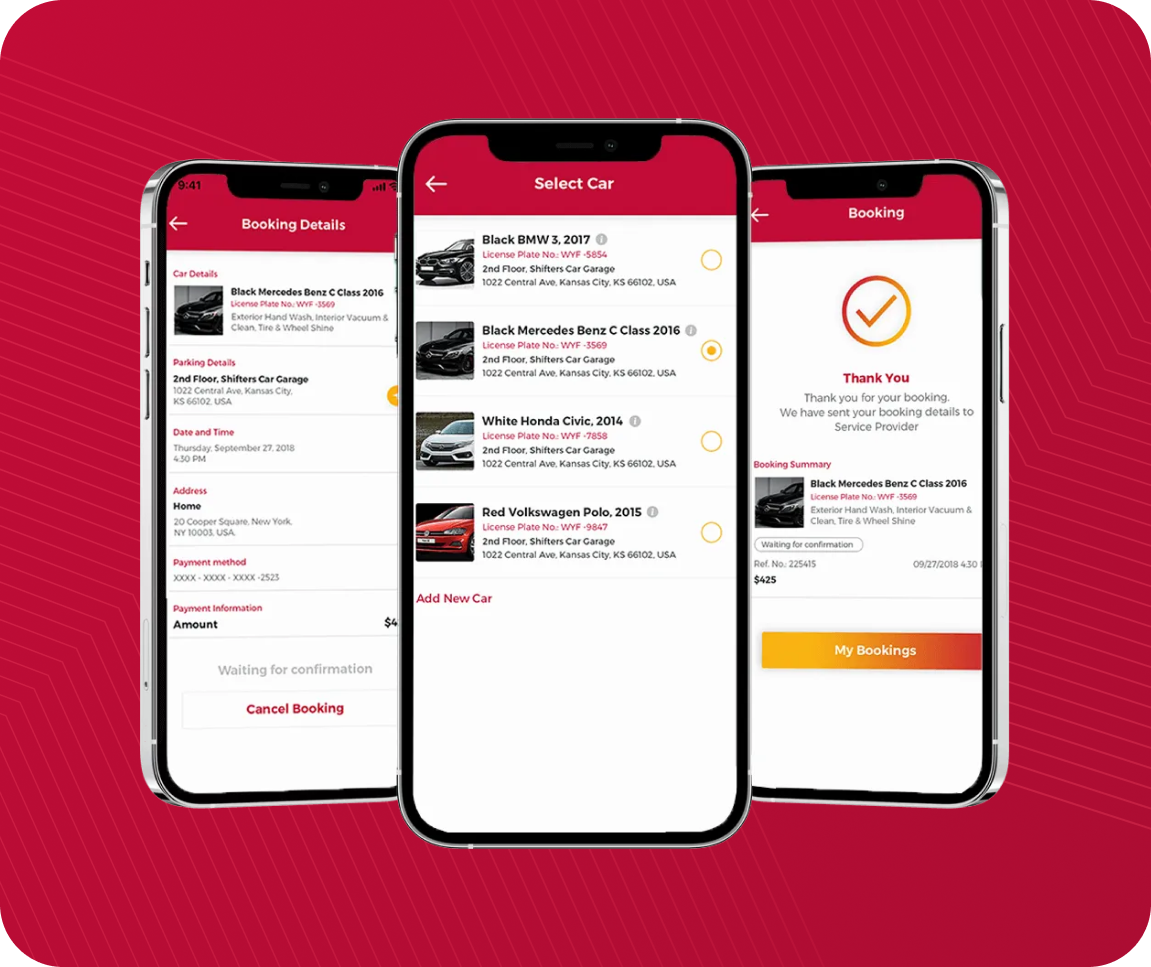 WeWosh
WeWosh app offers the easiest & fastest way to car wash. where you can manage vehicle, booking and check transaction history. Simply book a wash by tagging your car's location and we'll take care of the rest. You book and tag your location and select a time when you'd like your car to be washed.
Explore Details Here

What Makes Octal the Most Reliable Car Wash App Development Company?
Hire a reliable car wash app development company that gives you a competitive edge over others.

Sign NDA for Confidentiality

Try and Buy Model

Updated Tech Experts

Quick Team Scaling

Security and IP Protection

Advanced Tech Stack

Effective Synergy

Global Clientele

Multiple Engagement Models

Round the Clock Availability

Meet Stringent Deadline

User-Centric Development
Frequently Asked Questions
You must have some questions about our on-demand car wash app development services. We get you covered.
Yes. With technology advancing and people relying upon mobile apps to execute their day-to-day tasks like car detailing, car wash applications are becoming a million-dollar business idea. If you invest in car wash app development, you may build around a highly profitable business around it.
Car wash apps make money through different revenue models, including:
Subscription Model – Offering added services to premium users.
Advertise Others – Showing relevant ads of other service providers.
Sponsorship Model – Allow car wash businesses to sponsor their listings.
In-App Purchases – Selling relevant products through the ecommerce store.
There is handful of car wash app development companies out there and Octal IT Solution is one of the best among them. The company has developed dozens of car wash apps for businesses of different sizes. With an experience of over 16 years in the industry and a skilled team of 250+ professionals, Octal brings on the table the solutions that make a difference.
Car wash app development provides you with some advantages over the traditional brick-and-mortar car wash establishments. Some of these advantages are:
Faster Operations
Reduce Expenses
Marketing on the Go
Customer Acquisition
Improved Management
On-time Delivery
We develop a wide range of car wash mobile apps but the most popular of them are 1. Stand alone car wash apps, and 2. Aggregator car wash apps. The first one is for car wash businesses that want to take their business online. The second one are for individual business owners that want to bring all car wash businesses on the same platform.
While developing a car wash mobile app, we make sure your app stands ahead in the crowd. To make this happen, we integrate a number of advanced features in your app, including:
Rating & Review
Accept/Reject Requests
Promo Code & Referrals
Booking Notifications
Wallet Manager
Get Support
In App Chat/ Voice Call
Place Bids
The time to develop a car wash mobile app depends upon several factors, including the features integrated, app complexity, and the platforms it serves. However, a car wash app with essential features and developed for single platform (either Android or iOS) takes around 3 to 4 months to develop.
Just like the time, the cost of car wash app development also depends upon the features, app complexity, platforms, and the location of the development company. However, the average cost of a car wash app with essential features, developed for single platform (Android or iOS) with a car wash app development company located in India costs around $30,000 to $55000. An app for advanced features may cost as much as $80,000 to $100,000.
What Makes Us the Buzz of Tech Town
Here's what our business partners say about us.
Tech Talk: Stay Up-to-Date with Our Latest Insights
We have our eyes on what's new in the tech world and bring you the latest updates here!
Octal In The News
Octal IT Solution Has Been Featured By Reputed Publishers Globally
Let's build something great together!
Connect with us and discover new possibilities.






Gain More With Your Field Service
We're always keeping our finger on the pulse of the industry. Browse our resources and learn more.
Let's schedule a call