In this blog, we discuss restaurant management app development and restaurant software development including the features, benefits and costs.
Who doesn't love to go out and enjoy those fancy dinners at their favorite restaurants?
Especially after being locked in for almost two years, going out and hogging your favorite dish with your friends and family seems like the good old days are back. But in the new normal you need to try avoiding the rush and the crowd around.
You need to make sure that you don't have to wait in long queues and get exposed to a lot of strangers.
Yeah! Funtimes are important but safety and precautions can never be overlooked.
Well to make sure that your users can ditch the waiting lines, enter the market with a dominating Restaurant Management App.
Not sure what exactly it means? In that case, read here the details by our Restaurant Software Development experts.
Let's start with some numbers that make you trust the partnership between tech and restaurants.
Numbers to Tell You Why Restaurant Management Software Development Is a Wise Move
As we talk about the technology entering various domains, for sure before a couple of years, the restaurant domain has always been an outlier. The issue here is not about how and what of the solutions, it is about the growth and mobile app development that would make it easier for the restaurants and the customers to connect. Small-scale eateries lack the financial resources to provide a compelling, creative, and engaging solution. The restaurant business is the second-largest employment of software developers in the United States, and most small-scale solution suppliers lack the cash for enterprise-level software. This, combined with an industry-wide shift toward more digital, contactless delivery, shows that the market for restaurant-related software is growing.
Restaurant Consumer Statistics
After the outbreak of the pandemic in the year 2020, there has been a shift in the behaviours of the restaurant owners and the visitors. Here are some consumer trends in the restaurant sector, as well as how individuals spend money at restaurants.
Although around 39% of the adults choose not to eat in the restaurant premises now as they would before, the demand for restaurants has only seen an upward graph.
Instead of spending money on buying some product from a store, 78 percent of millennials say they would rather spend money on an experience, such as a restaurant or other activity.
41% of customers are willing to purchase a ready-to-eat meal kit from their favorite restaurants.
The main aspect in deciding which restaurant to attend is high-quality food, according to 72 percent of diners. It is just the 48% of people who believe that cost would be considered for the visit.
A patron is more likely to use a restaurant's website than a third-party service like Grubhub when placing an online order.
Guests selected speed as the most significant factor when getting an online order, followed by a value, and finally meal quality.
When it comes to choosing a restaurant, 35% of diners say online reviews affect their decision.

This is basically how the consumers see a restaurant business. To stand the competition and make sure that your restaurant application helps you be in a win-win situation all you need to do is enter the market with advanced technology.
The role of technology in business cannot be ignored, especially now when the world runs online.
Payroll, accounting, and business intelligence tools are highly critical to 50% of restaurant professionals polled.
In order to handle their back-office activities, restaurants often use at least three separate technology companies.
It is expected to increase as a result of the COVID-19 pandemic.
Digital menu boards have been shown to enhance annual shop sales per unit by $16,000.
Demand for cashless payments due to the pandemic will drive a 240 percent increase in QR code payments between 2020 and 2025.
Mobile order-ahead and loyalty rewards programs or a combination of the two were offered by 92 percent of all top-performing restaurants.
The most significant technological element, according to 54 percent of guests, is online reservations. In the same study, 41% responded that Wi-Fi is available for free.
As dining limitations imposed by the pandemic are lifted, restaurant profits rose to over 15% in 2021.
90% of customers conduct online research before visiting a restaurant. This is a more common practice in this industry than in others.
Restaurant reviews are read by 92 percent of diners.
The numbers here are a clear reflection of how the restaurant sector is transitioning to digital, and this is unlikely to change now.
Your restaurant must already have worked on online and mobile ordering, order-ahead choices, digital menus, and alternative payment ways, according to customers. Customers these days are more inclined to search for restaurants in advance on review apps and platforms, thus you must take care to preserve a positive reputation for them.
Along with these numbers, it is also the ease of presence and accessibility that your mobile application offers in general. There are a lot more advantages of Restaurant Management App Development that you may have overlooked.
Top Advantages of Restaurant Management App
Entering the market with a solution that is technically advanced and adds value to customers is important. We share here why we and millions of restaurant owners around the world profess the need for restaurant management applications.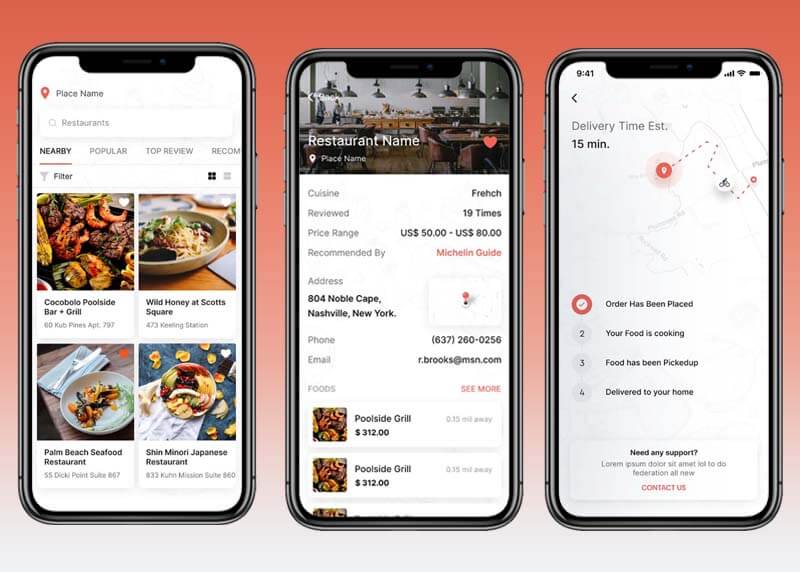 Improve Customer Relationships: With a well-defined CRM solution, integrated with your mobile application we make sure that you can see what your customers love and where they are facing issues. You can easily track what's working for you and modify your business functionality accordingly.
Track Sales: It is easier for the restaurants to analyze and evaluate their sales, once the system is mechanized. Eliminating human intervention makes it easier to build a business that can always be tracked and taken care of.
Automatic Analysis: When talking about the solutions that we offer, we affirm that your sales team doesn't have to face a lot of troubles. It is important that the solutions that are delivered to you can help you understand and reflect on your business. You can check graphically the growth and revenue generation of your application easily.
Employee Satisfaction: With an integrated ERP solution, it becomes easier for restaurant owners to review their employees. They would also make it easier for the employees to track their work progress, incentives, and other details without relying on any third person.
Increase in Efficiency: When the restaurants had hand-written orders, it was real chaos and sometimes the orders would mess up. With restaurant management software it becomes easier for the chefs and the waiters to manage the orders.
These are some of the major benefits that you can enjoy when you reach a restaurant management software development team for a technically advanced and responsive solution.
When you reach the experts for a solution that can make things easier for you, all you need to do is take care of the features that can make things easier for you.
Most Important Features to Include in a Restaurant Mobile App
Here is a comprehensive list of fantastic features that you must consider for your restaurant app. A lot of renowned restaurant owners, such as McDonald's and Starbucks, have already implemented these elements into their apps to provide their customers with a better experience.
To make sure that you also have these features in your restaurant management app, you'll need to engage professional app developers.
The Food Menu
The most popular restaurant management apps are integrated with a list of various food items organised into categories, as well as photographs, prices, and even calories. All of the dishes are divided into several categories and subcategories so that consumers can quickly find and order the food they want. These steps are taken to make the food ordering procedure more user-friendly and simple.
Menu Personalization
Customers have a variety of dietary tastes and choices. As a result, people love to seek out a restaurant that can recognise their eating habits and cater to them based on their choices. Restaurants will be able to serve food to their diet-conscious people as a result of this, they will be able to include or eliminate items based on customers' choice.
The Ordering Process on the Internet
The online order feature allows consumers to choose and order products at their leisure, giving them the opportunity to think about what they should order. It helps them build interaction with the restaurant and improves the utility of the service. Users can also choose between home delivery, dine-in, or pickup choices. However, the cost of developing a restaurant app may rise as a result.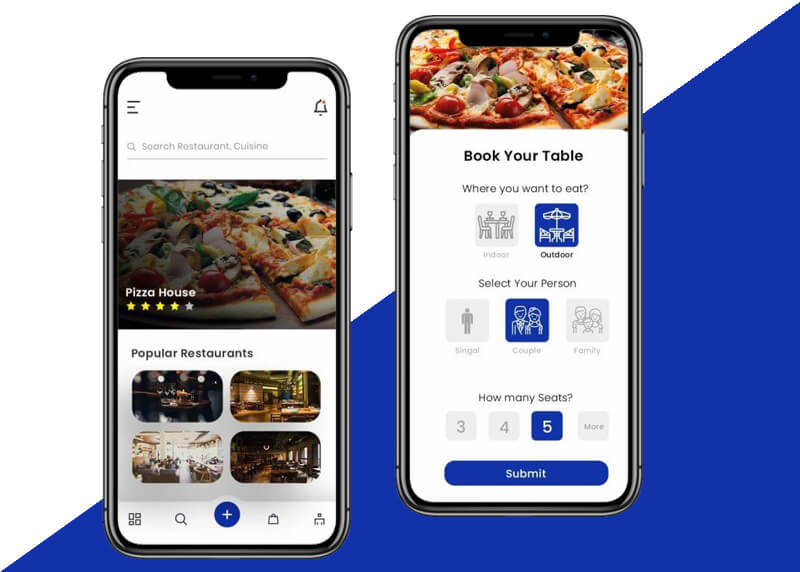 Make a Reservation
Some people prefer to book a table before leaving their house since they do not want to take a chance at the last minute. Customers in this situation can use the restaurant mobile app's table booking feature to see if a restaurant has seating available at that time.
This feature can save their evening from getting ruined.
Geo-location Feature
The restaurant app developers working with you should know the importance of this feature and must include it in the app. You will be facilitating this to provide services and expand your business in different cities and nations. It will also work in another way such as helping customers find your restaurant.
Connectivity on Social Media
Users must be able to sign up or register for the restaurant mobile app using their other social media apps. It will enable people to instantly register and share their images across their various social media profiles. Customers can also post a review that will be displayed on numerous platforms in order to fully utilize it.
Reviews & Reactions
Customers can offer comments, ratings, and reviews about the restaurant they visited on your app. This input can help other customers who are considering ordering food. It's a must-have function for a restaurant app, therefore request it from both Android and iOS app developers to make your app more trustworthy for users.
Notifications in Real-Time
Users will be notified about everything linked to them or that can benefit them in any manner, whether it is a food delivery order, a pick-up order, or a table booking, as well as profitable promotions, offers, and discounts. It's an interesting strategy used by the restaurant to attract new clients and keep existing ones.
Payment Process That Is Simple
Users place a high value on an app that provides adequate security and keeps their personal information private. You may also add other payment methods to the restaurant app, like Apple Pay, PayPal, Online Banking, and so on, to ensure secure payment transactions and make the app trustworthy to consumers.

Chatbots
It's an advanced AI-powered chatbot tool that will add value to your app. If a consumer has an issue with the app or their order, a restaurant owner or management can talk with them through it. They can also help them find a solution by addressing their many queries.
These are a few features that would help you build a solution that can make things easier for you. Our restaurant software management development team can make things easier for you.
Another aspect that you need to consider when working on your restaurant management app is the cost. Finding out "How much does it cost to design a restaurant app" is quite easy.
Cost of Restaurant Management Mobile App Development
When evaluating the cost of a restaurant mobile app, there are various aspects to consider. You may get a sense of those factors by looking at the list below:
Company's Experience & Region
Deployment Platforms for Applications
Team Structure & Tech Stack
Mobile App Features
App Design (UI/UX)
Integrations with Various Payment Systems
App Complicatedness
Integration with third-party APIs
Apart from the ones mentioned above, there are still a lot of things to consider. The cost of developing a restaurant mobile app will range from $15,000 to $40,000, depending on these criteria. For an MVP version of the app, the cost will be lower. The same is true for website solutions, as the cost of developing a restaurant website is less than the cost of developing an app. Customers who checked this section for a cost were also interested to check on the cost to develop a food delivery app.
Wrapping This All Up!
When you decide to build an application that can take care of your restaurant business, we make sure that it is interesting and engaging. We not only add interesting features but also, help you stand the test of time and competition with advanced solutions. If you are looking forward to building a solution that can make things easier for you we are just a click away.