Video-on-demand app development is one business idea that combines nostalgia, profits, and entertainment all in one. Video streaming mobile applications are bringing the joy of watching videos with friends and family back. Do you also want to know about how to develop a video streaming app with cost and key features then keep reading this article.
Remember those Sunday mornings when everyone would gather at a friend's house to enjoy a TV show together or those in between the class discussions of the last episode of your favorite show? In those times, television was integrated into our lives, and we were obsessed with our favorite shows. The thrill of waiting for the next episode, the anticipation, and hour-long discussions were all part and parcel of our lives.
With so many video platforms in the market, these memories can be relived again. With video-on-demand applications, the entertainment industry has seen a surge in its revenue, and users have found a new way to enjoy themselves with their friends and family.
If you are looking forward to how to develop a video streaming app by making profits with such an application, choose a reliable video-on-demand mobile app development company for the job.
Understanding Video On Demand Application System in Brief
Video-on-demand (VOD) mobile applications allow users to select and watch video content such as movies, TV shows, and platform originals at the time they choose, instead of watching it on the exact broadcast time which was the main approach with on-the-air broadcasting.
With changing times, mounting numbers of video-streaming mobile apps reflect they are the future of the entertainment industry. The cable subscription is now limited to being a way to show more repeated commercials to the audience in between old movies.
How Video on-Demand Mobile Apps Different from Traditional Cable Subscriptions
The system includes the basic functions of the video clip (restart the program, stop it, bring it forward or backward, position it in slow motion, etc.) and all at the will of the same user.
It offers the full availability of the desired programs, without having to adapt to the fixed programming times as traditional TV channels do.
They contain a wide range of content, so people have a large a-la-carte offer and can even make a payment for certain exclusive programs if they wish.
These types of platforms work to offer users full availability of an alternative system to regular movie rentals.
There are two forms of content distribution on demand: via LAN, where you can distribute faster to users. The other way is via WAN, which has a longer range, but the response is slower than in LAN mode.
VODs use real-time protocols, namely: RTP (Real-time Transport Protocol), RTCP (Real-time Control Protocol), or UDP (User Datagram Protocol) with a complement of RSVP (Resource Reservation Protocol).
Video On Demand Applications in Numbers
The popularity of these applications isn't alien to anyone. We all once in a week at least use these applications to watch our favorite shows or movies.
The global video-on-demand market revenue is estimated to reach 159.40 billion US dollars in 2023.
With a CAGR of 9.71%, the market volume of video-on-demand mobile applications is expected to be US$230.90bn by 2027.
Out of all the on-demand video streaming app development, Video Streaming Applications have the largest market volume of US$95.35bn.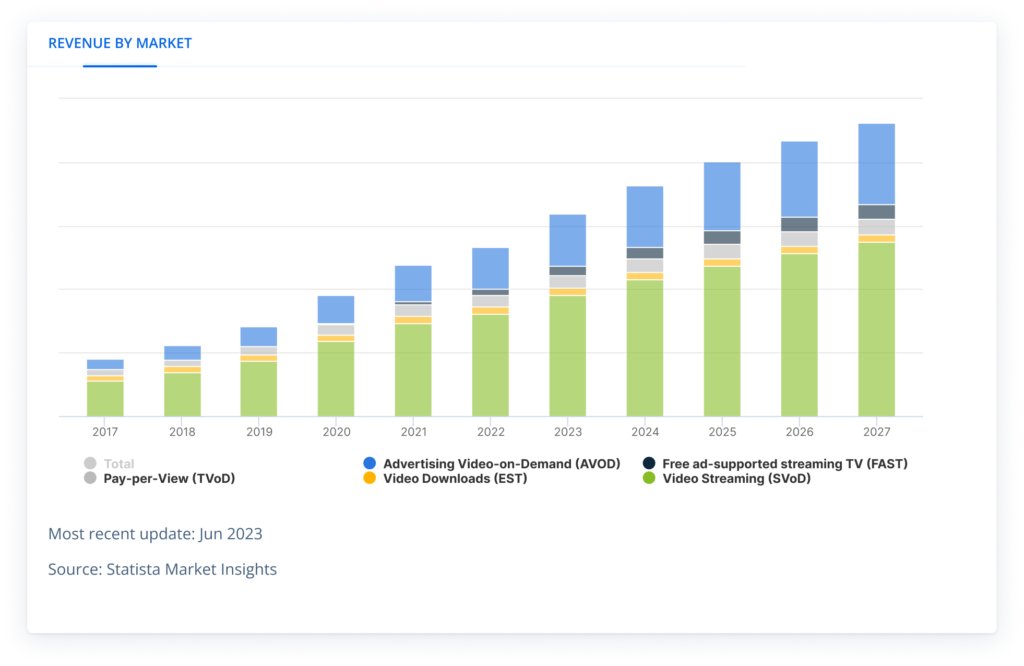 Source: Statista
The above facts state that lots of entertainment businesses across the globe are investing a handsome amount in live Android video streaming app development Cost and hunting to hire mobile app developers in order to make a big share in the booming multi-million dollar VOD industry.
Video On Demand App Development Experts Offer Various Distribution Models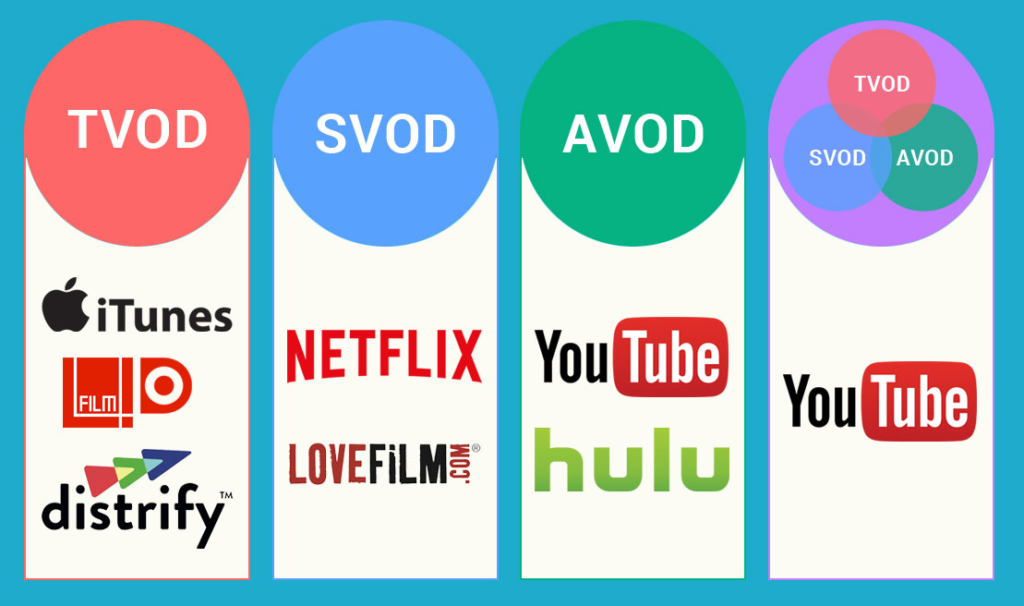 You have entered the market with the aim to generate significant profits. The Android video streaming app development team at Octal IT Solution offers given service models. Choose the one that fits you the best and see money flowing in.
Transactional Video On-demand (TVOD)
In such a distribution model customers pay for each individual piece of video-on-demand content. They need not subscribe to the platform. Each content is sold separately and they are charged according to the rights that the application holds.
Examples: Google Play Movies, iTunes, Vudu, etc.
Subscription Video-On-Demand (SVOD)
This is quite the most common model that is used by most over-the-top video streaming apps. In this model, subscribers are charged a monthly fee to access unlimited programs. One can also decide the number of devices and platforms to enjoy the content.
Examples: Netflix, Hulu, Amazon Prime, Disney+Hotstar, etc.
Advertise-Based Video On Demand (AVOD)
The user can access the content here for free but they have to watch the advertisements. The more time they spend watching the advertisement, the more revenue the app will earn.
Examples: YouTube, Crackle, etc.
Live Streaming Video-On-Demand (Live VOD)
Another distribution model for video-on-demand apps is live streaming. Here the user can access live streaming of events as well as on-demand videos. These applications are quite common for sports and news-based channels.
Examples: Hulu + Live TV, Sling TV, YouTube TV, etc.
Hybrid Video-On-Demand (Hybrid VOD)
If an application is a combination of the above-mentioned models, then it is a hybrid VOD. The user can access the content for free or by paying a small fee. The user can also choose to pay a monthly fee to access the content for unlimited time.
Examples: Disney+Hotstar, YouTube, Zee5. etc.
When talking about mobile app development in general, it has become quite an interesting domain. It involves front-end and back-end development to bring the best results on the screen.

Features Any Video On Demand Software Development Expert Can't-Miss
When it comes to media streaming software development, every business owner wants a mobile application that is laden with features and offers its customers the best services. Our video-on-demand video app developers have listed features that you need to include in your VOD app.
Front-End Features to Work on for Your Android Video Streaming App Development
Video-on-demand app development services ensure that the application that is deployed to you is designed to meet your business needs and engage your customers. We share here some of the exciting features that would make it easier for you to earn better results. Any live-streaming app gains popularity with the engagement it creates.
User Registration
This is one of the fundamental parts of any media streaming software development. App developers should provide the user with multiple options for registering or logging in. For instance, they can choose a mobile number for OTP verification, Facebook login, or Google login. Also, do not forget to keep the option to recover a password when the user forgets the credentials accidentally. Invest more time on the UI of the registration and login page as it is the first screen, which App Developers will be showing to the user.
Recommended Read: Mobile App Onboarding – Best Practices to Follow
User Profile
There should also be an option to edit and personalize user profiles. Mobile App Developers can help you get relevant statistics about users like subscriber count, watched videos, saved videos, videos that users play multiple times, video genres, and much more that. Also, they let users share the content they love with friends via social media.
Privacy Settings
Although people most likely want to share things on social media with their peers at times they might require some privacy. Privacy is one of the reasons why is Netflix removing Christian movies. So keeping in mind the stated fact, App Developers keep the option to toggle privacy options for allowing the users to choose their friends and social platforms themselves for broadcasting their choices.
Search Functionality
Let your users find the content they want to see easily. If it isn't displayed on the home page, let them search it through. Keep the right filters for searching by location, broadcast topic, date, length of the video, genres, language, most-watched, etc. If the users get what they're looking for in a few seconds, it will indeed leave a positive impact.
Interactive User Experience
It is recommended to implement a top-notch UI design along with the player so that it looks sleek while playing the video whether in full screen or half screen. From making a full screen to increasing or decreasing the volume or screen or the brightness adjustments, the app users can customize it as they want. Include the headphone settings with a toggle in this section. The video player should support FLV video files to VR and 360-degree videos for a more immersive user experience.
The UI/UX design team that you hire should be able to design a user interface that supports all the features and looks sleek while playing the video whether in full screen or half screen.
Review & Ratings
It is crucial to know what your customers think about your app. It could be they are quite impressed, or they may face troubles in some sections. Your Android video streaming app development company needs to be informed about these feedbacks and the needful assistance is to be provided.
App developers can tweak some features as per user reviews to ensure your application is always on top of its game.
Share the Screen
Anyone who uses Skype is aware of the "share the screen" feature. This is just showing another person what he or she would see on the mobile screen. It makes streaming videos easier than ever and lessens the troubles of making tutorials. Sharing game tutorials with a similar approach are easier to share and broadcast.
Comments Option
The comments option is used by two sections – one for the broadcaster and another for the audience or the users. The broadcaster will get reviews or comments from the public, and the audiences will get their questions answered from the broadcaster's side. Also, there would be an option to downvote or upvote for any comments as per personal preferences. This option would help the users to express their opinion and receive feedback and criticism for the same, which in turn, motivates them to improve the quality of streams.
Geolocation Tracking
Geolocation is a great addition to any video-on-demand application. Users will be able to find broadcasts according to their region. It gives the user to choose which broadcasts to watch from the map itself. The live video streaming software development team can also mark markers in the map in a range around the user's current location to show who is live broadcasting in that region. Show the live ones in blue and the inactive ones in red. However, one can customize the look anytime.

Back-end Features for a Flawless Video On Demand App Development
Stream Quality
This is one of the important characteristics to consider while on-demand video streaming app development. It helps the users to watch flawlessly even if the network bandwidth is down. It would be better to keep the lower option for the video quality to 144p and the higher option up to 1080p or 4k. Let the app decide the quality of the video automatically as per the network flow.
License
It is important to note that big on-demand video app giants such as Netflix find it immensely expensive to stream content all over the globe. So, the first thing you need to finalize is the region where your application shall be available. Following that, delve into the cost aspect and understand how much money you will have to pay to acquire the streaming license in that region. You can only make profits if your app income shields such expenditures. If things do not work out, see if there is a possibility of changing the region. Therefore, always start your development after you have settled all license issues.
Subscriptions & Revenue Models
This feature helps the users stay connected with the app to be updated when any new video comes up from their favorite band or performing teams. It is the best way to create an engagement between the user and the app.
These features basically determine the engagement of your application. If you want to modify things here or want any suggestions from the experts the video streaming app development team is available in just a click.
Basic Plan: The plan starts with a minimal amount of $7.99 per month. This lets you watch high-definition videos on a single screen at a time.
Standard Plan: Starts at $10.99 per month where the user can watch high-definition videos on two simultaneous wings. Thus, one can enjoy watching videos with their friends together from their own devices.
Premium Plan: The plan costs something around $13.99 and can be accessed through four screens at once which makes it quite easier for the people to connect with you.
Along with these things, there are a lot more important points that are to be considered when developing an application like Netflix.
Domestic Streaming Plan: The domestic streaming plan talks about the monthly basic plan income that is basically driven by the US audience.
International Streaming Plan: The streaming plan considers the revenue generated by customers around the world.
Domestic DVD: The domestic DVD plan reflects US subscribers who pay by DVD on mail.
If you look at the monetization strategy of the application it is defined in a way that they earn the best results in no time. Since they have worked in customer satisfaction the revenue makes things easier for them.
Push Notifications
Push notification has now been an essential part of every video streaming mobile app development. It helps the users to stay notified of all the current happening without being on the app all the time. Therefore, when their favorite broadcaster starts streaming something he/she will get a push notification on the device for the same without missing anything. Along with that, App Developers can also implement a scheduling feature. Giving the flexibility to schedule a future broadcast will make the app more interactive.
Analytics
In the admin section, the most important feature is Analytics and QoE/QoS Monitoring. One can analyze the live viewers and broadcasters in an overall graphical manner. The admin will also be aware of the real-time insights into the usage of the app and previous data to make further decisions.
These are a few basic features that your live-streaming app development team needs to integrate with your business. Along with these, they need to focus on some of the advanced features that can help you earn a loyal customer base and provide you an edge over the rest.
Wire-framing and Design Section
Before choosing the final design, video streaming Android app development experts need to make a draft to get an overall idea. Wireframing is one relevant section of app design. Hiring an Expert UX/UI designer is important to get a flawless design. It takes around 18 hours to 20 hours to develop video streaming app with wireframing.
Push Notification
Push notifications have turned into an integrative piece for communication with any application. For Android devices, to develop video streaming app, Developers can use Google Cloud Messaging Service, and for iOS devices, one can take the help of Apple Push Notification Service (APN).
Addition Features
Support of Hybrid Platform
High-end encoder and decoder for the trans-coding
Maximum render fluidity and adaptability for enterprise-level protocols
Live feed of URL to play in custom media player
Live monetization ads of the stream
Social casting and support for webcasting
Webcast the stream in websites along with social channel
These are just the set of features that we include in most of our vod app development projects. If you want to make some additional changes or add some more features to your application, we are just a click away. We have been delivering solutions that would make them your identity in the digital domain.
Video On-Demand Mobile App Business Model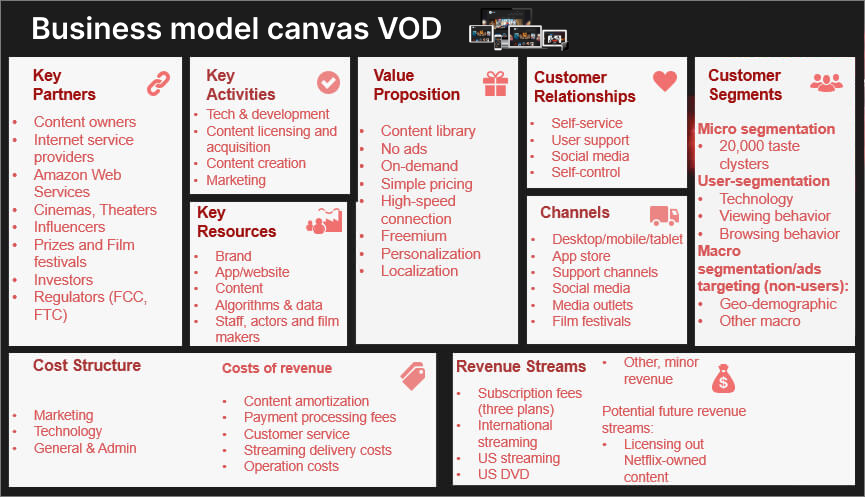 When you decide to hire a video-on-demand app development team it becomes important to demonstrate to them what you are expecting here. It is important that you make it a point to share the monetization techniques' value and proposition.
The business model for most OTTS is really simple. It is centered around embracing its target audience. The business model of the application runs around an ecosystem where each element has a significant role to play.
The business idea is subscription-based and depends on the plan that the user buys. For most applications, the value proposition stands on four pillars.
Recommended Read: Smart TV App Development Cost & Features
Value Proposition of Video On-Demand Application
The four elements of the value proposition are:
Accessibility
The ease of accessibility the application offers makes it really interesting for people to explore the options in the applications. With various languages, operating systems, platforms, and devices it becomes easier for the end users to find exactly what they would enjoy.
This approach helps VOD applications earn a strong loyal fanbase that reflects in a great revenue model.
Original Content
When talking about the content on such applications it is important that they showcase new content too. There are some record-breaking originals on these platforms that have changed the course of entertainment around the world. If you are willing to look forward to such solutions without any gaps then make sure that you would be earning a lot of profit in a limited time.
No Ads
The biggest source of income when it comes to YouTube like video channels are the advertisements. If you have a Netflix subscription then you know how interesting and easy it is to continue watching your favorite series uninterrupted.
Recommendation Algorithm
Talking about the recommendations, AI solutions never fail to impress us. Not a single person could complain about out-of-context or vague recommendations. The application has used the latest technology and trends with a strong AI backend that drives the recommendations and studies user behavior.
Our experts are capable to develop video streaming app with a similar setup that would track down the records and help you build a strong and interesting solution.
When you think of the business model that Netflix, Amazon Prime, Hulu, etc. follow, the zones to make a profit are lesser but to make users happy is more. It is user satisfaction that leads to more subscriptions and better profits.
Our customized on-demand mobile app development team ensures to bring to the table a product that resonates with your business objective.
What Kind of Content Can I Watch on an On-demand Video Streaming Platform?
In addition to the series and movies, the content that facilitates an on-demand streaming TV platform is completely varied. Therefore, it's growing remarkably worldwide, since it manages to meet the needs of millions of users when it comes to entertainment and variety. Next, the main types of content currently provided by VODs:
Series
These platforms have released several series in recent years, attracting the attention of thousands of users around the world.
These consist of audiovisual work that maintains a unity of plot in itself and thanks to its attractive textures, they manage to capture people who consume content from their computer, mobile phone, or tablet. Taking this into account, they cover all genres. It is worth noting that, today, the series shows the largest number of users watching videos on demand through these platforms (as you can see in the graphics provided at the end of this section).
Movie
After the series on VOD platforms, the films are the ones that collect the most views. It is a cinematographic work that, in general, tells a story adapted by a screenwriter and its staging depends only on a director. These can count on the participation of famous actors from all over the world and cover all genres.
One of the biggest advantages offered by on-demand television platforms in terms of films is that on several occasions they promote and preview many of them before their film broadcast. Therefore, users choose to purchase movies from HBO, Netflix, etc.
Documentaries
For those who prefer to enjoy a recording of an aspect of real life shown in front of cameras and a large audience, it is best to watch a documentary. These, basically, are classified according to the nature of the materials used in the video, which are those materials and also by the figure of the narrator during the recording.
In this sense, you can see purely real documentaries or, a "docudrama" in which the protagonists of the events narrated participate by acting in their own roles. As you can see in the final graphics, documentaries occupy third place in the VOD platforms.
Entertainment Programs
Although true, practically all traditional televisions have broadcast hundreds of entertainment programs around the world and many of them have achieved remarkable success. However, to watch them every day of broadcast, you had to stick to a fixed schedule and, if not, you missed the episode of your favorite show.
However, this has changed with this type of VOD platform, so users can access this content whenever they can and whenever they want. As a result, these programs occupy a transcendental role in the development and implementation of streaming VODs today, thus occupying fourth place when it comes to multiple views (see chart).
Thematic Channels
They refer to channels that offer specialized content on a specific topic or aimed at a specific part of the population. Generally, they are used by users who prefer to request specific content, such as: information, entertainment, children, religion, music, TV competitions, etc. These, in a video on demand, have reached fifth place.
Sports lovers of cricket, football, basketball, boxing, Formula 1, etc. also chose to use on-demand streaming over traditional television. Since many of the sporting events of an exclusive nature are broadcast only by certain TV channels and various users do not have access to that channel, on several occasions.
Thanks to these platforms, it is possible to have fun with games and competitions in real-time. For this, it occupies the sixth place.
Cartoons
Lastly, we position cartoons that have also had considerable power on VOD platforms today. Since then, many parents prefer to select the content that their children see and so, enjoy a variety of cartoons from any device.
Recommended Read: Most Popular Anime Characters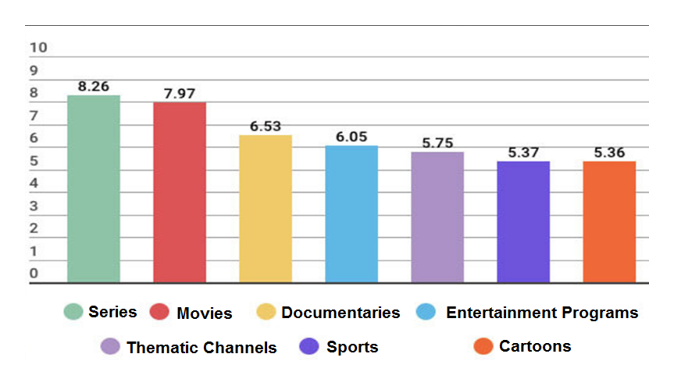 Things to Consider When Hiring Video On Demand App Development Team
Many business owners have a basic idea of what to expect from their app but when it comes to identifying the features and functionalities they get confused. Often they hire a video streaming app development company to help them with expertise and experience in the field. Three major to consider before you create a video streaming app are:
Scalability: The back-end architecture should be scalable enough to handle increasing numbers of users in real time without any disruption.
Security: Videos are one of the most stolen and plagiarized things on the internet. So look out for Digital rights, encryption, access control, and other safeguards.
Flexibility: The live streaming app development company should come up with an on-demand video streaming solution that is flexible enough to support all platforms and devices ranging from desktops to mobile & tablets. One will lose a significant set of the market if an app is developed for a specific device.
When you hire a live streaming app development company to get your app to action, you need to affirm your application is laden with features that bring you great customer revenue without much marketing effort.
So, now that you are sure that you want to move forward with develop live streaming app and have hired a team for the same, discuss with them the challenges that you would face and if your team can work on those challenges easily.
Challenges of Video Streaming Platform Development
Every new venture comes with a few challenges and lots of opportunities and innovations. As you decide to enter the market with a media to develop live streaming app, be prepared for some challenges that are common to the domain.
Our mobile app development team can develop video streaming app to help you overcome these challenges with their analytics skills and experience.
Large-Scale Data Transfer & Storage– Expensive, Slow & Bandwidth Intensive
Live & On-Demand Video Streaming– Expensive Infrastructure, the Reduced Scope of Reusability
Content Transcoding- Expensive for Large Data Sets, multiple jobs to be processed in different formats
Content Distribution Analytics– Usage analysis-Expensive & lacks detailed analysis
Live streaming platform development was always challenging. There are various features and minute complexities that are to be considered.
Technology Stack Used to Develop Live Streaming App
Push Notifications – Twilio, Push.io
SMS, Voice, and Phone Verification – Nexmo, Twilio
Payments – Braintree & PayPal, Stripe, EWallets
GWT – for Powerful Programming
Datastax – for Data Management
Mandrill – for everything related to emails
Debian – the Universal Operating System
Database – MongoDB, HBase, Cassandra, Postgress, Mail Chimp Integration
Cloud Environment – AWS
Real-time Analytics – Hadoop, Spark, BigData, Apache Flink, Cisco, IBM
Streaming Media System
Streaming Media System – Helix Universal Server, Wowza Streaming Engine, Nimble Streamer
Recently, app developers have released analog services to stream videos. One can also use other third-party servers and services for streaming purposes. Developers need to set up protocols to get the streaming part working in flow. The set of protocols required are RTSP, UDP, TCP, HLS, RTMP, etc. Contus Vplay and Wowza SDK are other tools that App Developers can use for streaming purposes.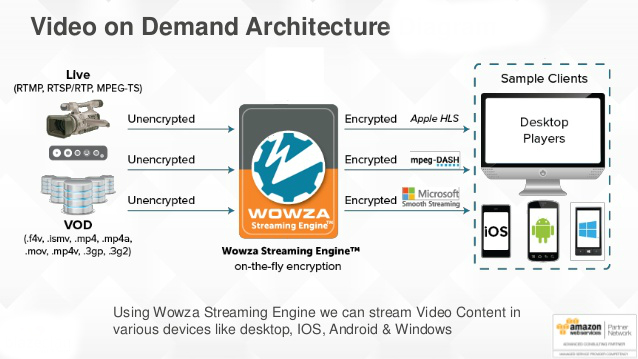 Connecting other users to one steaming is a complicated process and experienced developers should be assigned this work. For the backend, App Developers can put their trust in Laravel development services. It handles traffic fluctuations quite well and helps in performing multiple user requests. For video players, App Developers can make a custom one using Video JS or other feasible options available.
Hosting
For hosting, one can rely upon Amazon Cloud Services. App developers can get a good idea from the below picture of the tools needed.

Team Structure for Your Video Streaming Application
Project Manager
They should be an expert in the mobile industry having a precise knowledge of what works and what does not. You can perform the role as well, provided you are confident in your existing knowledge and managerial skills. The project manager will make a deep market study and will suggest the best things to do.
Designers
This group cannot be ignored. No matter how strong your app may be regarding coding, if it fails to attract the view of users during the course of usage, it may soon be uninstalled. Therefore, good UX/UI designers are required to make a good choice of color, background, elements, etc. They make the frame look good on screen.
Developer Team
A team of three developers (android app developer, iPhone app developer) will be enough for the Android and Apple versions. For the desktop version, App Developers will need a UX/UI designer. For backend API construction, hiring a team of good back-end team working behind it would be necessary, in addition to some front-end developers.
Testing and QA Team
Testing and quality assurance is one critical phase/factor before App Developers can bring the app to life in the market. The team will find every bug and crash and inform the developer team for further fixing.
A reliable team structure makes it easier for us to coordinate with the team and deliver solutions that are meant to earn great profits. We follow an agile methodology that makes it easier for you to stay updated with the development process and the stage. You can always modify the features in the development stage so that the final product that is rolled on helps you earn great results.
Cost of Developing an On-Demand Video Streaming App
The on-demand video streaming app development cost depends on the mobile app development company as the rate is different for developing the app based on region and time taken to develop the app. In addition, it also depends on the complexity of the video-on-demand application and its additional features. Most of the companies charge on an hourly basis. Countries on the eastern side cost less around 40-50 dollars per hour in comparison to the USA and UK. The total project will cost around 10,000- 50,000 dollars.
US-based developers:– $50 to $250 per hour
Eastern-Europe-based developers:– $30 to $150 per hour
India-based developers:– $10 to $80 per hour
Recommended Read: How to Hire Mobile App Developers: A Detailed Guide
The cost may increase if the back-end management is also taken into account. However, one can start the app from free and opt for an in-app purchase option to a premium version excluded from ads.
Choosing the Right Video Streaming App Development Team for Future Growth!
When it comes to talking about video streaming mobile app development, Octal IT Solution has earned itself a good reputation in the market. With years of experience and expertise in the field, the service providers associated with us make it a point to deliver solutions that are technically advanced, aesthetically addicting and have features that no other apps would offer. Innovation and creativity is our driving force and we make sure to bring on the stage a solution that helps you earn great returns on your investment.
So, just take some time, explore the various aspects, and see where others are lacking and how you can turn it to your favor.
FAQs