Document management tool development services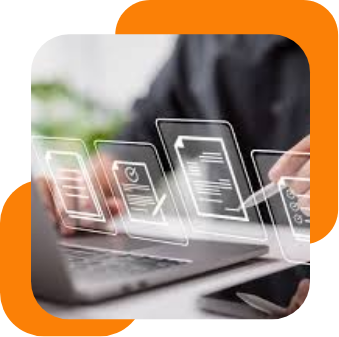 Powerful Software Solutions for Healthcare Document Management.
In the medical field, we are going through the IT revolution now, but the necessity of medical DMS does not appear. In today's Internet era, people can easily update information in a very short time and update the data management using document management system software solutions.
Other information exchange standards are considered for health record management and medical software development. For example, HL7 (Health Level 7) manages electronic medical records on clinical and administrative data.
Our Solutions
01

Document Management Solution
Octal provides a custom document management solution with version control function that includes a comparison of audit trail and document, provides a centralized store repository that integrates document printing sources.
02

Cloud Document Management
Cloud-based sharing, online / offline support, classification / storage of records Schema and data integrity with secure access control function for encryption, create cloud-based on-premises, hybrid documents.
03

Document Management System
We use role-based administration controls to program document archiving and storage functions to create boolean, grammar based, statistical, keyword based analysis functions.
04

Data Capture Solution
Develop intelligent data capture solution including program documents and images including OCR, BCR, ICR, OMR and regular expression. Capture the application as a leader in scan / upload, analysis and integration.
05

Document Management Tool
Document management that supports the conversion function of documents supporting multiple file formats, integration of e-mail clients, access to remote documents, editing, tracking archives, digital signatures, Code multi-user collaboration tool.
06

Document Management Development
Our experts develop user-defined document management software workflow using rule-based programming, administrator defined process, compliance management module and other document life cycle management functions.

All-in-One Solution
All the required features come up under a single portal so that user can manage and monitor all the related activities without any confusion.

Data Collection & Privacy
Implementing the most effective big data analytics solutions, we easily map the data of the right patient so flows out to the therapist, and makes sure that it comes with the effective solution.

Wearable Tech & Cloud
While using all the cutting edge technologies, we create fitness apps that delivers on-demand medicine services and patient care prescriptions and beyond.

Targeting Patients Personally
We deliver solutions that comprise of medical history, health care plans and other critical data so as to make the patients realize that he is being treated personally and with utmost importance.
What Makes Us the Buzz of Tech Town
Here's what our business partners say about us.
Tech Talk: Stay Up-to-Date with Our Latest Insights
We have our eyes on what's new in the tech world and bring you the latest updates here!
Octal In The News
Octal IT Solution Has Been Featured By Reputed Publishers Globally
Let's build something great together!
Connect with us and discover new possibilities.






Gain More With Your Field Service
We're always keeping our finger on the pulse of the industry. Browse our resources and learn more.
Let's schedule a call