Elearning App Development Services to Make Education Accessible!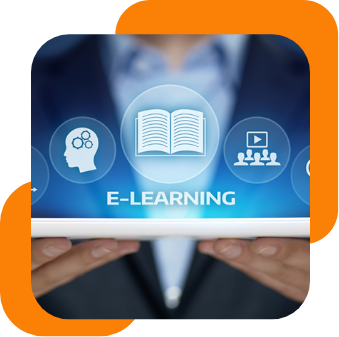 Technology has transformed the way we interact with our day-to-day activities, and learning is one of them. eLearning in recent years has grown and if you are looking forward to walking with the trends with an eLearning solution we make sure to build a solution that meets your business objective and needs. The popularity of eLearning apps like Byjus, Edx, etc. is a clear reflection of how students these days prefer learning from the comforts of their homes. These applications have made education accessible via smartphones anywhere, anytime. You can hire mobile app developers who have years of experience in the field and can help you build a strong presence in the domain.
Fact Check: The Global Elearning Market would hit $325 billion by the year 2025.
At Octal IT Solution, we have a team of e-learning app developers who hold experience and expertise in the field. They strive to bring to the table product that is unique, technologically advanced, and easy to use.
Types of Elearning Solutions Our Dedicated Developers Offer
Virtual Classroom Apps
In the past couple of years, classrooms have moved to mobile phones. With Google Classrooms gaining popularity, most educational institutes now seek to develop custom classroom applications for their students. These applications not only make it easy for the students and teachers to experience real-time classroom learning but also let students learn at their pace. In most cases, they can record the lectures and view them later or sometimes they can download the notes provided by the teachers.
Students can submit their assignments and projects through these applications. The teacher can assign, review, and evaluate the assignments and projects from time to time. These applications offer a real classroom experience digitally. Students can form groups, communicate with each other, discuss their doubts, share their notes, and whatnot through these applications.
And with advanced technology, like AR, AI, ML, etc., virtual classrooms offer an extended fun experience. With a dedicated ed-tech development team we build solutions that are easy to use and make learning a fun experience.
Examination Preparation Apps
How easy it is to download and install an application that helps one to prepare for the next exam they are targeting to crack.
For over a decade, our e-learning app developers have worked on various e-learning applications and they understand the psychology of the students and how to engage them with the application. We make sure to integrate interesting gamification features, visually appealing UI/UX, easy-to-track progress dashboards, reminders for upcoming exams, tips from the experts, etc. Students can find solutions to the questions, mark questions for further references, highlight texts, bookmark important questions, and whatnot. Simply choose the exam, and your level, and appear for the test. Examination preparation elearing applications need to have features like self-evaluation, asking experts, reading details, etc.
If you want a custom examination preparation application for your institute, we can help you with that too.
Course-Based Elearning Mobile Application
The easy accessibility of the internet and the ever-increasing popularity of smartphones have made it easier for students as well as professionals to learn new things. We can help you develop course-based applications like Coursera where users can choose the course they want to take and learn according to their requirements.
Users can select not just technical but non-technical courses too. They would be given assignments, and tests, and evaluated for various things. We make sure the solutions that are deployed to you are scalable, flexible, and easy to use. We bring to you a feature-rich learning application that is easy to use and can be used by everyone.
Gaming-Based Learning Apps
We make sure that the solutions that are delivered to you are scalable and flexible. For kids especially, these applications prove to be amazing. They make sure that the kids learn something new and interesting every day and that their overall development is improved. Gaming-based learning applications are exciting and can help you grow a strong presence in the market.
Our experts understand parents always want to be a part of the learning process and thus we offer interesting solutions where they can participate with kids too. We also provide extracurricular activities where they can participate with kids and learn a new skill.
Corporate Training Learning Apps
Corporate training learning apps are digital platforms designed to facilitate training and learning within organizations. These apps are specifically tailored for corporate environments and provide a range of features to enhance employee development and knowledge acquisition. Professionals can explore the solutions and choose the course that would upskill their understanding of the subject or supports their professional growth.
Features to Include in Your eLearning Software Solution

Easy Onboarding
An elearning platform would interact with a range of target audiences from students to teachers to guardians. It is crucial, your audience can log in or signup with the application easily.

Live Streaming
One significant feature, any elearning app development company would integrate into the product is the live streaming solution. It lets students check lectures as they do in traditional classrooms.

File-sharing
To help students have a better understanding of the topic they must be given some assignments. Teachers can share the assignment over the application and students can share it back on the portal.

Exams and Practical Tests
An indispensable feature of any learning application is the test series. This helps students, teachers, and parents evaluate ones learning and understanding of the topic discussed.

Hand Signal System
If there is live streaming, there has to be a hand signal system where students can ask their queries without disturbing the ongoing discussion. This is one of the most sought features for elearning application development.

Chat Feature
Adding a chat feature to your Byju-like elearning application would make it easier for the audience to interact with each other. This would make the learning process simpler and better.

Session Recording
With the feature to record sessions, it becomes easier for the students to revise their lessons again. Elearning app developers build solutions with a session recording element for future reference.

Offline Schooling
With the video courses uploaded on the application, students can anytime refer to these and take their sessions. Hire elearning app development service providers who can help you build self-paced learning platforms.

Breakout Rooms
Breakout rooms play a significant role when the class is large. The teacher can break the class into smaller groups for group activities and assignments. Also, it becomes easier to explain things and take sessions in smaller groups.

Screen Sharing
Students or teachers can share their screens for any discussions. This makes communication clearer and the learning process easier. The teacher and student can have a school-like learning experience.

Push Notifications
Push notifications make it easier for the audience to connect with your application and interact with it. Any application would grow and expand only when it can invite students to discuss and talk to them.

Gamification
Another interesting point to hold the audience here is gamification. To expand the learning experience you can include reward points, awards, levels, and other perks that engage students with the application.
Elearning App Delivery Methods to Make Learning a Fun Experience
01

Synchronous eLearning App
Synchronous elearning applications make learning a fun and real-time experience where students connect with the educator over a video. The students are connected with the teacher during the lecture and can ask their doubts and queries as they may arise.
02

Asynchronous eLearning App
To build an elearning app like Coursera, Udemy, Edx, etc. you would need an elearning mobile app development team. An asynchronous elearning mobile application would make it easier for the students to learn and take courses at their ease.
03

Hybrid eLearning Apps
When you look forward to building a solution that has elements of asynchronous and synchronous elearning applications you can connect with our team that works on navigation and aesthetics to help you build a strong digital presence.
User Panels for Next-Gen eLearning & Education Mobile Apps
Student Panel
Signup/Login using Social Media
Review Subscription Plans
Integrated Payment Gateway
Navigate Courses Available
Ask Doubts about the Course
Search and Verify Your Tutor
Communicate via App
Track Course Progress
Teacher Panel
Easy Registration
Detailed Dashboard for Various Courses
Schedule Classes and Meetings
Reminders via Push Notifications
Create and Share Live Class Links
Notification for Upcoming Classes
Q and A section to Answer Students' Doubts
Share Various Media Files Related to the Course
Admin Panel
Student Information System to Check Details
Teacher Verification and Management
Verify and Check Course Material
Update and Revise Subjects
Check Subscription Plans
Offer Rewards and Discounts
Work with Content Management System
Real-time Analytics and Reports
Parent Panel
Signup/ Login using Social Media, Phone number, or Email
Check Child's Performance and Assignment Reviews
Review Course Progress
In-app Chat or Call with Teacher
Review
Analyze Assignments and Test Results
Track Subscribed Courses
Get Notifications via Teacher or Admin
Verify Student Attendance and Details
Major Challenges Elearning Mobile App Development

Engagement
When it comes to developing an elearning app like Bjyjus, partner with a tech partner that can help you build a technologically advanced and aesthetically interactive solution.

Accessibility
The elearning domain is capturing the market at a great pace. It is vital that the product you take to the market is accessible and compatible with various platforms and devices.

Revenue Generation
Our hybrid mobile app developers make sure that the solutions deployed are accessible and compatible with various devices to increase audience reach and usability of the application.

Encrypted Messaging
The conversation between the teacher and student or teacher and parent or any other message needs to abide by the privacy policy. We make sure to integrate an encrypted messaging service with your application to add credibility.

Advanced Technology
Partner with the right elearning app development company to make sure that the solutions offered to you are technologically strong. Our development team keeps updating itself with the latest trends to deliver the best results.

Interactive Activities
Any learning application would need elements that engage students and teachers alike. Students at certain ages attract to certain elements, our UI/UX Design team takes care of these factors when developing a solution.

Isolation
It is important that you create an environment where students can focus only on their studies blocking other app notifications. Our elearning app developers try to eliminate other diverting elements from the application.

Cost Saving
The cost of development of any elearning application is defined by the features. Technology, developers' native location, etc. The mobile app development team associated with us brings you a solution that fits your budget and is in line with your business needs.
Technology Trends That Influence Elearning App Development
01

Interactive & Engaging Solutions
We develop solutions that are highly interactive and improve engagement considerably. We make use of attractive graphics and material to make our eLearning apps highly appealing & engaging for students.
02

Collaborative Learning
We incorporate tools & technologies to provide students with a collaborative learning experience. Students and faculties may interactive with each other using a shared platform.
03

Practical Learning
Video-based and game-based training is the next big thing in the industry. Use of such media ensures better engagement, more interactivity and better performance of the application.
What Makes Us the Buzz of Tech Town
Here's what our business partners say about us.
Tech Talk: Stay Up-to-Date with Our Latest Insights
We have our eyes on what's new in the tech world and bring you the latest updates here!
Octal In The News
Octal IT Solution Has Been Featured By Reputed Publishers Globally
Let's build something great together!
Connect with us and discover new possibilities.






Gain More With Your Field Service
We're always keeping our finger on the pulse of the industry. Browse our resources and learn more.
Let's schedule a call