In this blog, we discuss movie rating app development, the business models, features, and cost to develop a movie rating app like IMDB.
Some of us love to watch movies as soon as they are released.
First Day First Show!
And some of us wait for the reviews, read them, judge them and then decide if we want to watch a certain movie or not. Earlier it was the newspapers and the friends who would share the review but as the time evolved and mobile applications seeped into our daily lives, the industry saw some advantages.
Today the play store has hundreds of media and entertainment application solutions to attract the audience. You name one thing from the industry and there is an application for the same. Be it live streaming applications, Over The Top applications, game applications, art and craft applications, fantasy sports applications, and whatnot. Movie and show reviews aren't left behind too.
Movie Review App Development!
One of the most reliable websites that define the quality and the detailed reviews of the movies is IMDB or the Internet Movie Database. This application has the widest range of movies being reviewed and saved to the database.
But with time, there is a need for a new application that can offer more features and is integrated with the latest technology. It is not just the technology that is an issue here, it is also how with time the entertainment industry has expanded itself and the applications that were developed years back could not match up with the pace.
Mobile app development trends have evolved with time and it is important that you enter the market with a solution that is developed considering these.
If you are looking forward to entering the market with a reliable solution, simply hire a movie review app development team that can make things easier for you.
Here is a detailed guide on how your IMDB-like app idea would turn into a working reality.

Step-by-Step Guide on Building a Site Similar to IMDb
The world is full of movie buffs!
The entertainment industry has been offering a lot of people the choice to build their presence online and our experts have been helping them with some advanced solutions.
Development of a site similar to IMDb in all cases involves a few general steps that can help you outgrow the competition in the market.
Also Read: Mobile App Development Process
Step 1: Understand Your Niche and Target Audience
The first thing to understand and work on, when you have an application idea is studying the niche in detail. Here we are talking about movie review app development and a few things that you need to be clear on are:
Would your application cover simply regional movies or national and international movies too?

Would you include only the movies or you would review the latest web series? As there is a significant rise in OTT application development including web series review could be a great idea.

Will your application be language-specific or multilingual?

Do you want to develop a genre review or content review website?
These are simply the examples of the questions that you need to consider before you move forward with your app idea.
Once you are sure about the solution that you want to take to the market, the next is who are you building this application for.
The application would majorly be developed for the younger audience who have limited time to explore the movies they find interesting. They can simply review the movie that appeals to them and if it has good reviews and responses then they can watch it. Movie rating website targets a universal audience and is quite popular around the globe. Developing a similar website with a better feature set can give you a competitive edge.
Step 2: Monetization Strategy for Your IMDb Application
As the movie rating app development team enters the market with an app idea the purpose is to resolve the problems that our potential users may face. Along with that another point to consider here is the revenue. Entering the market with a highly rewarding application is an important point to focus on.
Our experts share here a few monetization techniques they integrate as they create a movie rating app that would make it easier for you to earn a good sum of money.
1. Free and Paid Application Model
The most popular and easiest way to enter the market is with an application that offers both free and paid services. Here our team would let your users avail of most services from your application for free, and restrict a few features for the paid version. This would encourage your users to pay for the application to use the complete app.
If you think, a paid version won't work, then our on-demand mobile app development team would help you enter the market with a free application that can earn revenue with paid advertisements.
Simply connect with the small brands that have a similar audience and showcase their product on your application, you can collaborate with them on a monthly basis or pay-per-click basis.
2. Free App with In-app Purchase Model
Another interesting way to enter the market with a free application is to allow in-app purchases. Let the application be available to the user for free, with certain features being accessible only when you pay for them. These features can be unlocked for the time being and if one wants to use them further, they need to pay again.
This model can help you make good money. This is like renting a movie on YouTube for a certain amount for a certain period of time.
3. Free App with Subscription Model
A subscription model may be less effective for the domain that you are working on. This is more effective if you build an OTT platform.
Also Read: OTT App Development: Cost and Key Features
For example, Disney+Hotstar offers you some amazing shows and movies for free, but for some movies, you need to have a premium account on the application. As we work on your application our experts would discuss it with your team and help you build a solution that is profit-making and interesting.
4. The Paid App Model
Not a very popular choice!
The paid model works for a limited industry. When our experts develop an app like Netflix then they would integrate a similar model. For some application that runs majorly on user interaction, the version would not help you through.
5. The Partnership Model
Another great idea to monetize your application is using a partnership model. You can partner with applications similar to your domain and get displayed on their applications to be in the front row.
These are quite the basic monetization strategies that our movie rating app development team suggests. If you have a vision with a better and bigger picture, then you can surely connect with our experts who can help you with a solution that is in line with your business objective.
Now that you are sure about the monetization technique of your application, the next in the line is to be aware of the cost of developing a movie review application.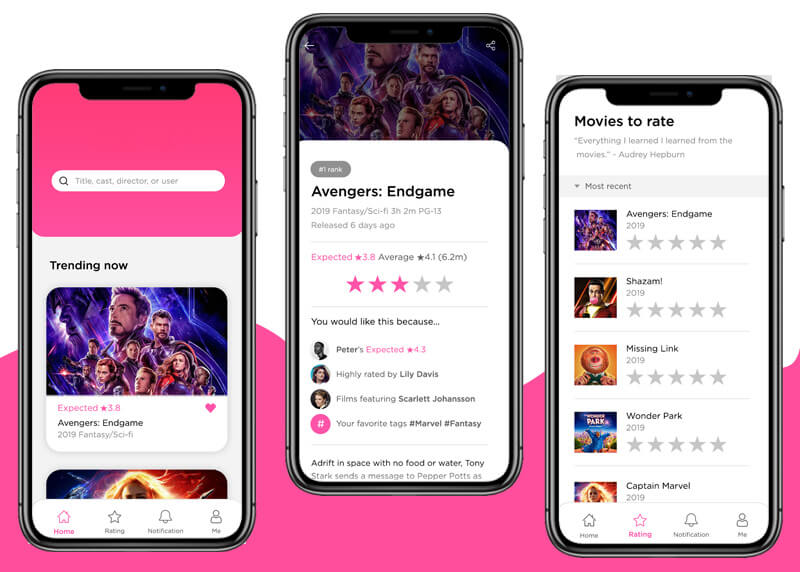 Step 3: Determining Movie Review App Development Cost
The cost of development for any mobile application is determined by various factors. We understand investing in your idea is a great opportunity and doing it the right way is vital.
We share here the most dominant factors to create a movie rating app that would define the cost of development of your application.
Platforms

Features and Functions

Technology

Region of Development Team
Hiring a development team for your project is a difficult decision. Simply check on the factors and see the response that would help you make a wise decision.
Also Read: How to Hire a Mobile App Development Team
1. Platform to Launch Your Application
If you have a universal user base you want your application to be available over all the possible platforms. If you want to go for a limited audience or be available for simply one of the platforms then the cost of development would vary.
You can choose to develop a
Native Application:

You can reach our team for native mobile app development where your application would be available for limited platforms. It could be that you enter the market with just an Android or iOS mobile application instead of a universal application.
Since you have a vast user base, we wouldn't suggest this for your movie review app development.
Hybrid Application: Media and entertainment industry with advanced technology has seen a great revolution. You can hire a hybrid mobile app development team for your product that would be compatible with all the devices and platforms.
A wider reach… a better revenue… a higher profit!
Web Application:

Another sustainable alternative is to go for a web application. In this case, you would not have to worry about the platforms and other details. This would simply be the application that opens on your web browser. This is much similar to the amazon web app model.
Also Read: Develop an App like Amazon Marketplace
2. Features to Include in Your IMDB like Movie Review and Rating Application
Another important factor that you need to focus on when working on the idea of your application is the feature set. There are a few common key mobile app features that our experts would integrate with your product, but along with them, there are a few more that would make things easier.
Easy Onboarding
Logging into IMDB is such an easy process. All you need to do is install the application and simply register either with your email id or Facebook account. This saves the hassle of filling up the details and authentication process that takes time.
Also Read: Best Mobile App Onboarding Practices to Follow
Content Advisory Guidelines
It is important that the solution that you take to the market are interesting and abide by the content advisory by the government. Each show and movie would be marketed with a different rating depending on the content in the piece. These ratings are basically as per age and the audience group it is suitable for.
What's Trending
In our busy lives finding time to be updated with the latest in the entertainment industry is really difficult. We make sure that the solutions that are deployed are updated with the latest movies and shows in the feed section. This would help your users be updated with what's new in the industry.
Featured Today
This is another popular feature that we integrate with your product. The list is updated regularly with the ratings and reviews being evaluated in the backend of the application.
If there is a new movie or some show that is gaining attention and people are liking it, then your user can see it here.
Thus, with this feature, they can surely shake off the "Fear Of Missing Out."
Watchlist
When scrolling through the application your user may see a few shows and movies that catch their attention. They can add these to their watchlist and as they get time enjoy them.
This is more like bookmarking the things you want to explore later when you have time.

Fan Favorites
Another interesting feature that would help users be updated with what people are watching. Our movie recommendation app development team affirms that your user never misses any show or movie that people around the world are enjoying.
Explore What's Streaming
This section basically talks about the latest movies and shows streaming on various platforms. Thus, on one platform you can see what's trending on Netflix, Disney+Hotstar, Amazon Prime, etc.
You can simply scroll through the list and check what show or movie you want to watch and where it is available.
Top Box Office
Another dominant point si the top box office. Here you can see what movie or show is being rated at the global box office. Sometimes your users may not be aware of the shows that are being highly rated. With this feature, they can be recommended the shows and movies that the world is appreciating.
Trivia, Goofs, and Quotes
The application talks about some amazing quotes and memes to entertain the users and keep them engaged. Along with this, you can share some funny memes and goofs that would make things easier and better for your audience.
Coming Soon
Another dominant feature to value. Here is the list of upcoming shows and movies that would be available. If there is something that your user wishes to enjoy or is eagerly waiting for, then here they can check for the release date.
Editor's Pick
A lot of people do not like commercial films and movies they love the art cinemas better. We make sure that your audience doesn't have to struggle with what you are talking to.
They can simply scroll through the feed and pick the best solution they like.
Search Genre
An important factor in the applications with such an extended database is the search panel. One can search for shows and movies via various categories. They can search genre-wise, content type, or release type.
We understand searching for a movie or show can be hectic and sometimes if the users cannot find them at once they abandon the application.
News
This is another important factor for those entertainment industry buffs who love to be updated with the latest happenings in their celebrities' lives. Under the news section, one can check for the latest updates on their favorite celebrities' lives and the entertainment industry in general.
Rewards and Awards
This section talks about which celebrity is awarded and what the latest award functions. They talk about their speeches and the categories they have received the awards.
This section is a general update on the latest events in the entertainment and media industry.
Popular Trailers and Teasers
With so many movies and shows releasing per week, it becomes easier for the users to choose the ones they want to watch and enjoy. They can simply see the trailers and teasers of the ones they think they might like and then decide if they want to continue watching.
Social Media Integration
Social media integration with the application helps the users to connect with their friends. They can share the trailers or the reminders with their circle to plan an outing.
Not just this, it also becomes easier to avoid the hassle in the solutions and help you be at the top of your game.
These are some of the amazing features that your movie rating and recommendation app development team cannot ignore. If there is some other feature that you think we can integrate with your product you are free to share the suggestion.
Another important factor that would make your application stand out from the rest is the technology. With advanced technology integrated with your product, we make sure it stands the test of time.
3. Advanced Technology to Keep Your Rating and Review Application a Step Ahead
When talking about the advanced technology to implement with your product our experts have your back. We make sure the solutions and technologies that we use are scalable and help you build a flexible solution.
Artificial Intelligence and Machine Learning
Artificial Intelligence and Machine Learning solutions offer you the best user experience. We use NLP and EasyTranslation interface to deliver you solutions that can be used in various languages. With the voice search option, the user can simply speak and search for the movie they are looking for.
An AI-based smart chatbot is another great application. You can make your application adjustable in a wide range of ways, for example, by making a supportive chatbot.
Let your application be implemented with ease and help you build a strong solution that would make it easier for you to stay in line with your budget and play along.
Related Post: How Much Does it Cost to Develop AI Chatbot?
Gamification
Suppose there is a group that uses one particular application, then it becomes kind of a competition to see who earns better scores.
The mobile app designers bring to the surface dazzling UI/UX.
Making use of this competitive mindset and interactive interface, the developers prompt expanded client inspiration, further developed spirit and commitment.
Big Data Analytics
With Predictive Analytics and advanced CRM solutions integrated with your product, we make the best use of Big Data Analytics. One can get reports of what is working for them and what isn't. This would make your application more user-friendly and interactive.
Cloud Computing
As we have seen the application would need a vast database, it is important that it is integrated with a reliable cloud computing solution. We use the best in the market cloud computing solutions that would make it easier for your users to find their favorite movies.
These latest technologies help you be at the top of your game and engage the user base equally. We make sure that as you reach our mobile app development company you get solutions that are highly effective and can help you be way ahead of your competition.
4. Region of Movie Rating and Recommendation App Development Team
Another important factor that you have to be sure about is if you are looking forward to hiring an in-house development team or outsourcing your project.
If you are looking forward to hiring a team of experts, then that would be a mistake. Hiring an in-house team would not let you have a deep insight into the developers' experience, plus you only need a team till your product doesn't go live.
With this hire and fire policy, your company may get a bad name.
Thus to make sure that you do not fall prey to this mentality, simply hire an experienced team of developers from an IT consulting firm that can help you through.
When you search for an organization that can build a reliable solution for you, all you need to do is check its portfolio, reviews, and ratings.
The region of the development team would play a significant role in determining the cost of the project. For instance, below are the hourly charges of developers from different countries:
USA: $130-$150

UK: $110-$130

Europe: $90-$110

Australia:$70-$90

India: $15-$80
Choose the right IT firm that can help you in your journey and be ready to take to the market a movie rating application that your users love.
Thus, these are the common factors that would determine how much would it cost to develop a site similar to IMDb. Once you have made your choices and decided your budget, the next in the line is understanding the development process.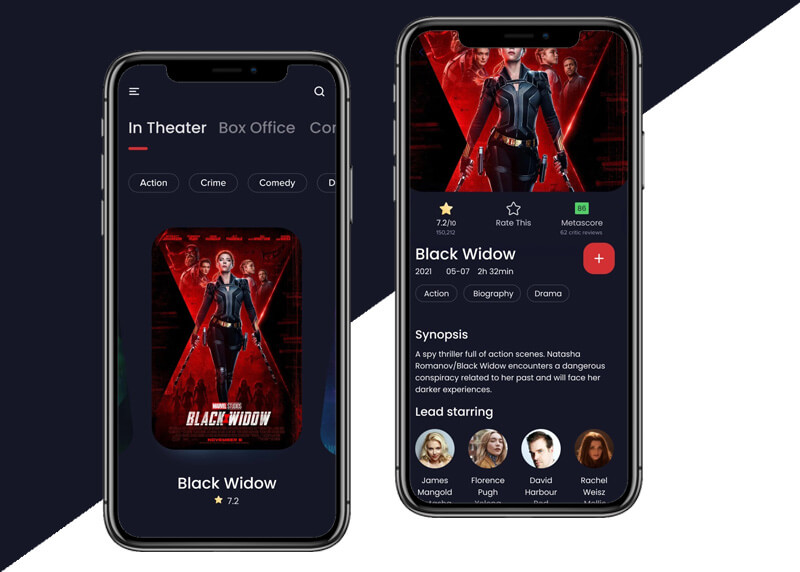 Step 4: Mobile App Development Process
The mobile app development process is quite complicated. First, the wireframe is prepared where the details of the application as it is supposed to be is prepared. Here the look, feel, and working of the application are determined.
Next, the UI/UX team builds a solution that functions according to the application. The development team then enters the picture and further develops the functions and features that the UI/UX team integrated with the application.
As the development of the application is ongoing there are regular sprints that are conducted where you would be updated on the latest development of your application. If there is something that you need to work on or want to modify we would take the suggestions here.
Once the application is developed the next in line is the testing process.
Your product is tested for its functioning and features. Once the application is verified, the product is deployed to you.
Step 5: Launch and Market Your Movie Review Application
Once the application is deployed to you the next thing is to take it to the market. Launch your application and see what best can you get from it. In the beta version, you would find a few issues that our experts would resolve for you. Thus, finally, you enter the market with a solution that is highly responsive and keeps you on the list of best movie review and recommendations applications.
Market your application in a way to reach a wide range of users and then simply let technology play its charm.
Phew!
That's a tough road to take.
The Final Words!
So, now that you know the complete process of how to start a movie review website, all you need is to reach the right team that can help you through.
The dedicated development team associated with us can help you enter the market with an amazing solution that would help you earn great revenue in no time.