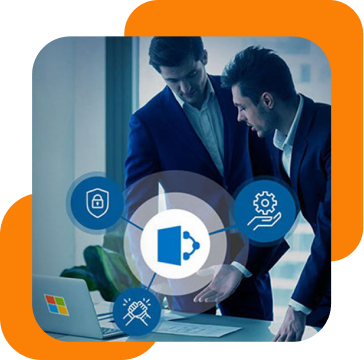 SharePoint is known for its amazing capabilities as a document management platform. With time, it has emerged much more than a Content Management and Documentation Management system – with more sharp and interactive features for CMS development, Business Intelligence integration, Workflows generation, Performance Point services and dynamic integration services.
Octal has been working on SharePoint services from past several years. We have a dedicated team to work on SharePoint development projects, to handle prompt and flawless project deliveries. SharePoint Development at Octal features services like SharePoint 2013 Development from scratch, SharePoint application integration services, SharePoint CMS enrichment with BI, Legacy system integration and migration to SharePoint 2013 and more.
Our SharePoint developers have all the latest information and familiarity with the tools to get you going. They look for solution that is more practical rather than mixing-up and clustering a large number of unwanted features. We stick to basics and aim at more result-oriented solutions that really have an impact to your everyday work and your business's health.
Bespoke SharePoint Solutions

BUSINESS WORKFLOW MANAGEMENT
With Sharepoint, organizations become capable of collaborating on enterprise data and this consists of native workflows for approval cycles. With our Business Process Management Suite we present Sharepoint with advanced workflow applications for business critical operations.

DOCUMENT MANAGEMENT
It's a tough task for employees to find accurate information and it's extremely time consuming. In fact once the content is located they need to assume that it's up to date. However that is not possible without powerful document management. With the help of reliable content businesses can solve problems faster, help customers in a effective manner as well as allow people to get on with what they do best.

REPORTING COLLABORATION
Here at Octal IT Solution, our Sharepoint experts set up the right solution for report generation with custom dashboards. The data is presented via tables and diagrams split into various sections as per the customer's requirements. With our Sharepoint services you can consolidate your data and systems, increase collaboration and drive better business decisions. We streamline your organization's day-to- day functions which once seemed impossible to you.

BUSINESS INTELLIGENCE
SharePoint BI is certainly the most intriguing part of the tool with the best feature being it helps in quick decision-making. It allows you to build highly competent reporting tools which offers scalability and precision. Our team of experts assists you in understanding and creating rich BI dashboards consisting of visual graphics, summaries and charts helpful in making quick business decisions. You get access to the information in databases, reports and business applications and as well as help you locate the information required to make sound decisions.

INTRANET PORTAL DEVELOPMENT
As you have organized the data with right kind of content management solutions and reporting tools, you require to ensure that the information is accessible. This can be done through a secure Intranet and Extranet portal. These solutions help in transforming the way people and organizations work together through familiar workspaces, portals and emerging social computing capabilities across functional business areas. Through these solutions you can extend the value of your present IT investments as well as enable business process innovation.

SHAREPOINT MIGRATION SOLUTIONS
SharePoint Migrations are quite complex as they force you to assess the state of the content you have – weight business factors such as size and relevance – so that you can make decisions regarding what you desire as well as need in order to bring into your new system. With our SharePoint Migration Solutions, we help you in restructuring your content so to offer better management and discoverability.

WEB PORTAL DEVELOPMENT
SharePoint comprises a wide array of web parts which facilitate users to discover useful information and content effortlessly and quickly. At Octal IT Solution we assist you to use the "mini applications'' of web parts to distribute content in a organized & customized way to enhance your productivity.

SHAREPOINT WEB PART DEVELOPMENT
SharePoint 2013 is highly admired CMS by SharePoint Developers these days because of its amazing capabilities - making it the first choice of the businesses & SharePoint Developers looking for reliable CMS platform. While providing you dedicated SharePoint developer hiring solution we consider your project needs completely. We do an in-depth research on your CMS requirements. Our SharePoint Developers do all the research work, analyze your content and related information and precisely relate the SharePoint features to optimize your SharePoint solution.
Why Choose Octal for Sharepoint Solutions
01

Ideal Solutions
Ideal for the companies of all sizes our SharePoint Solutions facilitates lower IT cost, enables advanced collaboration and delivers high-quality service for SharePoint users.
02

Team of Experts
We have a team of our 180+ skilled developers capable of handling programming and development services.
03

Seasoned Developers
Our Developers have worked on distinctive client requirements and developed apps for varying industries.
04

Great Portfolio
We have myriad clients who have benefitted from our Sharepoint services by Microsoft.
05

Quality on Time
We help enterprises increase productivity, efficiency and save time and cost at the same time without compromising on quality.
06

Vast Experience
We have vast experience in developing highly customized websites for diverse type of businesses for variety of clients globally
Advanced SharePoint Solutions
ASSESSMENT & PLANNING
At Octal IT Solution, we specialize in building and deploying IT solutions based on Microsoft platform. Microsoft SharePoint Server is a secure, Scalable, enterprise portal server helpful in aggregating sites, information and applications across the organization into a single, easy to use and east to access solutions, from anywhere and anytime. With us you get the ability to manage, index and secure data and well as know how to best use it.
DEVELOPMENT & IMPLEMENTATION
Having being active service provider in this arena, Octal IT Solution offer Sharepoint development, implementation, consulting and support services for businesses of all sizes. Despite the size of the business, a project team is created for each project that mainly consists of a single consultant or our entire team. This team uses proven methodology to plan and execute Sharepoint implementations, considering the expertise of your staff.
HIRE DEDICATED DEVELOPER
With Octal IT Solution, you will hire just the right SharePoint developer in best equations of time and cost. Hiring our dedicated SharePoint developers would help you fetch the flawless solution suiting your needs, just perfectly. We give you option to choose sharePoint developer from our pool of SharePoint Developers to get right SharePoint developer at job.
What Makes Us the Buzz of Tech Town
Here's what our business partners say about us.
Tech Talk: Stay Up-to-Date with Our Latest Insights
We have our eyes on what's new in the tech world and bring you the latest updates here!
Octal In The News
Octal IT Solution Has Been Featured By Reputed Publishers Globally
Let's build something great together!
Connect with us and discover new possibilities.






Gain More With Your Field Service
We're always keeping our finger on the pulse of the industry. Browse our resources and learn more.
Let's schedule a call