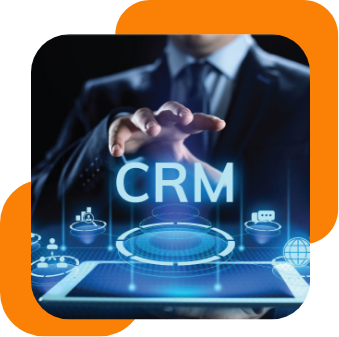 Serving myriad customers across the globe we meet all your web requirements with the help of our trusted team.
Octal IT Solution is a prominent Dynamics 365 Development Company offering countless enterprise software solutions to business enterprises and organizations that work in various arenas globally. Our dynamics crm application development solutions are designed in a brilliant way with exclusive features to manage customers, vendors, suppliers and partners in an efficient manner. Since years our Dynamics CRM developers have been offering end-to-end Microsoft Dynamics CRM Solutions including CRM integration, CRM migration, CRM support and CRM customization.
These adept developers have years of experience and great knowledge of Dynamics CRM meeting your requirements well, mastering data management, configuration and customizations of workflows, plugins, user setups, end-user training and support. We offer industry-specific frameworks and tools helping organizations effectively assimilate Microsoft Dynamics CRM into the present applications and IT infrastructure. This way we are satisfying our global clientele with affordable service offerings and best solutions.
Deliver Superb Customer Experience
With our Microsoft Dynamics CRM service you get tools necessary to deliver the best-in-class customer service with brilliant set of features this increasing department efficiency and enhancing service levels. The customer service module we offer via our Dynamics CRM Customer Service allows you to access customer information manage cases, service history as well as support knowledge straightly to the representatives and supervisors offering tools helpful in delivering consistent services.
Through our service in the arena you get to make the most of multiple interaction channels, comprising of phone calls, email messages, in-person communications and self-service websites so that you can create, manage and resolve service issues in a quick manner. It allows streamlined access to cases, customer history, Service Level Agreements (SLAs) and robust Knowledge Base supporting customers in an effective and productive manner. Meanwhile by creating a productive work environment for customer service representatives it's also easier to manage work in an efficient manner.
Sell With Confidence
At Octal IT Solution with our Microsoft Dynamics CRM Sales Management module we support sales functions of the organization enabling sales-related administrative tasks to automate by offering a streamlined system encompassing sales process, cutting length of sales cycles and enhance customer retention. Our services are designed in a manner that they integrate with the company's existing technologies in a seamless manner and use the brilliant features of Dynamics CRM in order to easily execute customer relationship management activities.
Microsoft Dynamics CRM consists of five modules, workplace, sales, marketing, service and settings. These modules are designed in a manner that they allow users in attain tangible, constant progress in everyday business processes. Each module comprises of its own function and it's integral to the effectiveness of Dynamics CRM. Dynamics CRM Sales Management helps in generating sales reports for performance measurement and facilitates informed decision making. It also automates workflows and processes for enhanced productivity and better resource management.
Market To Drive Results
Microsoft Dynamics CRM Marketing Services offer users with vital tools so that they can target the right contacts with right information. The Dynamics CRM software helps in segmenting databases in various ways thus ensuring that all kind of communications are significant to the recipient. It also has advanced features helpful in creating, targeting, planning and executing campaigns with the use of various media forms, likewise emails, mobile marketing, among others.
Meanwhile the Marketing module of Dynamics CRM is linked to the CRM sales management module enabling the company sales representative to react quickly to leads generated from campaigns. This module serves as a guide to help you with every stage of campaign starting from planning to scheduling follow up calls, track costs, measure campaign success and set goals. Its analytics work wonders in recording and collecting vital data and organize them into detailed figures thus allowing you to make best decisions. This way you can target communications in an effective manner, plan and budget accordingly as well as create reports for quick analysis thus enabling quick action.
Bespoke Dynamics CRM Solutions

Dynamics CRM Consulting
Get the right help at every stage with the exceptional services offered by the brilliant CRM Dynamics developers at Octal IT Solution. Our developers ensure that they are there to help the business organizations and enterprises with every little thing. With Dynamics CRM Consulting Services we offer a highly flexible and easy adaptable customer relationship management solution which can be customized in an easier manner as per the business requirements.

Dynamics CRM Customization
Get out-of-the-box solution with Dynamics CRM customization services used extensively by business enterprises and organizations all around the world. This all-inclusive customer relationship management focuses mainly on offering benefits to the sales, marketing and customer service teams of a business enterprise. With our solutions we help businesses in driving sales productivity and marketing effectiveness through business intelligence, customer management, campaign management and other effective tools. Get Dynamics CRM customized so it fits your businesses' specific requirements.

CRM Integration Solutions
With the integration of Dynamics CRM with numerous business applications it offers several advantages to your business enterprise while also providing your business with a better 360-degree view of sales prospects, run effective marketing campaigns as well as deliver best-in-class customer interactions. Our business applications help businesses so they can strengthen their business' productivity as well as boost sales.

Dynamics CRM Migration
With Microsoft Dynamics CRM Migration you get the brilliant customer relationship management solutions offered out there. It's added to numerous features and capabilities, empowering business organizations thus adding new customers as well as retains the present ones. This allows you to drive sales productivity and marketing effectiveness through better business intelligence, campaign and customer management.

Sales Force Automation
With our Sales Force Automation services you get an all-inclusive solution allowing salespersons to be a lot more productive so they can focus on crucial aspects – offering great customer experiences. This cost-effective solution allows you to enhance sales reporting and data collection as well as enables you in meeting deadlines and gain valuable insights for your business. This way, optimize your sales efforts with familiar and brilliant features.

Dynamic CRM Extensions
With Dynamic CRM you get a set of tools comprised of in the SDK simplifying and accelerating the development of applications interacting with Microsoft Dynamics CRM and Microsoft Dynamics CRM Online. These tools help in extending functionality of the core Microsoft Dynamics CRM SDK.

CRM Support Services
With Dynamics CRM Support services you get a wonderful level of support for your customers in the cloud. You get flexible, industry-leading support, services and resources allowing users to address technical issues in a quick manner, deepening their professional expertise as well as ensure increased return on investment (ROI). With us you can choose a plan that meets your business requirements and allows you to head back to work faster as the issues crop up.

End User Trainings
At Octal IT Solution we offer consistent technologically advanced Microsoft solutions. Here we have developers with extensive knowledge and great expertise in offering end-user trainings to the clients. With us you can organize and plan effective training sessions for the Dynamics CRM solutions offered by us. We help you design, develop and deliver customized Microsoft Dynamics end-user training programming integrating the business processes.
Why Octal as Dynamics CRM Expert
01

Team Of Skilled Professionals
We have a team of our 250+ skilled developers with decade of experience in handling programming and development services.
02

Great Work
We have vast experience in developing highly customized websites for diverse type of businesses for variety of clients globally.
03

In-depth Knowledge
With years of experience in the arena we have gained immense knowledge of Microsoft Dynamics CRM. The knowledge helps us in meeting clients' requirements effectively.
04

Meeting Client Requirements
Our Developers have worked on distinctive client requirements and developed apps for varying industries.
05

Global Clients
We have myriad clients who have hugely benefitted with our Microsoft Dynamics CRM Services.
06

Get Best Results
We help enterprises increase productivity, efficiency and save time and cost at the same time without compromising on quality.
What Makes Us the Buzz of Tech Town
Here's what our business partners say about us.
Tech Talk: Stay Up-to-Date with Our Latest Insights
We have our eyes on what's new in the tech world and bring you the latest updates here!
Octal In The News
Octal IT Solution Has Been Featured By Reputed Publishers Globally
Let's build something great together!
Connect with us and discover new possibilities.






Gain More With Your Field Service
We're always keeping our finger on the pulse of the industry. Browse our resources and learn more.
Let's schedule a call