Online Dating Portals the New Way to Connect with Like-Minded People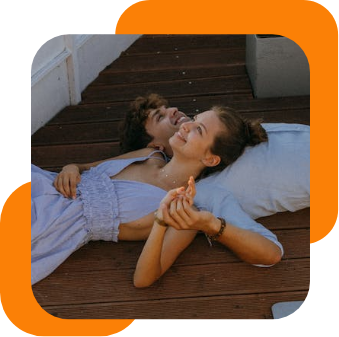 These days online dating websites are in full bloom as people find it easier to install such applications and find people they want to connect with. Gone are the days when your circle included your neighbors and colleagues, now a random stranger in some other part of the world can be a part of your circle. It depends more on how well you connect with the person and less on their geographic location.
If you are looking forward to building an application that lets your target audience connect with people of their interests then you are at the right place. The tech geeks at Octal IT Solution hold expertise in on-demand mobile app development and help you earn great profits in a limited time. They make sure to develop solutions that are futuristic and can survive the market pressure in the long run.
If you want to hire us for your next app development project, reach to us via call or email or connect with us over Instagram!
Dating Website Design to Match User Intent
Admin Panel
Customer Profile Verification
Reward Management for Customers
Manage Rewards and Loyalty Points
Run Affiliate and Partnership Programs
Record Subscribed Users
Manage Email Marketing and SMSes
Track Revenue
User Panel
Easy Registration and Login
Profile Verification via Email or Phone
Location-Based Matches
Check Matches and Suggestions
Accept and Decline Matches
Create Photo Album
Connect with Customer Support
Top Features Your Dating Application Ought to Have
Here's a list of some of the most common features that experts at our dating web design development company integrate with your solution.

AI-Based Chatbots
With AI-based chatbots, it becomes easier for the users to start a conversation. The chatbot can suggest some interesting ice-breaking lines to make it easier for introvert couples to connect with each other and communicate further.

Fun Activities
Based on common interests, one can check some fun activities to spend time together. Meeting someone in person sometimes be a little awkward but attending a fun event together is a lot easier and lets the user get comfortable with their matches.

Advanced Filters
Continue the search process based on gender, age, distance, likes, dislikes, interests, religion, or a lot more filters. The online dating website developers ensure that your search is as specific as it could get so that you get the right person without investing a lot of energy and time.

Check Profile Performance
Not everyone is an expert in creating a profile that would grab attention. In this case, your users can check what factors of the profile are working for them and what is ruining the game for them. Not just this, they can make suggested changes and see if their profile gets better attention.

Gamification
The best way to connect with someone. Play some games. Including a few interactive games in your dating portal would make it interesting and engaging. This would let the users bond with each other better without getting into each other's personal space. Thus privacy is maintained with a simpler way to connect.

AI-Based Video Calling
Instead of normal video calls our experts to suggest AI-based video calling features to avoid nudity and other offensive talks. One can integrate normal video calling features too, but that may intervene into some's space with some people not being sure of the ethical usage of such applications.

Recommend Profiles
Based on the user's previous matches the application can share some more suggestions. This would make it easier for the users to find suitable matches and they would remain interested in the application. This is more dependent on predictive analytics and data science.

Interest Analysis
With technology being advanced enough to explore various aspects of the application, this is one feature that would make things easier for your users. With interest analysis, one can see people with similar interests and it is easier to find your connection than to spend your energy checking various profiles in a day.
What Set Your Dating Website Software Apart?
01

Date Suggestions
With the help of Artificial Intelligence-based solutions, the dating site developers make sure to integrate a feature that would suggest some ideal dating ideas to the couples who have matched with each other. This works on the basis of the choices and the data that is filled by the users. Predictive analysis and big data get into the picture here.
02

Image Censoring
A lot of people often cross their moral boundaries and share obscene images and videos that would offend the other person. It is important that such content be taken into account immediately and be blocked. Our dating portal development team integrate a feature where such users would be warned of their activities and their accounts can be blocked.
03

Undo Accidental Swipes
For most applications in the market right now, one can match a person and then unmatch them. But when we talk about reconsidering the unmatched it becomes difficult. Sometimes in hurry, the user swipes the wrong way. With our dating mobile application, the user gets an opportunity to undo the accidental swipes and thus can see if they want to connect with anyone they swiped wrong.
04

Choose Your Own Font
Sometimes it becomes really interesting if the text that is displayed on your screen is in some quirky font. It adds to the fun of chatting with the stranger on the other side of the screen. Also, it reflects your interest if you customize your chats with someone. Let your users choose their favorite font from the list or pay for some of them as they decide to express their interest in their matches.
05

Edit Sent Message
Users should get a chance to edit sent messages. The dating website developers make sure to add this highlight where the users can edit their sent messages. It could be a spelling mistake, grammar error, or anything else. Making corrections would make it easier for both parties to understand what they want to talk about and earn better results.
06

Customize Chats
Add beautiful and cozy themes to your chats and fill in some interesting stories to it. Let your users choose the themes from the template or use customized themes for the chats. Not many applications offer this feature, but experts at our dating website development company ensure that such interesting features form a part of your final solution.
How to Create an Online Dating Portal That Reflects Well?
Planning
When you reach us with a business idea, our team connects with you to understand your objective and business values behind the idea. They further help you analyze and comprehend the pros and cons of various factors and the technology and impact of the situation on such applications. Our team would take care of the complete process. You would only have to extend your support as and when we need it.
UI/UX Design
Our dating agency web design team works in a way that the elements of your application are visible and highlighted to grab attention. They make sure the application is not just aesthetically wold-class but is easy to navigate and can help you earn a great sum in no time. Over the years the experts have been providing interesting solutions that make it easier for them to bag interesting and innovative new projects.
Back-End Development
When it comes to talking about the back end we make sure that the solution is developed in a language that is new and can easily be scaled. We offer futuristic solutions that make it easier for you to survive the market in the long run. You would not need to update the technology as we ensure your application is a step ahead of your time.
Front-End Development
Once the backend is ready it is time to work on the real things on the front-end. We make it a point to build solutions that are strong and interesting and can help you earn great profits in no time. If you are looking forward to building solutions that are going to get you profits, then you can hire a dating app development team at Octal IT Solution.
Test and Launch
Once the product is ready it is crucial to check for its working. Make sure the testing team checks for all the elements and features so that you enter the market with a flawless solution. Over the years we have been working on interesting app solutions and ensure that the results that are delivered are unique, effective, and accurate.
Post Launch Support
Our dating portal development team offers post-launch support in case you want some modifications or want to add some elements. We understand as the technology advances and as new elements enter the market there could be a need for better solutions and we at Octal IT Solution as your teach partner affirm to keep you technologically steps ahead of your competition.
How Octal IT Solution Helps Your User Find Their Right Match?
01

We Help You Make Money
With our innovative and engaging solutions, you can rest assure that you would reach the maximum audience and gain profits. The technologically advanced team ensures that the solutions that are delivered abide by the latest technology and helps you earn max profits.
02

We Have Experience in the Field
Most of our developers have been associated with the organization for over a decade and understand technology really well. They have been a part of a lot of projects and thus are quite aware of the way the market functions. They can easily define what works and what doesn't for you.
03

We Are Easy to Connect With
You can always reach to us for your queries. While our experts work on your project you can connect with us with your queries and get interesting solutions without much trouble. We are available round the clock to deliver solutions that are interesting and engaging.
04

We Know Innovation
The solutions that are delivered to you are unique and interesting. We make it a point that your product is as unique as your business idea. We have delivered similar projects each completely different from the other with interesting USPs.
05

We Break Stereotypes
When working on your mobile app solutions it is significant that they are out-of-the-box. We deliver solutions that stand out from the crowd and help you win a clientele that is loyal to your business.
06

We Explore Possibilities
We try to experiment with possibilities and make the best use of technology for futuristic and flexible solutions. Artificial Intelligence and Machine Learning based solutions help us build credible and reliable solutions that are highly rewarding.
What Makes Us the Buzz of Tech Town
Here's what our business partners say about us.
Tech Talk: Stay Up-to-Date with Our Latest Insights
We have our eyes on what's new in the tech world and bring you the latest updates here!
Octal In The News
Octal IT Solution Has Been Featured By Reputed Publishers Globally
Let's build something great together!
Connect with us and discover new possibilities.






Gain More With Your Field Service
We're always keeping our finger on the pulse of the industry. Browse our resources and learn more.
Let's schedule a call