Over the last few years, traditional televisions have been fading as more users prefer personalized content on video streaming apps and over-the-top (OTT) platforms. For instance, the world's most popular OTT app, Netflix, is being used by more than 200 million users. If you also want custom OTT app development and want to know about the best OTT app development company in India, its cost, and the key features of OTT platform development, then keep reading this article.
As people shift to OTT for entertainment and personalized content, the number of video streaming apps and OTT platforms is also growing fast. Not only new startups and content creators are coming into the picture, but existing media industry businesses are following the trend. For example, ZEE Entertainment was limited to TV channels and print media but then launched its own OTT platform called ZEE5 in 2018.
In 2023, it makes sense to think of an OTT app development company to grab a big bite from this fast-growing trend.
What are OTT mobile apps?
An OTT app, or over-the-top app, is a video streaming platform that offers users access to various forms of videos, such as movies, web series, TV shows, etc. Viewers need an internet connection and a gadget to browse these videos.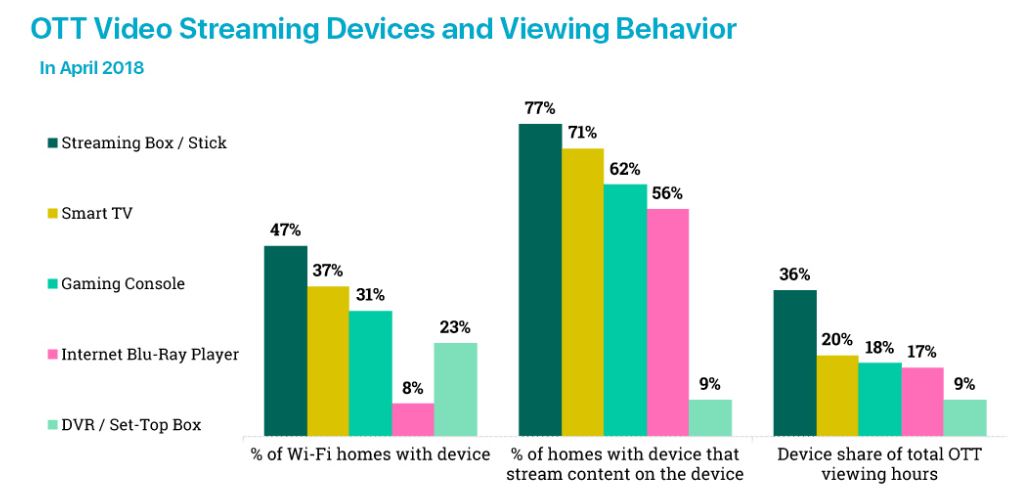 Most OTT mobile apps ask viewers to subscribe to browse their videos. The subscriptions are available weekly, monthly, quarterly, half-yearly, or annually. In 2023, the most popular OTT apps are Netflix, Amazon Prime Video, Hulu, Disney+, etc.
Users can access OTT platforms with mobile phones using smart TVs, laptops, and desktop devices. Viewers love these apps because they get a personalized experience, ad-free content, and the ability to watch on the go, at a cost-effective price.
If you plan for OTT mobile app development this year, this write-up is for you. This article has discussed the statistics, key features of a custom OTT app development, the best OTT app developers and their estimated cost, and much more.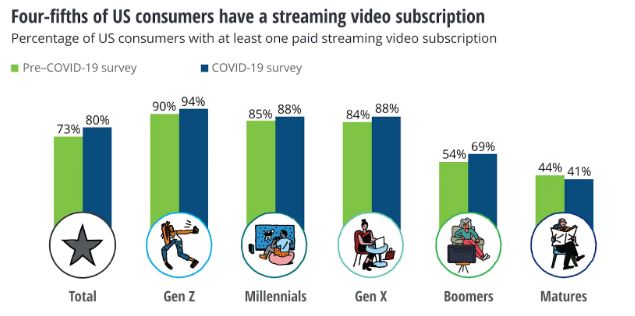 Why Invest in OTT Application Development? – OTT App Market
eMarketer reported that more than 235 million people in the US are now using video streaming apps, which is over 70% of the country's total population.
As of 2020, consumers in India have spent over 45 billion hours on OTT streaming apps. Because of the high population, the number of hours spent on OTT is double that of US consumers.
As per Allied Market Research, the OTT market worldwide is expected to reach $332 billion by 2015, growing at a CAGR of 16.7% from 2018 to 2025.
The majority of consumers in the US (80%) have subscribed to at least one video streaming service. The subscribers of these services belong to all age groups, from millennials and Gen X to boomers.
According to PwC, India is the fastest-growing market in the world regarding OTT users. In terms of revenue, it will become the tenth-largest OTT market by 2024 and the sixth-largest by 2026.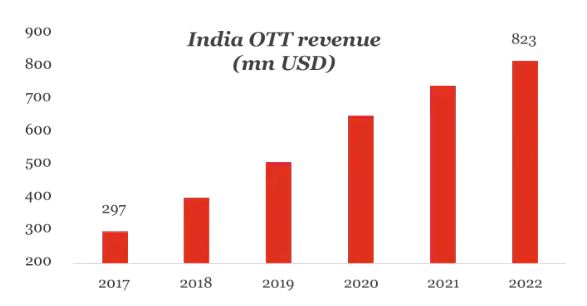 Essential Features to Consider While OTT Application Development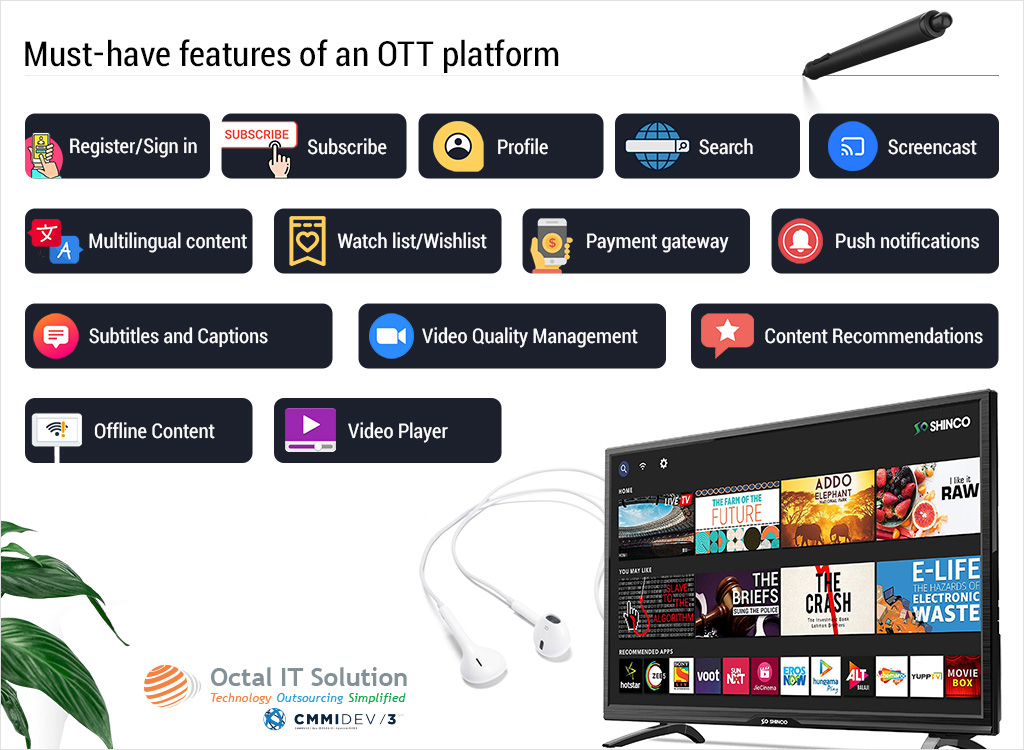 Register/Sign in
An essential feature to allow users to register on the app with an email address/phone number, name, username, and password. Alternatively, you can also enable registration with a Google or Facebook account. This makes the user experience seamless and smooth.
Subscribe
To increase the number of app subscriptions and allow users to watch the content on your custom OTT app, ask them to choose a subscription plan. The plans can be based on a weekly, monthly, quarterly, or annual cycle. With every plan, clearly mention the amount and savings if they choose a subscription plan for the long term. Discounts on long-term plans help acquire users for a longer period of time.
Profile Management
Once registration is done, add a profile feature where users can add their details, check the status of the subscription, and other details.
Multilingual Content on OTT App
If you are creating video content for a broad audience, then power the OTT platform development with multiple languages. It will allow users to browse the app in the language of their choice.
Advance Search
It is a must-have feature for every OTT IPTV app. More than 70% of subscribers consider the search option extremely important to find the desired content. Furthermore, nearly half the users cancel their subscriptions if they find it challenging to find the desired content.
Users should be able to access movies, TV shows, and other video content easily by searching it.
Read Also: How to Create a Streaming App like Netflix- Key Features & Cost
Watch list/Wishlist
Users can't watch all the content at a time. There are videos that they want to save for later. Having a feature to add selected videos to a specific list is great for the user experience.
Screencast Option
The screencast feature allows users to cast the screen from the mobile app to other devices with large screens. For instance, they can watch their favorite TV shows with family by screencasting them on television, desktop, or laptop.

Multiple Payment Gateway
When users choose a subscription plan and proceed to pay, you will need to integrate a payment gateway to accept those payments. Opt for a reliable payment gateway provider that can enable multiple options for users to pay, such as debit/credit cards, net banking, UPI, and ewallet apps.
Push Notifications
Using the push notification feature, you can notify the users about the new content released on the platform. This way, they can watch the trailer or browse the videos easily.
Along with new content notifications, you can also send alerts when the subscription plan is approaching expiry, or there are new offers.
Video Quality Management
Don't limit the users to specific video quality. They should have the option to adjust the video quality so that they can save data usage in case they are short of data. You can add options to adjust the video to low, medium, high and HD quality.
Read Also: How To Develop an On-Demand Video Streaming Mobile App?
Subtitles and Captions
Subtitles and captions further enhance the user experience. If someone from a regional language background is watching an English web series, he can read the subtitles and easily consume the story. Moreover, the subtitles are also great for those with hearing disabilities or people who have issues watching videos with sound. This can broaden the reach of the app to a wider audience.
Offline Content
There should be an option to watch the content offline by downloading it to a library in the app. Most of the users don't renew an OTT app subscription when they feel that they haven't used it enough. When the content is available for download, they can save videos offline and watch them whenever and wherever they want.
Content Recommendations
Content recommendations are one of the most important reasons why viewers remain stuck to an OTT streaming app. When you have a lot of content on the app, sometimes users can't decide what to watch next. Recommending the content based on their search queries or preferred categories can increase user engagement and drive viewers to watch more content.
Video Player
To offer a great watching experience to the users, it is essential that the video player is user-friendly. Along with the basic features like pause, play, and volume control, you should integrate some advanced features as well.
The advanced features of a video player can be the ability to forward & backward for ten seconds with a double tap on the screen, the option to adjust quality right from the video screen, and the manage languages.
OTT App Features for Administrator
Analytics and Reporting
One of the most overlooked features in the new OTT platform development is the integration of tracking code for analytics. It is after the launch that app owners realize the need for analytics and user insights.
Instead of integrating the tracking code later, it is highly recommended that it be added before launch. This will help you understand how people are engaging with your content and the app's features.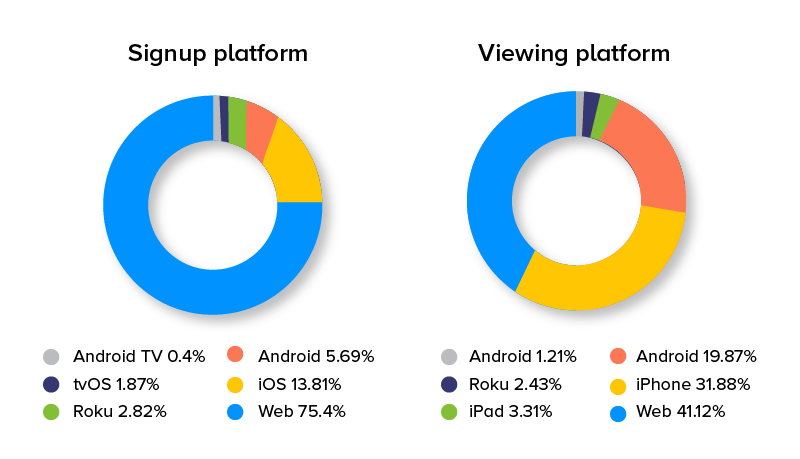 Another benefit of analytics is that you can share insights with stakeholders or investors. You can inform them how many people have subscribed to the app, for how long they are watching the content, app revenue, and much more.
When you opt for an accomplished custom OTT app development company in India, they will ensure that the tracking code is added right from the OTT platform development phase.
Dashboard
A user-friendly dashboard can make the lives of admins easier when it comes to managing the content on the app. Regardless of the size of content or complexity of playbacks, the admin should be able to manage the payment options, users, analytics, content library, revenue, subscriptions, security, and every aspect of the platform.
There should be options to edit the system, make required changes and updates, and manage user panels, as well as videos, images, etc.

Essential UI/UX Considerations for OTT Platform Development
User interface (UI) and user experience (UX) will play a big role in the success of OTT platform development. Undoubtedly, content is the king in this emerging technology and growing OTT media market, but engagement is the key to long-term success.
In this highly competitive market, some crucial UI/UX design considerations can make a big difference by engaging the users and delivering an enhanced user experience.
UI/UX compatibility and consistency across multiple devices
The main reason people choose OTT apps is that they give complete ownership to the users. They should be able to access the content across multiple devices and find the same intuitive experience.
For this purpose, you have to ensure that the UI and UX are consistent across all platforms, whether the users browse the features or watch the content.
Seamless onboarding
The ultimate aim of your app is to attract as many subscribers as possible. When users decide to opt for a subscription, make sure the experience is seamless for them. The UI here plays a crucial role in user onboarding. Keep things straightforward and simple.
User-Friendly Navigation
The worst thing about some apps is that users feel lost. The apps have content, but users find it challenging to get what they are looking for. It is because of poor navigation in the app. Easy navigation can make it effortless for users to find the desired content. For instance, the menu should categorize the content properly. The menu option is generally used in the form of a hamburger. People are now used to the hamburger and can use it instantly. The search bar should be visible so that they can perform searches without any difficulty.
Typography and colors
Typography and artwork in the app are other important UI/UX factors that drive the mood of the viewers. Fonts, color combinations, patterns, etc. reflect the genre of the content and match the mood of the users.
How to Develop an OTT mobile app?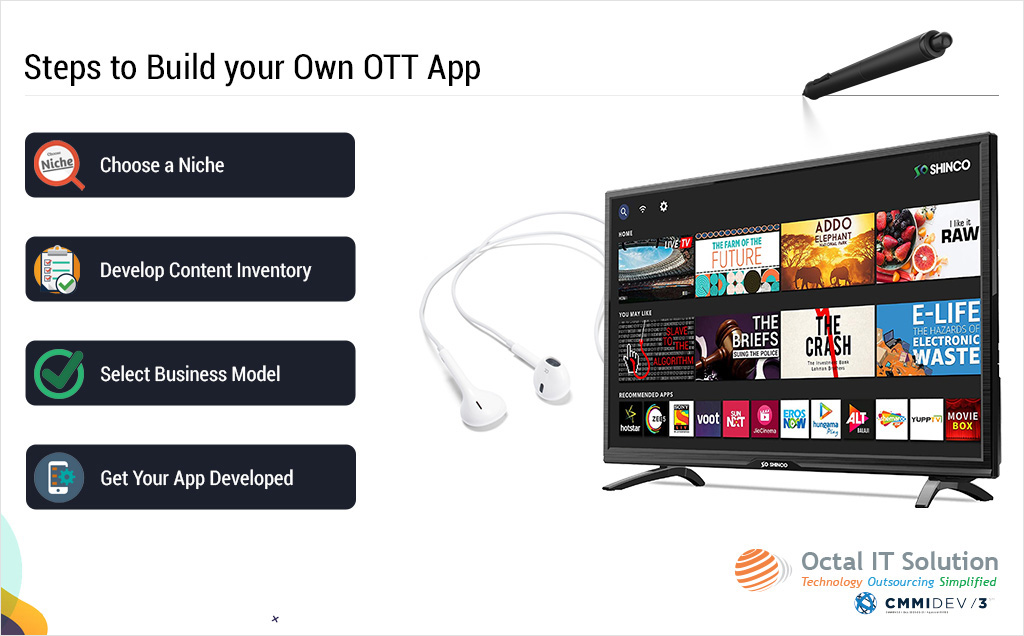 Choose a Niche
OTT and IPTV app development is a generic idea. To implement this idea, you have to pick a niche for the content. It's not a walk in the park to create content for all niches and achieve overnight success.
For example, you can choose a niche related to motivation, sports, fiction, etc. Specific niches are great for onboarding more users initially. When the app witnesses growth, you can include multiple niches and reach a wider audience.
Develop Content Inventory for the OTT App
What will the users be able to browse and watch once your app is released and available publicly? The answer is some videos, web series, or any other content in your niche. Before the launch, build some content and keep it handy. Add the content to the app once it is all set for release. If there is no content, people will not subscribe and uninstall the app.
Initially, you may need to offer some content for free. For example, Hotstar allows users to watch the first episode of a web series for free. If they like it and want to watch the next episodes, a subscription is required.
Select OTT App Revenue/Business Model
While most of the popular OTT apps today run on a subscription model, you can also choose other models as well.
In the subscription model, users pay a subscription fee and browse the content for a defined time. If you choose a transactional business model, the users will have to pay per use.
Some apps also choose an advertisement model to earn revenue from ads. This model is appropriate for those with a massive viewership on the platform.
The last one is a hybrid model. In this business model, you can choose multiple models, like subscriptions and advertising. While users pay a subscription fee to watch content, you can still show them ads and earn additional revenue.
Finally Getting the OTT Mobile App Developed
The last step is to finally choose a reliable custom OTT app development company in India and get the app developed. This is a step in execution, and you have to ensure that you are not tricked by traditional mobile app developers or agencies.
Companies that have expertise in such apps will be the right choice because they know what to do and what to avoid. They will help you in OTT Application Development to make an intuitive and user-friendly app for you on your requirements.
How Much Does OTT App Development Cost?
The custom OTT app development cost in India will depend on multiple factors. These factors include features, complexity, chosen mobile app development company, platforms (Play Store, App Store, or both), technology stack, UI, etc.

On average, an OTT app development company in the USA will cost somewhere between $25,000 to $50,000. Along with the OTT app development cost in India, you will also have to pay the app maintenance charges on a monthly basis since you can't manage everything on your own.
Handing over to you
We hope this article helped you to understand OTT platform development, OTT app development company in USA, the current scenario of the OTT app market, the latest trends, key features, how to develop a video streaming app, as well as the custom OTT app development cost in India. You have to also ensure that the content inventory will have a separate cost.
So, you should choose OTT platform development for such an idea if you have a healthy budget and a strong marketing idea to drive growth and become competitive in the market, then you may find the best custom OTT app development company in USA.
If you have any doubts or queries, feel free to ask using the comments section below or get in touch with our consultants.
FAQs for OTT App Development