In the fast-growing e-commerce market, having a mobile app is important for business and online stores. In the age of digital innovation, e-commerce is becoming more and more mobile, users find convenience in mobile applications, and consumers are now spending more time on large and small e-commerce mobile applications. This development will accelerate in the next few years.
When talking about the basic reason behind this sudden switch, it is only convenience, ease, and magnetizing eShopping experience. With growing competition, the consumers are often influenced by unique online products, specifically, the ones that are designed to meet their preferences and needs. If you own an eCommerce store, the walk the trends and convert eCommerce site to mobile app. The reason why it is trending is the ease an application offers. You can browse products and place orders, anytime and from anywhere, from the best seller, you can find. Ecommerce mobile applications offer an enhanced shopping experience, even being at home.
What Motivates Consumers to Use e-Commerce Applications?
If considered, consumers are always looking for exclusive online products that best suit their needs and preferences. The mobile apps let the users browse and order products anytime, from anywhere, thus providing more exposure to the sellers. E-commerce applications provide a more personalized shopping experience while avoiding travel, especially when you compare products and prices to save time. Most ecommerce mobile applications come with a share button that make it easier for the end users to consult their friends and family before making the purchase.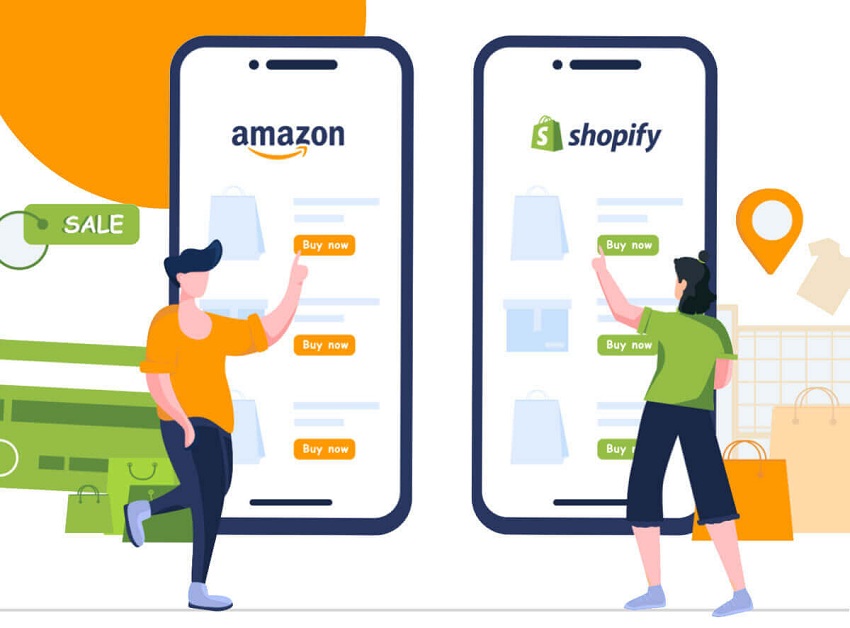 Almost a majority part of online shopping is accomplished via mobile applications. Owing to this fact, there is a major switch from eCommerce websites to mobile app. Some of the names in the industry that are setting standards for e-commerce mobile applications with their innovation are:
Amazon: Who hasn't used the application yet? Amazon with its eCommerce website and a mobile app accounts for the most online transactions. It is estimated to have a market of around 150.6 million users around the globe. The organization has been making things easier and better for the people since 1995.
eBay: eBay is another online store that is leading the market for years. With around 62.15 million users the application is one of the top used eCommerce applications around the world.
Groupon: Groupon is another giant that has been serving its customers with the best of facilities. The eCommerce website with mobile app sums up for 35.5 million users amid the biggies taking charge of most application users.
Walmart: Walmart is one of the early players in the game and it has recorded around 86.05 million users by the end of 2020. The number is a clear reflection of why most business owners convert eCommerce site to mobile application.
Target: Target was recorded to have around 45.4 million users in the year 2020. The pandemic has played its game and these applications are trying hard to keep the economies running.
Ibotta: Ibotta with 47.07 million users offers its consumers some really interesting unique features that are exclusive to the app only.
It wasn't just the ease of using mobile applications that motivated customers to make the drastic switch. It was also the innovation and the services offered that made mobile applications the need of the hour. Some more reasons that make mobile applications a must-have are further discussed.
Why Do I Need an e-Commerce Application?
When we compare eCommerce websites with mobile applications we would realize these applications offer a quicker, more straightforward, and exorbitantly intuitive client experience. Besides, cell phones accompany different highlights, similar to GPS, camera, and so on, and different applications, similar to installments and interpersonal organizations. That is the reason, not just the monsters, little merchants from each side of this globe have begun selling their items and administrations on different eCommerce stages, like Amazon, Flipkart, and parcels more.
There are many reasons why you should convert magento to mobile app:
Close contact between the customer and the store: Direct contact with prospects is very useful for eCommerce stores with interesting notifications (new offers, exclusive products, personal sales, special promotions, etc.).
Provide personalized and attractive quotations: Increasing consumer loyalty to your brand requires great mobile apps and increased user engagement.
More attractive and ergonomic instant content: The e-Commerce mobile app will complement your online store with faster content, regular updates, and a more engaging way of shopping.
Low-Cost Marketing Strategy: Mobile marketing can help all companies improve their brand image and brand image of their products and services without spending a lot of money.
Your prospects are better identified: Customers interested in the offer are those who are tempted to continue buying. To do this, you need to periodically update the content of your mobile app to make it engaging and compelling.
More modern brand image to meet customer's expectations: With the advent of social networking and mobile applications, telecommunications games have changed. In creating a modern brand, it was necessary to adapt to trends while adapting to the new needs of consumers.
Sales and Import Stimulation: Thanks to a personalized buying experience, direct contact with consumers, and the exclusive content of the offer, sales will naturally take off.
These are a few points to encourage e-business to launch their own mobile app. If you own an eCommerce store, then you surely need to enter the market with an engaging and high revenue-generating mobile application that can do wonders for you.
Convert website to mobile app software and enjoy great profits!!!

Why should I choose to sell through the app?
In the present world, despite the fact that more than a third of online shopping is done through mobile apps, very few e-commerce sites have their own apps.
Today, e-commerce needs to have a mobile app that will drive sales to provide the best user experience. In a world of more than 4 billion internet users (including 32 billion social network users), participants from all walks of life compete to take advantage of this huge potential. With the rapid emergence of new technologies, today's consumer buying trends are changing rapidly. Mobile apps are becoming more prominent than in online stores.
Whether it's a clothing store, lifestyle store, or toy retailer, customers want to shop at their fingertips, so you can do it in the app.
According to a recent study by Criteo, consumers around the world now prefer to use applications (47%) than mobile websites (20%) or desktop websites (33%).
If you know that 70% of sales today are generated by apps and conversion rates are three times higher than when using websites, mobile apps today can't deprive you of great potential. To exploit the complete potential all you need to do is convert your eCommerce website to a mobile app. Let your users have your services at their fingertips and the magic begins.
These numbers are a clear reflection of how mobile apps are ready to take over the use of eCommerce solutions in the next few years.
Why Can't I Rely upon my website? Because mobile apps are very powerful.
A lot of business owners often confuse about why do they need a mobile app for eCommerce website. Well, the simple answer is applications are handy, easier to use, and are more customized. The end-user gets a real-time shopping experience with the mobile application where they can explore several alternatives at once. Along with this mobile apps also offer the following benefits.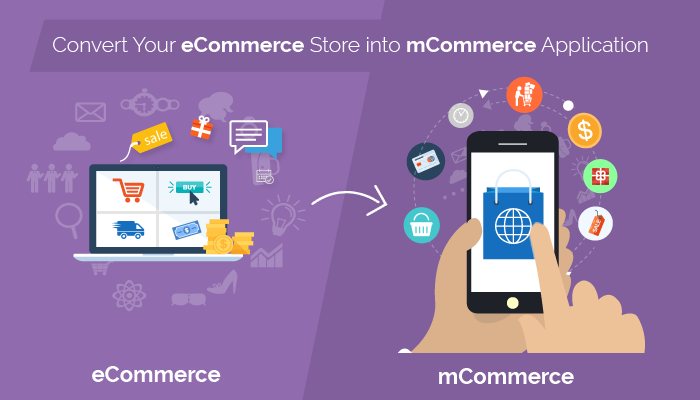 Mobile apps are loyal to customers because they attract customers.
Today, mobile apps are considered an indispensable tool in any company, industry, or event loyalty strategy.
More interactive features between brands and customers, including push notifications (up to 88%) or other loyalty programs to retain customers.
Customer loyalty can help you increase your total revenue quickly and efficiently.
We share here some other major points that make mobile ecommerce applications more popular than the websites.
Purchasing preferences have changed:
Purchasing preferences are constantly updated. In addition to speed and ease of use, customers can enjoy personal content and exclusive benefits in the app.
Since 2015, mobile website traffic has exceeded desktop website traffic. According to Criteo, for merchants with apps and mobile sites, most transactions (70%) are done in the app. Worldwide, the application-based trading share rose from 36% in Q1 2017 to 44% in Q1 2018.
The conclusion is simple. Everyone who invests in a mobile app gets a reward for buying, and those who don't will eventually lose their customers in the competition. Because your app converts visitors into buyers. The conclusion is simple. Everyone who invests in mobile app development gets a reward for buying, and those who don't will eventually lose their customers in the competition.
Because your app converts visitors into buyers. A study by Harris Interactive found that 85% of buyers rely on mobile devices, not computers, for a better experience. In 2017, Google said 46% of consumers wouldn't buy branded goods if their mobile experience isn't good. Mobile phones have become a necessity for not losing customers. Poor mobile phone experience can lead to lower conversion rates for sellers. If the user experience is optimized to better meet the needs of modern consumers and increase conversion rates, the mobile app converts visitors into buyers.
E-commerce application features:
Having understood the value of writing an e-commerce application, it is now important to understand the various basic or advanced features that can be developed.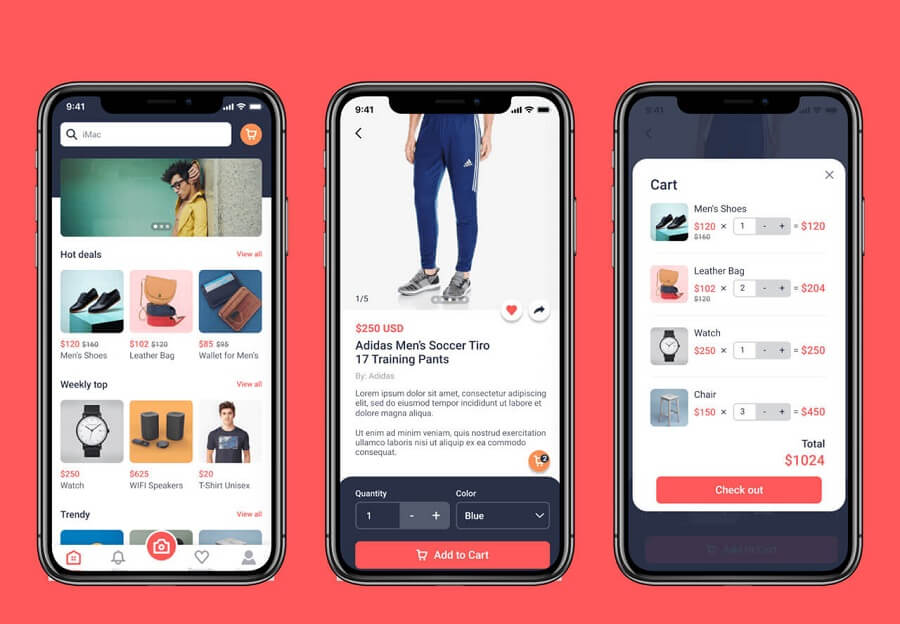 Default features: The mobile app establishes a connection between your store and your customers. In fact, the latter has the opportunity to easily communicate with you and improve your business through your feedback. Among these features, you can order and pay through the app, or even send a package to a specific address. Similarly, each application must convey information about user data, whys, and purposes. You can also implement basic features such as a search bar, shopping cart, product catalog, or user login.
Additional features:
In addition to the basic features, you can add additional options based on your application and needs, such as push notifications, including how to post information in the form of notifications that notify users immediately. Use the "Favorites" option to save your favorites to the list or select the "Location" option to quickly and easily find nearby stores.
These are a few reasons why our mobile app development team generally suggests converting your eCommerce website to the mobile application. If you have an Ecommerce store and want to build a mobile application for the same then you canm always reach to our hybrid mobile app development team who would help you with solutions that are compatible across all platforms.
How much does it cost to build an e-commerce mobile app?
Before you start developing your mobile app, you need to hire a developer & define your budget and estimate the cost of building your app. To do this, several parameters must be considered in order to reach a reasonable estimate.
It depends on the complexity, features, support you need, etc. But the price of mobile apps doesn't stop at the development stage. Other costs are expected.
Many parameters affect the price:
Mobile application development costs are affected by many variables. In order for the developer to understand the requirements precisely and avoid unpleasant surprises, they should be included in the specification of the application.
The criteria that affect development costs are:
Developer:
You can use a professional web agent or expert in the field. Prices vary by provider depending on the services offered, the market reputation, and the performance of each provider.
Project Complexity:
Applications with many features and multiple screens take longer to deploy because they are more complex to implement than simple applications. If the services in your website are complicated, then surely it is going to cost a little more tha a simple website.
Additional Charges:
App promotion or maintenance is considered a supplemental fee. It is the basis to keep the application running. We would assist you with the app updates and debugging in case of any issues at a very minimal charge.
Platform:
Whether Android or iOS app development, each platform works differently, so the price is reasonable. Therefore, you need to choose a platform that will satisfy your target audience. If you choose to develop your application on multiple platforms, the price will be higher. For example, native applications are more expensive than web or hybrid applications.
Features:
Mobile app development costs depend on the interface and built-in features. The higher the quantity, the higher the price. Each feature requires some development time. If something seems easy to create, other aspects require more energy, more time, and so on.
Depending on these features the price range of eCommerce mobile app development covers quite wide horizon.

Wide Price Range:
The price range depends on the type of android application. The average price for a simple application is between $10,000 and $15,000. For more complex applications, prices range from $15,000 to $30,000. In very complex applications, development time can reach tens of months, and the cost of development increases from $30,000 to more than $100,000. The more complex the application, the longer it takes to deploy the application, and the higher the cost
It becomes quite significant for the development team to bring on the table a solution that is scalable, futuristic, and flexible. With the ease of navigation and right burger menu we can always ensure that your product would always be worth the investment made.
Regardless of the type of application you use, you should carefully choose the features of your Andriod application from the beginning to facilitate the work of the developer and best meet the needs of you and your customers.
Create a Store for Your Store:
Mobile application development is a key step in e-commerce development. To gain an edge over the competition and optimize sales, online stores tend to provide the best user experience. Mobile apps not only develop marketing strategies but also improve business image and retain customers. E-commerce solutions are a source of income. The e-commerce mobile app is an excellent loyalty tool that can drive more purchases while dramatically improving the customer experience.
Wrapping Up the Whole Story!
Such purchases, optimized through mobile devices, can increase sales, especially if you know that you have purchased 12 million French on mobile devices (2018 data from FEVAD). To do this, it is necessary to take into account the design and features of easy-to-navigate, ergonomic application creation, and provide users with a more dynamic and enjoyable experience.
In addition, according to the Clutch survey, consumers use e-commerce applications to receive exclusive offers, buy at any time, compare products and prices, and avoid going to stores. Want to get the edge over your competitors and attain all the benefits mentioned above? Contact us today and let us build a powerful e-commerce mobile app for you.