The trends in the eCommerce industry change every year with the advancements in modern technologies to meet the changes in user behavior and adjust to the other global trends. In the last couple of years, things have drastically changed for the eCommerce industry, especially because of the pandemic and lockdowns. There are several takeaways and new things to learn for all businesses.
The eCommerce market around the world is experiencing rapid growth over the past many years and this is not going to stop anytime soon. The primary reasons behind this growth are that online shopping makes things easier for consumers. They can get groceries, clothing, perfumes, gadgets, jewelry, and almost everything delivered to their doorstep.
Following the global COVID-19 pandemic, even the users who didn't like online shopping downloaded mobile apps and visited eCommerce sites. It had become a necessity to buy things without going outside.
Another thing that became prevalent is the rise of eCommerce in small towns and cities. Local stores and marts shifted their business online with a website, eCommerce app development, as well as offering products through online marketplaces.
With fast internet penetration and mainstream use of smartphones, the eCommerce industry is going to the next level, with growth in even Tier-II and Tier-III cities as well. This year, you must know about the latest eCommerce trends 2022 to stay competitive and make the most out of this fast-growing market. 
Current State of The Global eCommerce Market
Before diving into the current trends in eCommerce, let's explore the current state of the eCommerce industry throughout the world.
In 2022, the eCommerce market around the globe will reach

$5.55 trillion

.

In 2018-19, nearly 18% of the retail sales used to come from online shopping. This year, the number is going to be 21%. The growth will continue over the next many years, with stats suggesting the retail sales coming from eCommerce to reach 24.5% by 2025.

According to the

IBEF Foundation

, the eCommerce sector in India is expected to surpass the US eCommerce market by 2034. The report reveals that the market size of Indian eCommerce will be $111.40 billion by 2025, up from $46 billion in 2020. Grocery and fashion segments will be the key drivers of this growth.

With the rapid rise in the adoption of the internet and smartphones globally, the number of online shoppers is climbing with time. More than 2 billion people globally choose to buy goods and services online. Retail sales around the world have reached

$4.9 trillion

.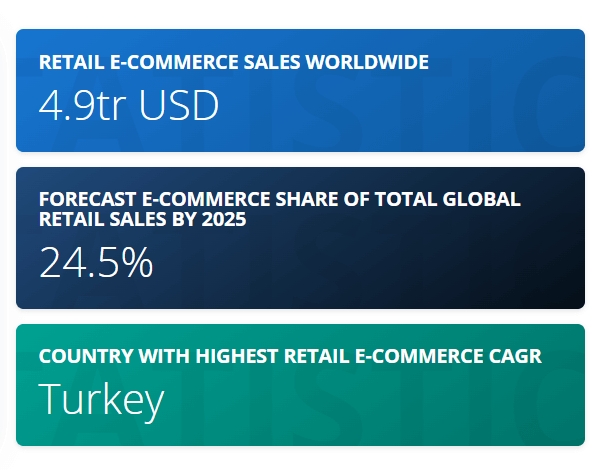 In 2021, the eCommerce sales in Latin America increased by

25%

and reached $85 billion from $68 billion in 2020.

eCommerce sales in Russia, the Philippines, and the UK increased by

20%

in 2021.

The number of total eCommerce businesses in the world is somewhere between 12 to 24 million. However, a majority of these businesses are SMBs, with a small number of them making $1,000. By following the new eCommerce trends in 2022, these businesses can accelerate their growth.

China is dominating the global eCommerce market, holding over

52%

of the share in the eCommerce sales. The country hit the $2-trillion milestone in online sales last year.

After China, the US and the UK are the biggest players in the eCommerce market. The US eCommerce market will reach

$875 billion

in 2022.

Amazon, eBay, AliExpress, Mercado Libre, Rakuten, Walmart, JD, Tmall, and Shopee are the biggest companies in the eCommerce industry, based on online traffic.
Latest eCommerce Trends in 2022
Let's understand how the trend of online shopping is shaping the eCommerce market this year.
1. Voice Search Becoming The New Norm
With the prevalence of digital assistants like Alexa, Siri, Google Home, as well as the use of voice assistants in smart TVs and mobile devices, it has become increasingly important for eCommerce businesses to change the way they serve content.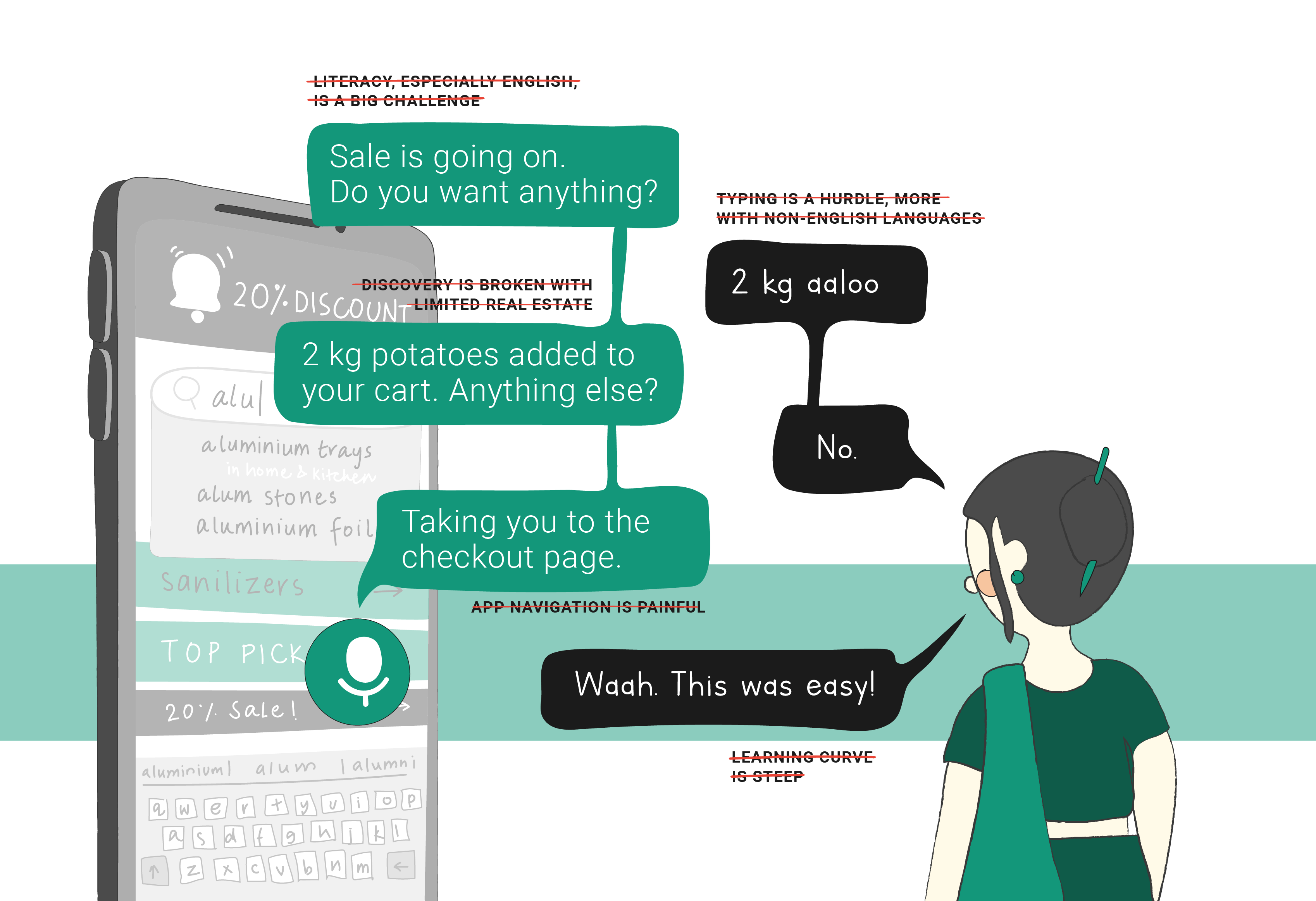 In 2020, the sales of smart speakers reached 150 million units. More than 65% of the users between 25 to 49 years of age use at least one voice assistant daily. In the same year, 30% of the browsing sessions were found screenless, showing the growing use of voice searches.
The reasons behind the spread of voice searches include faster and easier searches, convenience for users, etc. For instance, the average typing speed of users is 40 words per minute. Whereas, with voice searches, users can speak 40 words thrice within the same time.
For eCommerce businesses, it is vital to understand that voice search patterns are slightly different from typical Google searches. In the traditional way, people type short phrases like 'buy Nike shoes'. Whereas, with a voice query, they look for longer and more conversational phrases, like 'how can I buy Nike shoes online?'
This means that eCommerce sites need to have a different content and SEO strategy to optimize for voice searches. For this, some of the primary practices include the use of long-tail keywords within content, and answering the common queries of users with questions or frequently asked questions (FAQs).
2. Product Visualization With AR Technology
Before buying products in certain categories, consumers want to know exactly how they look in real life. For example, if someone is buying a new couch for their living room, they would want to see whether it will be a great fit.
If they buy the product and don't feel satisfied after delivery, it can result in a poor customer experience. On that front, augmented reality (AR) technology is doing wonders. By using AR technology on eCommerce sites, businesses can allow the consumers to see the new products in real action.
For instance, customers buying a couch can take a photo or video of their room and see how the couch looks without first ordering it. The same is applicable for numerous other products or items, like clothing, artwork, flooring, etc.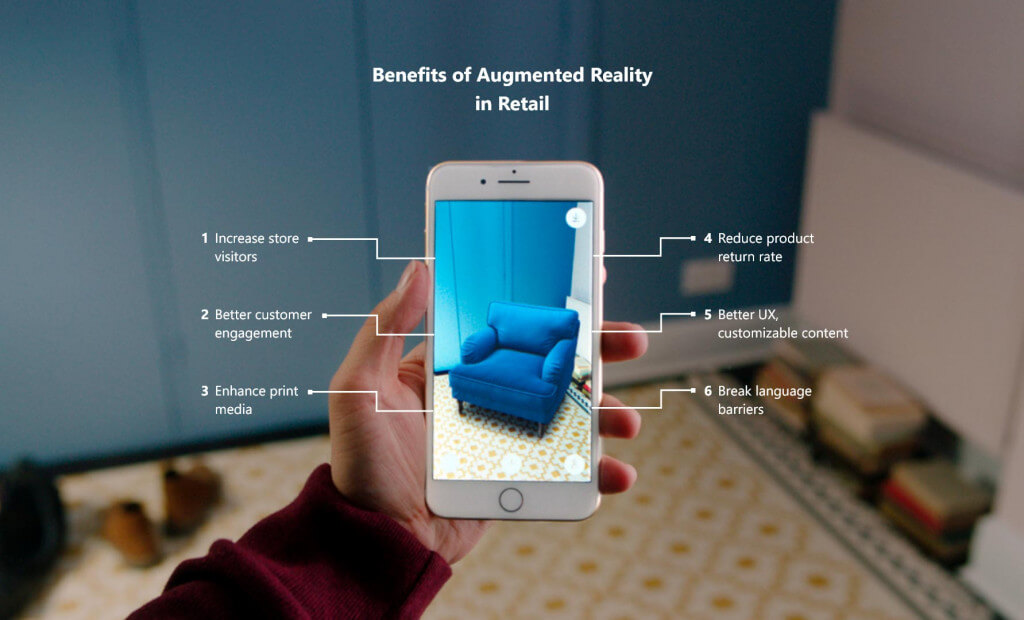 This is going to be one of the latest trends in eCommerce in 2022. To gain a competitive advantage and serve the customers in the best manner, businesses must consider the use of augmented reality.
Stats show that more than 35% of US consumers are already using this technology for product visualization. It is the most efficient option for products like furniture and vehicle customizations.
3. Prevalence of Subscription-Based Products and Services
The introduction of subscription-based services and products into eCommerce helps in retaining customers for the long term. Using this model, a business can make customers purchase the same products again and again.
For example, a customer is buying a cosmetic product that lasts for one month. With a subscription model, eCommerce businesses can allow the customer to buy that product with a subscription, so that the product gets automatically delivered every month. This makes the customers retained, which could possibly buy that product from another platform.

Among the top eCommerce trends in 2022, this will see massive growth. A research by McKinsey & Company reveals that subscription commerce is witnessing exponential growth. More than 15% of the online shoppers opted for at least one subscription on eCommerce sites in 2021. This is a big number if you see that there are more than 2.14 billion online buyers globally.
To be precise, subscription commerce will become the new norm in coming years, with 2022 being the significant year. The primary benefits of this model include a higher customer retention ratio, greater business predictability, and opportunities to upsell and cross-sell relevant products. Experts call it the future of eCommerce.
4. Brands Focusing on Sustainability
Consumers are getting aware of the negative impacts of fast fashion on the environment. They are increasingly realizing the importance of sustainable fashion, with several foot-dragging movements running worldwide and influencers promoting it.
Sustainability is all the more trending among the millennials which is making several brands revamp their product portfolio. As a result, numerous brands and eCommerce players are moving away from fast fashion and plastics, especially in terms of packaging.
You will see many companies showing the product material, its origin, whether it is recyclable or not, etc., with the product descriptions. Fashion brands are including dedicated filters so that customers can browse only sustainable products.
If you check the search volumes for sustainability, you will find that the volume has significantly increased over the last few years. According to SEMrush, there were only 49.5K monthly search volumes on 'Sustainability' in 2016 in the US. This has now increased to more than 135K in 2021. The same for global monthly volume has gone up from 164K to 724K in just five years.
These eCommerce developments are not only changing customer behavior but also making brands to align accordingly to stay relevant.
5. AI-Powered Growth Opportunities With Upselling & Cross-Selling
AI and machine learning are contributing heavily to the growth of eCommerce businesses. These modern technologies are great at predicting the habits of online buyers on the basis of their history of shopping and browsing.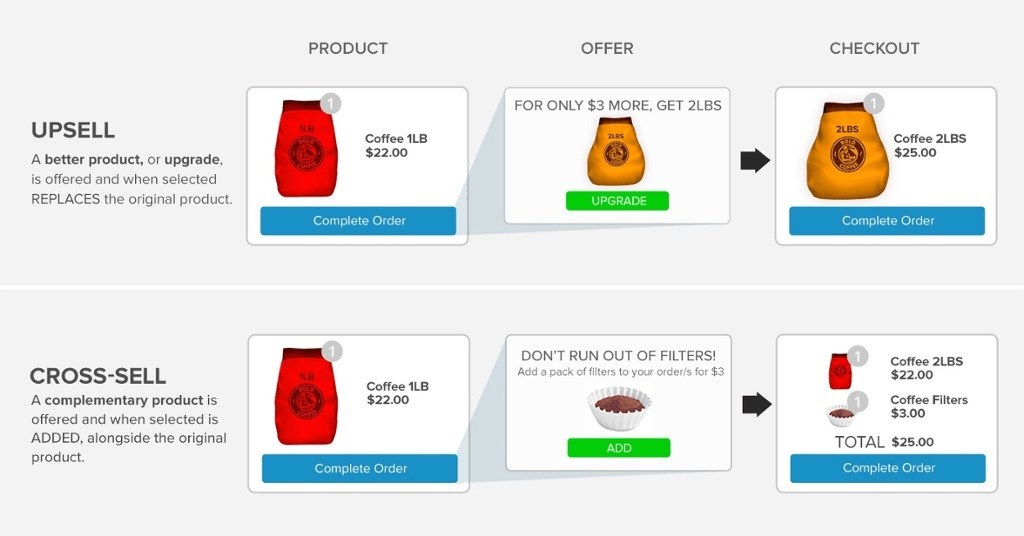 A website or online store can't be customized uniquely for every customer, but AI is here to do that. Top eCommerce sites like Amazon are already using it to personalize the products shown to every customer.
It not only improves customer experience as they can see the products they would have liked to search for, but also brings new opportunities for businesses to upsell and cross-sell.
For instance, Amazon reports that it increased its annual revenue by 35% by upselling and cross-selling products with AI-powered recommendations. This will also be relevant for B2B businesses selling to retailers or companies reaching customers through resellers.
If you have not implemented Artificial intelligence in your eCommerce store, then it is time for you to make use of this technology to speed up growth.
6. eCommerce Platforms to Accept Cryptocurrency
Cryptocurrencies like Bitcoin and Ethereum are among the hottest trends today. While these have been here for the past many years, not all countries and businesses trusted these. But things have changed now.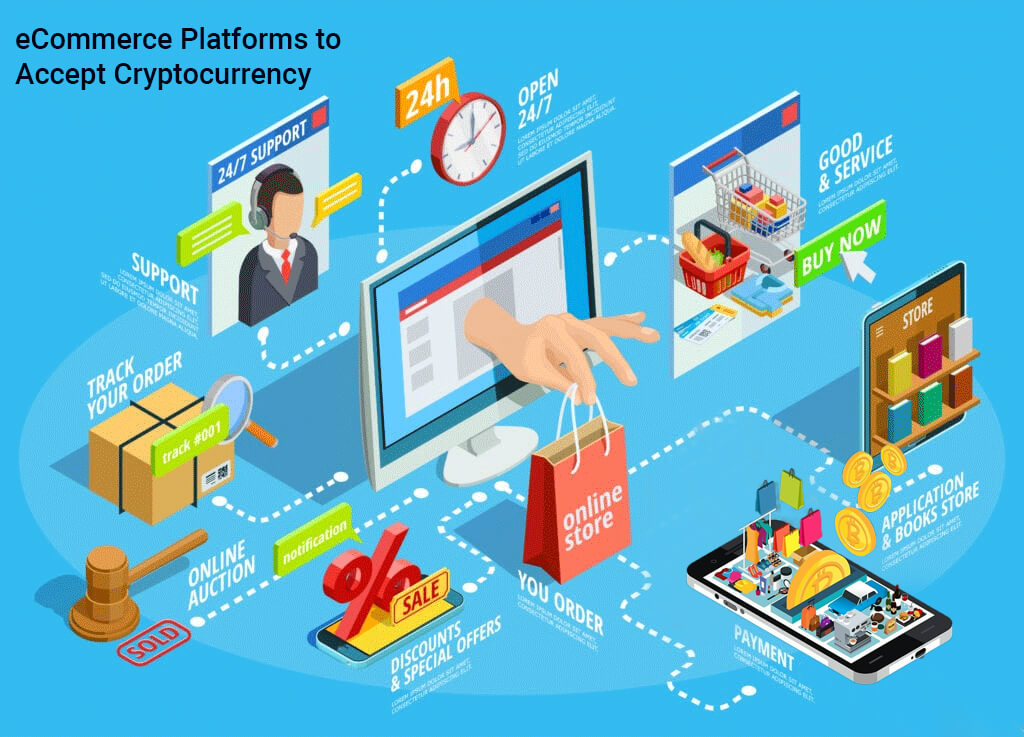 The number of companies accessing cryptocurrencies as payment options is increasing. Some of the leading players accepting bitcoins and other crypto include Microsoft, AT&T, Burger King, KFC, Starbucks, PayPal, Namecheap, Visa, just to name a few.
eCommerce businesses are also looking for cryptocurrency wallet development solutions to integrate into websites/apps and stay competitive in the market.
Many nations have legalized the use of cryptocurrency, which has given rise to its adoption. Moreover, some countries are developing their own cryptocurrencies. Since cryptocurrencies rely on blockchain app development, which keeps everything decentralized, it boosts the confidence of buyers.
To offer customers a variety of options during checkout, more and more eCommerce stores are looking to adopt it. This will shape the online shopping trends for 2022.
7. Popularity of D2C (Direct to Customer) Business Model
The Direct to Consumer (D2C) model in eCommerce enables direct interaction of customers with brands. D2C businesses were considered digital retailers, but after the success during the pandemic, the traditional online businesses are also looking to interact directly with their customers.

It is because the D2C model works like a great strategy for acquiring and retention of customers. For instance, Nike started to pull off from offline stores and wholesale outlets. It started selling directly to customers through digital platforms. As a result, it experienced a nearly 82% increase in sales in the first quarter of 2020.
In 2022, more and more companies will shift to the D2C model for competitive advantage and reduce the foot traffic in physical stores. Because of the digital evolution of shopping, almost every company can go with the direct-to-consumer model, thus eliminating the need for commission-consuming resellers and intermediaries.
Another benefit of the D2C model is that businesses can sell at a lower price and attract a large base of customers.
8. Modern Websites With Rich UI/UX and Optimization
In the growing eCommerce market, having a rich user interface (UI) and user experience (UX) has become a necessity to grab the attention of customers. Today, there are modern web technologies using which businesses can implement two versions of the entire site or specific pages to understand and analyze the performance.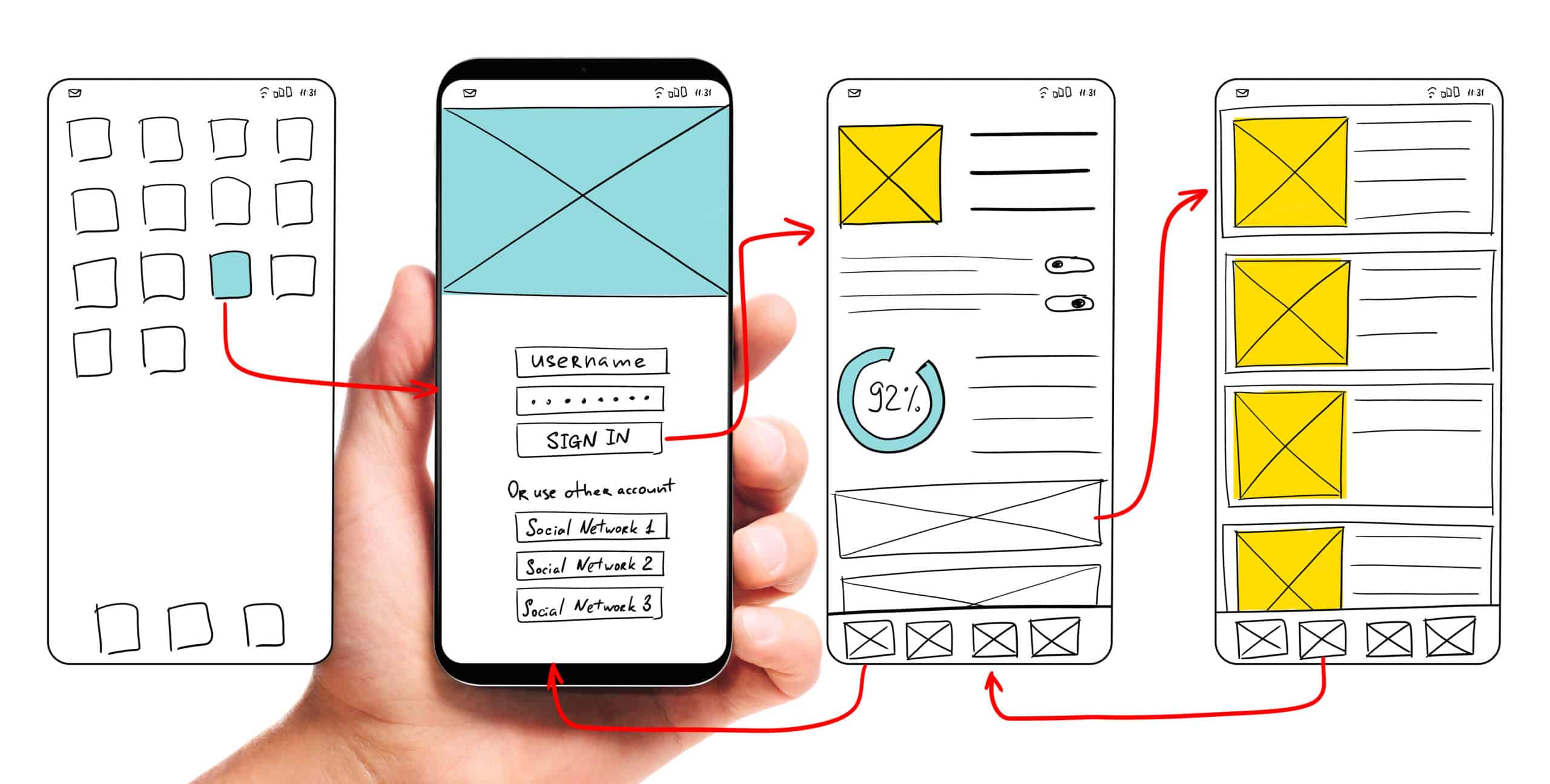 For instance, you can deploy multiple versions of a product page to the A-B test, which can bring the highest conversion rate. The variations in pages can be in terms of fonts, layouts, colors, UI, or any other metrics.
Some of the top eCommerce UI design trends in 2022 include micro animations, voice-capable interfaces, thumb-friendly mobile navigation, AI chatbots, unconventional layouts, etc.
Micro animations can be applied to almost every aspect of the UI, such as buttons, toggles, menus, as well as product images. It builds a highly interactive and visually appealing experience for the visitors.
Another important UI aspect is the thumb-friendly navigation on mobile devices. It is because nearly half of the online sales are expected to come from smartphones this year. On that front, eCommerce sites will ensure to keep menus, navigation bars, and other crucial buttons well within reach of the users' thumb.
9. Rise of social and Video Commerce
Video commerce, virtual trial rooms, and three-dimensional animations will contribute to the biggest trends in eCommerce this year. These things are supposed to disrupt the current online shopping experience for customers.
Video and social commerce are majorly driven by influencers. For example, Myntra has come up with the Myntra Studio that brings together influencers and general customers. People can now share their photos and videos on the platform the way they do on social media. It is also fun and entertaining while boosting the engagement rate of the eCommerce site.
As per Insider Intelligence research, more than 35% of the online shoppers in the US make at least one purchase through social commerce. As a result, online businesses are increasing their budget on social commerce and revamping their existing social media strategy.
Furthermore, over 200 Instagram users go to the page of the brand daily, and more than 58% of them find interest in the brand's products after going through their stories.
10. More Businesses Getting Omnichannel
As the competition among eCommerce businesses is increasing with time, having an omnichannel presence is critical. With an omnichannel presence, a business can target customers across various platforms, like websites, mobile apps, social media, etc.
Regardless of where the customer is, engaging them on all channels can increase conversion rates and skyrocket business revenue. It is also great for boosting the visibility of the brand.
It becomes important because when a consumer sees a product numerous times across different platforms, they are highly likely to consider the purchase. Therefore, an omnichannel marketing strategy can be the performance driver for an eCommerce business.
Wrapping Up:
With increasing competitiveness among online brands, knowing and adapting to the latest eCommerce trends is vital for success. Sustainability, social commerce, voice search optimization, AR implementation, use of AI, providing a crypto payment method, rich user experience, and establishing an omnichannel presence will be the biggest trends in the world of online shopping this year.
If you have an online shopping business, it is time for you to opt for top-notch eCommerce website and mobile app development solutions and adapt according to the current trends.