Some people are blessed with a great imagination that they can visualize how perfectly they can decorate or redecorate space. Others are not into a decorate-the-home thing and thus make pricey design mistakes when left alone. Now, who would like that None, right? This is why home-decor shopping mobile apps (image-based apps) have carved their niche among people's hearts. In fact, with these home decor apps being for your rescue, the idea of designing a home yourself won't scare you to bits anymore. More and more people are embracing this new trend for home decorating.
These home decor shopping mobile apps offer plenty of ideas and options to design homes, suggesting what would best suit where and offering wide-ranging home decor products that can be purchased within the app. With the latest technology and trends, these home-decor mobile apps enable users to be a little more design-savvy. These apps offer a variety of features, thus granting its user the ability to visualize things like a pro.
This blog will discuss home decor shopping mobile app development, their features, the top home decor mobile apps in the market right now, and much more.
Let's start with choosing the right business model for your home decor mobile application. Our experts share some basic ideas that would assist you in deciding the business model that matches your business objectives and goal.
Various Home Decor eCommerce App Business Models to Choose From
The right business model can make it easier for you to earn better results. When you decide to take your business to the digital domain, it is important that it reflects your objectives and vision clearly and to make this possible you need to choose the right business model.
We share here three dominant business models that would choose from for your home decor mobile application.
Single Brand Home Decor eCommerce App
If you own a furniture store or chain of stores, you can reach our experts to take your business online. Here the solution would be customized and reflect your brand on the screen. This focuses on your business and helps you reach your customers around the town breaking geographical boundaries.
You can manage your store online, showcase furniture easily, and let your customers make payments easily. We would integrate an app payment method to help you further market your brand with loyalty points, cashback, and reward points.
A single home decor solution is easier to build and would be like Pepperfry or wooden street.
B2B Home Decor Shopping App
When talking about B2B solutions for furniture, the market is huge and the competition is less. If you want to connect with other organizations itself to sell your furniture, then this is the best solution that you can opt for. Here you can showcase your business and let other small retailers choose the pieces they think can generate potential profit. We offer bulk ordering solutions for your eCommerce store that would make it easier for the buyers to place an order.
We have been delivering solutions that would make it easier for you to reach the right audience. With simple mobile applications, you can now showcase your art and customized furniture worldwide.

We ensure to integrate features specific to bulk ordering that would help you earn better solutions.
Home Decor Marketplace App Development
When discussing the home decor marketplace, you must showcase the furniture from different places on your application. Here your user can see similar items from various brands and decide on the one they want to buy.
This is the best business solution for building a home decor marketplace like Amazon or Flipkart.
We would integrate price comparison and quality check elements on the application, making it easier for your users to use the application. We have been in the industry for a decade and have earned a great reputation for providing bespoke solutions built to suit your business needs only.
Read Also: Leverage the Power of AI for Your E-commerce Business Success
You need to stick to these basic business models for better results. Our furniture mobile app development team has expertise and experience in delivering such solutions and can help you with a better online business and presence. Once you have chosen the right business model, the feature set is next on the list. So, now that you've got the basic idea of the home-decor app, next let's move on to the features.
Essential Features to Consider for Home Decor Shopping App Development
In the presence of a horde of mobile apps, you'd want your home decor mobile app to shine through and make a mark of its own. It is vital that your app is a brilliant pack of home decor solutions that can give your competitors in home decor mobile apps, a run for their money. They must be out-of-the-box solutions that allow customers to see their home LIVE with personalized changes.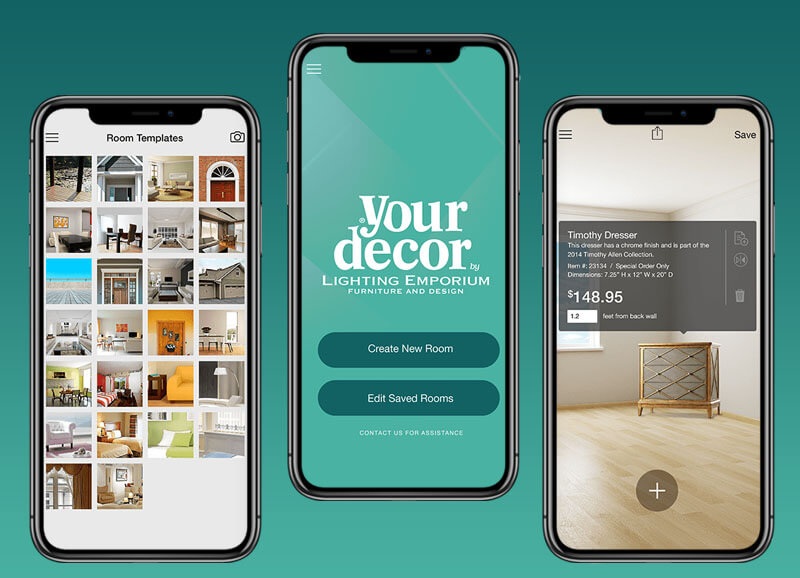 So, here is the list of features that a home decor shopping mobile app shouldn't miss out on:
Live Try-outs: Ever thought about offering your clients a 3D feel of their homes? Well, integrate this progressive solution into your app without any second thought. This allows the users to experiment with their home furniture, floor covers & home antiques.
Turn a decorator: When the clients can design their room, they will return to your home decor app. Your app should allow the clients to purchase the entire originator look of the room.
Personalized Cart: Enable your app users to personalize their requirements. This way the B2B clients of your app can manage pricing, catalog, and track their sales orders.
Multiple channel options: By having a mobile app for your home decor business, you can establish your contacts with more than one channel business integration sans the limit. You may also opt for channels like B2C, B2B, multi-brand & marketplace sites.
Manage pricing: This feature allows you to manage mass discounts, campaigns, configuration and costs applicable on large purchases. Besides, it enables businesses to authorize their own contests & schemes
These are the common features that we would surely integrate with your furniture shopping mobile application. If you want to add any additional features or modify any of these, you can surely connect with our experts and let them know how it would proceed.
We have delivered customized solutions leading their respective markets with great revenue.
Additional Features To Develop for Home Decor Shopping Apps
Other than the basic features, it is important to integrate some additional features to make it easier for you to stand out from the crowd. We have been working in the home furnishing web development services for years and ensure that your features in the market are interesting.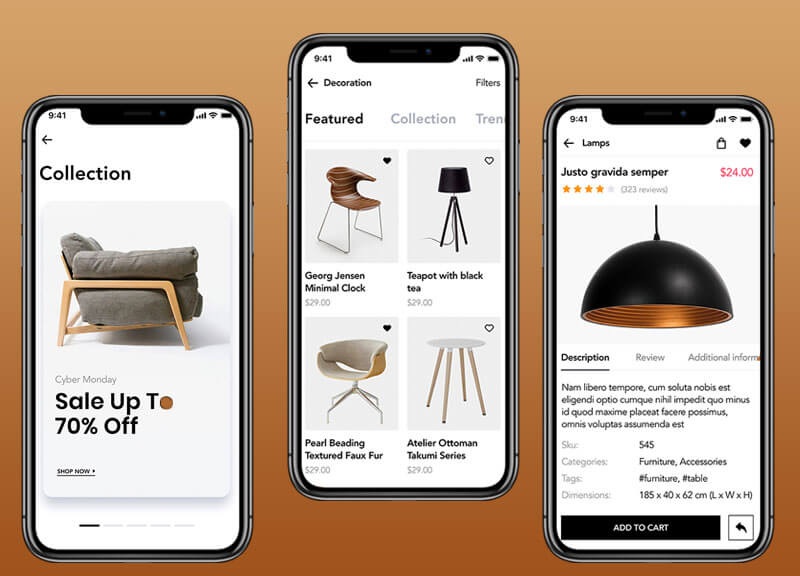 Catalog Display: This list should display the whole range of products your business offers, so customers can easily find their way to what they're looking for. This is one crucial feature of these apps as it increases product purchases because customers often go ahead and make a purchase simply by viewing the product image.
Order & Delivery Management: This feature allows the business to manage the orders placed within the app and the deliveries. The delivery areas can also be configured.
Advanced Push Notification: It is one useful feature that can be used to notify the users whenever a unique decor accessory has arrived in the stores or whenever there is an update in the product range, new offers, special schemes, etc. will ultimately boost the sales.
Special offers, discounts & coupons: Integrate this unique feature to run exclusive discounts, and offers & to sell aggressively.
Refer a Friend: Most of your marketing & promotional work will be done with the integration of this feature. It is advised to craft an attractive scheme as that will lead to more app downloads and product purchases via the online channel.
Advance CMS: This feature keeps the entrepreneurs up-to-date about their stores. At the same time, you can share event pictures and blogs with exciting content that's relevant to your home decor business. This leads to more traffic to your mobile app, website & web-app.
Multiple Payment System: Offers multiple payment options to the app users as that will benefit your business. You can offer debit/credit card, net banking, digital wallet app development, and payment gateways like PayU, Paytm, etc.
Cash on Delivery: A certain group of users find it convenient to pay on delivery, so increase your purchase numbers by integrating this feature.
Social Media Sharing: This is one vital feature for all of the online businesses out there. This allows you to share various brand campaigns for your home decor business on social media networking and this, in turn, will drive traffic thus ultimately increasing sales.
Product Reviews: Whether it is offline (via word-of-mouth) or online (in the form of ratings, reviews, survey or feedback form) product reviews can greatly contribute to attracting more users.
Manage Shipping: This feature allows the business to ship the ordered products with the help of an in-house team or maybe outsource shipping service via third-party shipping service providers.
Deep Linking: This feature is great for marketing as it does a great job of promoting products on social media as well as driving traffic & sales to your app or products.
We deliver solutions that make it easier for you to build a market presence. We have been working in the direction of developing our business to the top. If you are looking forward to building some solutions that can help you through, we bring here the solutions that can make things easier for you.
We share here some of the most prominent solutions that can make things easier for you. You can read these solutions and find the set of features that can help you through the features.
Few Popular Home Decor eCommerce Apps?
Several home decor shopping apps in the market have made it big. They offer useful DIY home decor tips as well as tips to re-do the entire room, helping all the way through finding furniture, colors, layouts & measurements. furniture, colors, layouts & measurements.
Read Also: Fashion E-commerce Mobile App Development: Cost & Key Features
These applications have built a strong presence in the market. We often read their case when you reach us for similar applications. Share that with us if you want us to connect with some other application.
IKEA:
Did you ever wonder whether a particular IKEA furniture would look good in your space? Well, eliminate all that confusion as IKEA's enhanced reality mobile app will use image technology and allow you to place furniture from their catalog in your home virtually. This way, all those who have difficulty envisioning furniture layouts can easily visualize their space with this app. Try before the buy is the key here.
Tapmeasure.io
When you are on the mission of designing your home, you will never face measurement issues with the use of the tape measure app, which calculates space and area simply by using the app camera. Thus, it helps the users in planning without any tape measurements. For instance, if you want to know how big your dining table is, you can do it simply with TapMeasure, which uses image technology to get accurate dimensions from your space instantly.
Taskers
Are you looking for ways to decorate your home? Then, you must keep seeking out inspiration on Pinterest, magazines, Instagram handles. Whenever you come across something you like, you definitely want to find a version that falls in your price range and is available in your country. Let this app, Taskers, be at your rescue. This British home decor retailer has an image search option that makes it happen. Here you can upload any picture and it will instantly display similar options. It is not just time-saving but a hassle-free way for the app users to find items fitting their aesthetic. Another of its features is that the app offers smart filters thus allowing users to narrow their search, so they can find items as per their interest.
Canvas By Occipital:
Canvas is a great option for the ones looking for professional utility from the imaging technology for their home d? cor project. As it can easily create a 3D view via the mobile scanning feature, thus users can recreate their home virtually. It also includes exact measurements of every part & corner of their home.
Hutch:
This design 'your own space' app allows users to see various items' combinations. Thus, they get the chance to bring out their inner designer and have some fun while trying out a new style for their space. The app allows its users to make in-app purchases, where they can purchase items they put together and liked. Hutch offers a designer-curated range of products, free shipping & returns. However, their USP is that they use the image to do shopping & designing easily for people.
These are the most dominant applications in the market for home decor and furniture selling. If you are looking for something similar we are here. We can modify and adjust the application as you would need for your business.

Brilliant tools to make home-decor e-commerce mobile app a success
Creating a strong online presence is vital for any retailer today when everything is going online. As per Forbes reports, usually, the customers execute online research for products, however as it comes to purchasing, they prefer making in-store purchases, mainly when it comes to furniture. So, basically, they are seeking an omnichannel experience. In this case, you first need to create a solid online presence to inspire your customers to make an online purchase.
Here are a few of the primary tools that will help the business in developing awesome home decor shopping mobile app:
Content: As you must have heard people saying Content is the King'. Well, they certainly were right. Be it writing a blog, or a monthly newsletter or even building a website, it is crucial to offer good content that would invoke customers' interest. Usage of tools like Google Trends & Grammarly is advised. Google Trends lend valuable insight into the most-searched terms in your arena & location, this way you can accordingly plan your content, while Grammarly will save you from the reader's annoyance caused by typos. Installing Grammarly as a plug-in on your browser automatically scans your content for grammar & spelling errors.
Design: Now that the content part is sorted, let's move on to make the app look wonderful. For the home d? cor app, it is crucial to have compelling visuals in order to spark the user's interest. Popular tools like Canva (useful to build high-impact visuals and also offers many free templates for social-media posts, ads & marketing stuff) and Unsplash (used for general pictures required for brochures, blogs or to build social media visuals).
Advertising & Keyword Optimization: Both advertising & keyword optimization is crucial to promote your online store and there are a few tools that can be helpful:
Frank: When added to your browser, this extension comprehensively reports where your website ranks with specific keywords. Surely a fine way to assess your position in the industry and offers valuable insights on optimizing your efforts.
My pixel: This intuitive retargeting platform helps build ads in various formats, targeting your audience and reaching it via a huge network of more than 7500 websites.
Sales & inventory management: When running a business, you require to provide customer service, manage inventory, balance finance, and during all this while you also need to report on your online store's performances & achievements. The best tool for this domain is Lightspeed Retail POS. This tool offers a fully-integrated platform allowing retailers to manage their store from sales, analytics, payments, customer loyalty, inventory, etc. This offers all the insights required to make the right decisions and to engage with the customers in a manner that they keep visiting the app.
How Much Will It Cost to Develop Home Decor E-commerce Mobile App?
Though the development cost depends on what features you want however a home decor e-commerce mobile application with basic eCommerce basic features will cost you around $10,000. If you are looking further to add multiple platforms with advanced features the development cost can go high around $20000 to $30000. To have the exact cost estimation or to book a free consultation visit – Octal IT Solution
The cost of mobile app development is dependent on various factors. We make sure that the solutions that are delivered to you are reasonable. The feature set, platform, technology, etc determine the price. If you want an application that is a simple eCommerce store where you buy and sell. Then the cost of home decor e-commerce app development is small, and in case you decide to develop an application that goes beyond simple m-commerce, the cost would be a little on the upper edge.
Conclusion
If you want to create a home decor shopping app for your e-commerce business, we hope this blog helped you provide a detailed view of the development process of the home-decor shopping app. Meanwhile, if you are keen on getting such an app, contact a home decor mobile app development company that understands your business needs and is willing to work to attain the desired results.
You can always reach the most reliable and trusted home decor app development company for your business solutions. We have been delivering mobile applications that fit your business needs over the years.