You can use the Apple Watch app to access varied features of apple watches, adjust its settings, notifications, and more. Some apps are free, while others are paid or include in-app purchases.
The Apple Watch facilitates a rich choice of third-party apps that expand its features beyond the standard experience.
By adding an App Store to its Watch, Apple has eased the user experience that permits you to download directly to the Apple smartwatch and use the Watch app on iPhone.
This post includes exceptional and not-so-common information about an Apple Watch app, market stats, and the best Apple Watch apps. 
What is an Apple Watch App?
An Apple Watch is like a program that you can download and even run on your Apple Watch.
You can use the Apple Watch app on your iPhone to adjust notifications, customize watch faces and configure the Dock, install apps, and more.
The best Apple Watch applications keep changing as the launch of new apps, and old ones are updated or improved to offer an enhanced customer experience. 
With such apps, users can make the most of the high-tech smartwatch. 
On the Apple Store, you can find many useful, health-promoting, entertaining, and productivity-boosting programs that you can use on any Apple Watch model. 
Apple Watch Market Stats
From 2020 to 2027, the Global Smartwatch Market will grow at a CAGR of around 19.6%.
And according to the latest reports, by 2027, this market will reach about $96.31 billion.
In Q1 2022, the global smartwatch market boosted approximately 13% YoY, achieving shipments at about 33.7 million units and maintaining double-digit growth for the Q5. Apple maintained a robust lead and boosted 14% YoY in Q1 2022.
Best Apple Watch Apps for Different Categories
Best HEALTH AND FITNESS Apple Watch Apps
1. Headspace

Cost of Use – Free sessions;
Premium subscription – $12 per month, or $70 per year;
Description
One of the leading meditation apps, Headspace, lets you see guided breathing and meditation sessions on your wrist. If you want to reduce your phone usage, you can try this, one of the best apple watch apps.
This app arrives with a claim that it would help reduce users' stress in just ten days. Users can pick from multiple settings, like meditating, waking up, sleeping, focus mode, moving, and more.
If you want better sleep, this app specifically includes curated audio soundtracks, sleep casts, and exercises. You can get a swift mental boost by watching inspirational videos available on this app anytime.
Related Post: Common Challenges Faced by the developers in the making of Wearable Apps
Pros
Best for meditation.
Helps cut down your phone use.
Specialize in inclusive language.
Comes with inspirational videos.
Includes specially curated sleep exercises to enhance sleep.
Multiple settings to choose from.
Cons
Users need to subscribe or pay for membership to unlock various amazing features.
It may limit some users.
2. Strava: Run & Ride Training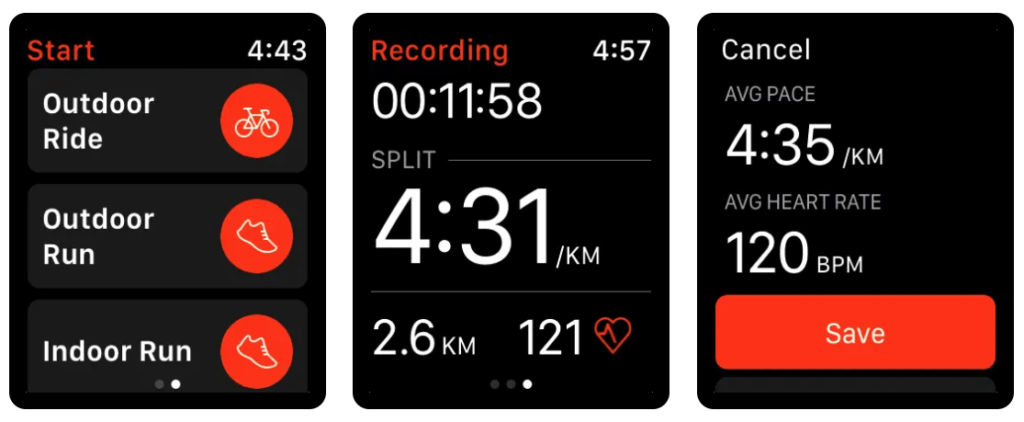 Cost to Use – Free – In-app Purchases
Premium Subscription – $5.99/£5.99/AU$9.99 per month or $59.99/£44.99/AU$89.99 per year
Description
Serious fitness fans can choose this apple watch app as it's one of the top fitness apps worldwide for cyclists, runners, swimmers, yoga practitioners, kayakers, and gym-goers.
The latest version of Strava arrives with complete support for the Apple Watch, allowing users to sync their activities and workouts they have recorded with their Apple Workout app with the Strava app and its online tracking. This makes a complete picture of one's fitness activities.
Strava runs on a constant update path as recently, when the Apple Watch sync came out, it emerged as a new update with improved analysis for runners and enhanced stroke analysis for swimmers.
Pros
This app is best for cyclists and runners.
No need to carry your phone long miles as it arrives with an in-built GPS.
Its cellular version allows music streaming and taking calls.
It records activities and displays health-related data.
It's more fully featured.
Cons
People don't prefer sharing details because of increased identity theft.
Runners don't upload their slow performances or shorter runs as they feel unimportant or embarrassed about the speed.
Lack of privacy.
3. Streaks

Cost to use – $4.99/£4.99/AU$7.99
Description
One of the best workout apps, Streaks, offers various equipment-free exercises to pick from and different workout spans. This Apple Watch will showcase your heart rate on its display along with the exercise, time, and progress.
Easy to use, Streaks, an Apple Watch app, helps the users exercise, break their smoking habits, and make them stay healthy by facilitating them to track negative and positive habits. Moreover, it provides a wide range of reporting tools so the user can see the exact progress of his/her exercise and track multiple tasks simultaneously.
When integrated with the Health app, Streaks pull users' data to use it for monitoring the suitable goals the users have set. This way, it diminishes the need for form-filling of identical apps. It's effective if the users try to work on their good health habits or avoid unhealthy ones.
Pros
It's best to automate the process and save time.
The app is easy-to-use and offers good details and tools to let users engage better.
The users can view their task statistics and track their results easily; this way, they can stay motivated.
This app permits the users to check their remaining tasks for the day, the in-progress ones, and then mark them as complete after they accomplish them.
Cons
Real users are complaining about its slow speed as it takes time to perform functions.
Read More: Fitness App Development Cost, Key Features & Tech Stack
4. MapMyRun

Cost to use – $5.99/month; $29.99/year.
Description
MapMyRun uses the smart watch's in-built GPS and its heart rate monitor to track multiple workouts, like treadmill and outdoor runs, bike rides, and walks. Besides, this app displays the user's covered distance, pace, duration, and heart rate throughout every workout.
Users can connect MapMyRun to Under Armor's MyFitnessPal app to get a well-informed look at the user's activity, health and fitness. This app is useful if you monitor your weight or try to attain your training target.
You can pair MapMyRun with Under Armor's lineup of Bluetooth-equipped shoes to get advanced detail of your workout.
Pros
This app supports tracking various users' activities, not just running.
It maps the route as the user walks, hikes, rides a bicycle, etc.
The app also showcases pace, splits, duration, etc., while the user performs his workout activity.
Cons
Various essential features of the app are locked behind the MVP paywall, especially heart rate zone settings.
This app contains ads, and the user needs to pay for the 99-Cent version to avoid them.
You can always rely on GPS mapping.
5. Peloton

Cost to use – Free to download; subscribe to App Membership for $12.99 per month.
Description
The makers of the widely-known indoor exercise bike, Peloton, permit the users to pair their Apple Watch to its connected kit and the home workout application to use the onboard sensors.
After signing up for the Peloton digital membership, the user can strap on that Watch and track his heart rate during workouts. This app is best for tracking pace and distance for treadmill runs.
If you have purchased a Peloton Bike+, you can pair an Apple Watch using the GymKit to ease the sync of your heart rate to your activity feed.
Pros
This app arrives with live classes for the users, so they don't need to walk to the physical workout place and can attend their workout classes anytime, anywhere.
The app offers safe and functional workouts so that the users may find it easy and secure to maintain good health.
The audio tracks that come with this app are all new stuff and crazy remixes to let the users enjoy working out with this app.
Cons
The Peloton bike holds some essential metrics the users may miss out on if he's using their bike.
The users may find it isolated to work out at their place; they would miss their workout group.
6. Nike Run Club

Cost to use – $12.99/ month with a 7 free trial; $69.99 annually with a 14-day trial.
Description
Millions of users and subscribers use Headscape as this app is chosen the most as the top Apple Watch meditation app. This app claims to reduce stress in users just within ten days.
The users can choose from various settings, including meditating, sleeping, waking up, moving, and focus mode. For better sleep, the users are offered specially curated sleep exercises, audio tracks, and sleep casts, everything crafted for sleep improvement.
A person can do plenty of things during the day, and meditations assist in finding calmness all through the day. Besides, there are workouts on the apps that let the hearts pump and meditations to help users find calm.
For a quick mental boost, the users can check out the inspirational videos this app offers at any time. The best part about this app is it's sensitive to pronouns and specializes in inclusive language, so it doesn't isolate any users.
Pros
This app is best for mediation resources. The users looking for the best meditation app, may choose it.
You will also get sleep and mindfulness tools.
This app arrives with inclusive language.
Cons
You need a membership plan to use this app.
Some apps may be limiting for some app users.
7. Tempo: Run & Walk Fitness Log

Cost to use – Free to Download; In-App Purchases ($9.99 per year)
Description
One of the best Apple Watch apps for walkers and runners, Tempo is widely known for its smart analysis and perfect Apple Watch integration. It gets data from any fitness tracking application, logs users' data to Apple's Health app, and offers users' performance analysis. This app offers features suitable for wheelchair users.
Lately, this app appended Personal Bests to reveal the users the fastest times, and in its latest update, Tempo has added Goals. These Goals allow users to set a distance goal that can be single or multiple workouts.
Tempo allows you to tag your workouts in every way; even you can check if a specific pair of running shoes have impacted your performance. Also, you can add Tempo calculations to various Apple Watch faces to allow users to check their progress.
Pros
This app offers instant feedback to assist users in improving their workout form.
You can conduct on-demand and live classes with the Tempo membership plan.
The app offers a variety of accessories.
Cons
This app may appear to be pretty expensive.
You may need a Tempo membership plan to use the display.
Working out with this app will demand a minimum floor space of about 6 x 8 feet (ft.) (183 x 244 cm).
Read More: Gym/Workout Application Development – Cost & Features
8. CARROT Fit

Cost to use – $3.99/£3.99/AU$5.99
Description
The Carrot series of the Apple Watch app places a new twist on the tired app categories, which is all about the seven-minute workout. The malevolent Carrot AI helps you maintain your pace while performing 'Dragon Mating Dances' and 'Celebrity Face Punches.'
You just need to start your workout, and the Apple Watch will become a heads-up display to let you know which exercise you are performing. You can pause things, knowing that your body is about to break.
Pros
The users enjoy using this app; they love to conduct workouts with this app.
People find this app helpful in their weight loss journey.
Cons
This app is not good at tracking weight.
It just records the numbers you offer to it and gives a simple charted graph of the check-ins.
9. Runkeeper

Cost to use – Free
Description
If you have purchased an Apple Watch to stay fit, then the Runkeeper app would be a good choice for you to download. It facilitates users to start the app directly from their wrist without looking at their iPhones.
You need to open the app, press the "start running" and you are good to go. Once you start running, you can monitor your statistics, including distance covered, time, and pace. On your watch, you can swipe between screens that display stats, split times, and cardio information. Also, haptics on the app will let you know when you reach the set distances.
Pros
This app arrives with an easy-to-use interface.
Anyone can use this app to track their runs using GPS.
Cons
The running community of this app is not robust as other apps.
Also, according to the route, the GPS accuracy of this app can be inconsistent.
10. Hole19 Golf GPS & Scoring

Cost to use – Free (In-app purchases)
Description
This Apple Watch app claims to be the mostly-preferred golf GPS range finder in the UK, holding ten million+ rounds registered. Besides, it claims to be much more accurate.
As it's a sports app, most tasks are performed by the iPhone app. With the Apple Watch companion, the user can get essential information and features.
The primary app provides two essential tools: GPS range finding, which permits users to see how far they are from their goal, and a digital scorecard that they can use to track their stats over time.
Pros
It is an easy-to-transport and lightweight app.
This app offers a fantastic range of up to 540 yards.
It's known for accurate results.
Compared to other models, this app is affordable.
It allows free addition to the app at no cost.
Cons
This Apple Watch app may fail to focus in foggy conditions.
Also, it doesn't include a better lock-on feature for the pin.
It's not durable as your mobile phone is not challenging for on-course use.
Best Apple Watch SPORTS Apps
1. Swim.com

Cost to use: Free
Description
A swimming app for the Apple Watch, Swim.com, is pretty amazing. But, if you are looking for a post-swim analysis and need an app to track your pool workouts in one spot, Swim.com will help you.
Swim.com holds the caliber to track stroke count, type, and swim drills. Also, this Apple Watch app provides live feedback while the user is in the pool. Swim.com also divides data into dedicated iPhone apps. It arrives with 1,000+ workouts for the users from which they can choose.
The users and their coaches can use Swim.com to create the best workout for their trainees based on their training plans and goals. They can also pick from many predefined sets or develop them from scratch.
Even if you forget your laser-printed paper somewhere, you can directly download your workouts to your wearable devices for sequential guidance. When you are done, you can check your performance with a complete breakdown of your swim for each lap.
Pros
This app arrives with simple and easy tools to set goals.
You can easily track your training and analyze stats with your friends and teammates.
The user can easily record swims using a wearable that boosts motivation, whether swimming with the coaches or conducting training independently. 
This app comes with the caliber to craft and render custom workouts directly to the user's wrist; that's why it is considered an essential part of the swim training program.
Cons
If you are a long-distance swimmer, this app may crash at a point ahead.
Some users fail to operate the touch in water, making it tough to use.
The format of the new iPhone app update's user interface doesn't sound good to the users.
It showcases waste spaces, including purposeless bar graphs and lifetime totals, making it tough to see users' last workout data, and if they get it, it becomes hard to read.
Read Also: Sports App Development – 8 Highly Profitable Sports App Ideas for 2022
2. WorkOutDoors

Cost to use: $5.99
Description
One of the cyclists, runners, and general outdoors lovers' choices, WorkOutDoors helps achieve plenty of stats to compare. The user is also free to pick how data will be displayed on their Apple Watch.
The Apple Watch users who enjoy hiking, cycling, skiing, running, and other outdoor exercises would love to have the WorkOutDoors app.
Besides, this app allows you to customize your screens with about 300 real-time metrics, and the vector-style mapping makes it easier to view the terrain from the Watch. The app also supports real-time breadcrumb trail navigation, storing maps for offline access, and uploading GPX route files to permit sync.
Pros
The app is secure and easy to use.
With time, WorkOutDoors is updating and improving to offer an enhanced user experience.
With every new update, this app facilitates big bug fixes also.
The customer support service of this Apple Watch app is also better.
Cons
The privacy factor of this app is not satisfactory; it needs to work more.
Some of the missing features make it difficult to meet the needs sometimes.
Support for this app is often slow.
Read Also: Best Sports App Ideas & Trends For Sports Industry
3. ViewRanger

Cost to use: Free to Download; In-app purchases
Description
Best among various Apple Watch apps for outdoor sports lovers, ViewRanger usually helps those looking for the best GPS or Garmin watches.
You can take ViewRanger to your hikes with your LTE-enabled Apple Watch Series 4. This app offers users live trip stats and turn-by-turn navigation for various cycling and hiking trails all over the globe. Also, you can download additional topographic maps at an extra amount and reap the benefits.
Also, with the ViewRanger app, you can send outdoor routes (and related offline maps) from your iPhone to the Apple Watch. Besides, you can see landmarks' photographs, follow turn-by-turn directions, and read the route facts on your wrist while observing your GPS location. You can sync your bike, trail, and hiking activity with Apple Health to fill your Activity rings.
Pros
The users find this app essential for hiking.
Cons
Since it's with Outdoor active, its useful features have been removed, and you can just access it by linking your Outdoor active account.
Best Apple Watch Apps for WELLNESS
1. Calm

Cost to use: Free; In-App Purchases
Description
A versatile guided meditation app, Calm is crafted to offer meditation for veterans and beginners sessions of a few minutes. Those sessions include various topics about de-stressing and calming anxiety, crafting focus, and assisting users in getting the apt mindset for a comfortable sleep.
The free tier users get limited features of the best Apple Watch apps. With Calm's premium subscriptions starting at $14.99 per month, the users can unlock the Daily Calm meditations, masterclasses, exclusive music tracks, sleep aids, and meditations.
Pros
The Calm app is user-friendly, holding well-organized content.
The kids' content on this app is very engaging and provides stories and recognizable characters for toddlers and teens.
The premium version of this app features varied music from natural sounds and ambient tones to lo-fi jams to assist the users in staying focused the entire day.
Cons
Firstly, users will find this app pretty confusing as it lacks a well-defined initial spot, especially as both the main hubs look similar.
The free version of the Calm app doesn't arrive with content for kids, movement, or music.
Various meditations look more aligned toward those who are not beginners in meditation.
The app includes lots of celebrity faces and names that can be distracting.
2. WebMD
Cost to use: Free
Description
A leading provider of healthcare information services, WebMD Health Corp. (Nasdaq: WBMD) serves physicians, healthcare professionals, consumers, health plans, and employers through private and public online portals, health-focused publications, and mobile platforms. About 95+ million visitors access this app every month.
This app meets the needs of checking symptoms, getting information about the conditions, finding specialists and doctors nearby, setting medication reminders, and much more.
Pros
This app aids in identifying and understanding your medical conditions.
Its online health forums provide emotional support.
Cons
As medical AI is swiftly developing and enhancing, it can't clone the skills of doctors and specialists.
While using an online symptoms checker, you may find it challenging to avoid differential diagnoses leading to increased anxiety, fear, and stress.
The Internet is full of various health information that may be outdated, inaccurate, and biased.
3. Heart Analyzer

Cost to use: Free; In-App Purchases ($2.99-$6.99)
Description
The Heart Analyzer app is developed to run on iPhone and holds a very nice and brand-new UI.
Obviously, the Apple Watch's display is quite limited; you may find the Watch component not as appealing as the new iPhone app; still, it makes the best use of available space and is very effective.
This app arrives with customizable and improved complications for the Infographic faces to ease you with your heart rate chart right in front of you.
This Watch app provides live heart rate monitoring, trend charts, workout views, and weekly metrics. Besides, it can record calories burned, and the distance traveled, and it integrates with the Apple Health app as you expect.
On the iPhone, things appear more impressive, allowing you to view personalized metrics like average heart rates, day/night resting heart rates, and past data going back a few years back. This new interface provides precise data in whatever quantity you want flawlessly.
Pros
It helps in in-depth heart monitoring.
The constant updates of this app are making it better.
Best Apple Watch Apps for MUSIC AND PODCAST
1. Apple Music
Cost to use: Free; $9.99/month
Description
Apple offers the best Apple Watch app for music; we are not new to this fact. One of a few music streaming services, Apple Music doesn't provide a free tier. But, if you buy a monthly subscription, the app will let you tune in to all your favorite tracks on the Apple Watch. You can stream the songs without your phone nearby with your LTE watch and a separate data plan.
Besides, you can download Apple Music playlists to your watch to listen to music offline without any LTE plan. It's useful if you want to work out without burdening your iPhone, making it free. You just need to pair your Bluetooth earbuds to your watch and click the ground running.
Pros
You can download songs separately.
This app arrives with a dedicated page to handle downloaded music.
The Apple Music app holds better library management.
You can tune to smart playlists
It supports both Dark and Light themes.
Also, this app backs Dolby Atmos.
The app UI looks and feels nicer.
Cons
It makes you unable to search in playlists.
With this app, you can't download the whole library at once.
Also, you can't search in playlists.
This app doesn't allow the users to follow Shows/Stations.
Sometimes, the music takes so long to stream.
Related Blog: Podcast Making App Development – Cost and Key Features
2. Spotify

Cost to use: Free; In-App Purchases: Individual Plan: $9.99 per month; Family Plan: $14.99
Description
One of the best iPhone apps for music, Spotify holds an Apple Watch app that allows Spotify Premium subscribers to download music to play offline. Using its free version, you can control the playlists using your watch and listen through your Bluetooth headphones.
The Spotify Apple Watch app allows you to sync your playlists and audio for offline playback from the streaming service. Additionally, you can control your music tuning on speakers, add songs to your library from your Apple Watch, stream music without using your iPhone, and control playback using Siri.
Pros
Spotify permits users to create playlists that they can find easily.
When you connect Spotify to your Facebook account, your connections can see the tracks you're tuning.
Also, you can save your albums or song playlists to enjoy offline.
Spotify also provides a free tier that facilitates you to use Spotify entirely free.
Cons
This app has removed the lyrics feature, making it tough for users who are fond of reading lyrics while listening.
The free users find the songs' quality poor.
The free account users are bound to listen to advertisements while tuning to their favorite tracks and podcasts.
After the subscription expiration, the users can't access their downloaded content offline.
3. Audible

Cost to use: Free; in-app purchases
Description
An app that brings storytelling to life is Audible. From the top-selling sci-fi, fiction, and crime to kids' books, celebrity biographies, and self-help, this app assists you in developing a library that you can listen to in your future. An audiobook can be a perfect solution if you don't have a reading habit or just find it tough to wait for the next chapter.
Additionally, Audible arrives with its Audible Originals, ensuring plenty of content for you to hear and read. It's beyond an audiobook, and you can have access to podcasts, short stories, and more.
Audible is compatible with various devices, like iPod, iPhone, Kindle, touch, Fire TV, and Sonos.
Pros
It is free to download
You can read easily on the goon this app.
It offers the best and 24/7 support to its users.
The users can access podcasts, short stories, and a lot more.
Audible arrives with a massive choice of audiobooks, including various versions of the same book.
The Audible app is well-crafted and doesn't forget your place in your audiobook.
It holds the caliber to sync across devices.
Cons
However the Audible app for the iPad and iPhone is fantastic, but you can't buy the books directly using the app. It is unfair as it increases one more step to meet this need.
An Audible subscription price is comparatively high and can increase your budget (you want to spend on listening to podcasts) over time.
Most people like to hold books physically that Audible doesn't allow.
4.YouTube Music

Cost to use: Free to download; Monthly subscription required – $12.9
Description
Like you enjoy listening to Apple Music as alternative music streaming app, YouTube has emerged with a dedicated Apple Watch app, YouTube Music, that also provides a robust on-Watch experience.
This app doesn't provide offline playlist support. But, it's best at browsing collection and control playback, and it arrives with a Watch complication that you can drop onto your Apple Watch face and control the devices to which music is being cast.
If you have an Apple Watch Series 3 or more and are already signed up for any of YouTube's Premium subscriptions, this one is made for you.
Pros
This app allows integration into wider YouTube applications.
It performs well with Google Assistant.
It holds the caliber to 100,000 track music storage and has doubled this in the shift from GPM to YTM!
You get video versions of the songs whenever you want, where appropriate.
Cons
The device connectivity of this app is not as good as expected.
You need to struggle to browse your music.
It arrives with limited functionality.
You can't be able to "cast" music in a browser. You can do that with Google Play Music, but YouTube Music doesn't offer this functionality.
5.Tidal

Cost to use: Free to download; monthly subscription starts at $9.99
Description
Various streaming services have devices to provide offline playback support from the users' Watch apps, and Tidal also comes with that functionality. This means that users can choose from more than 70+catalog and sync the tracks and playlists to their Apple Watch. Like other competitive music streaming services, you must buy a Tidal subscription plan before you can use these useful new Watch features. 
Moreover, you can enjoy Tidal for free or through its new paid subscriptions. You can sign up to Tidal to witness the best music streaming experience and tune in to 80+ million audio tracks.
You can catch up with enhanced immersive audio experiences on Tidal's new Hi-Fi Plus subscription that will let you know how your song-listening traits add some to support your favorite artists and support them directly. 
Pros
This music streaming app offers the best quality tracks to its users.
It's multiplatform; that's the biggest advantage of this app.
Cons
Tidal is a more expensive app.
It offers services to a limited number of countries worldwide. So, when you download the app, you will need to turn on the VPN, which would add one more step.
This app lacks the social feature like the other music streaming apps.
Its music library is incomplete as various tracks of top artists are missing. 
Best Apple Watch Apps for SLEEP TRACKING
1. AutoSleep

Cost to use: $4.99
Description
AutoSleep is the best Apple Watch app among the rest if someone wants to track your sleep. When you fall asleep, this app automatically detects, and when you wake up, it delivers a complete analysis in the morning based on your bedtime, movements, and heart rate.
AutoSleep performs when you don't wear your Apple Watch while on your bed, but its analysis is less detailed as it's based on the time you spend not wearing your watch. Also, this app uses a system of rings to assist you in monitoring those important statistics.
Pros
You are not required to download this app on Apple Watch.
AutoSleep will let you know other data collected and crafted during the night, even if you unblock your app in the morning after charging it overnight.
Wearing your Apple Watch in your hand will automatically track your sleep; you don't need to click anything.
If you like reading books before sleep, this app has a Lights OFF option.
Cons
The smart Alarm Clock of this app is not always smart.
The vibration of this app is not enough to wake the user up.
The user interface of this app is a bit complicated, which may require time to make things clear.
2. Sleep Cycle

Cost to use: Free; In-App purchases
Description
Apple does arrive with its native sleep tracking feature, still a little on its basic side. Sleep Cycle would be the best option if you want an Apple Watch sleep app holding slightly more than this.
This standalone app uses the onboard accelerometer of the Apple Watch to track and analyze your bedtime. It arrives with smart alarms to wake you up gently in the morning, and it performs with Apple Health also.
If you want to witness the complete Sleep Cycle experience, you will be allowed to look deeper into the stats and get access to a stack of sleep sounds and guides to assist you in sleep. Besides, it is amazing that you can still access this perfect sleep tracking app without paying.
Pros
This app arrives with instructions to guide you on where to place your phone and use this app.
Moreover, it includes the options that assist in sharing this detail via Twitter, email, and Facebook.
You will get a comparison also to others in your country.
Cons
If you accidentally close your app despite hitting the alarm's stop button, the app doesn't record the time you slept, so your data for the entire work would be incomplete.
The program must run overnight to function appropriately, which may drain your watch's battery slowly.
The accelerometer will choose any movements, including those of your pets or bed partners.
Generally, having your phone in bed also makes you conscious of being asleep or awake, which may disturb your sleep.
Best Apple Watch Apps for PRODUCTIVITY
1. Just Press Record
Cost to use: Starts at $4.99
Description
This Apple Watch App helps you keep track of lists, ideas, and messages directly from your wrist. Just Press Record provides a one-tap recording in an easy-to-use interface, so the user can dictate wherever they want to remember to use it later.
Just Press Record provides transcription and iCloud syncing to all the Apple devices of the users. You can edit your transcriptions and audio directly inside your app and record a new one completely hands-free with Siri.
Pros
It's modern, simple, and user-friendly.
This watch app is amazing, you just need to swipe on your watch's face, and it will automatically begin recording without being connected to your phone.
Cons
When the screen of the Apple Watch shuts, the recording doesn't play again.
According to users, the company tools need improvement.
2. Todoist

Cost to use: Free; In-App purchases
Description
The popular to-do list app, Todoist, is one of the top Apple Watch apps as it allows users to easily track their routine jobs on their iPhone, Mac, iPad, or even on their wrist. You can append tasks on the watch using voice dictation, get reminders about deadlines and check accomplished actions on their list.
Your to-do lists also get synced across every Apple device you have, so you don't need to pull out your phone or unlock your MacBook. The feeling of checking an item off your todo list is so pleasing that you will acknowledge it as a must-have app.
Pros
This app seems to be an amazing platform for one with a craze for gadgets, as this app allows the use of lists on various devices.
Todoist is easy to use, intuitive, robust and holds good integrations.
Moreover, it assists users in increasing their productivity through time management.
Cons
This app lacks some of the essential functionalities, as Android users are required to check their tasks by themselves.
The users can't retrieve their "done" tasks; once you tick them, they are gone.
Best Apple Watch Apps for TRAVEL
1. Google Maps

Cost to use: Free to download and use.
Description
You may be surprised that you can also use Google Maps on your Apple Watch. Yes, you read it right. Being one of the most extensive navigation services, Google Maps can assist you to get where you want to go, nearly anywhere worldwide.
To suit your watch's smaller and more instant accessible display, you don't need to see a map on your app. Instead, you are allowed to navigate to your favorite destination via bike, car, walking, or public transport. Once you pick a place from the list or just type a new one on your phone and select your transport mode, you will get a list of sequential instructions, including haptic alerts to ensure you don't miss any turn.,
Google Maps, on the Apple Watch, offers sequential directions and approximate arrival times.
Pros
This app comes with the added benefit of allowing the users to append various stops to their route before time.
Google Maps also enables you to adjust your arrival and departure time in the app.
It can also estimate how busy your public transport system is at any time.
Cons
Google Maps doesn't allow you to save your personalized data. Instead, it uses those details to personalize Google advertisements.
The excess details of this app can sometimes be deflecting, and it's not good when you are struggling or lost in reaching your destination.
2. iTranslate Converse

Cost to use: Free; In-App Purchases
Description
With this app, the user can convert his/her Apple Watch into an international translator. It's acknowledged as one of the leading travel apps supporting 38 varied languages to help users improve their language proficiency or communicate with anyone who doesn't speak their native language. You can manually pick the language you want to translate or automatically allow iTranslate Converse to choose the languages for you.
Even in a noisy ambiance, this app can offer near-instantaneous translations. And after that, the user can view and export your conversation transcripts, which is helpful for recommendations or directions while traveling.
Pros
It's a free translation application with Apple Watch support.
The app's offline mode for the pair of eight languages (for Pro users only).
Perfect voice conversation mode (for Pro users only)
Cons
Its top features need a paid subscription.
The app's voice conversation can't be used in offline mode.
Offline mode is not always accurate.
Safari translation extension slower than in-app browser
3. Citymapper

Cost to use: Free
Description
It's a mapping and navigation app that exhibits transport options between the two locations of the city it supports. Citymapper can assist in reducing stress if you live in a big city.
Since Citymapper was launched in 2011, it has covered 80 metropolitan areas and cities worldwide. This app uses smart route planning merged with real-time data to assist users in navigating complicated public transportation networks. Besides, you will get real-time information about arrival or departure delays.
Pros
If the user travels or changes to a different city, the app automatically switches the user to his/her current city.
Citymapper offers various options to unlock various monthly travel discounts.
The real-time information about the displays also helps the users in their journeys.
It claims to provide a voice-guided route to help them use Google maps or other services for the same.
Cons
There's no option to purchase transport tickets for any specific city.
4. Mapless

Cost to use: Free; Offers In-App Purchases (Mapless Plus – $0.99, $4.99)
Description
Mapless allows you to enjoy walking freely on your chosen path to let you reach your destination on your terms without following any instructions.
There's no need to check your screen repeatedly as you may miss a turn. This app doesn't arrive with any map and no turn-by-turn instructions. The app lets you know your direction (in which you are walking) and the distance between your current position and destination. You just need to look around and enjoy your walk. You can connect your Health data and use your Apple Watch App. This app allows you to save your walks as your workout activity and use your watch to record your heart rate while you walk.
Pros
It sets you free from holding your device and finding your way.
It frees you up to follow any path you want, other than the direct path to your destination.
Related Blog: Top 25+ Travel Apps Ideas For Startups in 2022
5. ETA

Cost to use: $4.99; In-App Purchases
Description
Your personal assistant, ETA, offers you quick access to your travel durations and traffic conditions to your favorite destinations. Moreover, this app supports public transit (in selected cities), walking, and cycling (Apple Watch only).
You can share your time (arrival) with your friends and family through interactive iMessage cards. With a single tap, you can get driving directions using this app.
The driving times to your destination are easily showcased on a single screen with a sign of current traffic. This app performs with Google Maps, Apple Maps, HERE Maps, Waze, Transit, CityMapper, TomTom, and more.
Pros
The ETA app is secure to use.
Significant Bug Fix with every update
It is improving with time.
Live traffic alert support for this app is good.
Cons
The live alert traffic needs more privacy.
This app misses some essential features.
Sometimes it offers slow support.
Best Apple Watch Games App
1. Snappy Word

Cost to use: Free; In-App Purchases
Description
Snappy Word arrives with a simple and easy-to-use interface and features just four letters at once. You need to play to create as many words as you can in only thirty seconds, or just pick up your mobile phone and play in the same manner or until you make a mistake, or limitless.
It's an iMessage app that allows you to challenge your friends to unscramble the words. You will be out of the application on your Apple Watch whenever a game ends.
2. Tiny Armies

Cost to use: $0.99
Description
With Tiny Armies, a game app, you will witness easy, wrist-based conquest. This rapid game lets you swipe to shift your units and rule your enemy's territory. While playing the game, you will encounter mountains, lakes, and forests as interrupts, and the gameplay is in the quick bots, best for the Apple Watch. The player can play alone, with his/her friends, or with anyone worldwide using iMessage.
Pros
Amazing game-level design.
This app arrives with exciting game features.
It is free to download.
Cons
The tough gamers would find this app easy and may get disappointed.
Gamers with big fingers may find this app troublesome.
In-app purchases apply.
3. Mount Burnmore
Cost to use: $0.99
Description
A puzzle game for Apple Watch, Mount Burnmore transforms gamers' active energy into game power. This means the active energy of the gamer (his/her burned calories as registered by the gamer's Apple Watch Activity App) into the game energy that he/she can use to rotate blocks that make the route to the mountain's top clear.
The more active power the gamer generates, the more game energy he/she will need to play. This app integrates the Apple Watch Activity App to access active energy data but doesn't share your data with any 3rd-party or utilize it for any other purpose.
Pros
This app is widely played and loved because it perfectly blends wearable technology with existing and fun gamification.
Cons
The app uses gamers' data, which is safe, as it claims, but users don't find it safe.
4. Trivia Crack

Cost to use: Free
Description
Trivia Crack is a competitive trivia game that pits friends against friends ( or strangers). The game needs Facebook integration or an email address to play. So however, there's no objectionable content, but the app is not apt for young kids. Well, this is not an issue, though, as some of the queries asked may confuse the young players.
The gamers can get a chance to buy in-game coins with real cash as a benefit, though this is not necessary to win the game.
Pros
You will get various ways to play the game.
The gamer can challenge his/her specific friend also.
You can view your progress and rankings.
The app permits testing trivia skills in six varied categories.
The content is constantly updated.
Cons
What you want to buy through in-app purchases would be pretty expensive.
5. Brainess

Cost to use: $490
Description
You can exercise to keep your bendy fit and healthy. But what about your brain? We forget to think about it.
Well, no need to fret anymore. Brainess, a brain training game, is an easy and fun way to stimulate your brain. This app arrives with seven brain training games to exercise and improve your vision, memory, and computer skills.
List of included exercises:
Dice
Signs
Memory
Equations
Colors
Numbers
Fruits
6. Lifeline 2

Cost to use: $2.99
Description
The original Lifeline caught up the eyes of the App Store, attaining the tag of the top Paid Game on Apple Watch and iPhone in 29 countries. Its exceptional blend of real-time storytelling and Dave Justus's animated writing constantly captures countless players' imaginations globally.
This app boosts the bar with a new tale approximately twice as long as its original version, with various more paths and choices to explore.
Pros
The stories of this app are great.
The "real-time" idea is fantastic; you can not just complete the game in two hours but can play it only through the notifications when your mobile phone is locked.
Cons
The app doesn't have a font size setting; the game is not written to Apple's font size API.
Moreover, the game ends abruptly, which is somewhat unsatisfying.
Best Apple Watch Apps for FINANCE
1. Wallet

Cost to use: Free
Description
This Apple Watch app offers a simple way to make your money available by touching your finger. You can use varied funds, like the Apple Card and Apple Cash. Even on this app, you can store your transit cards.
You can use the Wallet app if you want your money available to you with a single touch. Also, you can use various types of funds, like the Apple Card and Apple Cash.
This app allows for storing your transit cards, and you will find it easy to add and remove your cards on this app. Besides your bank and credit card details, this app will allow you to store your digital keys, driver's license or ID, and even employee badges to let you save your time when you have something more important to do.
The students can save their student ID cards and access them easily. To ease your upcoming trip, you can store your boarding passes, tickets, hotel booking details, and more in this Wallet app. It also allows you to save the details of your rewards, offering you a chance to earn money quickly.
Pros
It's free to use
This app arrives with a manageable financial management feature.
You can get quick access to tickets, cards, IDs, and other documents that you store for easy access.
Cons
You may face some trouble while using face recognition.
This app is also complaining about having cyber hacking issues at a time.
Related Post: How to Create a Mobile Payment App with Great Features
2. Pennies

Cost to use: $4.99; In-App Purchases
Description
To easily manage your routine finances, you can use an Apple watch app, Pennies. This app is widely used for its simplest way of budgeting, and it's a flexible app that lets users set their budget amazingly.
You will get monthly, bi-monthly, weekly, bi-weekly, and one-off budgets option that will allow you to meet your routine budget needs. This budgeting app will automatically remark your financial health in bold hues depending on your daily expenses and earnings.
Pros
This app allows no restrictions to create and set up budgets as you want.
You can support your created budget on all your iOS devices using iCloud.
Also, this app supports you with multiple currencies all over the world.
Cons
The budgeting app fails when toggling between numerous budgets.
Best Apple Watch Apps for SMART HOME
1. Philips Hue
Cost to use: ₹ 449; In-App Purchases
Description
The Philips Hue app allows you to organize all the lights in your rooms easily. Also, you can switch your rooms on or off or change the brightness and color of each morning as you want to suit your mood or activity. This app allows you to control as many lights as you have.
With the Philips Hue app, you can take complete control, change the color, white tones, and colors of all your lights, and craft your personalized lighting ambiance.
Also, you can turn your lighting into a fantastic experience with the color palette of this app. You can easily choose from sixteen million shades of white or different colors.
So, energize your day, or switch to an excessively relaxing setting every day for dinner, reading a book, or preparing for bed. This app allows you to choose various light themes to enhance every minute.
Pros
This app lets you know that someone is at home.
Also, you can create a lighting game that follows your song's rhythm.
Cons
The Philips HUE kit arrives at a high cost.
You need an internet connection that charges an extra amount.
2. IFTTT

Cost to use: Free; In-App Purchases
Description
With the IFTTT app, you can merge about 700+ top services to automate almost everything in your life. You can turn any pre-built automation or even get creative and craft yourself.
You will find automation as easy as merging two services or as complex as workflows that include various services and conditional logic.
You can discover automation on this app for your home, car, and office; you can stay informed on politics and news, explore outer space on your iOS devices, and improve the use of social media.
Pros
It is a simple and robust app with automation abilities for main SaaS products.
This app is a suitable application connector.
It arrives with a quick solution to social sharing RSS feeds.
Cons
You can't connect more than two services.
IFTTT, an Apple Watch app, can frequently leave you perplexed as it allows you to set it up in various possible ways that are sometimes confusing.
3. Neato Robotics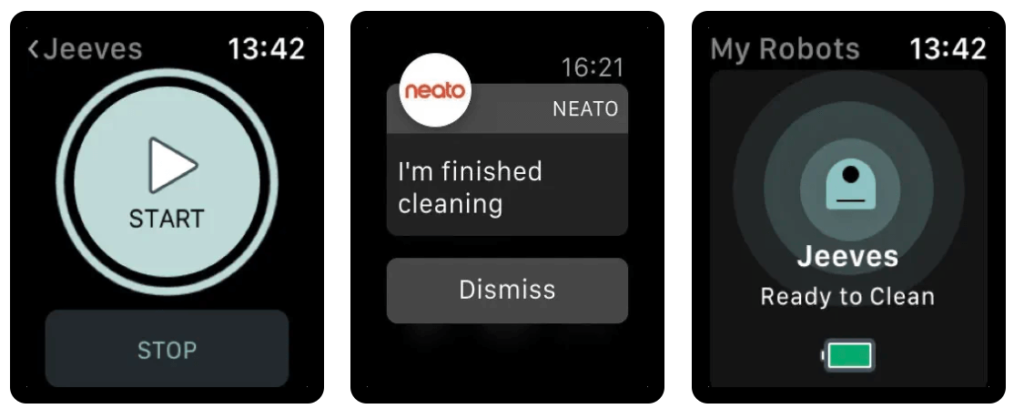 Cost to use: Free
Description
Have you got a Neato robot vacuum cleaner? You can download and install the Neato Apple Watch app that will allow you to start, stop and clean your home. You can use your wrist to let your Neato robot return to the dock or more; it's its basic functionality. Still, you can use your app to start cleaning quickly.
The Neato Apple Watch app is compatible with Neato Botvac D7 Connected, Neato Botvac D6 Connected, Neato Botvac D3 Connected, Neato Botvac D5 Connected, Neato Botvac D4 Connected, and Neato Botvac Connected.
4. Hive

Cost to use: Free
Description
With the Hive app, you can think smart and act smart. From heating to lighting to charging your e-vehicles, the brand crafts smart home devices and services for millions of homes worldwide. Also, the company targets an extra sustainable future. So, its Hive services help people with that while smoothly connecting everyone to their homes.
Using the Hive app, you just need to tap at once, and you can manage your home easily. The Hive Actions of this app facilitate the users to connect with all their devices. If you want to turn the heating on or increase the heating of your water, you can do that by pressing your screen. You can also set the lights in your home and switch them on or off whenever you want.
Best Apple Watch Apps for SOCIAL MEDIA
1. Facebook Messenger

Cost to use: Free
Description
Facebook Messenger is used worldwide by many people. This app allows people to access their messaging system through their Facebook accounts without needing to access other social networks. It makes communication easier for people via their mobile devices.
Below are the benefits you will get using this app:
Cross-app messaging and calling.
privacy settings
watch together
vanish mode
group calls
free video calls
turn off the lights in dark mode.
Use stickers.
Send photos, videos, and files.
Pros
It makes chats faster.
This app allows users to chat free of cost.
Facebook Messenger can be used for collaboration.
The users are facilitated to make calls.
The permissions are needed only when the users want to use any typical feature.
Cons
This app is challenging to protect your privacy.
The Facebook Messenger app adds distraction to life.
Messenger can speedily deplete your device's battery.
It needs a lot of space on your device.
2. Chirp for Twitter

Cost to use: Free; In-App Purchases
Description
Chirp for Twitter is an amazing way to use the Twitter app for free on your Apple Watch. Also, you can scroll through your app's timeline endlessly, find the trending facts, and keep updated with your mentions. Also, this app allows users to read and respond to all their direct messages.
Besides browsing your timeline, this app offers various fantastic features. With images, videos, hashtags, mentions, and much more.
Pros
It offers access to a never-ending flow of small messages on your Apple gadget.
Premium plans allow access to all its features, like responding to tweets, conducting rapid searches, exploring direct messages, and staying updated.
Cons
For enhanced usage, you need to subscribe to its Premium plans.
Best Apple Watch Apps for EVERYDAY ESSENTIALS
1. Barcodes – Reward Card Wallet

Cost to use: Free
Description
Now you can leave your physical access tags and loyalty cards as Barcodes are the best Apple Watch app you can use to scan and store your barcodes and QR codes on your devices and use them later.
You can store all your QR codes, barcodes, reward cards, loyalty cards, gym cards, and others in a digital wallet. You can see and use your essential cards on your watch, phone, and other widgets on your home screen.
Pros
It's an amazing loyalty card that has iCloud sync.
It accurately crafts and stores barcodes.
Storage works as expected once you set it.
Widget is an amazing feature.
Cons
The selection pop-ups close or change constantly without making any selection.
2. Solar Watch
Cost to use: Free; In-App Purchases (Premium – Rs 699)
Description
Solar Watch, an Apple Watch app, is an essential digital tool that is best and most useful for architects, photographers, prospective house buyers, solar panels installers, and garden enthusiasts. This app's sleek and intuitive interface offers access to a complete range of professional features and functionalities. 
The free version of this app reveals comprehensive information about lunar and solar positions for your current location and time.
On the other hand, the paid, premium version of the Solar Watch app offers you access to worldwide information.
3. Phone Buddy: Lost Phone Alert for Watch

Cost to use: $4.99
Description
Using this app, you will no longer forget your iPhone again. The Phone Lost Alert and Distance Going Away Alert features of this app helps you track your devices and never lose them again.
If someone takes your iPhone, this app will alert you on your Apple Watch. It indicates that your Apple Watch Bluetooth connection has disconnected from your iPhone.
The phone Buddy Alarm feature of this app notifies you on your watch if you step away from your phone.
Pros
It saves people's iPhones from getting lost.
The frequent updates offer a new feature to the users every time.
Cons
It doesn't work on some versions of the iPhone app.
The premium version of this app sometimes faces issues.
4. ESPN: Live Sports & Scores

Cost to use: Free; In-App Purchases (start at $9.99)
Description
ESPN, an Apple Watch app, facilitates users to watch thousands of live shows and events, get scores, expert analysis, highlights, and on-demand news. From news about your team playing and favorite sports, the home tab of this app arrives with everything. You will get rapid access to scores for your favorite leagues and teams and the top games of every day in the scores tab. Subscribers of this app can watch live games when their seasons are active.
Cons
Users are facing issues while casting their apps.
Sometimes, even when users exit the videos, the sound keeps playing.
The cost of plans is expensive.
5. PCalc

Cost to use: $9.99; In-App Purchases
Description
A robust choice for engineers, scientists, programmers, students, or anyone looking for a feature-packed calculator, PCalc. This app includes a choice of button layouts, a multi-line display, a perfect set of unit conversions and constants; multi undo and redo, paper tape, scientific and engineering notation, and support for octal, binary, and hexadecimal calculations.
Pros
This app provides advanced engineering and scientific functions.
Moreover, it provides a customizable display.
PCalc supports Reverse Polish Notation.
This app supports Apple Watch.
Also, it offers a complete conversion tool.
Cons
Casual users may find this app confusing to use.
6. Mint

Cost to use: Free; In-App Purchases (start at $0.99)
Description
You can experience an amazing way to manage money using Mint, an Apple Watch app. You can reach your objectives with personalized insights, spend tracking, custom budgets, and subscription monitoring for free. You can easily check your monthly bills, set goals, and craft robust financial habits.
Mint, a money management app, brings your finances together. From budgets and balances to credit health and financial targets, your money essentials will be kept in one place.
Pros
This app is a lifesaver in assisting users in accumulating their financial data in one place.
The users can connect their credit cards, loans, and bank accounts, and it offers an easy way to read their due dates, balances, progress towards their goals, and more.
Cons
The automatic categorization of this app makes mistakes until the user applies its manual adjustments.
7. Carrot Weather

Cost to use: $4.99/month
Description
This app offers users accurate weather forecasts in an easy-to-interpret format. This weather app is compatible with iPad and iPhone devices. CARROT Weather is an amazing app on which you can rely for accurate weather forecasts.
CARROT Weather app, an Apple Watch app, is an app that's entirely different from other apps that assist with weather forecast reports. The chief target of this app is to offer the best user experience.
Pros
This app offers detailed weather forecasts that users can easily understand.
No internet connection is needed.
Cons
It doesn't offer all its features worldwide.
Related Post: Weather App Development: Build a Weather Forecasting App
8. Yelp

Description
Yelp, an Apple Watch app, performs perfectly on a mobile phone with which you can find nearby stores, gas stations, restaurants, and anything. Besides, you can use this watch on your Apple Watch also.
Using this app, you can choose a specific listing and find a review highlight, description, and map you can tap to generate directions.
Pros
It's easy to use and navigate.
This app can post photos and reviews from a phone.
It arrives with a clean UI.
This app provides useful information for mobile users.
You can get related business details on this app.
Cons
The interface is pretty confusing sometimes.
As it's a user-generated content application, all the subjective details cannot be true occasionally.
9. WristControl for HomeKit

Cost to use: $1.99
Description
Using this Apple Watch app, you can better control your HomeKit devices and the scenes. The app includes three tabs; 
– Scenes, where you can add your existing HomeKit scene and trigger it with a tap.
– Favorites, where you can pick from a list of compatible accessories for rapid access.
– All, where you will get all compatible accessories, but you can't hide any.
Final Words!
We hope you find this post helpful in exploring various Apple Watch apps that can help you in numerous ways, whether it's about your health, budgeting, entertainment (music), routine essentials, social media, games, finance, sports, etc.
All the app arrives with pros and cons; you can review them as mentioned above and decide which one you would like to install and use on your Apple Watch. Considering the cost, features, user rating, and compatibility of the app you like to download will lead you to a beneficial decision.