Sports enthusiasts love staying in touch with the latest scores, statistics, and information about their favorite teams and players, so if you have an entrepreneurial spark, developing sport mobile application could be your ticket to earning some money and helping fans connect with their favorite players, teams, and leagues. In this article, we'll give you some ideas on what type of sports apps you can build as well as how much you can expect to make from your sports app development efforts.
Introduction – Sports Industry, Sports Mobile Experience, Technologies, Sports startups
Sports Industry is a fast-growing industry in terms of participation, business, profits, and global popularity. However, despite all those facts, it's still relatively new for entrepreneurs and startup developers. Sports startups are playing their role in not only bringing sports to the masses but also innovating how we as fans can interact with sports.
There are a few common technologies that are used by almost all sports apps. While some might argue about the impact of mobile applications development for sports industries, it is similar to software development for web businesses in the 80s and 90s – bringing operational efficiency together with a better experience for customers.
Sports Mobile App Market Size ad Industry Stats
According to Statista, the total sports industry revenue is expected to reach $3.9 billion by the end of the year 2022. With an annual growth rate of 7.16%, the total revenue is expected to reach $5.22 billion by 2026.
The number of sports app downloads is expected to reach 2,033.9 million by the end of 2022.
The United States contributes the largest amount of revenue to the sports industry, making it $1.429 billion.
Top Sports Mobile App Ideas
Think of all those sports apps on your phone. Some are very popular, such as cricket and baseball score apps. Others never seem to get much love, despite your best efforts at promoting them. Are you an app developer who's running out of game app ideas? There's no shortage of things you can build in that category! In fact, there's a top app for every single sport (and many activities within sports) imaginable.
1. Live Match Streaming Mobile App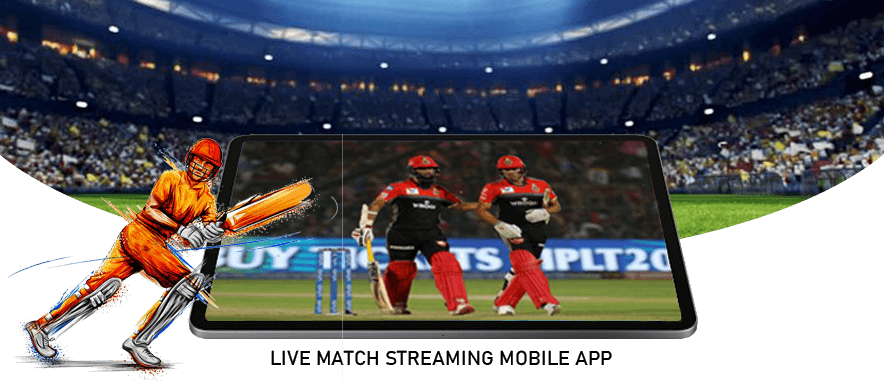 Just like Disney+ Hotstar or Sony Liv, there are applications that live stream the sport being played. Since hundreds of games are being played every single day across the globe, the opportunities are endless for people investing in live match streaming mobile apps.
Making it easier to stream matches, use the best live sports app that allows people to easily check their local time and date for live sports events. These apps will have schedules and details on what channel you need to tune into in order to watch a game. It's just like using your cable or satellite remote control, except it works via your smartphone.
If you're good at developing these types of apps, look for opportunities in both free and paid markets as well as consider marketing them as standalone or complementary services to help sports venues attract new customers. App developers also can look for opportunities with media outlets that are looking for ways to improve their own customer experience or capture more advertising revenue by driving viewers back towards their own content.
2. Sports Ticket Booking Apps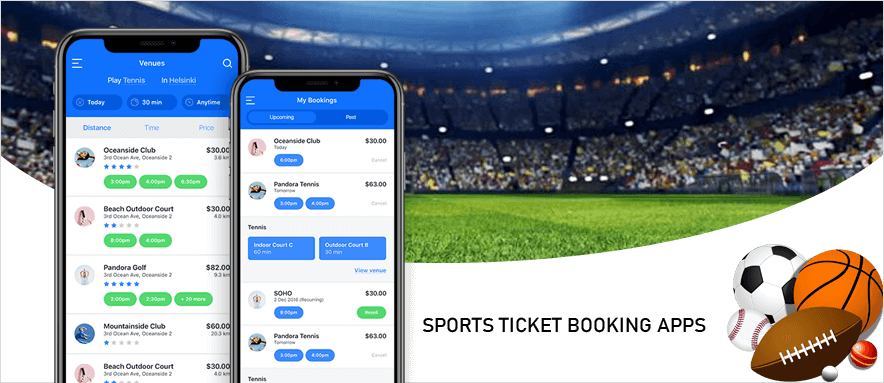 Thanks to apps like Gametime, users can now buy tickets to sporting events easily and even skip waiting in long lines. Gametime allows you to buy tickets with a few clicks directly from your phone and text message or email yourself a barcode that gets scanned at the door. Similarly, StubHub is another app that allows you to buy tickets right on your phone. For example, if you're going out of town for a weekend getaway but want to catch an NBA game in LA while you're there, simply search NBA games near me within StubHub (or type Los Angeles into your GPS) and purchase tickets from your phone—no driving needed!
3. Sports News and Analysis App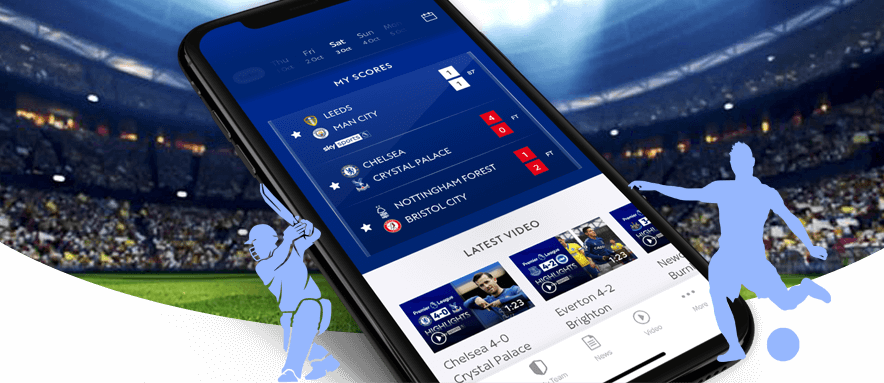 There is already a slew of news and analysis applications out there like the Yahoo sports app, but they're not geared toward sports. A news application specifically for keeping up with sports-related news and scores could be very popular with sports fans. Most current application designs aren't user-friendly, so updating them to be modern is another added perk to developing an app like that. Also, consider adding team alerts so users can get real-time updates on their favorite teams' scores and breaking news. If you want to take your app one step further and want it to make the best sports news app, integrate a chat function or even a forum where users can discuss events live as they happen.
4. Fantasy Sports Mobile App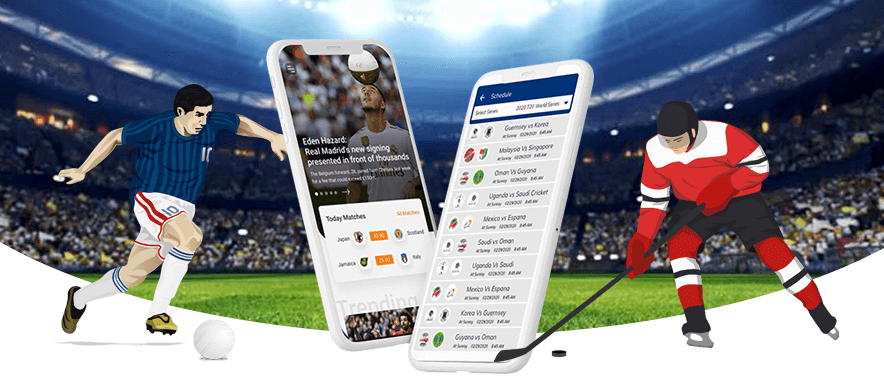 Most fantasy sports involve picking a team from a list of real-life players in different professional leagues. In fantasy football, for example, you draft individual NFL players to create your own dream team. Each week, those players earn points based on how well they perform in their games. While many leagues play with a standard scoring system, many more use proprietary systems that require some math and statistics knowledge. While fantasy sports are typically used as an excuse to watch more sports on TV, there are tons of fantasy sports news apps out there dedicated to allowing fans to track their teams while they're at work or while they're at home relaxing with friends or family members.
5. Sports Betting Mobile App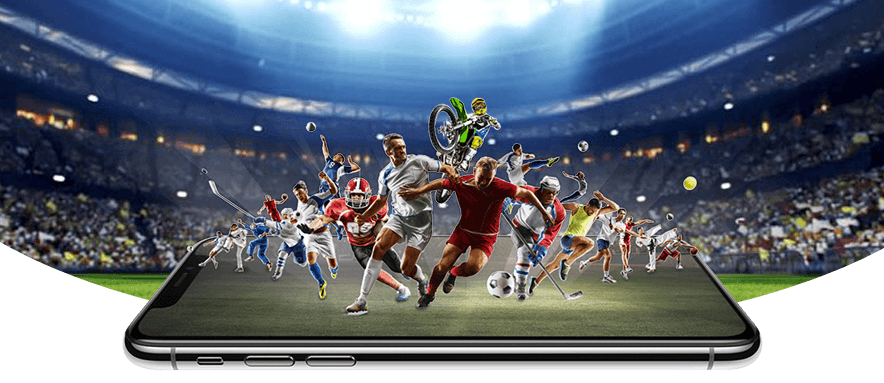 The next type of sports mobile application is a sports betting app. Sports fans are known to be obsessed with their favorite team or sport. This obsession can drive people to bet on their favorite teams, players, and so forth. Sports betting mobile app can allow people to place a wager on any number of sports contests via their smartphone at any time. This will take gambling to an entirely new level, giving everyone with a smartphone instant access to gambling opportunities no matter where they are located.
6. Sports Equipment eCommerce App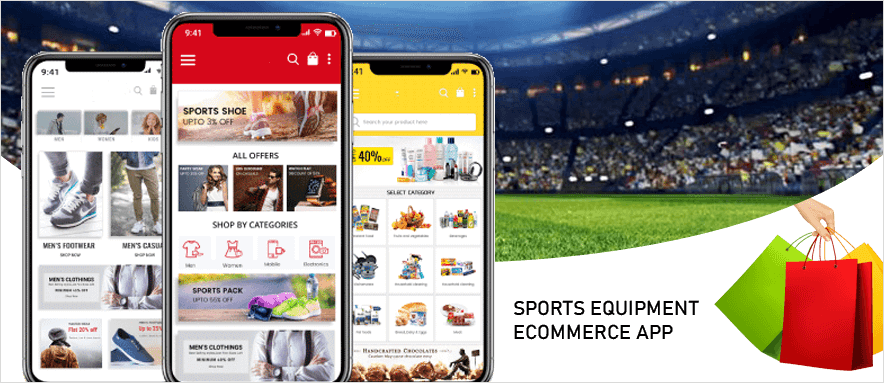 If you are a sports equipment aficionado and have a bunch of sports gear, then an eCommerce app may be a good choice for you. You could sell various pieces from your collection, or even buy and sell other people's stuff through your website. Just like in any business, creating a cost-effective application for selling sports products will be essential for your success.
7. Sports League Management App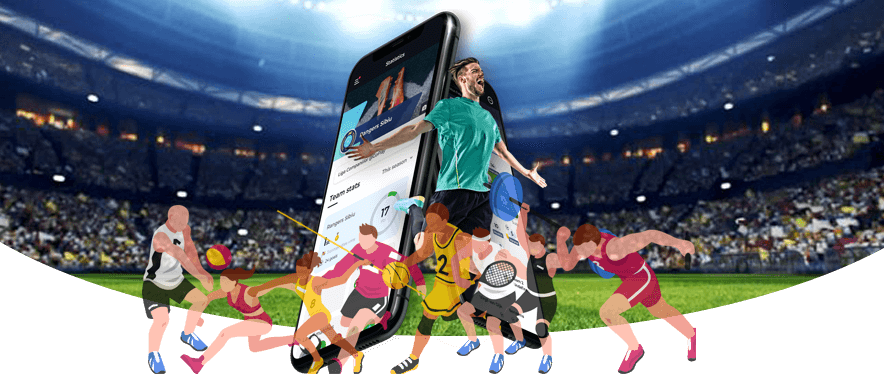 Create a sports league management app that is efficient, streamlined, and easy to use. The app should provide users with everything they need in one place. This includes but is not limited to schedules, real-time scoring, stats, and leaderboards. The design will appeal to both diehard fans and casual players looking for something fun and exciting to get involved in.
8. Sports Celebrity Mobile App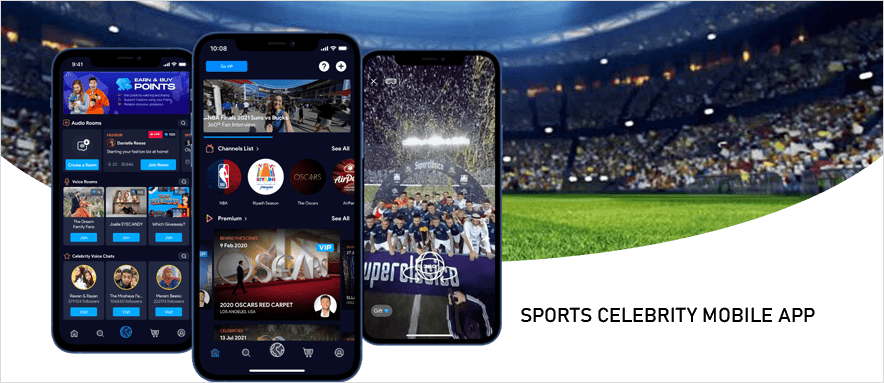 When it comes to sports, celebrities are pretty much unavoidable. From Michael Jordan to Roger Federer, there's a long list of celebs who have had their hand in some aspect of professional sports. Fans also form close relationships with athletes, following their careers and rooting for them as if they were family members. However, there is one notable downside to celebrity-driven sports: fans only have limited ways to engage with their favorites on a day-to-day basis. If you're an aspiring entrepreneur looking to get involved in sports (or just a savvy fan), think about creating an application that manages your favorite players and keeps fans engaged.
Related Post: Celebrity Mobile App Development – Everything You Need to Know
9. Sports Coaching & Training Mobile App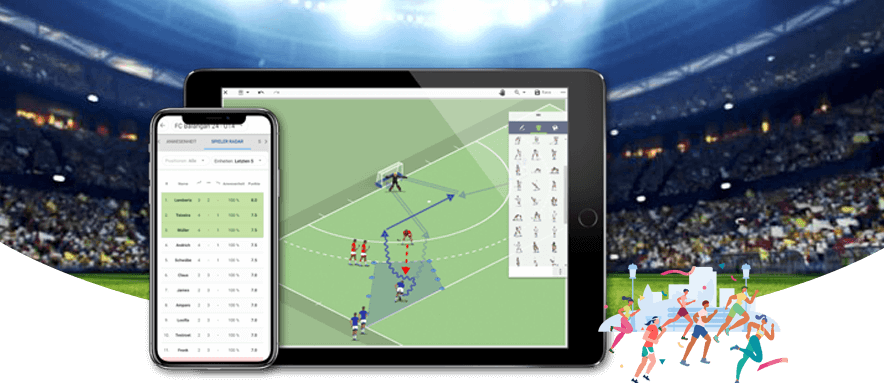 It is important to keep tabs on your performance while training, so one of the great sports business ideas would be one that tracks your performance and offers you tips to improve. This can help athletes get ready for their next competitive season. The app could also generate different types of workouts based on pre-defined goals and objectives.
Additionally, it would need to sync with other fitness devices like heart rate monitors or GPS trackers. So instead of using manual logs to gauge performance during training sessions, you can use an app like these for more efficient tracking capabilities. Such apps offer real-time stats about your activity level and also provide users with virtual motivational support from friends who are participating in similar events in order to constantly keep users engaged as well as inspired by achievements made by fellow athletes from around the world.
10. Sports Venue/Facility Booking App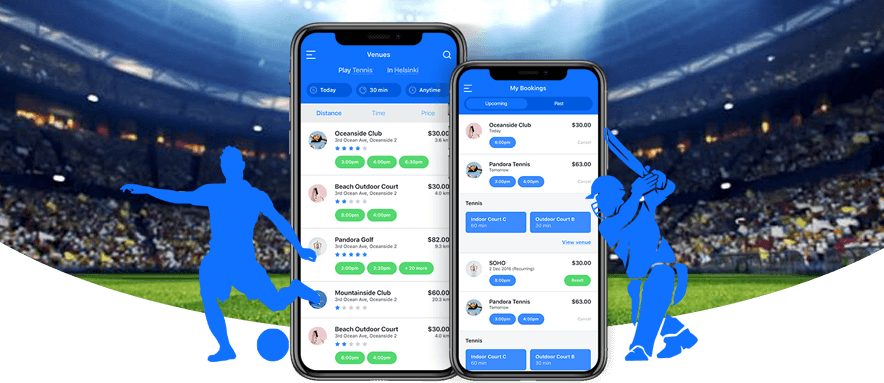 A sports stadium or venue booking app allows a sports enthusiast to search for any available venue and make bookings on the go. A great example is using an app that helps you find available football stadiums and book one for your next match.
The app may also allow your users to book sports facilities, academies and training centers to improve their skills. Since sports is a fascinating career, there are millions of enthusiasts who want to work on their skills to make it big in sports. Allow them to reach out to the opportunities on the go.
11. Match Live Score Mobile App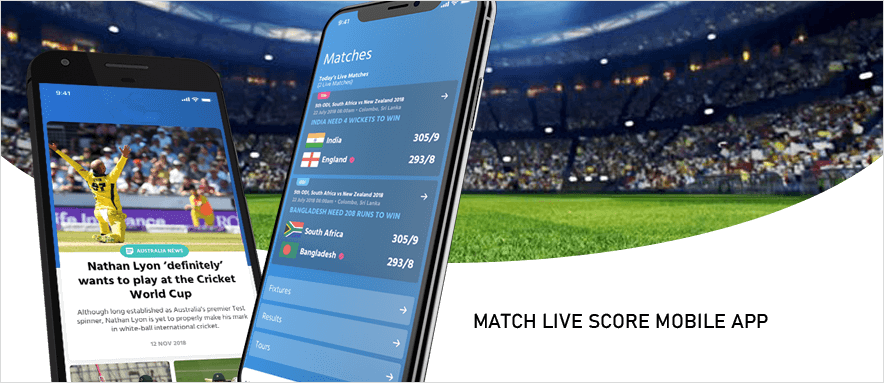 More and more people want live sports scores to be conveniently available at their fingertips. As mobile devices improve, we're seeing an increase in sports fans' desire for the best app for live sports that will deliver live scores. For example, you can use a score updater application to serve as a companion to your fantasy sports league and make it easier than ever for members to stay updated on statistics. Or maybe you want to create a simple score tracker application for your fantasy football league.
12. Sports Quiz Mobile Games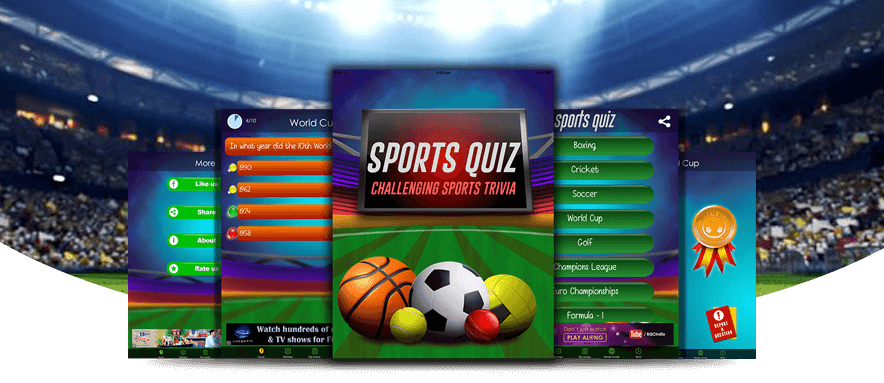 The best sports trivia apps and quiz mobile games are among some of the best mobile applications out there. They present players with a problem and challenge them to come up with an answer before time runs out. Quiz mobile games can be played during any free moment or while waiting in line, and they're incredibly simple to play; simply choose your answer and wait for it to be revealed if you were correct or incorrect. Because they're so easy to play, quiz mobile games require little time commitment from their players; however, as more difficult challenges become available, even a minute can provide players with hours' worth of entertainment.
13. Sports Mobile Games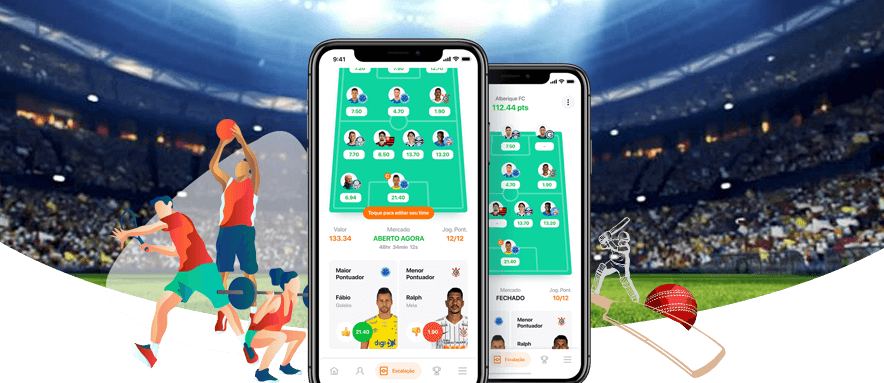 If you're a game development team or individual, chances are you've heard that mobile gaming is exploding. And while it's definitely true, there's still plenty of room for new, innovative sports games on all smartphone platforms. Popular sports games today include football and soccer simulations – both multi-player and competitive – as well as fantasy apps, where fans can compete against one another based on real-time scores and stats. But if you have ideas for other types of sports mobile applications, feel free to create your own variations! For example, track-and-field athletes can compete based on speed records while baseball players engage in pitching competitions with digital frisbees instead of balls. Do whatever sounds like fun! (And as long as it works!)
14. AR/VR Sports App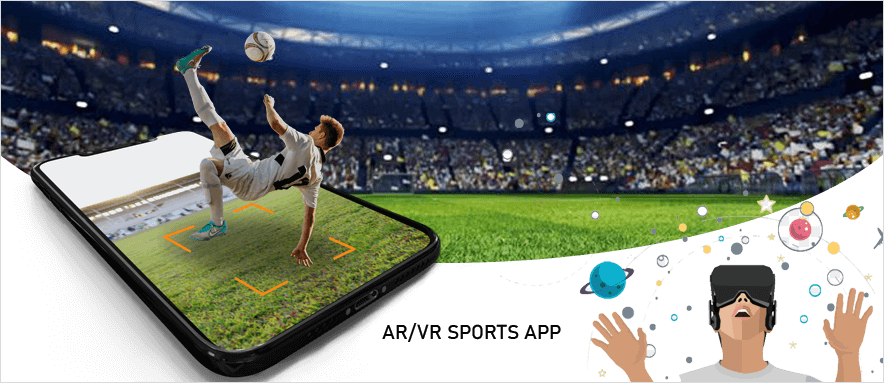 In 2016, Forbes predicted augmented reality (AR) and virtual reality (VR) would be a billion-dollar industry. A huge number of professional sports teams have been quick to see where these emerging technologies can improve their players' experiences both on and off the field. This is why some have already started exploring applications for AR/VR technology in coaching, training, video games, and even spectating at games. So if you're a developer looking to get into sports or just want to be a pioneer in such an up-and-coming field, creating an AR/VR application might be a great place to start!
Latest Trends in Sports App Development
Top sports apps are always changing, with new features and updated content to keep users interested. To develop an app that has staying power, think about how your idea can offer fresh information in an interesting way.
For example, if you're developing a golf-related app, maybe users can scan their scorecards and play videos of their swings after each round. If you're designing a skateboarding game app, maybe players can edit their own music to create custom soundtrack combinations for each run through a level.
Think about what types of games or apps will provide real value for your users by keeping an eye on sports industry trends; only then will they stick around and not be tempted by some new must-have application that comes along next month.
1. Utilization of AR and VR
Augmented reality (AR) and virtual reality (VR) are quickly making waves in a lot of industries, and sports are no exception. For example, Virginia Tech is working with a Japanese VR company to create an immersive training simulator for its football players.
By wearing VR headsets and wielding VR controllers, players can take on holographic opponents and walk through elaborate NFL stadiums in real-time. It's much more like actually being there, said Shoshannah Gilbert, assistant athletic director for administration at Virginia Tech. It's just one of many examples of AR and VR being used to revolutionize sports training – it's something that we'll see more of over time.
2. Wearable App Integration
Wearing your phone on your body is still in its early stages, but that doesn't mean it's without real possibilities. Depending on how you use it, a wearable app can make fitness tracking or team communication easier, or even provide valuable information to professional athletes during practice. Wearable apps for sports focus on integration with gear.
For example, The Dash – made by San Francisco-based startup Bragi – is a smart headset designed for music, fitness tracking, and voice activation. The device connects with an iOS or Android app via Bluetooth and tracks heart rate, distance traveled and calories burned while also automatically recognizing when you switch activities.
3. Cross-Platform App Development
With cross-platform mobile app development, you have a single codebase that's built once, which will work on multiple platforms. For example, you can watch the live stream of a match on Disney+ Hotstar on your mobile device, computer, as well as on your smart TV. The advantage of not having to recreate every feature for each platform is that your app can look consistent across devices and be available to more customers.
4. Sports App Gamification
There's nothing like a little friendly competition to encourage healthy behaviors and habits. This is why mobile app gamification is so powerful – it turns mobile apps into games to keep users engaged, interested, and active over time.
How can you gamify your sports app? It starts with finding an active user group that shares common goals. Then, use challenges and rewards in game-like environments to engage users with incentives. Track progress over time to measure user improvement. Once you build a solid engagement platform with your target audience, it's time to consider what type of mobile app development strategy works best for you.
5. Offline mode
It is important for the success of any application to remain available for the users in all circumstances. Sometimes, your users may be away from the network area yet want to check the latest score. Offering an offline mode in your application becomes quite handy in such circumstances.
While building a sports mobile application, make sure your users remain connected even if they are offline. This will not only increase the credibility of your app but will also remain the first choice for your users when they are offline.

How Sports Mobile Apps Make Money
Sports-based mobile apps make money through advertising, by selling team memorabilia or tickets, or via in-app purchases. Location tracking is also a smart move: Many fans don't have time during busy weekdays to catch every game live, but if you know where they are – whether it's work or even on vacation – you can keep them updated. More casual sports apps also help monetize by promoting their brand sponsors' products as a part of app use.
1. Paid Subscription
If you are interested in a sports app idea and want to make some money on it, then consider creating a paid subscription application. A subscription-based mobile app would be quite beneficial as it will allow users to log in, set up their preferences, and keep track of everything related to sports. Another bonus is that if people are willing to pay for it, they will surely return for more services in the future. You can offer some services for free and may charge a monthly or yearly subscription to avail of advanced features.
2. Selling Ad Space
Providing ad space on your mobile application can be an easy way to make money. If you're considering adding ads to your app, do some research on what your users are okay with seeing in their favorite apps. Keep in mind that text-based ads can often be more effective than image ads since they don't require a click before an interaction. However, you should always keep user experience in mind and focus on improving engagement and overall enjoyment with your app.
3. Affiliate commission
Get paid to promote products on social media and your website. Find a product or service that you are passionate about and put together a plan to make money from it. A good way to get started is to research which companies offer affiliate deals and reach out to them directly. Be sure to read their terms and conditions in order to understand what you need to do in order for you to be eligible for commissions.
4. Sponsorship
Before you head out and start offering free products to a sports team, you need to know what exactly a sports sponsorship entails. It's not as simple as just slapping your logo on a football jersey. Depending on how involved you want to be with your sponsored team, there are a few different avenues you can take when becoming a sponsor, including making an in-kind donation: This can range from providing uniforms for athletes to supplying equipment for coaches or referees.
Final Opinion
The world is abuzz with sports and mobile apps. The sports industry has exploded in a big way, with smartphone ownership climbing to over 60% across all demographics. People are ready to connect on their mobile devices with sports, whether it's checking scores or something more complex like fantasy football, but that doesn't mean everyone knows what they want out of a mobile application.
Understanding your goals will help you determine which sports app will get you where you want to go. Is there an existing market for what you're looking to build? Do you need an MVP that can serve as a foundation for further development? How much time do you have to dedicate to your app idea? Get started today by talking about your goals and how we can help – we love talking about our mobile applications!