We all have heard the saying "All work and no play makes Jack a dull boy". It turns out that we have many "Jacks" around us who work for nine to ten hours a day at the office and travel for another three hours back and forth per day. To build your own fitness app you will hire a top-rated mobile app development company that can offer you a reliable app development services. In this blog, we will discuss How to Create a Fitness App with its cost and key features.
Our lives have become so robotic, monotonous, and hectic that even the thought of joining the gym or going out for a run at the park in the morning gives us chills! Fast foods and beverages have become our staple food. We are accumulating a whole lot of calories and carbohydrates on a daily basis but we are not burning even one-tenth of what we are consuming.
This is where health and fitness mobile applications come into play to reinvigorate our workout & diet-nutrition plans thus entrepreneurs who have a knack in the field of fitness are implementing their ideas and investing in this multi-million dollar business by developing a fitness smartphone app.
Why Should You Build Your Own Fitness App in 2024
Every entrepreneurial venture starts with an idea and a vision. Hire mobile app developers first need to define an end goal & target audience for the App, what will the application measure, and which functionality is required. The fitness world is a diversified field – it includes weight loss, muscle building, diet & nutrition, and much more, so app developers need to delve deeper into the subject.
An App developer needs to focus on the practical applications of the app. First, there should be a collaboration with different gym trainers, fitness experts, and dieticians. List down all the aspects that the app is going to cover in its initial stage. Registration should be done at both the customer as well as at the expert's end.
At the user's end, they will have to log into the app to keep a record and synchronize their daily workout activities. It is better to develop the app's UI as simple as possible. Categorize all the sections of fitness and exercises that the app will be providing, neatly under a drop-down menu.
The fitness app can have different sections for fitness, yoga, and diet. The app developer should also be aware of all major competitors in this field of fitness app business. Before starting the process of how to make a fitness app? Ensure that the app design and features are slightly different from them, if not unique. We have shared Some data below that will explain why should you build your own fitness app.
Market Analysis for Health & Fitness 2023
With the successful venture of new health apps, the global market for health & fitness mobile apps is projected to hit the mark of $120.37 billion by 2030 with a growth rate of 24.31%.
Research has depicted that the health and fitness industry has seen a remarkable increase of 313% within the last three years.
74% of businesses are using fitness and health apps twice a week, with their smartphones.
According to Forbes, 46% of the people found themselves motivated by practicing video sessions online as their routine. Yoga is the best activity for body and mind care.
Major players in the domain industry are Aaptiv Inc., Adidas, Applico Inc., Azumio, Inc., Fitbit LLC., FitnessKeeper, MyfitnessPal, etc.
Post-pandemics push people towards health and fitness with the 156% rise in downloads in Indian healthcare applications.
The popular app named HealthifyMe, observed a high mark after 2023, with a 5M global users presence.

Categorizations of Health & Fitness Mobile Application
Let us take a deeper look at the various categories available in this field. One either can create an app specializing in any of these broad categories or can also make a combination.
Exercise apps / Workout apps
Due to the hectic daily schedule, it is very difficult for us to visit a gym every day. This is where health and fitness apps come in handy. The app will do the work of a personal workout trainer on the customer's smartphone. The user logs into the app and gets information about the preset weight loss regime or muscle build-up exercises. They will be guided with various visual demonstrations on how to do the workout properly. This application also has an online notebook wherein the user can schedule and plan out their weight loss target and save all their personal workout sessions in order to track their progress.
Physical Activities Tracking Apps
The fitness application tracks all the physical activities a person does during the day, like walking, running, jogging, exercising, and even sleeping. The app uses the motion sensors in the user's smartphone and with their GPS turned on, it provides accurate data on the number of stairs climbed, liquid intake, steps or kilometers walked or ran, calories burned and hours slept. This app also lets users set their own personalized fitness goals and weight loss plans.
Read Also: How to Develop a Workout Streaming App Like Peloton?
Yoga applications
These applications provide directions on how to do different yoga postures through visual demonstration. Some apps are even designed for specific asana whereas others offer a full set of exercises.
Diet planning apps
Apps providing diet plans keep track of the user's sugar and calorie level, water intake, choice of appropriate food dishes, and control over their food habits. The applications are highly motivating for the users to find it easy to stick to their diet plans and give special rewards for achieving a specific goal.
App's Basic Features Package (The User Side)
With the app developer having some basic knowledge of the fitness app, he has to choose the right features in the application. Some of the basic "must-have" features for developing fitness apps include: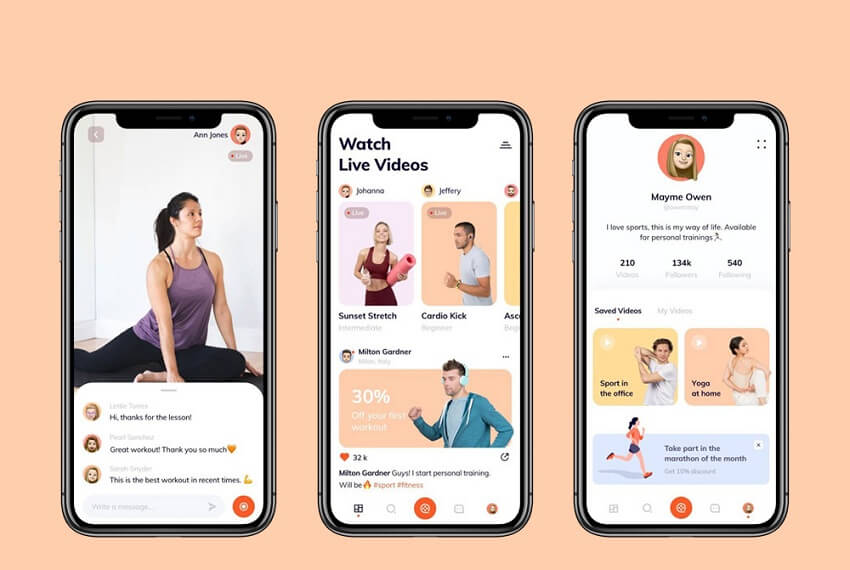 Registration / Log in: After the app is successfully installed on users' smartphones, they need to register via their email, Facebook, or by an OTP confirmation on the users' mobile number.
Editable user profile with personal info: Upon successfully registering, the user will have to fill in their profile details which will include their name, age, sex, height, weight, and other vital details. This will help the app know the current physical state of the user.
Social integration with other platforms: The users will have the option of linking up their social media accounts with the app. The integration of their Facebook, Twitter, and Instagram accounts will enable users to share their achievements and their fitness goals accomplishments with their friends, family, and associates.
Multi-device synchronization: With the help of Bluetooth, GPS, and motion sensors, the app should be able to sync with other tablets, personal computers, and wearable gadgets like a smartwatch or a Fitbit wristband. The multi-device sync facility will make it even more convenient for users to track their records from any device they want.
Option to set various tasks: Along with preset fitness goals, the user will also have the freedom to set their own personalized tasks and goals to achieve within a given time.
Customer's statistics for a given period: The cloud sync feature will help in saving all the statistics of the user in the journal so that they can track their progress regularly.
Preset exercise, and meal plan: Based on the details filled up by the user, various workout plans will be pre-scheduled for them. These workouts will generally be a visual demonstration showing exactly how each exercise needs to be done in a proper manner.
Activity Log Tracking: Log tracking enables users to keep track of their day-to-day workouts, walks, and other physical activities.
VR fitness Experience: Users can work out in groups or with a personal trainer without actually leaving their apartments.
E-commerce options: E-commerce options to make some purchases for a workout process or other activities. This is an optional feature but adding this may increase the interactivity, along with opening new doors of monetization for the app owner.
Geolocation integration: The user should be granted permission for the app to use their smartphone's GPS for real-time tracking. Geolocation integration features will give accurate information regarding the steps walked, kilometers ran, and even the number of hours slept.
Payment: Although most of the services in the Health and fitness app are free of cost, there will be certain premium features that users can enjoy by paying a small monthly subscription fee. Having multiple payment options, such as Credit/Debit Cards,

ewallet app development

, NetBanking, etc. enables users to choose the suitable mode of payment.
Native Push Notifications for Results Display: The app will provide push notifications on the accomplishment of daily, weekly, and monthly goals. It will also provide the user an option to share their achievements on their social media.
Health & Fitness App Development – Admin Side Features
The mobile app development company needs to partner with a couple of gym trainers, fitness equipment and supplement wholesalers, and dieticians so that the app developer can provide live updates and conduct live sessions with the users of the app and the fitness experts. For this, they also have to go through a regular registration and login process from the app itself.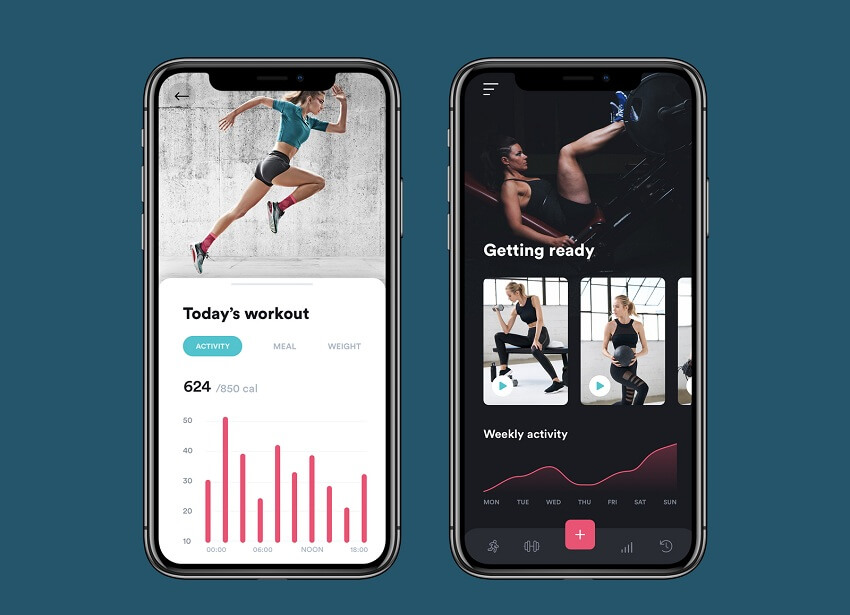 Dashboard: The clients will be directed to the dashboard in the app after they log in. On the dashboard, they can keep track of all the live sessions, and chat sessions they have had with the users and can see the detailed orders placed by the users for various gym equipment or supplements and the delivery date.
Accounts section: In this section, the clients can view their past deliveries, customer reviews, and account balances.
Payment Section: In this section, the clients will have the option to make their payments to Gym-owners, trainers, and individuals via the wallet App or transfer the money to the bank directly as well.
Marketing & Promotion Tools: Loyalty Programs, Cashbacks, and referral programs remain the backbone of marketing for such apps. Admin may also choose to enable other marketing options like Retargeting, Social Sharing, Push Notifications, etc.
If you are looking forward to making the right application that can help you earn the best results then you are at the right place.
A Few Additional Tweaks – Additional Features of the Fitness App
In order to stand out from the crowd of fitness apps, the mobile app developer can incorporate a number of small features into the application including
Collaborating with gym trainers or fitness experts and having a live session with them enables customers to stay motivated and be updated about the latest trends in the world of fitness.
Enable chat and live streaming with fitness coaches for users so that they can get instant help and guidance in real time.
Create a special music playlist for the app users wherein they can listen to their favorite workout songs and stay energized during their daily fitness regime.
Collaborate with dieticians or nutritionists and provide live sessions with them explaining the benefits of healthy eating and the fun way to eat natural food.
Read Also: How to Build an Online Health Coaching App for Fitness Freaks
These additional perks make it easier for you to enter the market and get better results. If you are looking forward to making a strong presence in the market our Mobile App development team is the best solution.
Health & Fitness Mobile App Development – Involved Technologies
We have already shared with you the most engaging solutions that would help you earn a better position in the market. If you want to customize the solutions then you can surely reach our experts and get the technology you want to include in the work.
Push Notifications – Twilio, Push.io
Nutrition Feeds – NutritionX, MyFitnesspal
SMS, Voice, and Phone Verification – Nexmo, Twilio
Payments – Braintree & PayPal, Stripe, EWallets
GWT – for Powerful Programming
Datastax – for Data Management
Mandrill – for everything related to emails
Debian – the Universal Operating System
Database – MongoDB, HBase, Cassandra, Postgres, MailChimp Integration
Cloud Environment – AWS
Real-time Analytics – Hadoop, Spark, BigData, Apache Flink, Cisco, IBM
Integration with Wearable – Fitbit, Garmin, Apple-watch, Jawbone

Health & Fitness Mobile App – Back-End Technologies
To make apps work and synchronize in both web and mobile platforms, the App Developer can make use of Cassandra, PostgreSQL, and sometimes a general caching system of the memory. But it would be better to keep the main framework as Python and JavaScript. Some of the other tools that can lower the impact of complexities and costs are:
To process and manage data in real-time: Kafka Software
For storage or caching with CDN, it is better to use Amazon S3
To integrate with Python services and model-based testing use GraphWalker.
For the primary platform structure, App Developers can take the help of Google Cloud platforms or Dataproc.
For the desktop-based UI, Chromium Embedded Framework (CEF) is a better option.
One can also use Bootstrap to make it look classy and sleek for websites.
Nginx for HTTP and proxy server as it is an easy and open source.
The Backend is the most complex thing that needs strategic implementation. The architecture of the server side is the clever part when it comes to building powerful apps that run seamlessly on every platform. Things may get tangled as there are many options available to choose from.
Cloud Storage
Either we can use our own server or can use cloud storage servers like Amazon S3, Azure, or Google Cloud Storage. The storage server plays a vital role in media platforms because it handles thousands of requests per second with superb efficiency.
Content Delivery Networks (CDNs)
To better serve the user experience we need to use highly scalable CDN services. So for that either we can configure our own server or we can use a cloud server, like Amazon CloudFront.
Digital Rights Management (DRM)
Standards to help you protect your content
Server Load Balancer
We can use the load balancer server to handle a large number of traffic or file requests. For this, we can set up our own server or use Amazon Cloud Server to deploy the application and handle all things.
Video/audio Transcoding
In the backend process, we need to transcode the media files in various media formats to make them supportable to all major browsers and devices. For that, we can use open-source software like FFMPEG or a third-party solution like Amazon Elastic Transcoder. One can also use PHP to some extent for the server side, or the App Developer can choose JAVA. Other options include Clojure and HTML5 languages. Each task should be connected to the so-called "access point" to establish the link. Also, keep in mind if the concerned App Developer's server is in the USA then the users located in China should not suffer from low bandwidth so it is recommended to take data centers in different places for better bandwidth.
Also Read: Doctor on Demand Mobile App Development Cost and Key Features
Self Intuitive & User-Friendly UX/UI
Use minimal animations if required but make the app look visually appealing and smooth. The customers or users of the app should not get confused with the plethora of different options provided in the fitness app. It is better to keep the fitness simple, crisp, and handy in choosing the colors used for the app.
These are some of the interesting solutions that make your health and fitness mobile application stand out from the competition. Over the years our experts have been working in the industry and are well aware of the fact that the solutions that are delivered to you are ahead of the time and can help you sustain in the market for a long time.
Team Structure of Health and Fitness Mobile App Development
To make a superior application, you may need a mobile application development company partner, a group of people who will make strategies, designs, development, and testing. Therefore, it is very important to choose suitable potential candidates and to evaluate them from time to time. The following are the key personnel you should hire for sure.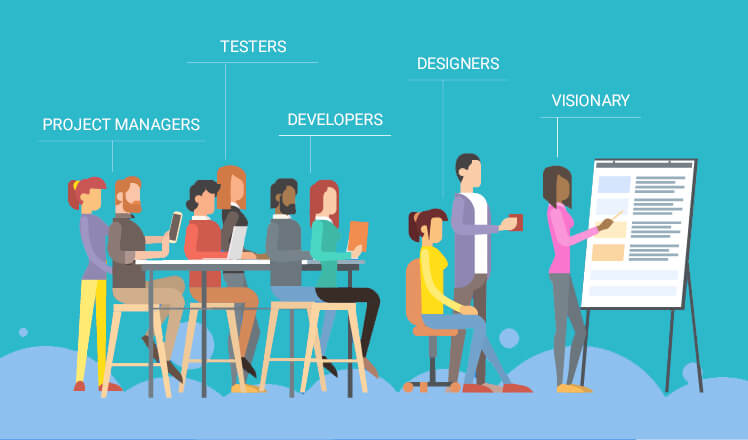 Project Manager:
He/she should be an expert on the mobile industry having a precise knowledge of what works and what does not. You can perform the role as well provided you are confident of your existing knowledge and managerial skills. The project manager will conduct a deep market study and will suggest the best things to do.
Developers:
Developers are the real key movers and shakers who are creators of the app from scratch. A native app is much better than a web app. The team needs to have both Android Experts and iPhone app developers. They will be under the guidance of project managers. Now, it is important that you agree with the team of developers so that they will provide technical support and update the app from time to time against any bug fixes.
Designers:
This group cannot also be ignored. No matter how strong your app may be regarding coding, if it fails to attract the view of users during usage, it may soon be uninstalled. Therefore, good UX/UI designers are required to make a good choice of color, background, elements, etc. They make the frame look good on screen.
Testers:
Testers are the certifiers. They are restless until they find a flaw in your app. Only when they test the app against every possible combination that they certify it as without errors, can your app mark its footprint in the application market. If the testing team is strong, the app will hardly need updating against bug fixing shortly.
The four pillars of on-demand mobile app development make it a point to outperform themselves to deliver solutions that earn them great results. We offer easily scalable, futuristic, and well-designed applications that make it easier for them to earn the best results in no time. With the latest technology and trends and AI and ML being the indispensable part of the solutions we deliver products that can stand the test of time easily.
Time Duration:
The time duration could be anything between two to four months depending on the complexity and the size of the app.
Technical documentation (may take up to 40 hours of work)
UI/UX design (usually takes around 45-70 hours)
Front-end and Back-end development (the longest parts, take up to 200 hours each)
MVP testing (around 80-100 hours)
Polishing and bug fixing (30-50 hours at best)
Read Also: Healthcare – Medical Application Development – Cost, Features, Types & Benefits
The cost of developing a fitness app is majorly dependent on the working hours. If the developing hours are limited then the cost of development is less and if the developing hours are more then the cost of development would be high.
Other than the time factor other things that influence the fitness app development cost are discussed further. We affirm that at Octal IT Solution you get the best results in a limited time and have interesting solutions that make it easier for you to earn better results.
How to Build Your Own Fitness App with Easy Cost 2024
If you are struggling with the fact that how much does it cost to create a fitness app then read further. If you want to build your own fitness app then we have shared here the basic costs of development that you would consider when outsourcing your business.
The cost of developing a health & fitness app largely depends upon 3 factors – the complexity & size of the app, the number of platforms you want your app to run on, and the country of the development center.
The Platform
When you decide to reach the on-demand mobile app development team for developing a health and fitness app you must be sure of the platform where you want to work. You could opt for a Hybrid app, Android App, or iPhone app development. No matter what you choose it would surely influence the cost of development of your business project.

Complexity and Size of the Application
One major factor that defines the fitness app development cost is the complexity of the solution. If you are looking forward to developing something that is ladened with umpteen features and interesting solutions then you are at the right place.
We at Octal IT Solution make it a point that all the features are reviewed and the size of the application is kept really compact so that the users can explore the available alternatives easily. We make sure that all the features are unique to your application and resonate with your business needs.
Country of the Development Center
When discussing the cost of health and fitness mobile apps it becomes quite important for us to consider the employment details and the advancement in the field. Southeast Asian countries make it to the list because of the affordable rates and the number of dedicated developers they offer. Most clients choose to outsource their business requirements from the technically advanced and easily available developers in the region. This is because different countries have different hourly charges, for instance:
U.S.-based developers: $50 to $250 per hour
Eastern Europe-based developers: $30 to $150 per hour
India-based developers: $10 to $80 per hour
Below is the basic estimate in the ideal case (An average app with average features, developed for an Android program and the center of development in India). Let's break down the costs for different activities:
Technical documentation (40 hours – $1000 to $2000)
UI/UX design (60 Hours – $1500 to $3000)
Front-end and Back-end development (400 Hours – $10,000 to $ 20,000)
MVP testing (80 Hours – $2000 to $4000)
Polishing and bug fixing (40 hours – $1000 to $2000)
Adding up all the costs, an average health & fitness app costs around $15,000 to $30,000 for a single platform (either iOS or Android). Choosing a cross-platform app or adding more features may raise the cost up to $50,000. However, spending around $50,000 guarantees your app to stand ahead in the competition.
Read More: How to Develop a Telemedicine app on the concept of Doctor on Demand?
Popular Apps for the Health & Fitness Industry
Every application is made for a different purpose, market technocrats keep in mind all of the essentials required before the development of the application. Some users have a purpose to monitor their calorie intake, while some have concerns about getting proper nutrition from their meals, some have sleep disorders, and some need to work out heavily. Everyone has a different motive to install apps in their system.
Let's see what are the best niche apps in fitness and health apps.
Best fitness beginners: C25K
C25K is one of the customized apps, highly focused on your health and fitness. Aisle some time for your health. Give a chance to this app, it will schedule all of your activities row by row without sticking a hit on your mind.
Pick a 3-time lap of 35-40 minutes for 8 weeks, practice your activities with this companion, and see the results. It has thousands of predefined tasks and easy-to-follow techniques for beginners.
Best overall fitness app: Sworkit
You are the person honing for physical movements with the music attuned. This is how Sworkit is. It can be your best partner. The users using the application, fond of fast access to their exercises, want their app companion to be like a friend who can advise and focus on the crucial parts of the body to move on.
You can perform any regular exercise that involves strength, cardio, yoga, and stretching, download the premium parts for $9.99 per month on both Android and iOS platforms.
Best calorie counter app: MyFitnessPal
One of the leading health and calorie counter apps continuously dominated the empire of fitness for more than 13 years. Users can customize their goals using the help of a database log. Here you can choose your diet, prepare a diet chart, calculate calories, prepare body-customized meals, schedule your activities, and many more things.
Grab the best goal for yourself with the premium package of $49.9 a year, and take advice from the best online community, tips, and motivation.
Best nutrition app: Fooducate
One of the goal-oriented nutritional apps, for picking up the calories, hunger levels, intake, customized eats, or anything your body's diet depends on, Fooducate is your real knowledgeable application, scrutinizing everybody's essentials.
This is one of its kind of colorful apps free for their users, while premium plans go with only $3.99 a month, engaging at the same time for the users to easily track their diet helps you for real motivation, healthier suggestions, and achieve their goals faster.
Best sleep app: SleepScore
Have you been bothered by sound sleep? There are times when we find ourselves notorious, day and night we are awake. For those times, SleepScore is there to get yourself comfortable sleep and put on snooze less.
Fetch your every sleep report and get away with the tired nights.
Best strength training app: Strong Workout Tracker Gym Log
This strong workout tracker gym log has all the details inclusive of day-to-day workouts, sets, and reps, with an intuitive interface where you can write what you feel about. Here the video instructors guide you at your choice of time either in the gym, at home, or on the run. No more waiting for the right time, let every time be your right.
Best personal training app: Pear
Have you ever been stuck in the monotonous routine of your daily activities or exercises? This AI personal trainer app can be your lifesaver for real-time training and practicing. The app comes with a monthly charge of $8.99 a month or a subscription of $57.99 a year for both platforms.
Final Verdict:
People after COVID-19 are in full swing to keep themselves alarmed with their health. And it is how easy smartphones are.
With the indulgence of many new entrepreneurs and professionals into businesses, it's quite competitive to create a whole new refreshed product for the people. Health & Fitness apps, granular presence in the marketplace. So many tools and new technologies take the likewise part for quality improvement. But one has to be clear with the features and implementation of adding features in the app before it hits the market, the wrong approach may hit you sooner in the beginning. If you are looking for fitness app development services then hire our dedicated app developers at affordable.
At Octal IT Solution, we have one of the authorized level developers which makes it easier for you with the app creation.
FAQs: