Explore the full list of new sports app development ideas and trends in 2022, and accumulate with the most innovative business whose efforts are undeniably countable. We have picked the best game app ideas keeping in trace some of the major outbreaks reshaping the future.
Technologies in 2022 continue to fill new horizons and depth with the revolution it has impact across different industries.
And so in the sports industries. Sports are an important part of our lives from childhood to adulthood.
When we were kids, sports were included in our curriculum and helped us to achieve better health benefits right from childhood. But as we have gradually grown, we make ourselves lament and less toned with the sports. Still inside somewhere in our minds, we are always trying to connect with that vibe. Industries grant off this as an opportunity and meet the demands of the athletes and the sports fans.
The sports businesses have conquered the limits for the sports player to be a sports player. Rather their new sports ideas help everyone in enjoying form where they are. The companies have ruled the sports ecosystem. It is the on-demand supply model to deal with e-commerce and participate in every major industry.
Sports and India!
India is becoming a major hotspot for the sports business and services, which caters strongly to the race. And the sports industries have been filled with excitement, craze, enjoyment, and whatnot.
There is something for everyone. Besides the fact, there is always space for new things to live and breathe. Fresh sports app development ideas and app demands are always welcome, escaping unnecessary things.
So here we have come across complete app ideas for you. You can pick anyone and start your journey from today.

Stats That Are Inspiring!
What makes a sports industry inspiring? It's on the 'go' thing. The freedom comes with a glitch that makes people around the corner access their favorite player score.
The subtle interface of the sports applications can interrogate in short what a large field would not give. Today people prefer to have instant access to checkout about live updates of play. An important role is the best app for live sports that makes everything possible for the fans to get through.
A unique sports event app is assembled of on-the-go features for fans, athletes, and business enthusiasts. A sports app is the best way to enjoy and interrogate everything with the fact that you are behind the fields. They blow your minds with the same level or even high than what the sports fan or the player feels when he is on the ground.
Keeping in mind, industries already know that time is the most crucial factor for everyone. And giving a platform that fills every aspect and wish of the fan, without hindering the excitement and happiness is something that takes you away high.
Now coming to the fact, over the estimated 93% of smartphone owners spends at least 50 minutes in a row on sports apps. Gauging the app with super-duper play and game app ideas, return 10 times more fans than any simple app. Mainly the gaming app is enthralled with plenty of features like gaming, entertainment, puzzles, betting, news, and technicalities edging currently.
As per the global stats in sports, 4 billion fans are only for the soccer game. While the cricket sports app business saw significant revenues, catching the advantage of cricket and its emotions in our lives. If talking to me, I would say cricket is something we all have our nerves retching and waiting for our favorite players to play. From childhood, many of us had a wish to get a trophy or play nationals for our country. But we can't pertain to it later, due to some reason or have different aims in life. Using the sports app platform, we can achieve what we had not in the past. We can play, have fun, or be a captain. Thanks to technology which turns daunting wishes into a curse of enjoyment. And that's a good deal.
People would be impressed or not, it depends on your pitch. Talking about the content, it is found that 70% of people are addicted to online games. Virtual games offer us many realities which would not exist or have been possible in the past. People like to add multiple screens to have additional information about their favorite sports; like better control on gameplay, chatting with coaches, getting assistants, or even hands-on betting.
The importance of the applications is not just for the niche person, it is for every fan who feels connected himself with sports.
So for the business enthusiasts, remember it is the time to fulfill fans' demands. For your support, we have compiled the best list of sports app ideas that can start and fuel your wish to develop the sports app development.
Top App Ideas for Sports Industry
We have already discussed with you the impact of the sports industry on the marketplace and our lives. Talking about the same will cause no point. Let's introduce to you some of the fine industries that come under the sports app.
Here are the quick details.
1. Fantasy Sports Mobile App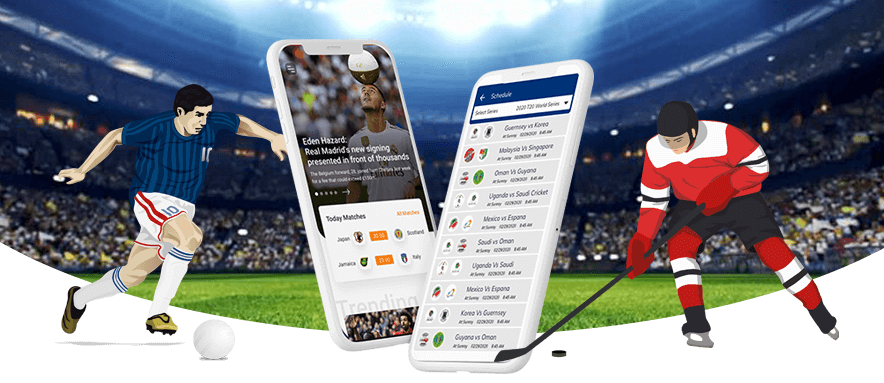 More than 55M USD revenue industry is facing the realm in the fantasy sports world.
The fantasy sports app development idea is top-rated across the list. Fantasy sports means a platform that is not real but imposes artificial things in reality. You cannot alter the difference between the normal sports played in actual and fantasy sports on your smartphone.
The sports business and enthusiasts always wanted that people could not miss any excitement at the times, they are unfortunate to be on the ground. The best app for sports fantasy accumulates a variety of features like creating personalized dashboards, playing with their game heroes, and commands like a leader, or a captain; to have a feel like they are connected with the game even when they are apart.
A successful fantasy sports app development idea can serve many purposes to the individual or sports fan. The platform is ideally designed for sports lovers, athletes, coaches, and players. They can roll into their daily lives and participate in this most fascinating industry.
Key players in fantasy sports are; DraftKings, Draft Punk, FanDuel, CBS Fantasy Sports, etc.
In case you need any kind of assistance in fantasy sports, we would be delighted to assist you. Our experts have vast experience in developing fantasy platforms to make sure your fantasies requirements and could make it a phantom journey for your business.
2. Sports League Management App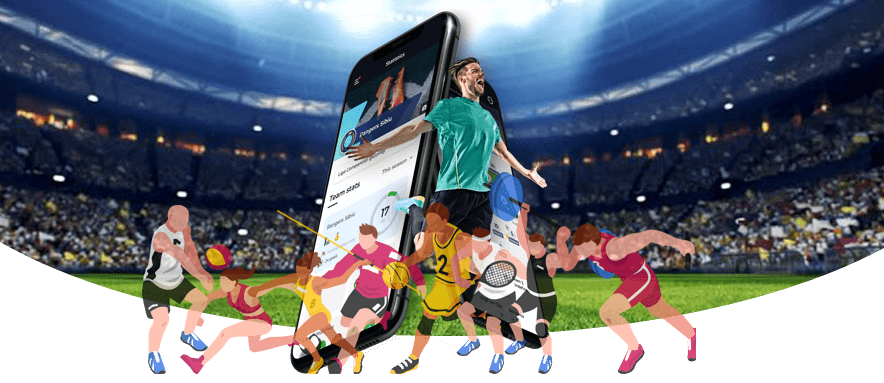 Next on the list is the app inspired by league authority and domain. The sports league management app prepares a high time taking and complex list of the multiple tasks, specifically designed only for the team management. Other than them, fans can access it. Having an efficient platform without leaving anything in the junk, do hustle for the team management and their teams.
The app allows the coaches and teams to not remember everything in their minds. They can now manage everything with the online scheduling and session organizing tool under the app itself. Nowadays, many similar apps are available in the market, so to maintain your audacity you need to fuse some great go-on features and trends in sports that separate your app.
In general, the sports league management app offers features like inviting the team members, preparing the lineup before any game, preparing the sessions for matches or training, or analyzing the stats. The coaches can use this app to monitor their team performance, match schedule, chat with the team, fetch the live score, or analyze each player's performance in detail.
Related Post: Sports Club App Development – Cost & Key Features
We have seen in a short time that these apps help people in breaking their complex tasks into simpler ones and save much of their time and course costs.
Key players in sports league management are; Playyon, Engage Sports, Sports Illustrated Play, etc.
3. Sports Betting App Development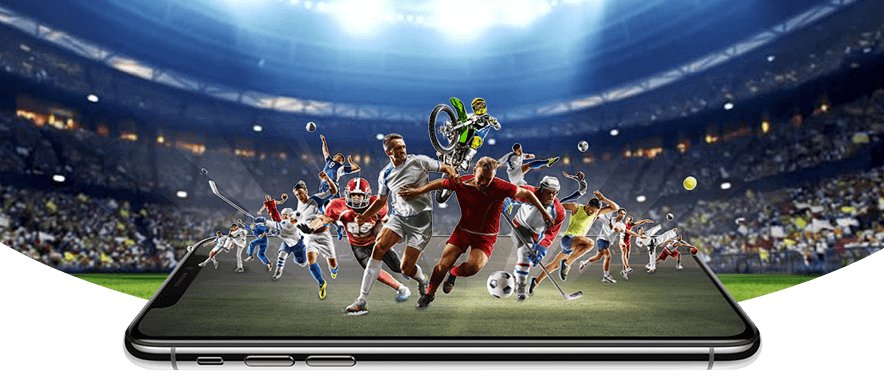 A client from the US asked us to develop an app named 'Playing11', which allows fans to play the best fantasy sports leagues to compete, match or even bet on favorite players and win super amazing prizes. We believe to fulfill our client's demand in making everything in line for their sports betting project, and assure that it does not cross any guidelines of the betting industry.
We are sure that you know very well what sports betting is? If not then talk a little about it. Sports betting is not a new term for those who have some knowledge of fantasy sports. Yes, fantasy sports is very much similar to the sports betting industry with a fine line that betting allows you to feel a moment like a player and a way to earn. Besides the fact, betting is now a legal sport without any central bookmaker. And with the submerging of technology like Bitcoin, betting is a more transparent method for common people.
Related Post: Sports Betting Software Development – Cost and Key Features
Sports betting is a platform to enjoy and use your intelligence with a real trade. The more you invest, the more is your chance to earn.
Key players in sports betting apps are; Fanduel, BetMGM, Caesars, PointsBet, etc.
4. Sports news and analysis app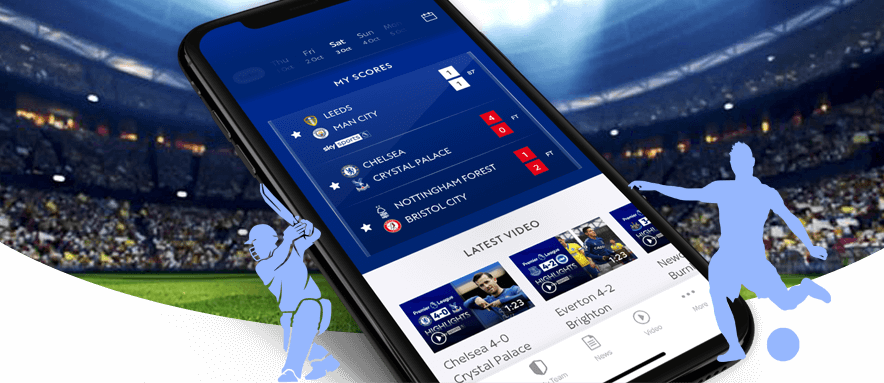 The sports and news analysis app is a one-stop platform for fans and enthusiasts who want to get themselves attuned to mediocrity and the latest information on sports.
The app is divided into multiple categories for the best sports news app. In this app, you have found plenty of features like news of national and international teams, sports championships, interviews of players, live streaming, scores, team stats, and many more.
Key players in sports news and analysis are; Yahoo Sports, CBS Sports, LiveScore, Bleacher Report, etc.
5. Sports Games App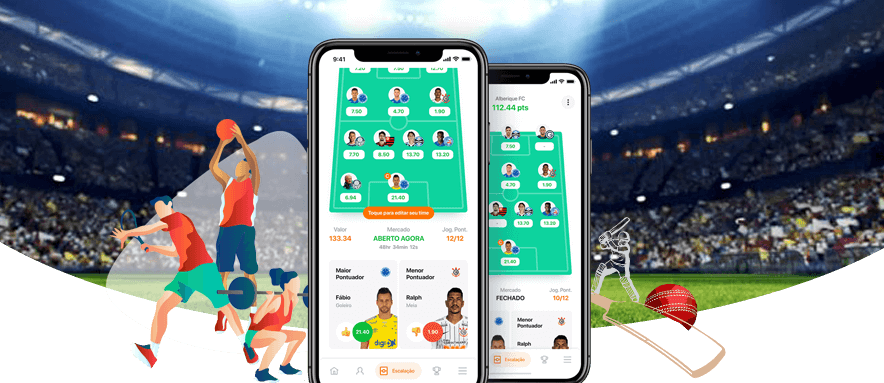 Sports gaming is everywhere in the world. 250 million users in the sports and gaming industry are present. A famous star earns a huge amount from playing in these live streaming competitions.
Hence we would recommend this platform as ideal to create a sports app builder for the first time. You can also mix and take advantage of this platform to deliver the right gaming experiences to sports lovers.
One such app is NBL Live, which is constantly given live scores, updates, new content, video streams, and highlights. For any new update, you turn on the notifications tab from the setting zone.
Key Players in Sports App are; Twitch, F1 Mobile Racing, Virtua Tennis Challenge, and Madden NFL 22.
Related Post: How to Build a Live Streaming App like Twitch?
6. App for coaching and training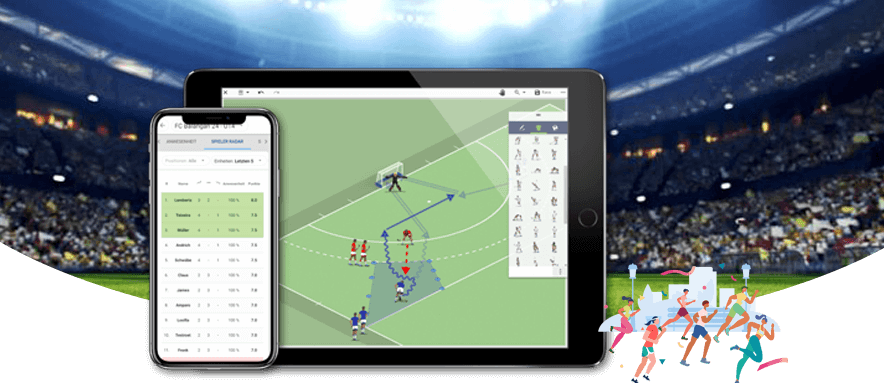 The main concern of these coaching and training apps is players' health. Sports coaches are likely to serve their services and coaching on a platform that is driven by technology. This app is not only concerned about the player's health but also takes care of the fitness trainers' and coaches' health. Features like online video sessions and live streaming help to focus more on the player's current status and solving their query.
Related Post: Sports Coach Finder App Development – Cost and Key Features
Key players in coaching and training apps are; CoachUp, Hudl, Coach's Eye, etc.
7. Sports facility booking app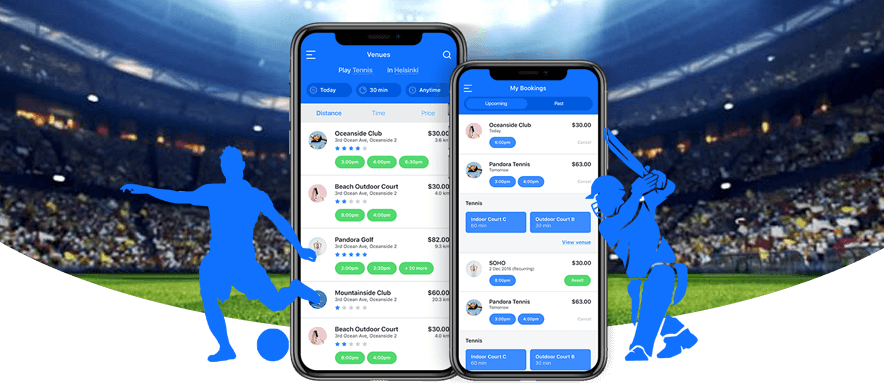 This type of app has one goal in common and that is tempting people with the best sports facility. The sports facility app could be your better companion at the time when you are looking for some free facility. At that time this app gives instant results for free facilities like time and date to book gym, any free training sessions, nearby best coaches and trainers.
You can add more premium features to the app to gain maximum traffic to your platform and connect your app with some good payment integrations to allow people convenient and easy payments.
Key players in sports facility apps; Playyon, Active Network, GoalLine, etc.
8. Sports Quiz App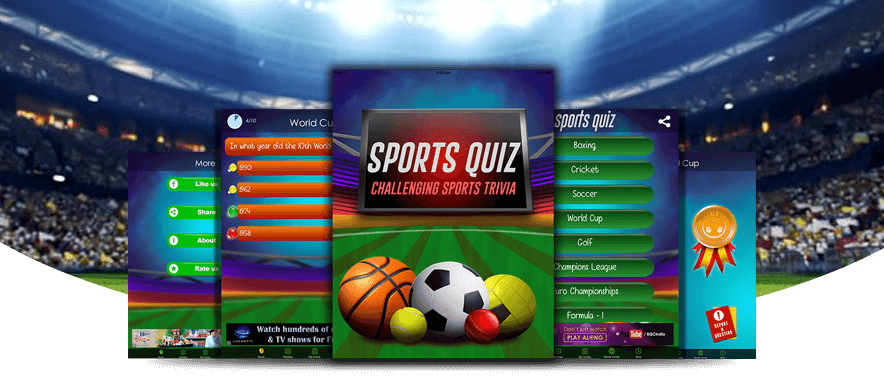 This sports quiz alignment app is for every sports player. It is top searched among sports enthusiasts and lovers. The app has many great features. It engages people with the interactive quiz zone for everyone. Some of the top features in the app sports event app are quizzes gaming experiences, commentaries, sports news, and many more. This platform is best for the app creators to implement unique features and among the fans, it offers a chance to win rewards and prizes.
Key players in sports quiz apps are; Sports Fan Quiz, Soccer Quiz 2020, QuizIT, etc.
Sports have created an intense value in the minds of people. In India especially, sports behold a large space to cater to people to their choice of a game which they love and what they are expecting from the market.
We have arranged some of the important Indian sports apps for every sports fan.
Dream11:

This app has a brand acquisition of $8B and is a great platform to allow people to have fun in real-time. This platform consists of categories of apps for football, cricket, and others.

MPL: It is the platform comprising various sports forms to participate. The gamers can participate in fantasy e-sports gaming tournaments.
Sportswave

: Another platform gives the maximum content analysis from social platforms like YouTube, and improves in building their local strategies. It allows gamers and fans to reserve nearby places immediately. Sportswave gives the total result in finding the best nearby place to play. On the platform, the gamers choose and make their team and can play matches with each other.

Rooter:

It is the sports game app platform based on the social network for Indian sports lovers. This is an ideal platform for people to run their games together and communicate similar talks over the platform.

GolfLoan:

As the name implies, this ideal app is strongly for mid-level golf players. If you are a golf player and have no money to watch real golf matches, then it's the best platform for you. You can start the app with a small fee or subscription to grant yearly packages including plenty of services for the prime members.

sports 365:

It is the ideal platform one-stop solution for all the fitness lovers in India. It is primarily focused on wearable technology. Wearable devices help athletes to monitor their glucose levels. Technology is everlasting and now uncommon for any sports play like cricket, hockey, football, etc.
Time to Conclude!
2022 is the time to start your app journey in this over-responsive and crowded app. The year has started with IPL matches, and the ICC World T-20 for men is on the way. This creates immense excitement and craze in fans. This is the right time for you to dismantle your initial lags and hire some good and experienced sports app development companies and cherish your successful part in this niche industry.
In the case you have missed anything on how to create a sports app, you can anytime reach us. We have successfully delivered great exposure to our clients in the past. And equally valued the importance of new ones.
Don't wait, try and achieve.