Fun Fact: Multiple studies reveal around 65% of the population learns visually better. They can retain the majority of information if they see it.
The Logic: Visuals add speed to written and verbal methods of communication, making users more alert and helping them retain the information better.
The Consequence: Educational institutes and corporates worldwide are looking forward to developing a custom video-based learning platform to increase the efficiency and productivity of its users.
Edutech saw a remarkable rise during the COVID. Post-Covid, when things went a little normal, the sector explored new plausibility of expanding and making the best of the technology. This constant improvement led to the popularity of visual content-sharing applications that reflected the demand for video-based elearning platform development companies in the market. If we go by numbers, it is clear that Edutech is a space that is growing fast and would generate significant returns on investment with the right product and strategy. 
Benefits of a Video-based Learning Platform
As per the study, people can retain around 80% of what they see in comparison to 20% of what they read and 10% of what they hear. Thanks to the digital culture, the numbers are shifting as multi-tasking is quite normal now, and reading and writing need attention to retain the information.
You have seen your loved ones learning to play musical instruments via video content. Not just this, when you see your pet behaving a little differently, the first thing you do is reach out to YouTube to know what is wrong. Video-based learning has gained popularity with time as the generation chooses ease over effort.
Many organizations hire video-based elearning app developers who can help them optimize the cost of teaching and training.
Make Complex Topics Easier
Sharing and teaching information using videos helps others grab the concepts quickly. Video content is easier to hold and understand no matter what you want to teach, be it academic subjects, etiquette, languages, engineering practicals, medical procedures, or corporate training.
If you want your platform to be universal, partner only with the best video-based e-learning development company that understands your business objectives and works in sync with them.
Also Read: Language Learning App Development Cost and Features
Multisensory Learning Engagement
The learners' senses are engaged when we try sharing information via video format. They are more alert and interested in the information as the video is played. The video includes moving and static text, sound, and audio elements that demand the user to be involved wholly, learn better, and retain more.
A fun fact here is that the human brain can process images and videos 60,000 times faster than other mediums; thus, visual learning is one of the most effective learning methods.
Pull-Learning
In the ever-evolving world, where need-based learning is taking the driver's seat, it is still crucial that the lessons shared and learned are in line with the real-time application and the learners understand how to explore for the best. With digital technology growing by leaps and bounds, the omnipresence of smartphones and the resources present online to explore and learn new things cannot be ignored. Online learning platforms have made learning skills and new things much more accessible.
If we talk about the business arena, where training schedules aren't most times taken seriously, an eLearning resource is always available to guide you through. Micro-learning videos are the new trends that corporations flaunt to train their employees and help them upscale their proficiency and productivity.
Facilitates Microlearning
Learning in little parts with summarized texts or media-based content is Microlearning. It is sharing professional information that focuses on training the person in a particular way. With custom mobile app development in the picture, this is one of the benefits that popular learning app platforms offer to their learners.
For instance, if, as a digital marketeer, I want to learn something specific about LinkedIn marketing, I would not need to explore the lectures or courses on Social Media Marketing. Microlearning is helping professionals and students alike to upscale their skill sets without any exaggerated investments.
Microlearning is guided by two simple terms
Granularity: The content of most microlearning videos is specific to the topic and talks about one particular idea or notion instead of discussing the topic in general.
Brevity: The microlearning videos are short and informational. They would not need much of your time and would help you explore the topic you want to learn about in minutes.
Reduces Training Cost
Remember when elearning wasn't that popular, and you had to move from one nook of the city to the other for different subjects and consult teachers who charged hefty amounts?
With video-based elearning trends growing, it has become relatively easy for people to learn new things from the comforts of their bedrooms. Many paid and free software are available in the market that helps one learn new skills or be with the changing trends easily. No matter what domain you work in, some videos can help you perform better and beat the competition in the market.
Also, since creating these videos is feasible and involves one time-investment, it is easier to share your skills.
Also Read: Short Video App Development Costs and Key Features
Ensures Consistency
Sharing your business mission, vision, goals, and other similar corporate ideas frequently needs more consistency and authenticity when they are communicated to their employees and the general public by multinational and multi-location firms. Contradictory reactions and inaccurate information frequently threaten the company's operations. When text format papers are used to communicate such important information about the company or brand culture, they often need to be read by employees as intended. On the other side, carefully made videos are an incredible driver for continuity and consistency because they are simple to share across places and deliver a consistent message.
Flexibility of Pace
One can always check back the video-based content available over the internet so that they can revise or reassure the facts that they learned. Other than this, one can start, pause, fast forward, rewind, slow down the speed, and turn on the subtitles to better understand the video at any required moment. This inherent flexibility that video-based elearning applications offer makes them a great hit in the competitive market.
Improves Accessibility
Accessing video-based content on any device convenient to the user gives them enough time to learn more and better. One can interact with video content more than with straightforward text-based content.
Many elearning app development companies worldwide integrate video-based content and text-based learning material to offer users a seamless learning experience.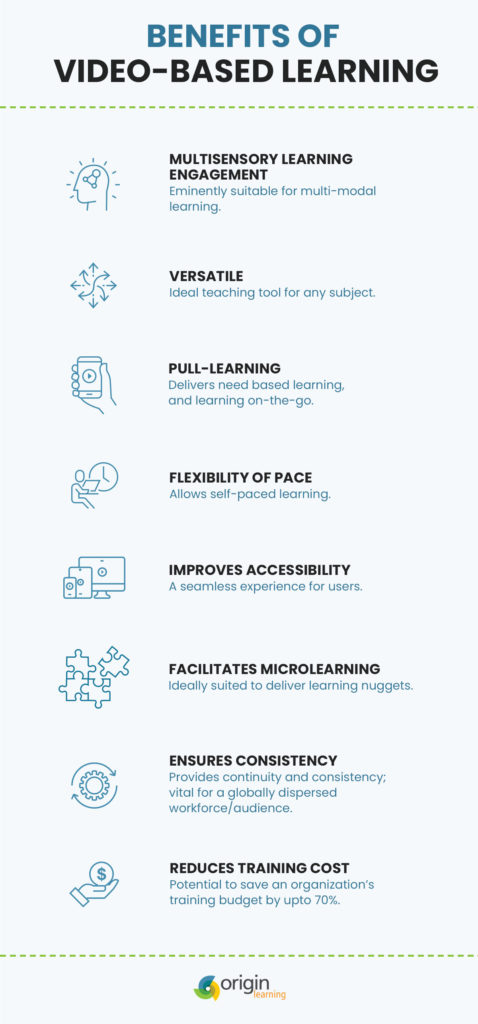 A quick note: Communicating visually can be used in organizations for internal and external explanations of the idea. You can easily share your concepts with videos, screenshots, and infographics!
Video-based elearning platforms have transformed the learning experience, and with evolving technology, some unique trends boost its popularity and significance in the market.
Market Trends for Online Learning Platforms
With cut-throat competition in the market, various video-based eLearning businesses are coming up with some extraordinary renditions and features that are making it easier for learners to keep pace with the growing trends.
Emerging Trends in Video-Based Learning
Microlearning Videos
Microlearning movies are short films that cover critical idea. These less time-consuming movies, which last between 30 and 60 seconds, provide quick explanations of concepts. As a result, students can skip sitting still for extended periods while cramming material that is not necessary.
Additionally, microlearning films are targeted and shown to be a successful training technique.
Interactive Learner Experience
A technique for involving students in the class or course is interactive learning. Better learning and retention are encouraged by this. This pattern appears due to the realization that students cannot retain all of the information presented in a lesson or course. Long learning sessions could be more enjoyable as well. Thus, it is essential to make a class or course interactive.
Gamification, adding annotations, quizzes, and other techniques are some ways to create interactive lessons and courses.
Video-Based Branching Narratives
Video-based learning applications come with branching narrative elements that make learning a fun and mindful experience. Here the user chooses an option from the prompts and continues to move forward with the learning process one step at a time. The branching narrative technique helps users identify the good and the bad of the decisions they make on-the-job-action.
In the video-based eLearning arena, the narrative strategy helps learners in the following ways:
Challenge their assumptions
Correct their mistakes
Handle unpredicted consequences
Make strong decisions and carry them forward
User Generated Videos
With smartphones being a great necessity for users in all fields, users can create videos that can help others. These videos could be from academic topics to professional subjects to some general hobby-based knowledge sharing.
Nowadays, people can learn anything and almost everything online, with videos showing the practical implication of various things.
Personalized Learning Experience
Gone are the days when everyone would access the course material and try learning from it. As video-based learning is seeing an upward graph, it has become much easier for learners to adapt to self-paced learning methods.
Thus, one need not worry about the timeline or feel the pressure of winding up the lesson at a particular moment. This gives the learner a calm environment to learn and upskill themselves at their own pace.
360° Videos
Amazing learning videos that transport learners to the learning environment. With AR/VR-based solutions gaining popularity and metaverse expanding its arena, the 360° learning experience is one of the most rapidly growing trends.
Surgeons can practice virtual surgeries in complicated cases, explore geographical complexities when traveling, etc. are some advantages that video-based learning platforms offer.
With 360° learning gaining popularity, the scope for research and working on remote topics is becoming easier.
Learn from the Celebrities
Why refer to some general DIY videos and texts when experts from the field can help you expand your understanding of the subject?
With video-making tools gaining popularity and advanced smartphones that let users create amazing videos with just a click, celebrities now post more DIY videos on their channels.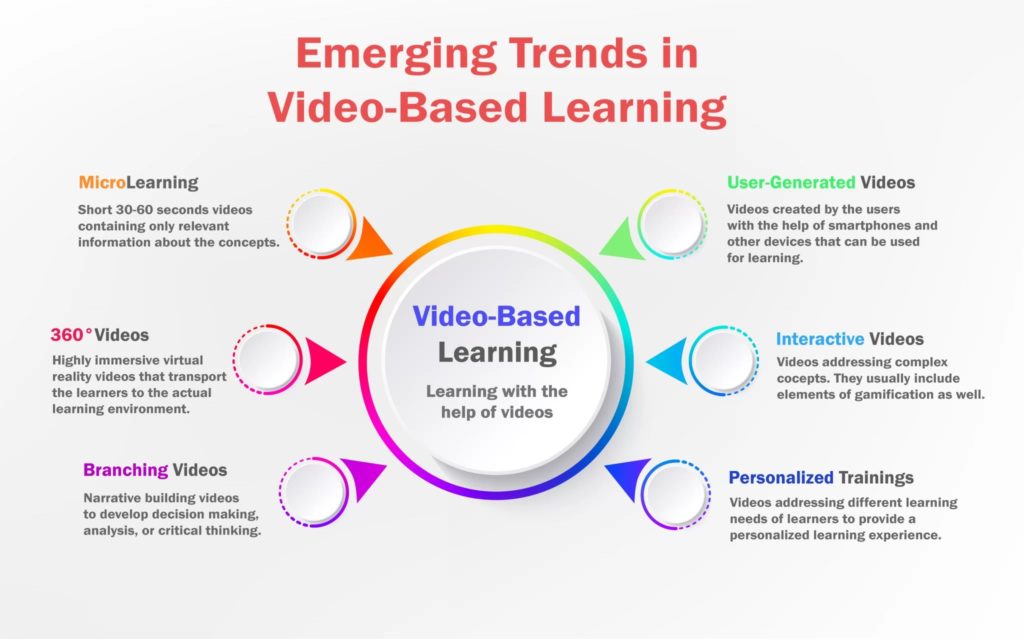 With these user-friendly video-based learning app trends, the day is not far when learning your favorite skill would come in handy too.
Also Read: How to build a Live Video Streaming App like Twitch?
These applications may have gained popularity for their use of technology and the innovation they bring to the table, but their foundation still lies in their feature set. If an application comes with features that make navigation and using the application more accessible, then moving forward with such an application and popularizing it would be so easy.
Key Features of a Video-based Elearning Platform
Any Video-Based Learning platform would gain popularity in the market based on its features, ease of access, quality, and innovation. The most noteworthy features that elearning app developers would integrate with a high revenue-generating solution are:
Easy Onboarding
Signing up for the application must take the least number of clicks. 97% of companies believe an easy onboarding experience adds to the business's profits. Let your users sign up on the application with their phone numbers or email ids; that would take less time.
Administrative Panel
The elearning applications must offer the admin a panel where they can look into the operations and functioning of the application. The administrative panel would need to manage the users, video content, the course completion progress, and other essential functions that would make it easier for the user to interact and relate with the application.
Student Dashboard
If you are thinking about how to create byju's app, the first thing to talk about is the student dashboard. Your video learning app developer must make it interesting for your users to interact with the application.
Student dashboard would reflect the progress of the course, scores in various tests, leaderboard position, and other details in one place.
Personal Profiles
Let users upload their pictures, choose their role (Teacher, Student, or Others), sync their social media, and customize their profiles as they want. Creating a personal profile on such applications motivates the users to perform more to improve their profiles.
Course Creation
Educators can create courses easily. They can upload videos and pdfs on the application. They also get various options to edit the videos and other course materials that are updated.
With interactive features integrated into your video-based learning application, the teachers can easily create quizzes and tests for the specific lesson.

Course Page
The course page should clearly reflect what chapters and topics your course would cover. It should have a chapter-wise representation of the material, the sections, the micro-videos, and the particular system's tests and quizzes.
It would be great if your elearning application could reflect how many people have subscribed to the course and completed it.
Filters
One significant feature you must notice in the application is adding filters to make things easier for the students. Wouldn't it be easy for students to search for the right course at once on your elearning application?
Filters added to the ease of using applications and increased engagement and interaction.
Gamification
It would be amazing to add quizzes, puzzles, and other exciting elements that would make your application a fun zone to interact with. Adding these small games would make learning and retaining information more accessible. Adding rewards and awards with each level of the course would inspire students to be persistent and finish the system more quickly.
Notifications
One of the most dominant features that the mobile learning app development team adds to your video-based learning application is "push notifications." The students would always be aware of the latest videos, test results, class timings, etc. The teachers would be reminded of their classes and scheduled tests and feedback.
Push notifications are the easiest way to engage and interact with your audience via the application.
Payment Gateways
Integrating in-app payment methods would save the time of users trying to sync or connect with other applications to make payments for subscriptions or different needs. Also, with various payment gateways integrated, one can check the amount invested in the application under one window.
Recommendations
The AI-based predictive analytics solution suggests students suitable courses based on their previous courses. This helps students expand their understanding of the subject they are interested in and helps them build relevant skills to stand out from their competition.
Reviews
Let students review the course material, the tutor, and their experience on your tutor app. Teachers can review their students and their responses to the courses they have taken.
If taken seriously, reviews and feedback can help you make your video-based learning application stand ahead of the competition in the market.
Search with Autocomplete
It would become so easy for the students to search for relevant topics with the help of an autocomplete facility. Click on the search option and let your user enter a part of the course and have the list of courses they might be looking for.
Text and Video Chat
Your users may face issues or have queries regarding the topics they are trying to cover. Every tutor app development company would integrate in-app text/video chat features to ensure teachers, students, and parents can connect easily.
Video Player
Undoubtedly!
You need to have a video player integrated with your product that would make things easier for you. Since your product would be interacting via video, there is a need to have a video player API that would make things easy.
Video Streaming
Your video-based learning app development team must help you integrate APIs that let you stream videos live and connect students with their teachers, which would allow them to grow better.
Augmented and Virtual Reality
We make sure learners have real-life learning experiences when they are learning. With AR/VR-based solutions, we help them experiment and work practically on the elements in the comforts of their homes.
These are some of the dominant features that a video-based learning platform must-have for an unmatched user experience.
Also Read: Must Have Common Key Features of Successful Mobile Applications
Choosing a team that would help you integrate these features with your platform is a tough decision to make. To develop a video-based education elearning platform, one needs an understanding of the audience and technology trends.
Step-by-Step Process To Create A Video-Based Online Learning Platform
Step 1: Identify Your Target Market
Understanding your audience is important. Before you hire cross-platform developers for your video-based learning platform, you must know the buyer persona. This helps the developers and UX/UI design team to integrate elements that can make your product popular.
Step 2: Develop Your Vision
You must have a clear vision and purpose for the platform that you are creating. The development process depends on your vision and business objective. It is significant that your development team brings to the screen your vision and thought.
Step 3: Create a Business Strategy
A roadmap for expanding and marketing your business is a must. Build a business strategy that can help you be on top of your game and beat your competition. If you have an online presence and are looking forward to going online, creating a business strategy to use this popularity is a great call.
Step 4: Find a Development Team
Hiring the right development team for your Video-based elearning application is another major challenge you must tackle. To find a reliable and trustworthy team, you have to do a little research and interview a few teams.
Also Read: How to hire mobile app development team
Step 5: Create A Development Strategy
Once you decide on the remote agency you want to pair with, the next is choosing the right development strategy. There are various development models that one can adapt to. Prefer working in Agile Methodology which keeps you in the loop of the process.
Step 6: A Minimum Viable Product (MVP)
Another vital point to consider here is the minimum viable product. This is the prototype of the application. You can check the features of your application, and if you want any changes, we can help you the best.
Step 7: Review and Revise
Once you have an MVP, you know what works and what doesn't for you. Make sure that the solutions you take to the market are to your satisfaction and have all the elements designed and developed to be on the top of the game.
Entering the Video-based elearning platform market is a tough call to make, and if you can't find a tech partner, the journey could be challenging.
The Cost to Develop a Video-based Learning Platform
When we talk about the cost of development of video-based learning platforms, the cost of development depends on various factors. If you are looking forward to developing a simple video-based learning platform, it may cost you around USD20k to USD25k.
If you want to integrate advanced features and futuristic technology, the cost may rise from USD35k to USD50k.
Along with this, the city and the developers' region also play a significant role. Southeast Asia is the growing hub for web and mobile app development that can help you be in a win-win situation of the game.
Top 5 Best Video-based eLearning Platforms in 2023
When you choose to build an advanced AI-based learning application, there are a lot of things that you need to take into account. Our video-based learning platform development team brings you the list of five top video learning applications that are expected to be on the list of learners worldwide.
1. Udemy
The one website that is changing the face of the learning industry is Udemy. With its easy-to-use interface and varied courses, the website has gained popularity over time. The video-based self-learning platform helps students and professionals upskill themselves and offers certificates by the end of the course.
2. Skillshare
Another website has dominated and changed the elearning industry for almost two decades. One of the pioneers in the business, Skillshare offers free and paid courses to its users and helps them find their passion for building a more robust and innovative world.
3. MasterClass
MasterClass is another website that offers video-based learning facilities to students and professionals around the globe. If you are a keen learner looking forward to upskilling yourself for the competitive world, this is your go-to place.
Our experts consider the navigation and interface of this video-based learning platform as one of the best in the market.
4. Coursera
This is one of the most popular websites that can help users stand ahead of their competition by learning new skills in the comfort of their homes. If you are looking forward to building an app like Coursera, our elearning experts can help you. We have delivered several similar products that are unique in their functioning and operations.
5. LinkedIn Learning
Another easy-to-connect and learn platform for your audience could be LinkedIn. The professional network-building platform helps users hone their skills, learn new things, and be competitive in today's world.
If you are looking forward to building a video-based learning application on any of the business models above or have a unique idea to help you enter the market with a high revenue-generating solution. In that case, we are just a click away.
Conclusion
Video-based learning is one of the fastest-growing elearning trends in the industry. You can partner with an e-learning app development firm to help you with advanced solutions that would beat the cut-throat competition. We have discussed the advantages of video-based learning strategies that reflect the trend is here to stay.
So, if you have an idea to help users upskill themselves and learn new things at their comfort, partner with an on-demand mobile app development firm that can assist you in turning your thoughts into a working reality.