The education industry has experienced revolutionary changes like smart classrooms, e-learning applications, etc. which facilitate a platform where kids can enhance their learning irrespective of the faculty availability. With smartphones being seeped into our lives as an indispensable part, mobile applications have taken learning to new heights with e-learning application development.
With E-Learning Application Development, you can begin learning as and when required from any place. The best part is that most of these have various functionalities that may work offline too. Thus, you need not have a dedicated internet connection all the time to access these courses.
Increasing Use of Mobile Applications for eLearning
Educational applications or mobile learning mediums can enhance the users learning experience as these applications have an interactive user interface that keeps them engaged hence grabbing the complete attention of the users. Various educational institutions now hire e-learning application development companies for eLearning app development considering the mobile application market size and opportunities it can bring.
Learning is very easy and interesting with these applications as they allow users with rich features like document management, sharing the project work, and assignments online, and many more. These applications have transformed the education industry enabling users to put education in their pockets.
Before we further learn about hiring an e-learning app development company for an education mobile app development, let's first have a look at the stats that reflect its popularity in the modern day. 
Related Blog: How to Develop an Education App Like BYJU's / Toppr- Cost & Features
Interesting Facts and Figures for E-learning
As per reports by Statista, the global e-learning market is expected to grow exponentially with a high annual growth rate in the period 2019-2026 by 370 billion US dollars.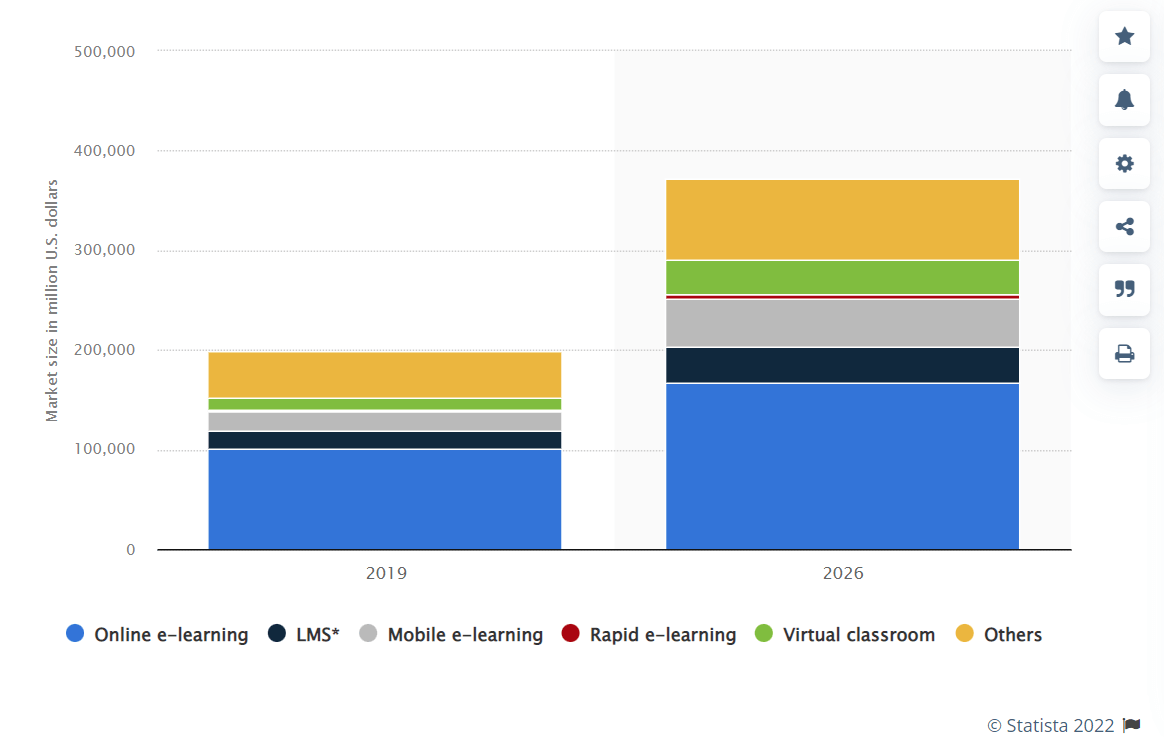 It is found that 64% of learners use their mobile devices for browsing training material.
The efficiency and productivity level of mobile device learners is near around 43% in comparison with non-mobile users.
E-learning promotes unlimited growth in the free learning platforms, heading the industry towards $5.16B by 2025, as per Global News Wire.
As per the KPMG report, ABB, a Swiss MNC company, implemented e-learning use cases and eventually faced a sudden growth of 10x in the figures. 
As per the survey conducted by Gallup, 71% of people mentioned that the concepts are clear with learning through e-learning applications in comparison with the traditional learning method.
The e-learning industry concurred with the successive percentage rate from 40 to 60; reduces the learning time, develops trust among the users, and helps to lure the best results for learners. 
Top players in the e-learning industry are Adobe, Articulate Global, Cisco Systems, Citrix Systems, Inc., LLC, Microsoft Corporation, Oracle Corporation, and SAP SE.
And there's a lot that these numbers say. Hire an e-learning app development company today, if you are planning to monetize the trends. 
Major Users for E-learning Mobile Application
There are four users of an e-learning application, students, teachers, parents, and admin. Therefore, the e-learning application development package would include developing functionality for all users.
Students:
Students are the main target audience for whom the application is designed. The business model of the application is designed to the needs and requirements of the students in the current scenario.
In the beginning, the student needs to register for the application by completing the signup process.
Select the desired courses and make payments for them.
The E-learning application development team would ensure every student has their dedicated dashboards and accounts so they can manage their stuff like notes, and study material in the account itself. Also, the students can track their progress on subscribed courses and can access their stuff as required.
Parents:
Not many e-learning applications offer a parent's login facility. This option is available only in those applications where the student is below 18 years of age. Hence the parents or guardians can log in and select the desired courses for their children. Also, they can keep a track of the performance and progress of their children. E-learning application development services consider the role of parents in the process and make sure that there are features that help them use the app the right way.
Teachers:
Having a dedicated dashboard, registered teachers can perform tasks such as:
Share videos related to a particular topic with students.
Design their course material and sell it to various students.
With the help of the application, they can establish an interactive communication medium with their students.
Super Admin:
Admin has master control over the e-learning app features. They can manage the entire activities of the users that are available on the application. Can check the complete information related to the real-time statistics, application retention rate, active courses, registered users, etc.
Types of E-learning Apps by Business Models
Types of E-learning Apps by Delivery Method
Synchronous eLearning Platforms
Asynchronous eLearning Platforms
Hybrid Model eLearning Platforms
Types of E-learning Mobile Apps by Use Cases
When talking about e-learning app development cost, one major aspect that defines it is the type of application you want to build. Some of the most common types are:
1. Courses-Based eLearning Application
The application which is dedicatedly designed for running courses is termed a course-based application. The content of the course includes audio and video clips that are accessible only within the application.
2. eLearning Apps For Examination
These applications consist of various tests and aptitude series for assessing students' knowledge of a particular subject. These applications store the response shared by the students, analyze the shared responses and publish the result.
3. Vocabulary Learning Mobile Applications
This e-learning application facilitates the users in the language vocabulary. Students can learn a new language or may improve their vocabulary of any language with the help of such applications.
4. Dedicated E-learning application
The applications that are designed for a specific industry or domain such as medical, typing tutorials, etc. are dedicated e-learning applications. For example, there are apps related to government job preparation, or to get admission in an organization. Also, there are apps dedicated to programming languages or any specific skill.
5. eLearning Apps To Learn New Languages
Popularly known as the Language Learning App Development, these apps help users learn a new language through intriguing ways. Users can find hundreds of languages, including English, French, Spanish, Mandarin, Italian, and many more. You get native tutors and exciting learning methods that make the language learning process very interactive and appealing. Duolingo is one such app.
6. eLearning Mobile Apps for Corporate Training
The Corporate Training Apps provide with a platform to learn career-oriented courses, such as programming languages, data science, sales & marketing, accounting, or even client-communication skills. Since these apps are related to career and growth, learners get a valid certificate upon completion of the course. Also, some apps provide placement related assistance to those who have completed the course. Some examples include Udemy and Coursera.
7. Video-Based eLearning Mobile Apps
With the changing environment in the elearning industry, we have seen different models of learning and video-based learning is one of them. Contrary to the traditional classroom learning or text-based learning, learners here get intriguing videos explaining the courses. The Byju's App is one of the great examples of video-based learning where people can find interactive videos of the courses they want to learn.
8. Gaming-Based eLearning Mobile Apps
E-learning Gamification makes learning very easy and convenient for students of all age groups. Especially, if speak about small kids, learning through games or game-based apps is easier than learning through traditional methods. These apps serve the same purpose.
These are some basic models that you can ask your e-learning app development company to provide a solution.
Till now we have considered two factors that would determine your investment. Let's see the third factor, the users, which influences the cost to develop an e-learning app.
Related Post: Udemy Business Model: How Does Udemy Work & Make Money?
Monetization Opportunities for Your E-Learning App
When you reach us for e-learning mobile app development, we make it a point that you get a solution that offers you maximum ROI. It is not just the app features that would determine your turnover, but also the monetization model that you have chosen that would impact the revenue.
1. Charge According to the Course
This model would be rewarding and successful if you are offering something to the professionals. Let your users pay according to the courses they take. No registration fee, no annual subscription, simply sign in and pay for the course. Easy!
2. Subscription Fee
The subscription model comprises two verticals.
Freemium Subscription: Many students or users prefer free subscriptions for e-learning applications. Here they can check the features for free and if they enjoy e-learning platform features along with the learning experience they can subscribe.
Premium Subscription: Users opting for premium subscriptions avail of certain benefits likable to use complete coursework available within the application. They can get their doubts cleared with their respective faculty or teacher and can even enjoy using the application offline.
3. In-App Advertisements
If any third-party vendor wants to promote their products and offerings on the application can be accommodated. This helps in earning some extra income.
4. E-commerce Integration
By including an e-commerce facility in the application, the app owner can earn some commission if any product is browsed or purchased within the application. Thus, earning better ROI on e-learning apps.
You can choose any of these monetization models and earn great profits in no time. Now that you know the monetization models, the one thing that would influence your decision here is the type of e-learning app that you want to take to the market. This would also influence the cost of e-learning development.

Who Can implement E-learning Mobile Applications?
The e-learning solution is immensely beneficial for the educational industry and therefore it can benefit various schools, colleges, and coaching institutions. By implementing the application of e-learning in curriculum patterns the delivery of knowledge will enhance and thus will make the learning experience more interactive for the students.
This eLearning solution is not only limited to the education industry and thus can be opted by various corporate industries also to train their employees on different technologies and hence is a helpful tool in the reduction of the training cost.
Education Institutions
Coaching Institutions
Corporates & Business Houses
Schools and Colleges
Edutech Startups
Advantages of E-learning Mobile Applications
The online technique for learning is most appropriate for everybody and it has boomed the e-learning application development industry. It prompted wonderful changes in the industry like; how the content is used, expended, talked about, and shared. Online e-learning courses can be taken up by various officials working in corporations and housewives as well, at the time that suits them.
Unlike classroom lectures, with e-learning, you can access the course curriculum multiple times. This is particularly required at the hour of correction while getting ready for a test. In the traditional learning pattern, if you are not able to attend the lecture in that case you need to prepare the entire topic on your own. Whereas in e-learning you can access the desired topics lectures as and when required.
A prime advantage of e-learning is that it ensures that you are in harmony with other students using the e-learning platform. This empowers the student to get to the refreshed content or curriculum as and when required.
E-learning is an approach to delivering quick lessons. When contrasted with the traditional methodology of classroom training, this mode is moderately quick.
In comparison with the traditional teaching method, custom e-learning development costs less. The lessons are delivered quickly and easily with the help of images and videos which provide great understanding to the users.
Aspects to Consider When Starting with E-Learning Application Development
Your mobile app developers would take care of all the important aspects of app development. But before you reach the experts, you need to do your homework well. Be very sure that you have a response to everything that your developer would need to know.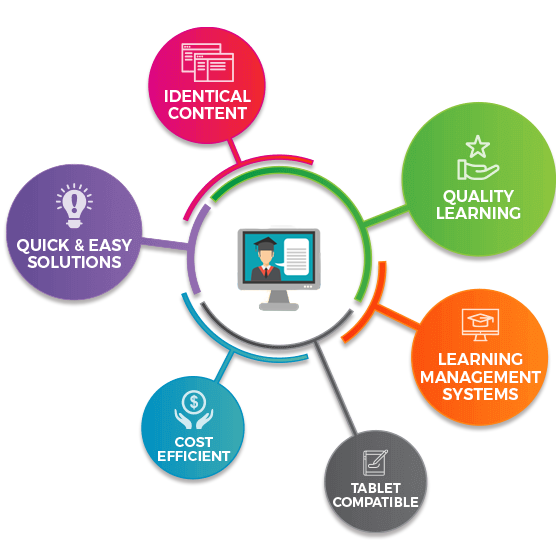 Step #1. Be Sure About Your Idea
As you are sure that you want to enter a highly competitive domain, do your part of the research well. Study your competition and check for loopholes. These loopholes would be your USP in the future. Along with this, list out the exemplary e-learning mobile app features that are integrated. You can ask your hybrid mobile app development service provider to include these features in your e-learning app too.
You can also take a step ahead with 3D lectures and real-time communication with the students that would make it easier for you to resolve queries and doubts and build a strong presence in the market.
Step #2. Understand Your Target Audience
Are you building an e-learning app for professionals or students? Or does it have a more universal audience? Well, be sure that you understand your audience and have an app idea that intrigues and inspires them to learn. Demographics and the interest of the audience play an important role in determining the popularity of your mobile app.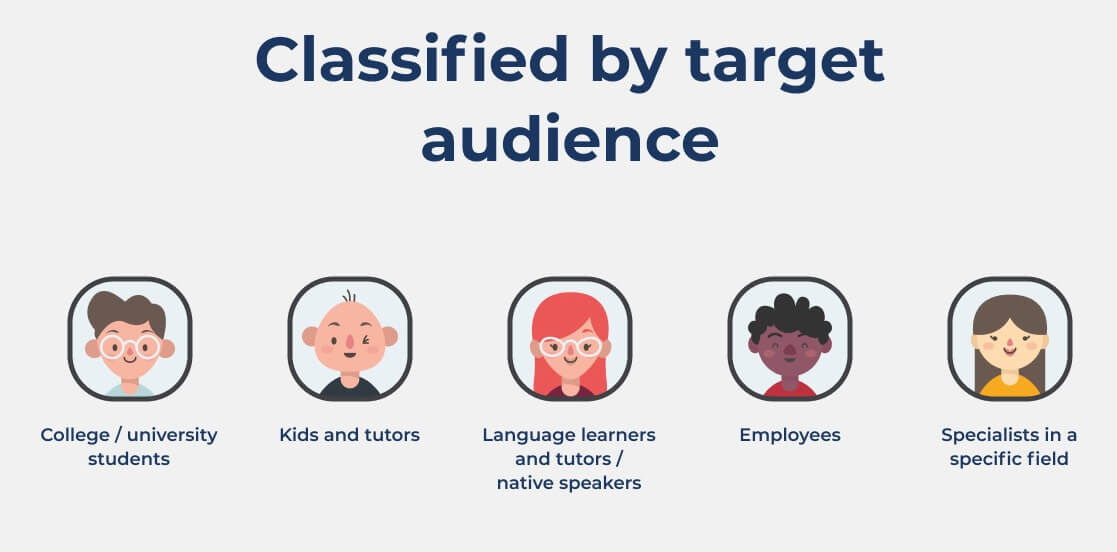 Building a strong audience base is quite complicated. Being a leading e-learning app development company, we make sure that the solutions that are delivered to you are defined by the experts and help you earn the best results. We have been working in the direction of our bringing the best to our clients and understand that the user group is sensitive here. 
Step #3. Work on UI/UX Design
Another important aspect to consider is the feel and look of your e-learning app. You need to make sure that the aesthetics are worked on well and bring to the screen a great customer experience. The color set, features, functions, and navigation you need to help your e-learning app development work on each of these aspects. The UI/UX design team can easily develop what you want, just be very clear about what you want.
The aesthetics play a major role in deciding how things would work. We make sure that the solutions engage the students and they don't find the struggles when working on the application. Over the years we have been delivering solutions that allure the target audience and keep them engaged with our work. 
Step #4. Think About MVP Features
You have checked a few applications, the best ones, and have curated a list of e-learning app features that you want to offer to your customers. These features, which you need to have in your app, constitute the Minimum Viable Product version of your app. You can enter the market with an MVP model and later upgrade the features. 
The feature set would majorly define the functioning and operation of your e-learning application. We make it a point that the solutions that are delivered to you are once rolled out to the final stage only after the prototype is verified.
Step #5. Define a Monetization Method
We are putting in all these efforts to enter the market for some profits. So decide on a monetization model that would help you earn maximum profits. We would discuss various monetization models in the next section. Just pick the one that fits you the best and you are good to go.
You would be entering the market with the idea of monetization. To monetize your business there would be several alternatives. It is better to choose the right alternative and get your things delivered at the right time.
Also, Read: How to Develop an AI Mobile Learning App Like Socratic, Photomath, & Mathway?
These are some of the basic aspects that you need to consider before your e-learning app development company takes charge of the project. They would take care of bringing to the screen what you want, but you would have to share your idea! Next, we would discuss the monetization model.
Features for E-Learning Application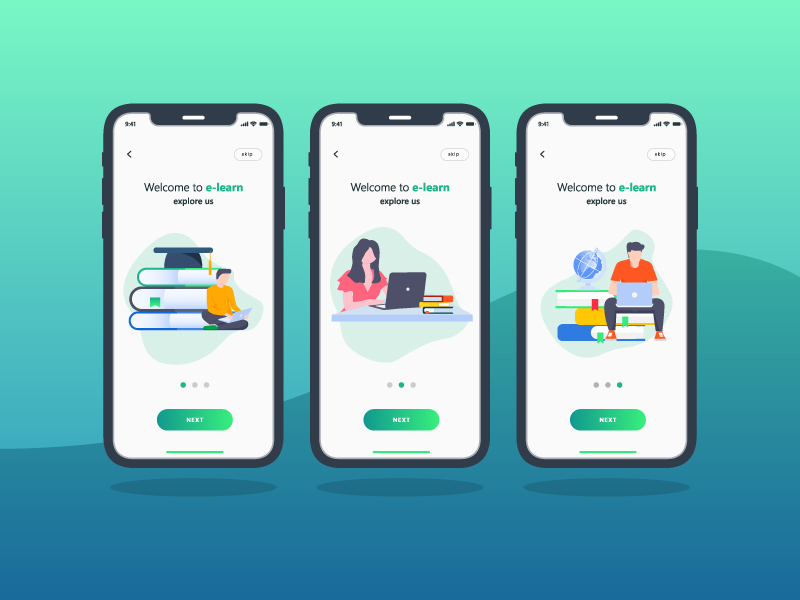 Student Panel Features:
Signup
View and select various available courses
Smart search with various filter options
Users can post questions and can easily connect with a specific teacher by video or text chat
Course certificates are available on the completion
Teacher Panel Features:
Easy registration
Profile enhancement
Earn credits and points on replying to the questions asked by the students
Push Notifications
Ratings and Reviews
Admin Panel Features:
User management
Profile management
Communication management
Subscription package management
Content management
Statistics and reports
Advanced Features to consider While eLearning Mobile App Development
Bulletin Board
For motivating students to perform well it is important to integrate bulletin board functionality which is a great tool for boosting motivation in students and other e-learners.
Practice Tests and Quiz
It is really important to monitor the student's performance regularly to know their grasping power and knowledge. Therefore implementing practice test papers and quizzes in e-learning mobile applications can make tracking students' performance much easier.
Document Management Module
This helps in managing the documents shared by teachers with their students or learners. The document management system stores stuff like video or audio clips, documents, presentations, PDFs, spreadsheets, etc. that are uploaded and shared with the users for accessing as and when required.
Open Discussion Forum
By implementing an open discussion forum in the e-learning application you can enable the interaction platform between the application users. Here the users can share their views for new topics generation and can post their comments and feedback on currently available topics. This is a very helpful tool for improvising the learning experience between the users. Admin monitors the comments to avoid any spam-trailed communication.
E-commerce
By implementing e-commerce functionality in the e-learning application its effectiveness increases. The users can easily purchase any premium video lectures, books, and various other learning products within the application.
Push Notifications
Notifications play a significant role in the success of an e-learning application. The user needs to be updated on the addition of any new video by their subscribed teacher, new course content available, or any special lecture being planned.
Real-time Analytics
With this feature, the admin can track the performance of the application and the user search pattern within the application. Hence with this feature, the admin tracks the complete flow of activities such as users who are submitting their assignments, users who are appearing for practice tests, their scores, etc.
CRM Integration
Customer relationship management integration plays a significant importance in e-learning application development. Customer search preference is monitored and customized results are displayed to each customer to be different and sustain in this competitive environment.
CMS Integration
With this feature, the entire digital content on the application is maintained and monitored.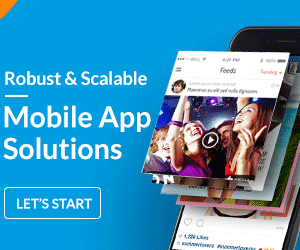 In-App Chat
This feature enables instant communication within the application. Students can directly get in touch with their respective teachers for a solution to any query. Also, various users of the application can chat with each other.
Multilingual
If the application is available in multiple languages then it can have users from various parts of the world.
Payment Integration
By integrating multiple payment options in the application facilitates the users in making payments in a hassle-free manner. Multiple payment modes can be used like PayPal, Stripe, NEFT, Credit/Debit cards, or ewallet.
If there are some other features that you want to integrate with your mobile app, then you can share them with an e-learning app development company. They would surely integrate it into your app and help you earn the best profits.
Technology stacks for an E-learning Application Development
Mobile SDK: Android and iOS
Cloud Environment: Amazon Web Services (AWS)
SMS, Voice, and Phone Verification: Send grid, Plivo
GWT: For powerful programming
Database: MongoDB, PostgreSQL
Streaming Media System: Livestream, JW Live, DaCast
Payment Integration: PayPal, Stripe, Braintree, e-Wallet, Net Banking, E-Banking
Push Notifications: Twilio, Amazon SNS, Push.IO, Map, AdPushup
Real-Time Analytics: Big Data, IBM, Hadoop, Spark, Apache, Cisco, Flink
Team structure required for a successful E-Learning Application Development
To develop a dynamic E-learning mobile application, a team of highly skilled professionals is required. Therefore, the required team members would be: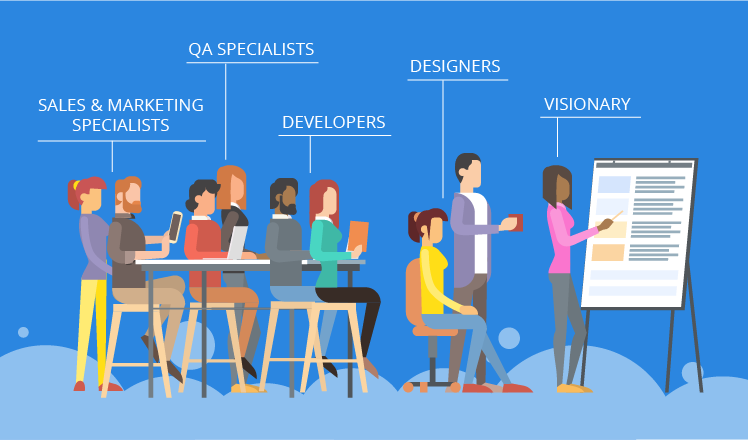 Delivery Manager
Project Manager
iOS Developer
Android Developer
Web Developer
Front and back-end Developer.
UX/UI Designers.
Graphic Designers.
QA Testers.
How Much Does it Cost to Develop an E-learning App?
To decide the development cost of an E-learning application, three factors play a significant role.

Application features and complexity include
If in case the application comprises only the basic functionality then compare the prices would be less. Moreover, if an application has advanced functionality and audio-video integration then it may cost high.
Platforms on which the application is being developed
If the application is being designed only on one platform, like iOS, Android, or Web, then the cost would be less. On the contrary, if the application is being developed for multiple platforms then the price would be high.
Development team size and its location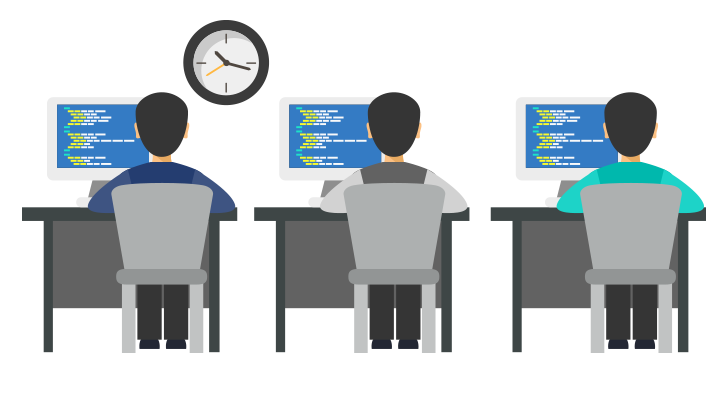 The hourly price for developing the application is different from one region to another. The US/UK-based developers' prices are around $150-$250 per hour.
Eastern Europe-based developers' prices are around $80 to $180 per hour.
Indian developers' prices are around $20-$70 per hour which is the most reasonable rate.
Moreover, taking an average the overall development cost of E-learning mobile Applications may cost near around $10,000 to $30,000. If advanced features are incorporated then the development cost may increase to $50,000.
Top E-learning Mobile Applications
Applications that are prominent in the market are:
Periodic Table 2022: Chemistry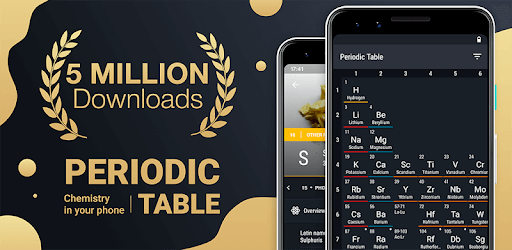 It is one of the top e-learning applications to learn about chemical elements without any price. This app is for everyone, keeping in mind the importance of chemistry and science. This virtual platform gives an illustrative way for users to learn and understand the complex periodic table in a very easy way.
Available on the Google Play Store with a rating of 4.8, the user-friendly interface helps to find any element. Sort the elements based on their nature like alkali metal, alkaline earth metal, halogens, transition metal, semiconductor, and others.
Amazon Kindle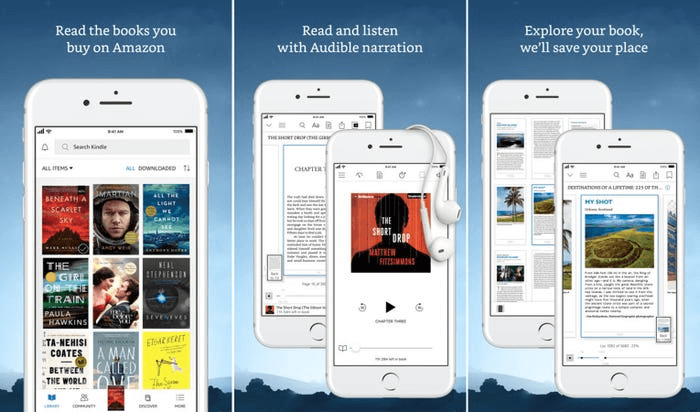 The Amazon Kindle education platform is for the global users available to use with its fast, and attractive UI. Its attractive and user-friendly designs unlock different features for the users, especially learners. This platform consists of more than 1.5M books available for the user with just a single tap. You can read out the things, enjoy some of the top magazines, just name it and it's there; including the economist, the guardian, etc.
This e-learning app portal permits user-specific requirements. Some of the vital features are reading free books from the collection of more than 1M+ books, shopping for any available book for less than $4, and lakhs of popular titles and exclusive titles that you won't find anywhere else.
The Kindle is less with amazing voice assistance features, automatic syncing features shorten your time for instant-read across different devices.
Coursera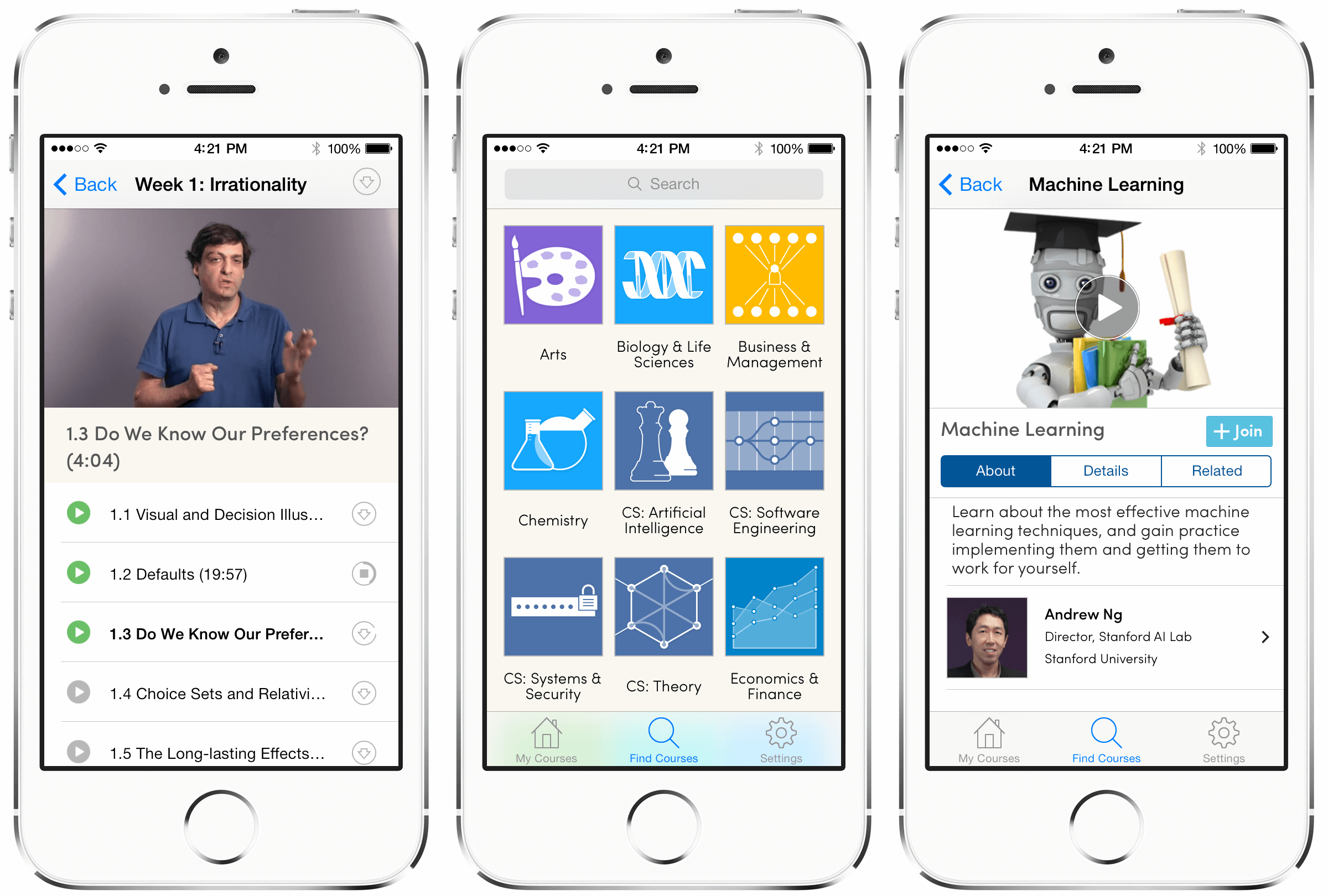 Coursera is an advanced learning platform from the best available industry leaders, top universities, Google, IBM, Apple, and many others. You can advance yourself a step ahead.
New users can register on the platform and create their own courses. Students earn certificates or even degrees online. Users can choose to learn from different subjects, including business, management, banking, personal growth, data science, computers, and many others.
StudyBlue Flashcards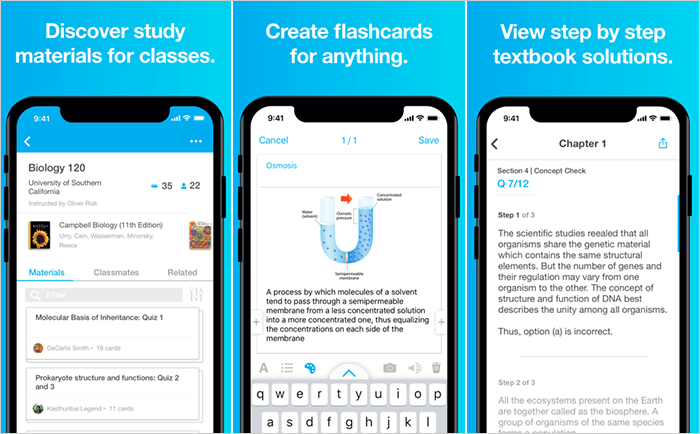 Have you ever learned about this new creative way of learning? When we were kids, we got fond of magical and creative things. StudyBlue is an amazing platform to transform your learning into a new horizon. With the presence of 10M+ flashcards, it could be the best companion for your kids to learn and play at the same time.
For your e-learning application, you could bring out some inspiration from this app and add your pinpoints to stay attractive and attentive to the audience.
Track your progress, set study reminders, quiz out anything, and customize with image and audio tune.
Since post Covid, the e-learning industry surges a huge scope in the landscape, and knowledge is something never-ending. And if you are short on money, either of your economic condition; these apps have only one aim; rapid and quality growth of the people worldwide. Let the barrier never limit anyone.
The Final Words!
E-learning mobile apps are a growing trend and if you want to enter the digital domain following this trend then now is the time. If you have an app idea and want to turn it into a working reality then hire the best e-learning app development company and get ready to see those dollars coming!
We at Octal IT Solution have earned experience in e-learning application development, educational learning software, etc. with enriched features and performance over the years.