"In times where small instructor-led classrooms tend to be the exception, elearning app developers can offer more collaboration and interaction with experts and peers, as well as a higher success rate than the live alternative."
With the black swan of events, contemporary humanity has been threatened to a great extent. It forced a global shutdown of several activities and educational activities are the ones that are hit the most and this has resulted in the tremendous crisis-response migration of educational platforms with online learning opportunities and it is clear that e-learning is way different from the current emergency remote learning practices.
If you have a business plan for online education then you need to make sure that you are well aware of certain things that are going to help you in the process of starting an elearning business.
Why Start with eLearning Business in 2022?
The pandemic has shaken up how we approach work, learn, and recreate. The world has explored umpteen opportunities and interesting solutions and starting an online elearning business is one of them. People around the world have believed eLearning platforms to be the new normal. As there is this drift in the education system, we have designed an eLearning business plan for different groups. These groups can be categorized as: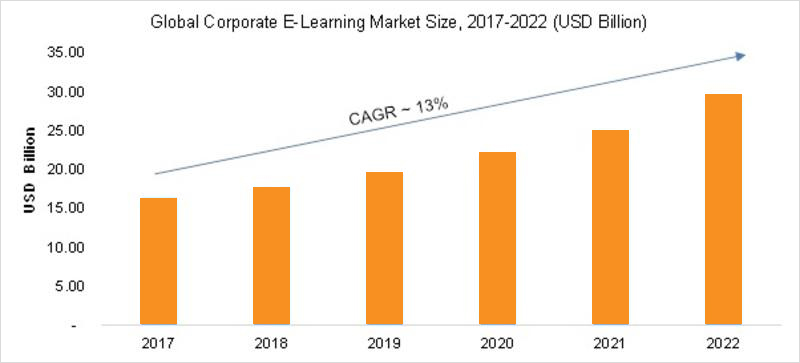 Professionals looking forward to growing and learning
People looking forward to learning a new skill set during the pandemic
Learners who want a safe environment during the pandemic
Whichever of these turn out to be your target audience, we are available to help you through the process. Our mobile app development team can easily help you in setting up an elearning business.
As per the numbers now, we are expecting a 10% growth for the next couple of years till the networth turns to be $21.64 billion.
This is a clear indication that the e learning business opportunity is on the full rise. If you are looking forward to creating an online business, then there are a few things that you need to take care of.
1. Define Your Market and Its Segment
When discussing how to start an elearning business it becomes important that you study your market in a way that is easy to understand and elaborate on. See what is working in the market, the loopholes, the pitfalls, and other things, and then come up with a solution that is exclusively yours.
You could come up with an application for:
Professionals
Students
Skills Development
Competitive Exams
And the list continues…
Over the years the experts associated with us can deliver solutions that are interesting and have a strong e-learning business model that helps you earn great profits.
2. Know Your Relationship with Your Customers
(learners within the target market)
Knowing your customers is very important. You should answer these few questions that would make it easier for you to start an e learning business that generates revenue and resonates with your audience.
Is there any specific group of people that you would be serving or is it for the people in general?
What features of your e learning business model would the learners get that make you unique in the market?
Do you need any eLearning facilitators who would interact directly with them?
What is the competitive selling strategy for your business? What factors would make your business the best alternative for your customers?
Would the courses that you would be having need to be purchased and downloaded types or would they simply be the check and read kind of solutions?
Do you have people to chat with the learners and how things would work on?
If you are looking for how to build a successful elearning company elearning business build an

3. Elaborate the Scope of Your eLearning Courses
When you are making an elearning business proposal make sure that things are well explained to ensure the idea of the text and the information shared and the way it is plotted. Some of the common points to cover here are:
The main focusing area of the content and the representation
The scope of the content and its need
The content style and quality of the competition
The frame used as the reference for your course. It could be either the country, economics, demographics, etc.
The striking factor of your content plan is that would drive your target audience to make a purchase from your elearning business.
These points would make it easier for the learners to analyze the content, teaching pattern, course pattern and then make a better decision. If you are keen to set up your Elearning startup, connect with us over a cup of coffee, and let's talk about your project.
4. Share the Value of Service Provided
When working on your elearning business you have to make sure that you share your values with your customers. When you reach our experts we make it a point that the learners understand how your business works and when we can proceed easily. Define what value differentiates you from the rest of the competition.
The experts associated with the development of digital education business model development make it a point to deliver solutions that are interesting and engaging. If you are looking forward to making a strong presence in the digital industry then we are here to help.
Let them understand what values you do not provide. Tell them what is cut down and how things work for you. Specify what values you are not providing and why. Also, elaborate on what difference would it make and why it isn't important.
Elearning Complications That You Might Face
When working on the development of your elearning solution, it is important that you consider the difficulties in the development process. There are a few things that you need to be very careful about when working on your elearning business model: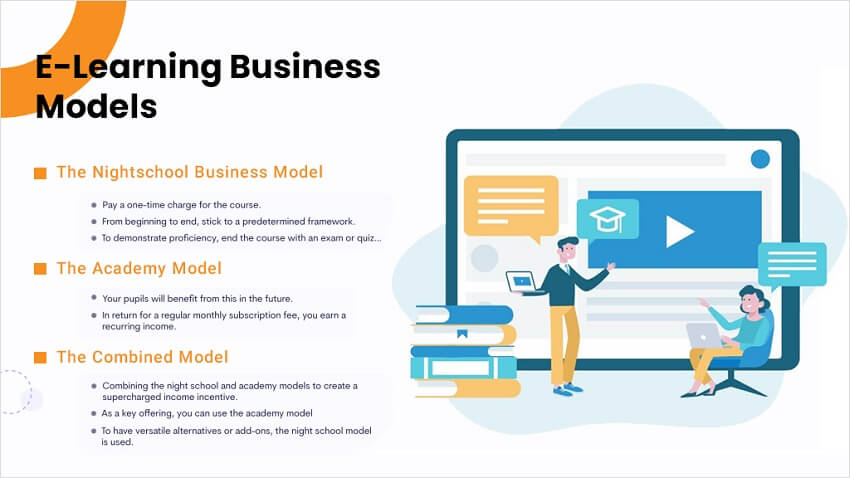 1. Take Care of the Responsive Part
It is quite comprehensive that students would not be seated in front of their systems the whole day long. When you build an Elearning solution it is significant that it responses real quick. This implies your application must respond to the queries real quick. Our on-demand mobile app developers make it a point that the application that reaches you responds to your queries real quick without any jiffy. The application must not hang or break down.
The major reason why the learners choose to learn from an application is simple because it is available on the go and can help them through without much effort. The services offered are well-curated and the consultation can be done 24*7. Also, it becomes easier for the learners to get all things sorted on one device instead of carrying multiple devices.
Our design and development team come up with a brilliant solution that would make the learning experience smooth for the children. We try our level best to eliminate the need for zoom in and multiple scrolls to make it convenient for the students to access information as and when required.
2. Make It a Neat Application
Since the application you are focusing on is centered around students and learners it is important that the menu on the application is clearly conceivable. Our Mobile app development team along with the UI/UX design team ensures there is an information-sharing approach but with the right choices of bullet points and images.
Once the design is ready choose a content specialist to review the design provide articulated and crips content that helps the user grasp the points easily. The major reason for the popularity of elearning applications is the learners are enjoying this experience of online learning without much worry. They can work on the information they gain and further break down the pieces of information they gathered in an organized manner.
This would also provide its end users an easier way to interact with other media files and reflect in better results.
3. Build a Strong Market Presence
When you decide to enter the market there are a lot of things that are to be taken care of. We make sure that your elearning business model is designed and defined in a way that the audience can connect with it and help you earn a better hold in the competition.
We build a strong online learning business model that is updated and stands above the solutions. We can help you enter the market with solutions that are interesting and can get your things delivered at the most affordable rates. If you are looking forward to building a strong solution in the market we are just a click away!
4. A Simple Application (No Cluttering)
When it comes to any information sharing and learning application it becomes quite difficult for the developers to keep it neat, tidy, and simple. When the learners have the urge to gain more information, to quench their thrust, you add more elements that complicate the complete scenario.
Students aren't as tech-savvy as the developers are and they would not understand the complications in the application. Developing an interesting, decluttered digital learning application will accomplish the most significant job of retaining the users and engaging them with their interests intact.
Our android app development team tries to make an application that is bright, fresh, and smooth to use and provides to the point information in a visually impressive manner. One of the best ways to ensure the content is delivered in a styled manner is by delivering the navigation easy and clear. This should be self-explanatory. It has an infrastructure that is quite simple enough to deal with the alterations that may occur further.
5. Offer Assessment and Evaluation Tools
Once the students have taken lectures is important that their efforts are evaluated and assessed. With a lack of periodic evaluations, the need for the growth of the students would be limited. We make sure to add the feedback feature in your on-demand elearning application that would make it easier for the learners to track their progress. Along with this, it would be easier for them to build a flexible and interactive backend module that eases down the task.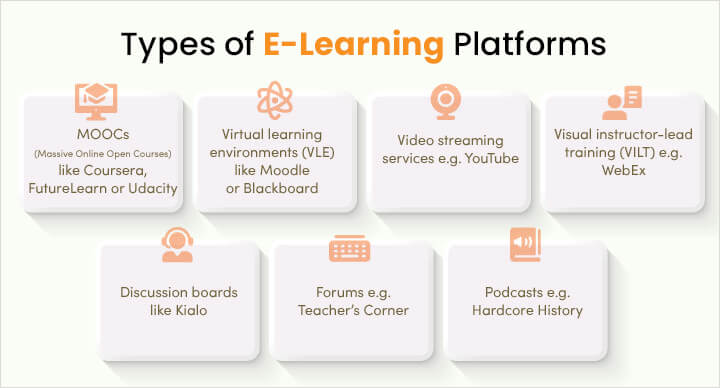 These tests could or could not be time-dependent, thus they would majorly be driven by percentile scores.
Also, you can let the user decide if they want a time-based test or not. If yes then let them have that alternative. It becomes easier to evaluate the understanding and see how well they are prepared with their courses.
6. Consider the Impact on Your Audience
When you are working on your elearning business application make sure that you study your market properly. See if the information shared is worth it and creating any impact on the audience. If your audience loves your work, there would be more downloads and you would be earning more. If your audience finds loopholes in the application then it would be quite complex and you would need to fix them.
If you reach our e-learning app development company, they would make sure to study the market and research the loopholes in your competition's application that failed it. We would make it a point that your application covers all the aspects in a way that reflects the understanding and learning process of the children.
7. Have a Unique Quotient to Stand Out of the Crowd
When you reach the experts for a unique solution they make it a point to come up with out-of-the-box ideas that can help you earn a lot. They use some interesting AI and ML-based solutions that make it easier for them to add an interesting feature to your work. With artificial intelligence, it becomes easier to explain concepts that need practical implications.
Along with this NLP makes it easier to take lectures and understand concepts in different languages. If you wish to start a successful e-learning business, you need to be aware of the latest technology in the market and keep your head up. We have been in the market for over a decade and understand what works better for you. Our expert mobile app development team delivers elearning solutions that are not just intriguing but easy to work on too.
Thus, when you are working on your elearning application it is important to consider integrating multiple language courses.
8. Map Out the Factors of Elearning Development and Its Implementation Strategy
Digital education business proposal should reflect your working strategy and the styling. It should clearly state when you want to register your work and how things would work for you. Also, consider all the factors that would define the working pattern and the development process. You need to include all the elements that define the working of your business plan. Some of the basic things where you need to do your homework are:
Technology Stack
Feature Set
Aesthetics
Subscription Model
Monetization Strategy
Development Platform

It is important that you are well prepared with the answers to all these questions in a way that you get the most of it in a go. If you are looking forward to establishing a profit-making business you need to define the process for the same.
Be prepared with the estimated cost of development
Have a brief of your returns
Prepare a strong background for results
Have a backup plan ready.
These are a few things that you need to take care of when working on the business model that would earn great rewards in no time. If you are looking forward to setting up a strong presence in the market these are some of the basic things you need to consider. Along with this, there are a few more points that you must discuss with your team to have their understanding and opinion on how the application would work and how to manage the things that you are up for.
Also Consider
Make sure when you are discussing with your development and strategy team about the project that you are planning to take over you discuss the following points:
Define a Secret Factor for Your Success (something that is unique to your organization)
Share a few distinguishing points that would set you apart in the market
How to Ensure the Secret Factors Have a Copyright?
Share Effective Methods to Develop Elearning Programs
How would you synchronize information with technology and how easy would it be for the team to evaluate it?
These are some of the basic points that one needs to consider when working on the elearning business proposal.
These are some of the basic points that you would have to consider before moving to the elearning app development team. The experts would take care of the solutions and bring to the picture your vision.
Our team is available to communicate with the experts and bring to the screen the solutions that can be interesting and engaging.
Related Post: Udemy Business Model: How Does Udemy Work & Make Money?
Wrapping It All Up!
If you are looking forward to creating an interesting solution that would make it easier for you to establish your elearning business then just reach to the experts and see how they can assist you in standing strong in the business. We can help you build an application as strong as Byju's that would help you get the most for your business.
Our clients often ask us about setting up an elearning business that would make it easier for us to bring to the market the solutions that are interesting and engaging. We have excelled in offering solutions that can help take over the market and earn great results.
Our team would be available to connect with your round the clock and thus help you through your queries right away. Not just this, if you are looking forward to creating a presence in the international market we can use tools that would mark a strong presence.
So, with all things defined, we make sure that your business earns the most profits as soon as it enters the market.