Do you ever wonder – what celebrity do I look like or have you ever tried a Celebrity Look Alike App to find out?
Celebrities do play an influential role in our day-to-day lives be it buying that new dress or working on pictures for your Instagram profiles. They do set up a statement that many of us replicate in some way. And with the ease of accessibility to the internet, their presence has become indispensable.
A lot of people now dress up and style like their favorite celebrities and they often love to find out how similar they could be. With this growing culture, one thing that has taken the market by storm is celebrity look alike applications.
These applications are great entertainment where one simply uses their picture to see which celebrity they look like.
The functioning of the application is quite simple, but the technology that goes behind it is quite complex. If you are looking forward to making a business out of this, hiring a celebrity app development company for your assistance would be a great idea.
Building Your Celebrity Look Alike Application
If you hire our celebrity look alike app development team to be your tech partners we make sure that you are a part of the development cycle too. We follow an Agile App Development Method, where the complete task is broken into various smaller tasks and as per the milestones you can review the progress. This is to make sure that the development process we follow is transparent and highly rewarding for both parties.
The simple app development process that our dedicated mobile app development team follows is:
Ideation
We connect with your team, discuss your app idea and with mutual discussion, we come up with a basic app idea that reflects your business objective, technology advancement, and innovation in the palm-size device.
Market Research
Our experts have been in a similar market for years now and they understand how these applications work. They make sure to study similar applications, your target audience, the growing technology, and other aspects to make sure that your app doesn't fail to impress the users even for a moment.
Wireframe
Once we are done with the discussion of the application and where to sell it, we start working on its wireframe. This is the basic structure where we talk about the functioning and features of the application.
Technology
After we are done with the feature set, we'll find the apt tech stack for your application. We make sure to deliver you a solution that is highly scalable and customized to reflect your business idea on screen.

Development
The next is to get into some real action. Our Mobile app development team starts working on your project and step by step the app is ready.
Test UI/UX
The mobile app development company checks for the user interface and interaction. We affirm that your celebrity look alike application is designed to increase user engagement and keep them involved.
Test Functions and Features
We make sure that the functions and features of your application work well. The QA and testing team affirm to deliver solutions that are flawless and help your users interact with the application easily.
Launch Beta Version
Launch the beta version of the application to see the market response. Take the criticism seriously and make sure to work on it. With the required amendments take your application to the market.
Launch App
Now that you have tested the application in general, launch it in the market. Let your users enjoy their experience and find their celebrities look alike.
Market App
To make sure you reach a wider audience, market your application the right way. You can hire a marketing team or let your in-house team come up with a strategy that takes your application to the masses.
With this simple action plan, we help you enter the market within a stringent deadline and reach your audience.
We understand working on app features is an important task, and our experts affirm that they come up with solutions that can impress your customers.
Feature Set You Cannot Skip!
Here are some of the most appealing features that you cannot miss to include in your application.
General App Features
Here are some of the features that make your application popular among your audience. You need to cater to their expectations. Our on-demand mobile app development team brings to the table a solution that helps you impress your audiences.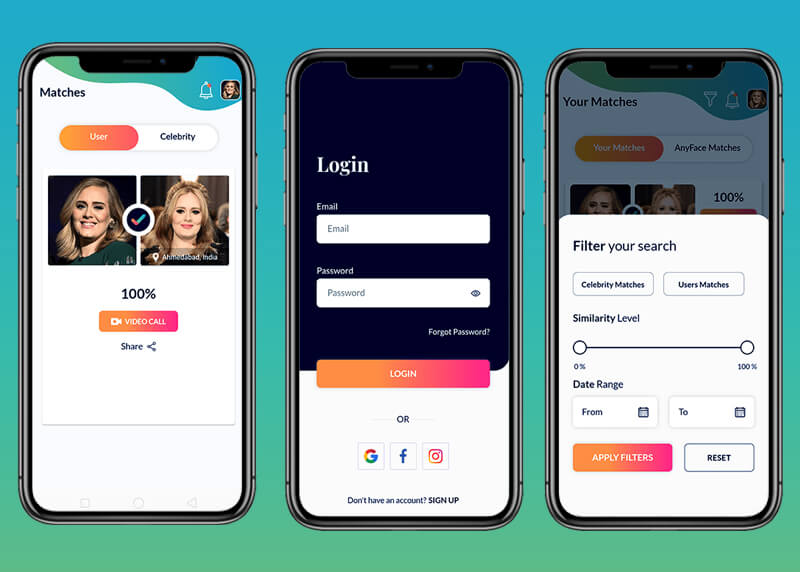 Easy Onboarding
With an easy onboarding process, it becomes easier to engage users. Also, the celebrity look alike application is meant for entertainment purposes and the users would not be interested in spending time entering their details that have nothing to do with the app functionality.
Simple Profile Creation
Users who want to know what celebrity do I look like can create an amazing profile on the application by filling in just a few details. One can easily manage their portraits, save them in drafts, check for various filters, and do a lot more. Without filling in a lot of details, users have a personalized section in the application where they can decide how their profile looks to others.
In-app Camera
One can click instant pictures with an in-app camera. This saves time and also takes care of the privacy of the user. They would not have to let their app have permission to assess their gallery. The celebrity match app that we deploy brings to the screen credibility and helps you make great profits.
Choose Industry
Not everyone is into the entertainment industry. We let your users choose the industry they want to relate to. We have been studying the market for a long time and we understand as the popularity of the application is increasing, coming up with some new features brings uniqueness and innovation to the market. This adds a competitive edge to your application and expands your user group too.
Access Gallery
Some people choose to pick up their old pictures and use them on the application to find what celebrity do I look like. When we develop the celebrity look alike app, we make sure even if it seeks access to the gallery it is safe to use.
With an increase in data breaches and online theft, it is a little difficult for your customers to trust your application. Our mobile application development company affirms to bring to the screen a solution that is interesting and safe to use.
Share Via Social Media
One thing that your users want when they are using the celebrity look alike app is to share what they create with their friends. With social media integrated with your application, we make sure that you let your users not feel disappointed because of just one feature.
We understand the role of social media in the lifestyle of your target audience and make sure they can always relate to your app equally.
Push Notifications
With push notifications, one would interact with the application really well. You can tell them about the new elements that you have added or if their friends have shared something.
Push notifications are the most traditional and effective way to let your users feel connected with your application all the time.
Celebrity look alike app works on advanced technology and our techies explore all the possibilities to make your product more advanced than the applications available in the market.
Advanced Features for Your Celebrity Look Alike Application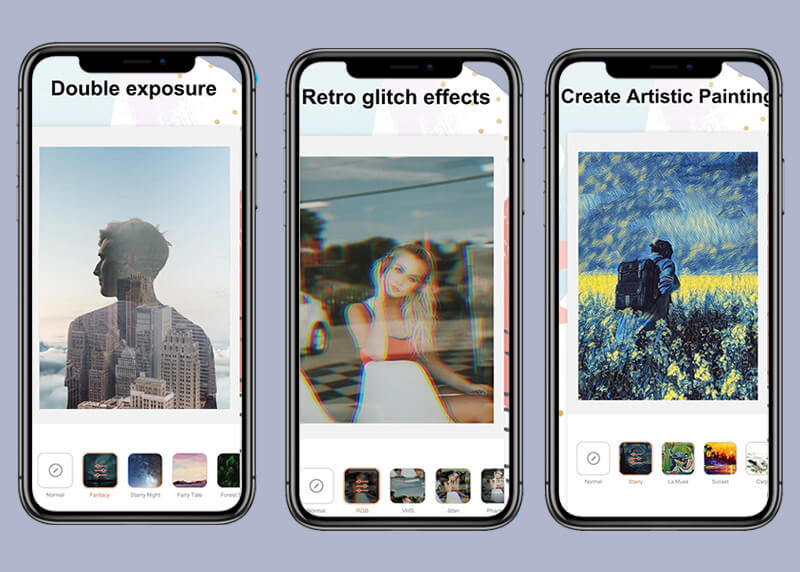 Play a Quiz and Create Cards
Who doesn't love to play those Facebook quizzes know what character you look like or what your name means? Well, most of us at least once in our lives have taken those quizzes. Well, the application that our team would deploy will let users play such quizzes, gather points and earn rewards.
Let your users be engaged with the application playing in their nostalgia as you enter the market with an interesting solution.
Social Login & Signup Tools
This is an important feature to facilitate a seamless user experience. With this feature, the users can simply use any of their existing social media accounts such as Facebook or Google to quickly sign up for the app and get started. Also, the option of social media encourages the users to share their results or recommend the app to their social media friends.
Celebrity Cartoon Look-Alike
A perfect way to make use of nostalgia!
You want more users to install your app and retain them, and this feature can help you accomplish this goal. This would let your users transform their portrait pictures into animated characters.
It enables the users to transform a face from the picture into a cartoon character. The feature reflects the use of Artificial Intelligence in the look alike application business to its best.
Image Celebrity Painting Look-Alike
With the help of advanced technology like facial recognition, AI technologies, machine learning, etc. the feature would analyze app users' facial features like eye color, nose structure, lips, and others along with the expressions to bring to the screen a matching celebrity painting.
Advanced Image Editing Tools
We add interesting solutions that make it easier for your users to strike down their picture editing mobile applications from their phones. To scale up the game, we add advanced image editing tools like virtual make-up, face tuning, etc. to make sure your app goes popular among the millennials.
Adding quirky effects and beautiful filters to the images before uploading them on social media is something the millennials are ready to buy. This is a great image editing tool that adds amazing filters, stickers, and other effects to add to the value of your app.
These are some of the features that can make your celebrity look alike app stand out from the competition and help you earn great profits in a limited time.
Other than these features, our experts have curated some significant features of the most popular celebrity like applications in the market.
Taking a Little Inspiration from the Market Leaders
In recent years, celebrity look alike ideas have grown popular. These applications are interesting and they have helped users enjoy their time with some amazing image editing.
StarByFace
When you search for what celebrity do I look like, you will always find StarByFace on the top. The application has marked its presence in the market with some amazing features and filters. Our on-demand mobile app development team has studied the application well, and they make sure to use some of its feature set for your application.
Great Quality Images: The images in the application go through the minute analysis and some tampering yet the final image that is created is great.
Great Database: The database of the application is really great! You can choose celebrities from an array of ranges from various industries.
User-Friendly: With constant improvements, the application is growing to be better and offers users a great experience.
Celebs
Celebs is an application that is quick to use and has offered the users some advanced and strong features. When you reach out to us for look alike app development some of the features that we would borrow from the application are:
Twin Face Identification: The accuracy with which this application lets users find a celebrity who looks similar to them is amazing.
Best Resemblance Identification: One can compare their face features like eyebrows, lips, eyes, jawline with the celebrities. This doesn't show who you look like, but it simply compares the features you choose.
Free Application: This is one thing about the application that its competition should take. The monetization strategy is really impressive and well-curated.
My Replica
With the popularity of the celebrity match app, this application entered the market with a boom. It offered some amazing edits and functions and made it so convenient for users to get some great pictures and share them easily.
Quirky Filters: With some quirky and intricate filters the application has been offering its users a great platform to edit existing images.
Accurate Analysis: The efficiency with which it matches the users' images with the celebrities' in the database is unmatched.
Advanced Technology: The tech-stack of the application is really impressive and it reflects in the user experience and accuracy.

YStar
The application has managed to mark its presence in the market in a short time. YStar has taken the photo editing application business to new heights with some of the amazing features.
Interactive Interface: The app interface is interesting and user-friendly, adding to it the results we get are real quick.
Quality Content: The solutions that are offered to you are amazing. It supports HD images and the solutions are impressive with great quality.
Face Mapping Technology: The application gathers the facial features of the users and creates a perfect map and then finds an interesting match. This reflects greatly in the accuracy of the celebrity look alike app.
Gradient
Another application that has been attracting users is Gradient. With some amazing solutions and interesting advanced technology, we have been studying the application to bring to you a strong product.
Use of Artificial Intelligence: This application leverages the power of Artificial Intelligence to bring to the screen some amazing solutions that stand out in terms of editing and face recognition.
Curated Editing Features: The application has taken image editing to a new level with its impressive and innovative filters and effects.
These applications have taken the market by storm and we strive to deliver solutions that stand out from similar applications. Our look alike app development team makes the best use of the loopholes in these applications and helps you curate an application that is interesting and highly rewarding.
How to Make Money with Celebrity Look Alike Application?
When you enter the market with an application that walks the trend, you have some great opportunities to make some good money. Here are a few ways that you can integrate to make some good profits.
Advertise Similar Applications
Make use of your audience base to help others in the application business with a similar target audience to make some money. Promote their applications on yours and charge a little for the favor.
Mutual benefits are the smartest way to grow.
Offer Premium Plans
You can run your application on a subscription basis.
Offer some features for free, charge for a few, and you would build a strong presence in the market.
In-App Purchases
If you don't want to run the application on a subscription basis you can charge for the services they want to avail of. This is another monetization strategy that you can choose to make profits.
Choose any of these or integrate all of them with your celebrity look alike app and see how it works.
We have been working on various solutions over the years with various monetization techniques and can help you integrate the solution as you want.
Wrapping It All!
Working on a celebrity look alike application is quite a task. The trend is exponentially expanding and to keep up with the pace, it is important that we offer solutions that are out-of-the-box and innovative. For sure you have done some amazing research and want a solution that helps you earn great.
If you are confident to turn your app idea into a working reality, we have the technology to upscale your vision. Let's connect and build a strong business together.