Developing applications and websites have become essential for most businesses today and this is the reason they all require to hire dedicated developers on board for the creations of websites, web applications, and mobile applications. Now hiring a dedicated developer is quite easy, as out there one can easily find a number of firms providing such services.
But is it really that easy as it seems? Well when you hire a developer, you take one major step towards the progression of your business, and making a wrong choice can have disastrous results. Hence, one should be really careful while they are involved in the process of hiring a dedicated developer and keep a few things in mind. Our experts share here a guide to hire dedicated developers who can help your business grow to new heights in no time.
Important Aspects to Consider to Hire Dedicated Development Team
When you seek for dedicated development team for hire, it is important that you take care of a few aspects so that your team and business goals are complementary. Also, make sure that you understand how things would function if you start working with a certain team.
Seek Talent
Certain companies look for longevity during the hiring process of developers, however, what truly matters is not longevity, but talent. Hence your hiring of dedicated developers should be based on quality. It's going to be much more effective to have a few but quality candidates with the transferable skills you require. As you shortlist the candidates, apart from the talent and experience, but focus on a few key skills, like while hiring dedicated developers, these key skills should be communication skills, social skill abilities, analytical skills, and ability to be visionary. See to it that the candidates know what it is they will be working toward for your project and explain it all effectively to them.
Involve Team in the Interview Process
As you are in the process of hiring dedicated developers, chances are that you're not the only one who will be working with them. Hence, it can be effective to include the team of the particular project in the interviewing process. This way, getting the other team members on board for interviewing won't just build their morale, but they can also offer their perspectives during the process. Like, chances are that you might not have considered something important which another team member does. This is a crucial step to build a great and quality team and reinforce the teamwork value perspective. No wonder this would help to recruit the most appropriate candidate.
Focus on Networking
Networking certainly has many benefits and is very powerful mainly with social media adding the opportunities. So the tech firms that use their own network to initiate the search for quality developers find this the most effective step in the recruiting procedure to hire dedicated developers. Networking platforms like LinkedIn not just helps to network, but also offer ways to look for potential talent, job postings, post blogs, etc. Hence, the networking opportunities are endless at these platforms.

Also, consider the ones you know already in the personal circle of family and friends. You can think of attending local networking events or host your own.
Keep Your Brand in Mind at All Times
No matter you hire a developer for a short-term project or as an independent project contractor, you must consider if s/he fits your company. To gauge that, consider your brand and see how a developer can be truly helpful in building your brand. Take questions like, What your brand stands for What is your mission, values, & goals It is crucial that you match your potential candidate to your brand. Once you think of what exactly your brand stands for and decide how you want it to be portrayed, then you will be more likely to draw towards developers who are more passionate about engaging with your business.
Transparency Is the Key
As you hire a dedicated developer, it is crucial to be entirely transparent all through the process, be it the process to create job listings (here provide ample & accurate information), and communicate effectively with the potential candidate throughout. To be transparent in your approach as a tech firm, it is vital to be organized. It is crucial to communicate with the candidates about the work they will be responsible for and about your budget.
As you create a job listing, keep a few tested practices in mind, such as creating an accurate picture of your firm for prospective candidates. Discuss with them company statistics, values, mission, objectives, etc. This way the candidates can see if your company aligns with their own requirements. Also, with there being a large number of potential advertisements and postings out there in cyberspace to recruit tech developers, you certainly would want yours to stand out, isn't it?
So think about what exactly makes your business and this position of dedicated developer stand out from the rest. Consider researching other postings & listings similar to yours. Once you research, you would know what you can say better and add to your job listing so that it stands out to a potential candidate. In the job posting, make sure to mention the specifics like what department a candidate is being hired for, the types of technology platforms & software that they will use regularly along with other vital information, like Salary.
Outsourcing Is a Savior
Every growing technology business sector is in dire need of skilled and qualified developers. Most small and midsize firms, who don't have a budget for their own developers, tend to outsource. Today, outsourcing is a common practice that many companies are involved in and it is benefiting them greatly in many ways. However, for some as it is not possible to have their own developers owing to budget constraints, and here Outsourcing offers them this wonderful opportunity to get quality developers. Even though many find the concept of outsourcing pretty impersonal, but it surely is a quick, and quality alternative to looking for a candidate through the other channels. Often, even when the budget allows, it is time-taking to recruit, interview, hire, & onboard a candidate, while outsourcing saves the pain as well as your time. This is the reason that when big companies are embracing this concept.
Outsourcing allows the tech firms to delegate in a manner that may serve them better for specific projects. Now, this might speed up a project, however, it is not a long-term hiring solution, mainly when your goal is to hire dedicated developers that you will constantly grow with your business. Meanwhile, Outsourcing also allows you to find further networking opportunities to connect with new talent.
It can be challenging to hire the best-fit developers for your firm, but when you keep these few things in mind, then the process gets easy and smooth. Also, ensure to give yourself enough time for the hiring process which means keeping in mind your anticipated needs and keeping the vision focused on the larger picture. Meanwhile, above we mentioned the things to be considered while hiring dedicated developers, but do you know what qualities you must exactly look for in your prospects. With these tips to hire a dedicated android developer or an iOS developer, you would surely be able to associate with a team that helps you generate great profits in no time.
Easy Guide & Steps to Hire Dedicated Development Company That Upscales Your Business
Hiring a dedicated development team is surely a challenging task that would need lots of effort and time. If by any chance you hire the wrong team it is going to reflect in heavy loss. With the right team, you can enhance your work culture and make sure that you get the most of your investment.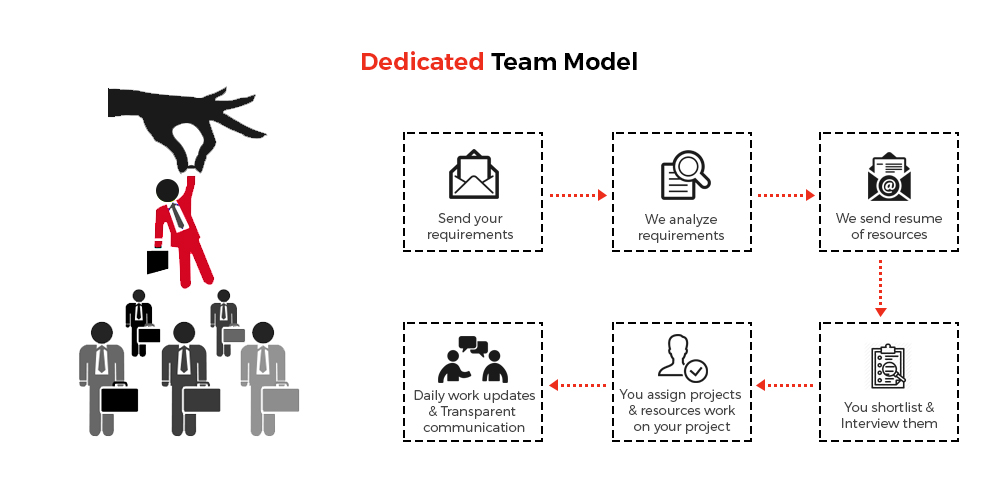 This is not a one-way road. The team would ensure productivity and subject knowledge and everything, but what is important is the hiring process. If you ask the right set of questions then you would surely be in a win-win condition.
Characterize the Job Before Hiring an Employee
The most important point is to make sure what you expect the dedicated team to do. A brief of the work that is to be accomplished empowers the team to gather data about the projects, duties, fundamental abilities, results, and workplace of a specific job. All the information related to the work investigation is the key point to building up the expected set of responsibilities for the new representative. The set of working responsibilities helps you to design your enrolling system for recruiting the correct worker.
Plan Your Employee Recruiting Strategy
As the set of job roles is defined, set up an enlisting arranging meeting that includes the key team members who are recruiting the dedicated development team. The recruiting administrator is urgent to the arranging. At this team, your enrolling procedure is arranged and the execution starts. Groups that have cooperated as often as possible in recruiting a worker can frequently finish this progression by means of email.
Utilize a Checklist for Hiring an Employee
This agenda for recruiting a worker will assist you with arranging your cycle for employing a representative. Regardless of whether it's your first worker or one of the numerous representatives you are recruiting, this agenda for employing a representative assists you with monitoring your selecting endeavors. The agenda for employing a worker keeps your enrolling endeavors on target and imparts progress to intrigued representatives and the recruiting supervisor.
Enlist the Right Candidates When Hiring an Employee
You can create associations with potential applicants well before you need them while recruiting a representative. These thoughts will likewise help you in enlisting an enormous pool of up-and-comers when you have a current position accessible.
The more qualified applicants you can create while recruiting a representative, the more probable you are to find a certified likely worker. Try to find the most ideal approaches to build up your ability pool while recruiting a worker.
Survey Credentials and Applications Carefully
Crafted by exploring resumes, introductory letters, employment forms, and request for employment letters begins with an elegantly composed set of working responsibilities. Your bulleted rundown of the most wanted attributes of the top competitor was created as a component of the enrolling arranging measure.

Review Your Candidates
The main motivation to review your competitors while recruiting a worker is to save the talking and choice panel time. While an up-and-comer may look great on paper, a prescreening meeting will advise you if their capabilities are really a fit for your work.
Moreover, in the hiring process, you can decide if their compensation assumptions are compatible with your work. A gifted phone questioner will likewise acquire proof about whether the up-and-comer may fit inside your way of life—or not.
Ask the Right Job Interview Inquiries
The prospective employee meeting is an incredible factor in recruiting a worker. The prospective employee meeting is the key apparatus managers use in recruiting. The new employee screening questions asked are basic in amplifying the force of the new employee screening to help you in recruiting the correct worker.
Inquiries that help you separate attractive competitors from normal applicants are crucial while recruiting a worker. New employee screening addresses make a difference to businesses.
Check Backgrounds and References When Hiring an Employee
Viable historical verifications are quite possibly the main advances while recruiting a worker. You need to confirm that every one of the introduced, real qualifications, abilities, and experience are really controlled by your up-and-comer.
The historical verifications should incorporate work references, particularly previous managers, instructive accreditations, business references and real positions held, and criminal history. Other personal investigations while recruiting a worker, for example, record, should be explicitly identified with the work for which you are employing a representative.
Critical Factors to Consider Before Hiring an Employee
At the point when you consider recruiting a representative, it's enticing to extend the employment opportunity to the competitor who is most similar to you. The competitor feels as good as a very much worn shoe. You will not get a lot of shocks once you make the proposition for employment, and your gut is agreeable that your #1 up-and-comer can do the work.
Be careful, be careful with this training while recruiting a worker. For what reason does your association need another representative very much like you? Here are the seven basic elements to consider prior to recruiting a worker and making a proposition for employment.
Broaden a Job Offer
The bid for employment letter is given to the applicant you have chosen for the position. Most habitually, the competitor and the association have verbally arranged the states of their recruit and the bid for employment letter affirms the verbal arrangements about compensation and advantages.
The more senior the position, be that as it may, the almost certain the proposition for employment will transform into an extended exchange about compensation, benefits, the business end, reward potential, severance pay, investment opportunities, and more while recruiting a representative.
Utilize Effective Employment Letters When Hiring an Employee
These offer letters will help you to dismiss work competitors, make bids for employment, inviting representatives, and more while recruiting a worker. Utilize these example business letters to build up the work letters you use in your association while recruiting a representative.
If you play your game right then you can make sure that the team that you hire is right and helps you earn great results.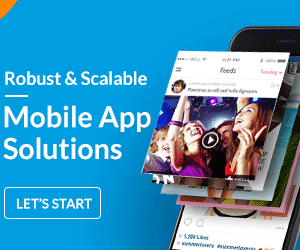 Qualities That a Dedicated Developer Must Showcase
Here are a few points that your team needs to stick to. This would make sure that you and your team are on the same page and your investment gives you great returns.
Pushing
During the development process of a web or mobile application, developers should be able to find the issue and deal with it in the right manner. The dedicated developers need to be pushing to detect an issue and solve it before it is too late and share the information with the entire team. They should be doing it without any reminders from the managers.
Demanding
In the case of the outsourced developers, they often do not update or inform the managers about the tasks accomplished by them every day. This lack of control often has a negative influence on a developer's productivity. Hence, it is crucial to ensure the dedicated developers you hire are demanding. They should be able to constantly demand and remind the offshore developers at all times that they craft a serious product and that they are responsible for quality. This way, having a demanding developer in your team can be fruitful in terms of having full control over the offshore developers.
Self-Motivated
Usually, the managers do the job of motivating their employees, and the same goes for the development team. Hence, in some cases, if the manager is unable to attend, then the dedicated developers should be able to motivate themselves to accomplish tasks on time and keep working on the project even without a large staff that usually surrounds them. Hence, while hiring a specialist developer, ensure that this person is highly motivated towards his/her work and capable of managing the project efficiently, taking care of the deadlines.
Self-Reliant
As a dedicated developer, this person should be always ready to face any challenges that may come in her/his way during the development process of web or mobile applications and should be able to resolve issues on their own. Hence this quality to face complex situations smartly and coming up with the right solutions on time is much-needed in the developer.
Wrapping It All Up!
Of course, there will be other useful characteristics that you may successfully find in the dedicated developers, but these are the key qualities that must not be missing. These will ensure proper communication between the managers & dedicated developers. Hence, before you hire a dedicated developer, it is vital to thoroughly interview them so that you can zero upon the right person.