The history of eCommerce has grown over the years. Amazon started as a bookstore, grew to a one-stop solution, and then Flipkart, Myntra, and other big eCommerce brands entered the market. They ruled the market for a long time and then the need for domain-specific applications saw the light of the dawn. Starting from unisex stores, we have seen some men-centered eCommerce giants out there, opening the doors for some women-centric domains. And this is where Shein App came into play.
Women and shopping go hand-in-hand. And Shein is one application that has overwhelmingly used this idea to make some great profits. If you are looking forward to developing an app like Shein, this blog is specifically for you.
Who Needs App Like Shein?
Women's apparel is a great market to explore. If you have decided to enter the market with an app that deals in the market, then simply hire a SHEIN like app development team that can help you through. These days working women, home-makers, and college students, all have a busy life and it becomes easier for them to shop online. And when there is an app that is dedicated specifically to their needs, who wouldn't manage some spare time?
Once you have studied the market and its loopholes you need to move forward with a solution that is defined to fill the loopholes and cover the pitfalls of the existing solutions.
Existing Shein-Like Apps in the Market
Shein is not the only app in the market that is restricted to women's clothing. There are a few more alternatives that you can check out.
Romwe: With over 200 fresh arrivals every day the application offers great quality and a range of products. They offer sales up to 95% and have been styling women around the world at quite an affordable rate. The app owners offer a solution that makes it easier for the users to buy their favorite products at the best market rates.
Urbanic: Urbanic is another app that targets female buyers. The collection is super trendy and the prices are amazing. One can always trust the app in case they want something new and interesting.
Zara: The brand speaks for itself. The application offers some amazing discounts. One loophole here is the interface. As compared to other websites available on the internet the interface of the application is really slow and complex.

These are the top three applications other than Shein that you need to check. Our Shein-like sites development team has researched these applications well and affirms to bring to the screen the best features from each of these solutions for you.
Monetization Schemes for Your Women's Fashion App
The objective for any business that goes into the market is to make money. A well-defined monetization scheme would help you and your eCommerce store development team to build a solution that is in line with your business objective. Choose a monetization scheme you think works well and our team can help you with a product that adheres to your choice.
Models for Free and Paid App Versions
One of the most common monetization tactics, where you offer your product in both free and paid versions. Here, our women shopping app development team would limit a few features in the free app in order to entice users to pay for the app and unlock other features.
This method has two dominant advantages. One, it allows users to try out the basic app functions for free, and two, it allows the women's apparel app owner to get stronger and increase the potential profitability through app upgrades.
In-App Purchase Model in a Free App
When you hire a team to design an app for a fashion eCommerce business, this is another popular app monetization approach to consider. The basic functions and features in this model would be for free, and then certain premium features would be a pay-to-play model.
In a few cases, the user can unlock access to premium services by a fixed amount of shopping or points, while other features could be availed with in-app purchases.
Free App with Paid Subscription Model
In many cases, developers prefer an engaging free application with a subscription model. If you want to develop an app like SHEIN with a similar model you can offer to restrict access to some services and encourage your users to subscribe to the solution to enjoy profit fully. Majorly these applications can assist you in maximizing your revenues. You can showcase a few solutions in your women's fashion app, but the remainder will require a subscription.
This makes it easy to grow your business since when you search the app store for solutions, you'll find that they're all free, but if you want to use the advanced capabilities, you'll have to subscribe to the app.
The Paid App Business Model
At times, some organizations offer a paid version of their application only. Typically, these apps provide one-of-a-kind value that is difficult to get elsewhere. This is the most popular monetization approach used by productivity apps.
After purchasing the app, users can record their schedules, store services, and use features.
The Model of Collaboration
Your Women Apparel App Development team has the option of implementing a partnered model. You can partner with leading fashion brands and feature their items on your app. It will be easier for you to market your application and reflect your credibility online if you do so.
These are some business models to think about when creating an application. When you reach out to our mobile app development company, they consider your monetization scheme before working on your project.
Features to Include in Your Shein Clone App
Developing a Shein clone app is a complex task considering the features and the quality they deliver. The application has established itself as the world leader in the field of the women's apparel market and to compete with it you need to have a feature-set that helps you cover the loopholes of the application.
Our on-demand mobile app development team affirms that the solutions that are deployed to you are ladened with some unique features that set you out from the crowd.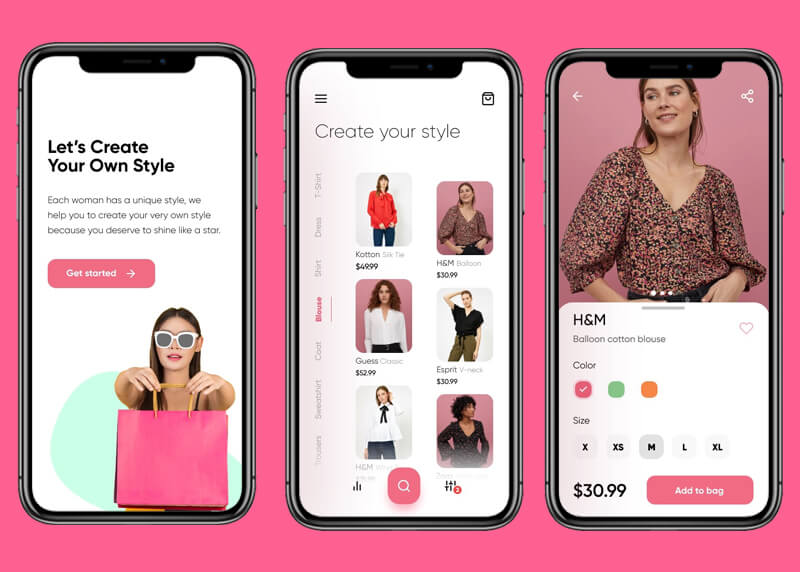 Interesting Features for the User Group
Some of the top features that the eCommerce fashion app development team suggests integrating with your mobile application are:
Ease of Registration
If your audience has to fill in a long-form they would simply find the cross on the corner of the screen.
It is vital for every mobile application to onboard clients in a simple manner. Ascertain that they do not need to share the world's information.
Allow them to sign in using only their phone number or email address.
During the checkout process, you can inquire about the location and other specifications.
Make Your Own Profile
Allow your user to build a profile once they've logged into the app. Allow customers to add a profile photo, several addresses, and a preferred payment method in order to save time on their next purchase. Users can customize the options they want to see when they log in and with predictive analytics fill up their home page with products that match their interests.
The more the engagement, the more purchases, and the bigger the revenues, the better the aesthetics.
Include Range of Services
Offer a range of products and services to boost the popularity of your women's apparel app. You can sell things from a variety of brands, and if the purchase is for a present, give your customers the option of having the gifts wrapped and packaged in a box.
It would be fantastic if you could offer your users personalized birthday and anniversary deals and discounts. This would only enhance the application's user interaction.
Reflect Products
Make your users aware of the things you're selling. It is critical to clearly display your products so that your users can make informed decisions.
We've been focusing on developing robust web applications that are simple to connect.
Show Notifications
Assure that your users are updated on what you have to offer. Push notification technology is integrated by the mobile app development team working on your women's apparel app development to keep your audience engaged with the brand. The user will feel compelled to check the notification and interact with the app as the messages appear.
Share Reviews
To keep the audience engaged, our on-demand eCommerce app developers recognize that the products on the app must be reviewed. Honest reviews serve to increase the credibility of the products sold by the app and attract more genuine customers.
Users enjoy sharing product reviews because they appreciate it when something they wish to buy is honestly reviewed.
Give Product Details
Allow your customers to see all of the product's details. Let them see the color palette, sizes, and other options that are available. Show them some related products as well, which will make the purchasing process easier.
Also, mention the return policy and any exchange policy that will help you earn more money.
Offer Discounts and Rewards
Extending prizes and discounts to your users is the best approach to ensure customer loyalty. The incentives and discounts demonstrate how much you value your customers. In-app wallets also allow them to earn coins or points that can be readily redeemed in the following order.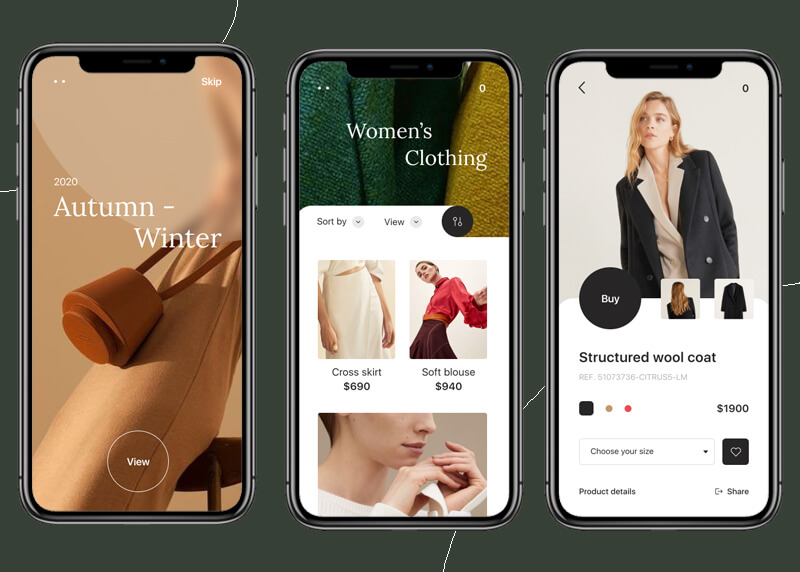 GPS Integration
We incorporate powerful and accurate GPS technology into your app, making it easier for your delivery partner to drop off your merchandise. Our mobile app development team guarantees that the solutions you've been offered have features that benefit both the buyer and the vendor, as well as the delivery agent.
Even in the least populated regions, an integrated map displays the fastest and easiest way.
Live Tracking
Our app developers allow consumers to conveniently track their orders. They can simply find out when the order was placed, what the projected delivery date is, when the order is dispatched, the courier service that will deliver the order, the order's current position, and other information.
The user can even communicate with the app via the live tracking feature in case of a delay or specific request.
Real-Time Instructions
The user may want to include specific instructions with their orders, such as adding a card or something. They might want their order to be delivered to a different address or at a different time. All of these adjustments can be made within the app.
Multiple Address Save
Let your users save multiple addresses so that they need not fill them up from scratch. You can choose to let your users add at least 5 to 8 different addresses of their friends and family they often connect with.
Schedule Delivery
It would be fantastic if you could deliver things whenever and wherever the users desire them. We allow your users to select a delivery time slot to ensure that they are not inconvenienced when their orders are delivered.
Show What's New
Let your users be aware of what you have in stock. Send them a message and have their homepage reflect what's new in stock and what current deals they may take advantage of. The key to keeping your regular clients interested in your app is to keep your inventory updated and introduce new things.
Multiple Payment Options
Allow your customers to pick how they want to pay for their orders. Our e-wallet app developers recommend incorporating a safe and secure payment mechanism inside the app. Let your customers pay using credit cards, debit cards, UPI ids, or cash on delivery.
Many businesses now accept cryptocurrency payments via the internet. As a result, you can add this to your application according to your preferences.
Blogs to Interact
Maintain a solid CMS to keep all of the fashion bloggers' articles up to date. Allow your customers to choose from a variety of fun style suggestions and purchase alternatives to ensure that they interact with the app more to get what they want.
Social Media Integration
Your consumers can share their purchases, fascinating style suggestions, and various products with their friends and relatives using a social integration button. Who likes shopping alone? Noone!
So, with an integrated social networking button, your consumers can go on a shopping spree with their friends and family.
Easy Search
Ascertain that your clients can make excellent purchases without devoting a significant amount of time. The work becomes a lot easier with simple search options.
Add complex filters to ensure that your user gets the most relevant information in a few clicks.
These are some basic features for the user panel to make your Shein clone app interactive and profit-generating. The experts associated with us make sure that the solutions that are delivered to you are ladened with exclusive features.
The Admin Part of the Story
The admin side of the application will have the following features.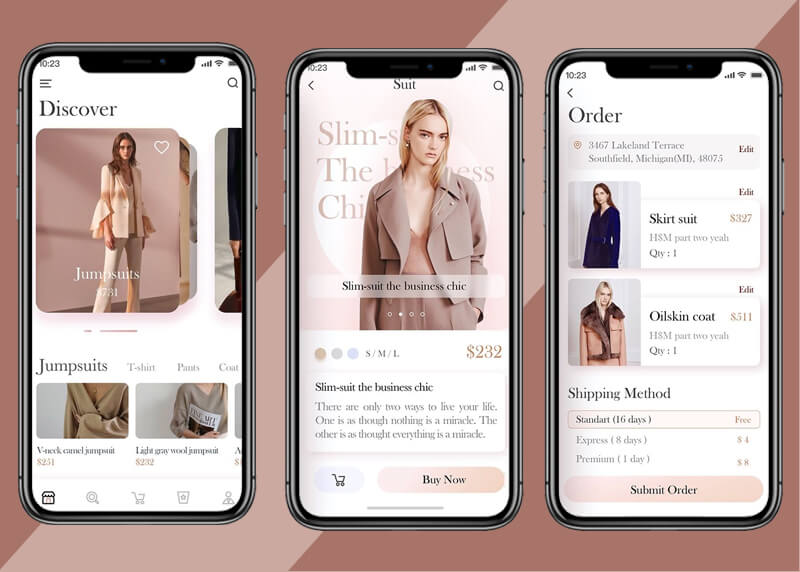 Store management
Make sure that your application shows the stores for various brands separately too. Let the products be displayed in general, but in case your user wants to visit some specific seller they must have their own store on the website too.
Listing management
Do not miss to update your listing. This is an important feature that you can actually not miss. Updating the listing not only involves adding new products but also removing the sold ones. Also, affirm that you assign proper category and segment to the products so that they can easily be located by your users on the application.
Admin dashboard
The admin dashboard is your real store. Our eCommerce mobile app development team affirms that the solutions that are deployed to you make managing and arranging things convenient.
Not just this, the admin panel is designed in a way that you can manage all the details in a few clicks.
Customer Management
We integrate CRM software with your application to make sure you do not miss any details of the application. You can track down what is working for you, what is not working for you, what products your buyers love, what they want, the reviews, everything. You can track how long your audience spends on your application and why they abandoned the cart.
Feedback Management
Talking about feedback management things become a little tough. You aren't supposed to only look after the positive reviews but consider the negative reviews too. Be it on the product or the application any negative response reflects a negative impact.
Make sure you respond to the feedback and work on them constantly to deliver services that your audience love.
Reports & Data Analytics
The CRM Software integrated with your application would make it really easy for you to analyze the data and app responses with the reports and graphical representation.
These reports can help your sales team scale up their game to deliver better results and ultimately earn great results.
Notification Management
You can manage the notifications that are dropped to your customers. We make sure that the applications that our development team works on are designed specifically to cater to your business needs.
Store Locator
When looking forward to delivering solutions that are dedicated to your business, we make sure they are defined in the right way. If you have offline stores, you can let your users know where they can go to check things and collect their orders.
Apps like Nyka have great store locator features that let users place orders online and collect things in person from the store.
Inventory Management
We make sure that the solutions that are deployed to you are integrated with great solutions. The inventory Management Software that we integrate with your application is advanced. The inventory can be managed easily, with just a few clicks. Automating the solutions takes less of your effort and helps you stay in the frontline and manage accuracy.
Logistic Integration
Another important part of the women's fashion delivery app is the logistics department. We make sure the Logistic Management System integrated with your application helps you to build solutions that are interesting and engaging.
These are some of the features that our team affirms to integrate for your ease. Another important aspect of your business is the delivery partner.

Making Lives Easier for Deliver Partners
When it comes to talking about technology development and integrating solutions with your application, we make sure to take care of all the elements that play a part in your solution. Some of the features that we integrate with your application are to make things easier for your delivery partners.
1. Comprehensive Dashboard
The driver dashboard is designed to reflect all the elements of the solution easily. They can see the scheduled deliveries, orders delivered, tips, total fret distance, etc.
2. Advanced GPS
With advanced GPS, it becomes easier for the delivery agents to drop the products in less time. The distance and traffic is reflected even in remote areas, making it possible for the delivery agents to make more deliveries in less time.
These are some of the features that would greatly benefit your delivery partners to perform better.
To enter the market with so many features you would need to have a good budget. The cost of app development depends on various factors.
Cost of Development of Shein App
The cost of the development of the Shein Clone app can be defined by various factors. The most dominant factors being
Feature Set
Application Platform
Region of Development Team
If you are looking forward to developing an application with basic features then the cost of development would be around $15k to $25k and if you are looking forward to building an application with advanced features the cost of development would be around $30k to $75k.
You can hire our team to get the best results at the most affordable rates.
Grab the Opportunity!
So, Shein like website development for women's apparel seems like a herculean task? Actually, the only thing that differentiates the applications is their feature set and how they perform. We are only a click away if you want to create a solution that will keep your buyers engaged and help you endure market pressure.
Our Shein-like app development firm is always accessible for communication. We would look after your business objectives and be accessible to answer any questions you might have.
What are you waiting for if you have a company idea that needs to be focused on? With only a click, the specialists can assist you in achieving a win-win situation.