Once a while in the day, we all log in to our favorite video-on-demand (VOD) application. It's the easiest way to watch videos online. The extent to which these applications can be used from online education to entertainment is no surprise. The affordability and accessibility of these applications make video-on-demand app development a profitable business idea.
Research predicts that by 2025, the worldwide VOD industry will generate 10.17% more income, adding USD 126,548 million.
If you're unsure how VOD operates or why it matters to you as a content provider, then read this further. All you need to understand about VOD, namely what it should be? Why it is essential? Why you ought to use it in your enterprise?
What Is VOD?
Video on Demand, or VOD, allows viewers to watch television programs, movies, and other specific video material whenever they choose. Its central idea is illustrated by the ease with which viewers can select programs from a database available on the application, and instantly broadcast them on television, desktop, or smartphone. With Video On Demand App, viewers may pause, playback, fast-forward, replay, and re-watch the program as many instances as they choose.
What is video on demand or vod?
Video on-demand application is a media system that allows users to choose any video in the platform to view at any time. Viewers may watch the footage as much as the remote gadget activates the app. Additionally, it has a connection to the internet and membership to watch videos.
The user of the VOD app can choose to stream or save the video and view it at a later time. An annual or monthly membership provide access all the video collection. The VOD applications provide freedom and the option to view your chosen content. Additionally, VOD streaming allows for the viewing of videos at a reduced bandwidth, providing access to more viewers.
VOD doesn't require cable or satellite connectivity like conventional broadcast networks, since it streams content over the internet. You can watch when you have adequate bandwidth! Consumers may search and access pre-recorded streaming material using another internet-capable device.
Read More: How To Develop On Demand Video Streaming Mobile App
What Are the Three Main Benefits of Video on Demand
There are three main benefits to video on demand. Viewers have the opportunity to
Watch Anytime They Want: Customers are free to play material anytime. VOD doesn't depend on a specified timeline like "linear" Television programming, which continuously transmits in real-time.
Choose What They Watch: Unlike traditional TV broadcasting, customers have greater freedom to choose what they want to watch.
Use Media Censorship: Use media censorship to manage how you watch the video. You can play, pause, playback, and fast-forward. They won't miss something significant doing it this way.
When you put all of this together, VOD provides viewers with the choice to see the material in a practical and approachable way. And there is a ton of entertainment available! Fitness programs, online workshops, and even corporate team-building use video-on-demand material at their foundation.
Because of its scalability and utility, many enterprises have widely employed live videos to assist or enhance their operations. This covers both public and nonprofit businesses. Any VOD provider may operate with just a website, but allowing customers to watch your content on a phone, tablet, or TV guarantees they will always have access to it, wherever they are.
Your business needs OTT apps for one simple reason: paying customers who want to get the most for their money. This necessitates having access to information anywhere. OTT applications make it simple for viewers to access your content on all devices, given that they constantly switch between them.
Now that you understand what VOD stands for, let's go through the three most popular VOD marketing strategies to see how individuals profit from their streaming video.
How Do VOD Platforms Work?
At first a video must be translated into a digital signal. Kept on a video server before it can be delivered on demand. After that, it is condensed and sent through cable or internet service to the viewer.
The video is saved on a centralized server on the audience's device. After being encoded and decoded by a set-top box. The spectators may quickly see the video and adjust its speed and other (play, stop) capabilities.
VOD makes it simple by clearly stating the purpose of movies when viewers choose them from your display guide and click the Play button on your control to watch them. The movie is broadcast to the set-top device or any additional device of their choice. Where they can watch it in much higher resolution on TVs, just like with Internet-streamed movies.
What Is the Difference Between VOD & Video on Demand and Live Streaming
Given that we now know what VOD is, it's essential to clarify how this all differs from online broadcasts and its relative. VOD and video broadcasts are OTT (over-the-top) methods of content delivery, which means they are transmitted over the world wide web as opposed to satellite or cable TV.
The term "live streaming" refers to the practice of online streaming in real-time via the internet. Because a live broadcast only happens at predetermined times, it cannot be seen at a later time. It is utilized for various events, including newscasts, press, product releases, and live sporting events.
Although data must be provided to the user's video player in several additional, smaller packages to reduce the time between transmitting and receiving the data in real-time, live streaming is more technically challenging than video-on-demand solutions. Live broadcasts utilize techniques like adjustable bitrate broadcasting to ensure seamless transmission and reduce latency on the receiver section since video players can't cache significant quantities of material.
Related Post: Best VOD Platforms to Create & Launch VOD Services
Another obstacle to commercialization is live broadcasting. Since nobody prefers to be witnessing a commercial when the game-winning player scores or a significant piece of the story breaks, viewers often won't put up with their video broadcast being disturbed by commercials. Instead, YouTube channels frequently demand money to get access, show advertisements during brief, specified commercial breaks, or obtain endorsements for the programs.
How does VOD Make Money – VOD Business Models
VOD, or Video on Demand, is becoming more common among individuals and corporate users. When what and how users watch material like movies, TV series, and videos streamed live by people or companies is up to VOD. Any video content provider may convert a devoted following into a lucrative VOD company. Listed below are the top 3 ways to monetize your films to get you began:
TVOD
Short-duration videos are mostly related to commercial video on demand. Predicated on a pay-per-view revenue model. Here, the consumers will either purchase or might rent the explicit material they wish to watch on digital platforms.
TVOD business framework is further split into two broad groups. DTR (Download to Rent), in which customers will pay a relatively less amount to view the material for a specific time period, and EST, whereby consumers receive complete control over a one-time buying. In addition, Google Play, iTunes, and other platforms provide instances of TVOD monetization schemes.
SVOD
Viewers can have complete access to a video collection using the SVOD, or streaming video-on-demand, model for a regular monthly or yearly price. With no pop-ups or advertising, these premium memberships offer users access to all of their favorite destinations on a single platform.
Most VOD consumers choose to pay money for monthly subscriptions. In reality, at least two of the top SVOD services are watched by 86% of Americans. As a result, SVOD is a dependable source of revenue for entrepreneurs. You presumably are familiar with the following subscription services:
Disney+
Hulu
HBO Max
Netflix
Amazon Prime
These behemoth streaming services are excellent SVOD examples. But any size video enterprise can succeed with subscription-based revenue models!
AVOD
Another very popular monetization strategies would be that uses advertisements for generating cash is marketing video on demand. Users may access the material without any cost, although it must tolerate intrusive commercials.
Pre-roll (performs at the outset), Mid-roll (tends to play midway), and Post-roll have become the three main types of advertisements. The AVOD marketing strategy brings in a sizable quantity of money and has a broad audience.
Although some content producers earn a stable livelihood from video-on-demand, 96.5% have difficulty monetizing their work via YouTube and other commercial marketing strategies. It's a complicated situation. Publicity means
● Stringent guidelines for your material.
● No authority over the advertisement, shown alongside your material.
● Not your material's calibre, but advertising is wholly responsible for your income.
● Less viewership because customers are unfamiliar with the majority of AVOD services.
Although AVOD models might be lucrative, they might not ultimately serve your company's goals.
What Are the Benefits of Streaming VOD?
Internet advertising is a suitable and easy method. Customers may easily purchase as many records as they are enthusiastic about. Video searches are more popular than ever. This is so that people may watch videos that they find more exciting and educational than other material forms. In reality, Wyzowl research from 2022 discovered:
94% of marketers believe that watching a video improves their comprehension of a good or service.
88% of consumers claim that seeing a brand's video persuaded them to purchase a good or service.
96% of consumers have looked at an item or service explanation video to learn more.
Although other types of information (like blog entries!) are still significant, video is still gaining popularity among viewers worldwide.
The friendliest and most understandable customer service is provided through on-demand movies. When viewers select movies from your display guide and click the Play button on your remote to watch them, VOD makes it simple by clearly outlining each film's objective.
Like Internet-streamed movies, the movie is transmitted to the set-top device. Or any other device of their choosing. Hence people may view it much better on TVs. Streaming videos is also possible with VOD, regardless of geography. Let's check out the benefits it provides:
● Communication
A device and a Best speed modem association are all required for an internet video promotion. When compared to other ways of alerts, it reduces availability difficulties. You may see online video advertising for various TV promos anytime you want from any location with the best web accessibility.
● Higher Involvement
The enhanced audience involvement offered by these streaming media providers is another advantage. VOD enables viewers to access your material on their terms, increasing the likelihood that they will watch the full video. VOD channels aid audience engagement and ensure they return for more.
More chances for monetizing, such as through marketing or paid memberships, may arise when involvement levels rise. Increased involvement may also enhance the credibility and exposure of your brand.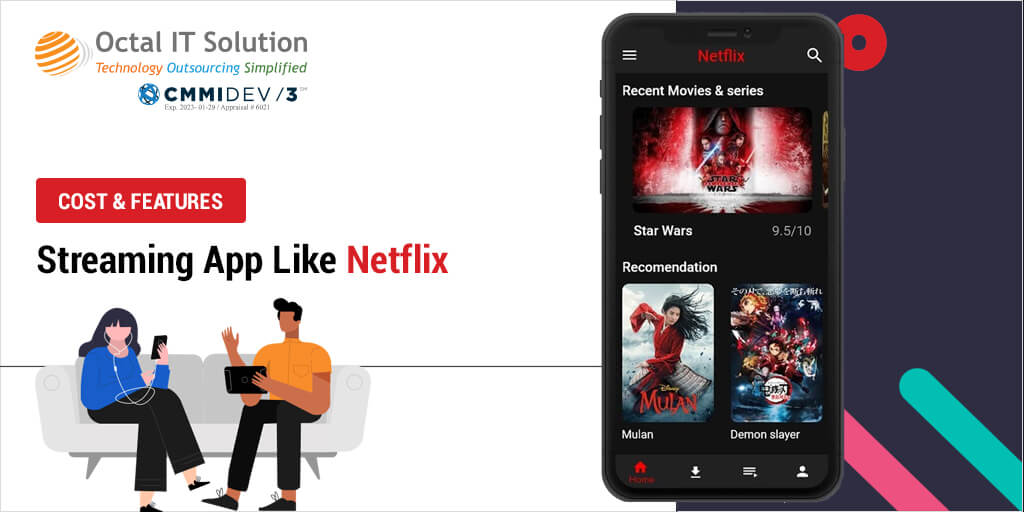 ● Diversity
Since it offers a huge selection of television shows and movies, video on Demand is becoming increasingly popular. Customers access various movies, news, sporting activities, and other media.
With more modern developments and quick bandwidth technologies, online streaming video has elevated video content to new levels. The viewers can examine distinct collections of content from numerous nations whenever they choose and with remarkable curiosity.
● More Authority Over Programming and Content
Providing you with more management over your material and allowing you to schedule the live broadcast are two additional essential advantages of VOD services. Instead of stressing over adhering to a TV schedule, you can frequently occur the material on your timetable. You may choose how frequently you want to launch new programs or movies, considering that you have more authority over your material.
You may also quickly edit your material. For content producers, the adaptability of the Video-on-Demand system is particularly appealing.
● Delivers Material of the Highest Quality
With the affiliation of the most acceptable internet speeds, participants may binge-watch the film on Demand whenever and wherever they choose. They are exempt from latency and other issues that live broadcasting may provide.
Additionally, when streaming video, the audio or pictures might be confusing, causing problems for the viewers and forcing them to leave between sessions. However, with video-on-demand broadcasting, you may easily capture a recording interview, edit the multimedia content, and then broadcast it over the web.
You may add images or captions to enhance it more remarkable, which can be challenging with live broadcasting. It could have more modern, cutting-edge concepts, inventive films, etc.

● Less expensive
Comparing online streaming promotion to TV promotion, it is far less expensive online. It is far more costly to distribute advertisements through traditional methods than it is to use internet video ads. A TV commercial costs a lot of money to produce, especially if you want to reach more viewers. Most small and medium-sized businesses can't afford to spend this much money consistently.
These spaces are quite expensive. It's captivating to use internet video notifications in place of TV advertising. Your internet movies also have a professional appearance because of the fantastic editing gears becoming more affordable and the abundance of online free and inexpensive editing tools.
This method may easily reach larger audiences and is also advantageous from a budgetary standpoint. There are many options and ways to employ online video advertising to stay competitive and achieve appraisal-focused promotions.
● Improved Metrics For Reporting
Metrics like how many people saw your online commercials, how many delayed it, how many watched it entirely, how many left or stopped watching your online videos in the middle, and so on, offer a decent estimation of the number of interested people.
With this, you may access all measures divided simply by the number of viewpoints. Additional metrics like snapping and immediate purchases can also be considered. Which is unusual for TV advertisements where you can't construct and supply information concerning a group of interested spectators.
● Watch offline
You may prefer to access your video offline. For instance, if you have poor internet service or are planning a lengthy journey. You may retrieve your material and play it offline while using VOD broadcasting.
The live broadcast is a new way to connect fans with artists, companies with consumers, and professionals, spread worldwide, and many more, from advertising to promoting products or customer engagement. Thus the demand will rise for high quality video streaming. As live streaming usage grows across various industries.
Choosing a reliable live streaming platform is more complicated and time-consuming now that so many live broadcasting commercial entities are on the market. However, making the proper choice may be aided by a specific feature, solution, pricing comparisons, and hands-on experience through risk-free trials.
Industry-Specific Usecases of Video-on-Demand Streaming
Many businesses have already widely used live video to support or enhance their activities because of its adaptability and value. This covers both public and nonprofit enterprises. Any VOD company can function with simply a webpage, but offering viewers the choice of viewing your material on a smartphone, tablet, or smart TV ensures that they always get accessibility to it, wherever they are.
For one straightforward reason – paying consumers want to receive the best value for their money – your company requires OTT applications. This entails having access to material wherever. Since viewers frequently switch between devices, OTT applications make it simple for them to watch your material on all of them.
In 2020, Statista estimates that 482.5 billion hours were consumed using mobile live broadcasting applications globally. In Q3 of 2021, live broadcasting videos had a global weekly reach of 30.4%. These 5 scenarios for live streaming of videos is as below :-
Entertainment
VOD applications include various OTT services that broadcast TV episodes and movies. These applications' streaming video doesn't need live streaming. Thus, a VOD platform will do. Netflix and Hulu are a couple of well-known instances.
Similar to this, companies that rely on tutorials- tutorials for food, fitness, dancing, etc – can thrive on video-on-demand if the hosts don't want to interact with customers one-on-one and give them live responses. Media and entertainment industries are a great market for video-on-demand applications and making the best of technology.
Learning
The relevance of eLearning applications has increased significantly in the wake of the COVID-19 epidemic. To guarantee that the annual curriculum is complete, schools ensure that learners and instructors communicate via webinars. The streaming video capabilities make it feasible for teachers to engage several pupils simultaneously.
Additionally, teachers can record webcasts so students can view them anytime needed. Live streaming and VOD are both significant factors in this.
Business
Business conferences are a regular occurrence for any company. But if you need more people to be informed about these sessions for various reasons. Such as to share their fresh thoughts internally or with early investors, prospects, or interested parties? Even if your company has many workers or you want to concurrently communicate the information/outcomes of business meetings to executives abroad and others, streaming video enables you to overcome all restrictions.
The main selling point of the VOD app is the ability to receive the needed business insights from visionary business experts who can provide inspirational talks through real-world business intelligence learning videos.
Sport
The sports sector relies heavily on video footage like the NEWS media. The sports sector needs a platform for online broadcasts and video on Demand for the audience when streaming material online. Live streaming allows for the live transmission of games, tournaments, and other events on mobile, online, TV, and VOD platforms so that spectators may access the same material at their own pace and leisure.
Consider the ESPN+ app as an illustration in this case. The app broadcasts live sporting events and provide replays, spotlights videos, news, professional commentary, and other programs from the ESPN channel. Therefore, the ESPN+ app would prime illustrate how VOD and broadcast streaming services may cooperate.

Religious
Another practice that is gaining ground quickly is faith broadcasting. Churches, temples, and synagogues all occasionally have large throngs attending religious services. Adherents occasionally, nonetheless, are unable to participate physically in the services. For instance, it could be challenging for the old or ill to go to a place of worship.
Speaking about the sick, those with infectious illnesses risk infecting others in the congregation. The current COVID-19 catastrophe is the most exemplary illustration of this situation; since the virus started spreading worldwide, authorities and medical experts have emphasized social segregation and isolation to prevent individuals from congregating in big groups.
Another reason some individuals cannot visit a worship centre is that it may not have enough room to accommodate many devotees. This can be because there aren't enough worship facilities or a particular event. Anyone can see religious services online if they visit the place of worship or view it from their home or perhaps another area.
Healthcare
Although telehealth services were quickly and widely adopted due to the coronavirus epidemic, many healthcare facilities and institutions have been employing online streaming for therapeutic purposes for a long time.
Additionally, live broadcast streaming may be used for diagnostic and surgical procedures. High-definition cameras, for instance, can be used by surgeons. To undertake surgery and undertake endoscopies, and laparoscopies more quickly. They can do the procedure more efficiently and with a clearer perspective. This makes them less tired.
Streaming surgical operations, surgeons may use video broadcasting to instruct and train med professionals, interns, and new doctors while giving them an interactive, in-the-moment experience.
During medical emergencies like the COVID-19 pandemic, they may also inform the general community and sufferers about health-related issues, take queries through live chat, and reply to them instantly.
Event
It's a smart option to communicate the content in a manner that people worldwide can comprehend because broadcasting makes it simple to broadcast information globally. It is done through real-time labeling & audible language options. Enabling end users to listen to broadcasting in the tongue in which they are most at ease.
Advertisers can now offer broadcasts with bilingual audio tracks, bilingual subtitles, or a mixture of both. Both non-native people and those who have hearing loss gain from this. Online video is being embraced by the public as never earlier. With the user base of video-on-demand expected to reach 164.9 million by 2025.
Multiple languages streaming video has made its way into seminars, broadcasts from houses of worship, and seminars. Nevertheless, multilingual live broadcasting is challenging. A complicated process and low-latency broadcasting are needed to quickly transmit the original stream to court reporters and interpreters. The multilingual broadcast would then be often transcoded and bundled into streaming media HLS for widespread distribution.
Conclusion of What is VOD & its use cases.
With the innovation of VOD apps developing simultaneously, the video-on-demand market is constantly expanding quicker. Investing in VOD application development can be concluded based on market shares and statistics. By using affordable video-on-demand alternatives, video-on-demand broadcasting also helps to benefit media producers and consumers. They are equipped with all the elements required for a low-cost webpage or app creation. And maximum profit through unique monetization techniques.
FAQs