Smart televisions are the new norm in the TV market. Over the past few decades, televisions have been the primary source of entertainment for people around the world. With the rise in the usage of the internet and smartphones, the popularity of TVs slightly declined. However, the new innovations in the field of television have kept the market alive. The TVs have got smarter, thinner, and more efficient and are still a source of entertainment.
The first smart TV hit the market in 2006-2007, but got traction after five to six years. Since these were expensive, not many people opted for them. However, the cost has become affordable nowadays. With the addition of lucrative features and functionalities, the adoption has significantly increased.
Also called a connected TV or CTV, the smart televisions come with handy features to connect with the internet. This enables users to browse their favourite music, shows, movies, and photos, the way they do on their smartphones. It can be called a combination of traditional televisions, computers, and digital media players.
Like mobile devices, there is an operating system associated with smart TVs that allow users to install apps and access digital content in a native manner. For instance, most of the Samsung smart TVs use Android, LG uses WebOS, OnePlus uses Android, and Sony uses Android. Users can install new apps from marketplaces the way they download Android apps from Google Play Store.
This has resulted in the rise of smart TV app development. Since the users want modern apps with various functionalities and intuitive interface, businesses are developing new smart TV apps. It is because people also like to do other activities on a TV, like shopping, apart from watching movies and shows,
If you are looking for a TV application development, then it is important for you to understand the current market, how to develop such an app, what features to integrate, and the cost involved in the overall development. As you read further, you will find answers to all these questions.
Why Develop App for Smart TV?
Almost every TV brand that used to produce traditional televisions is now launching its own set of smart televisions. To stay competitive, they have to follow the trend and meet the demand of people to use apps on televisions.
Here are some authoritative statistics and insights that reveal the rise of the smart TV market and shed some light on user behaviour: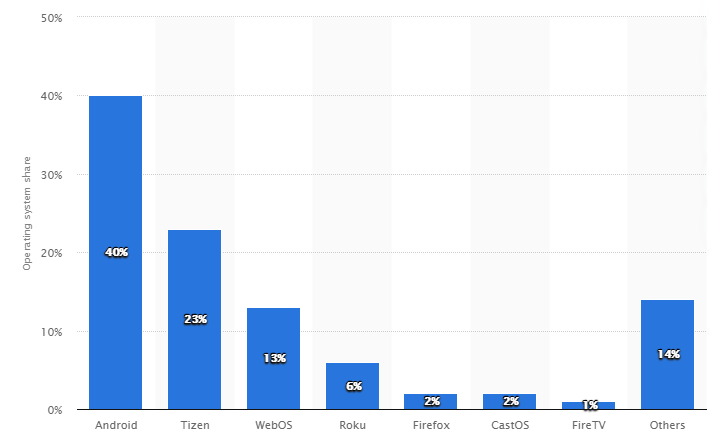 The smart TV market around the world is predicted to grow at a CAGR of 16.52% from 2021 to 2026.
TV manufacturers are joining forces with the streaming device manufacturers and smart TV app development companies to set a strong footprint in the market. For example, Samsung teamed up with several personal fitness brands to build fitness and wellness apps for its smart TVs.
In 2015, the number of smart TV shipments was 216 million. This increased to 218 million in 2019.
In 2018, nearly 70% of the televisions sold globally were smart TVs.
Android is the most used OS when it comes to TV apps development. It grabs a 40% share in the market, followed by Tizen, webOS, Roku, and others. The main reason behind people choosing Android is the native experience that it brings from smartphones to TVs.
Read Also: How to Develop a Video Conferencing App like Zoom?
The growing usage of smart televisions is an indication that people want to use apps on televisions and have the best experience with their utilities. They can use a TV for chatting, shopping, browsing, downloading, news reading, and several other purposes.
Top Platforms for Smart TV Apps
There are various platforms that you can choose for smart app development. Following are some of the famous representatives:
Amazon Fire TV app development
Android TV app development
Apple TV app development
LG smart TV app development
Panasonic smart tv app development
Roku TV app development
Samsung smart TV app development
Sony smart TV app development
Vizio smart TV app development
Solutions & Features to Have in Smart TV App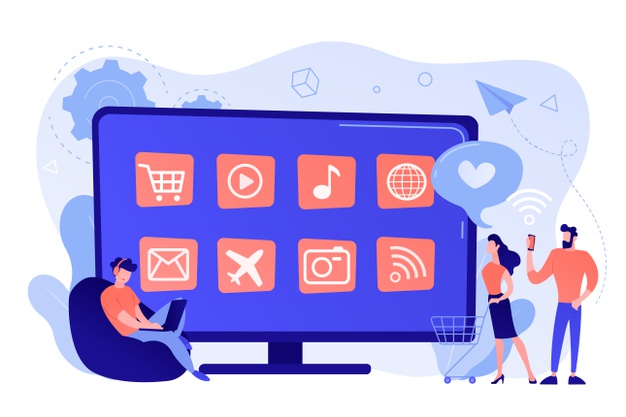 Easy Registration
This is usually the first step for users after installing the app. You must have a quick registration process that doesn't consume much time for the user to sign-up and use the app. For Android smart TVs, you can allow them to register with their Google Account directly, or ask them to enter their email address, phone number, and password.
You can also allow them to browse the content overview without logging in. For accessing full content, you can restrict them to register or log in to the app.
Search Option
Users expect a hassle-free experience while browsing the app. You may have several things in your app for the users, but it will result in a poor user experience if it is difficult for them to find what they are looking for.
That's why you must have a search feature that allows users to find their desired things quickly. The smart apps created by the top-notch smart tv app development company include this feature and make the lives of users easier. For instance, if it is an OTT app, users can type the title, genre, or other key terms to find desired shows, movies, or other videos. In the case of shopping apps, they can simply enter the product name or category and find the items they want to buy.
Smart Recommendations
This is a smart feature used by most popular TV apps like Netflix and Amazon Prime. What this feature does is track the preference, mood, history, and favourite genres of the user and suggests the content they are more likely to browse. A smart recommendation feature will boost the app engagement and the time spent by the users on the app.
It is not limited to OTT apps or shopping apps, but also to other types of smart TV apps such as e-learning, fitness, etc. For instance, if it is an e-learning app, it will recommend the courses, videos, or chapters on the basis of the user behaviour, browsing history, and other factors.
Continue
The role of this feature is to enable users to continue reading, watching, or browsing the content they had left unfinished the last time they used the app. For example, there can be long videos that they couldn't watch in one go. So, when they log in again, you can help them to continue from where they left. This way, they won't have to wonder how much they watched and from where to continue. It is great for user experience.
Information
You can include an Info feature or FAQs section in the app where users can look for help related to the key features of the app, content, support, etc. Having this feature means they can find all the essential information related to the app within the application.
Voice Search
People nowadays use smart devices and digital assistants like Amazon Echo, Alexa, and Google Assistant. These devices can be connected to most of the smart TVs. In order to allow them to search using the voice commands, integrate a voice search option.
Fast UI
When it comes to the app's performance, you should never give a second thought to the speed at which it loads. It must be fast in all instances. Don't make users wait for the things to load. The user interface must be faster and interactive so that users don't get irritated with your app.
Media Player
Not every app will need a media player. But if any content on your app is video, audio, or photo, then you need to integrate a media player to play the content. For instance, it is more convenient for a family to see the pictures on a big screen rather than seeing these on a small mobile phone.
Read Also: How to Create a Streaming App like Netflix- Key Features & Cost
Share
Since it is a connected television, users can share the content with their friends or family members right from the TV. Ask your smart TV developer to integrate this feature if your application has content that users would like to share.
Support
Most of the smart TV app development companies integrate this feature to allow users to report the issues or send feedback. For instance, if some feature is not working properly, they can get in touch with your team to get it resolved.
Seamless remote control
Users will be navigating throughout the app using a remote. Ensure that they get a seamless and comfortable experience in navigation. The options shown in the app should correspond to the buttons on the remote so that users don't get confused about which button to press for certain operations.
Smart TV App Development Process
1. Market Research
If you want to develop a smart TV app, then the first thing to do is do a market analysis. Based on your region of the target audience, find the number of smart TV users in the market, current competitors, likelihood of your app to be used, most used operating system, and the future aspects. This is vital for the success of the app. You can't launch a smart TV app in a region where the majority of people are still using traditional televisions.

2. Finalize key features & functionalities
Based on the type of the app, finalize the main features you want to have in the app for the end-users. To compete in the market, you must choose smart and essential elements that can drive more users and gain traction.
3. Select the operating system
Android, Tizen, WebOS, and Roku are the most popular operating systems for smart televisions. Depending on the users of the operating systems in your target market, choose the right OS for your app. For instance, if the majority of your target audience prefers Android or Tizen, get your app developed for these platforms.
4. Choose app development company
There are several app development companies today, but only a few specialize in TV app development services. You must rely on an expert company in this field that can build the best app for you and deliver the expected outcome.
5. UI/UX design
While choosing the company for app development, ask them if they can take care of the UI/UX design part as well. This will save your time and money from finding another company for the design part.
6. Testing
Once the development and UI/UX parts are done, the final stage is the testing. To provide the best experience to users, the testing phase will get rid of all the potential bugs and errors in the app. It is crucial to run the tests on several screen sizes to make sure that the app works properly and meets your expectations. When you are sure that everything is good to go, then launch it on your chosen platform.
Cost of Smart TV App Development
The cost of developing a TV app will depend on a number of important factors. These factors include the chosen operating system, the experience of the smart TV app developer or the app development company, UI/UX design complexity, tech stack, testing, and the key features to be integrated.
On average, the smart TV app development cost will be somewhere between $15,000 to $40,000.
Wrapping up
If you have a great app idea, it is the right time for you to get a smart TV app developed and start the business. Smart televisions are a growing trend whose adoption will only increase in the coming years. By building an innovative app that users love, you can pave the way for an ample opportunity.
Have any doubts or questions related to app development? Get in touch with our experts or share using the comments section below.