What is the first thing that comes to your mind when you hear the word "news"?
For me, it's a picture of a newspaper along with that nostalgic feeling of sitting alongside my father in the veranda of my home with a cup of coffee in hand.
Moreover, that moment when suddenly dad starts to tell you about a new job opening in the government sector or praises someone's start-up that managed to secure an initial round of investment, with you having no clue about it and just nodding to acknowledge. It's all so fresh in my head.
This routine continued for years, but not anymore, thanks to technology whose evolution has led to a major paradigm shift.
Instead of a physical newspaper, we receive push notifications from news apps today for our daily dose of the latest happenings around the world.
Stats complement the above scenario. A survey reveals that more people prefer online media than print.
As per an article published on Forbes, more than half of the total subscribers of The Wall Street Journal have opted for a digital-only subscription, 2.63 million subscribers out of a total of 3.5 million.
While the majority of the news channels around the world have their mobile apps that provide users with the most convenient way to browse the latest news, there are entrepreneurs, on the other hand, working on new business models, and embedding innovative features into news apps for better outreach, engagement, and interaction.
With an increasing user interest in news mobile apps, investors are on a constant lookout for promising news app development start-ups to support them financially and strategically.
Want to Create a News App in 2021 – What to Consider?
The industry of short news app development is on the rise. The print sales are declining and so is its ads revenue. It's time to invest in news app development for higher returns and steady growth over time.
It is a kind of a sector that wouldn't go out of demand. However, to beat the competition you need to take advanced steps to build a groundbreaking news app that not only engages users but invites advertisers and keeps investors interested.
Before understanding the news app development features and how to make a news app, let's first go through why you should create a news app in 2021.
To increase user reach
The digital subscribers of online media are rising and with modern marketing ways you can reach out to endless prospects, readers, and audiences that might be interested in your product or app.
The smartphone market is expanding continuously, in terms of both models and market size.
In 2020, a total of 1,366 million units were shipped globally which is expected to reach 1,556 million by the end of 2026, according to a report. The more people own a smartphone, the higher are your chances to target new users.
Plus, there are no physical barriers or challenges. All you need is a competent team of marketing experts who help you reach more users via modern means of digital marketing including online advertising, search engine optimization, app store optimization, content marketing, email marketing, etc.
Moreover, getting your existing users to open the app becomes simpler than anyone can imagine, thanks to push notifications. Not only do they remind users to open the app but take them directly to the desired section of the app.

To improve user engagement
With a news app, you can engage readers in a variety of ways, by running a poll and asking about their choices or by asking them to leave a comment, initiate a discussion, pour out their thoughts and opinions, or simply by asking them to share their experience of using the app. All of these neither work in the case of a physical newspaper nor through a TV or radio news channel.
To convert more readers into customers
The conversion rate for news mobile apps is higher than for a newspaper or a magazine. Simply because readers can communicate directly with the app, participate in a contest or a quiz on the go and also initiate a buy order for a product or service the content talks about, while you benefit from its affiliate commissions.
To gain more subscribers than ever before
By 2021, 40% of the world's population will own a smartphone, a report reveals. The newspaper industry is shifting to mobile, with users wanting comfortable means of information.
As per the stats, Android smartphone shipments in quarter 1 of 2021 outpaced iOS smartphones, with 77 million units of Android smartphones shipped globally as compared to 57 million iPhones. Investing in Android news app development becomes all the more viable as investors will be eyeing to put in funds into a fresh and innovative news app project.
While the number of users is estimated to increase and so does the number of the smartphones in the world, there remains no point to debate about increased reach and eventually more paid subscribers. You'd have more than ever people to target as your potential customers in the coming years.
To offer a personalized user experience
Mobile apps give you the liberty to target users with a personalized touch. Due to advancements in technology, you get to know their interests, habits, app usage, and behavior that collectively plays a crucial role in data analytics. The news app development projects powered by Artificial Intelligence (AI) help you target users in a more comprehensive and sophisticated way based on the gathered data.
To generate more revenue
No matter how many features you integrate while making a news app, or how profound the news app development company is, it all boils down to the profits it can generate. The conversions are higher in the case of mobile apps as compared to websites or print media that mean revenue generation is no more a worrying factor.
There are several ways a news channel app can generate revenue, including banner advertising, paid promotions, sponsored news, promoted content, campaign sponsors, and subscriptions of course.
Revenue Generation Models for News App Development Project
How much money can one make when investing in news channel app development?
What are the ways an entrepreneur can earn by creating a news app?
Let's find out in the following section.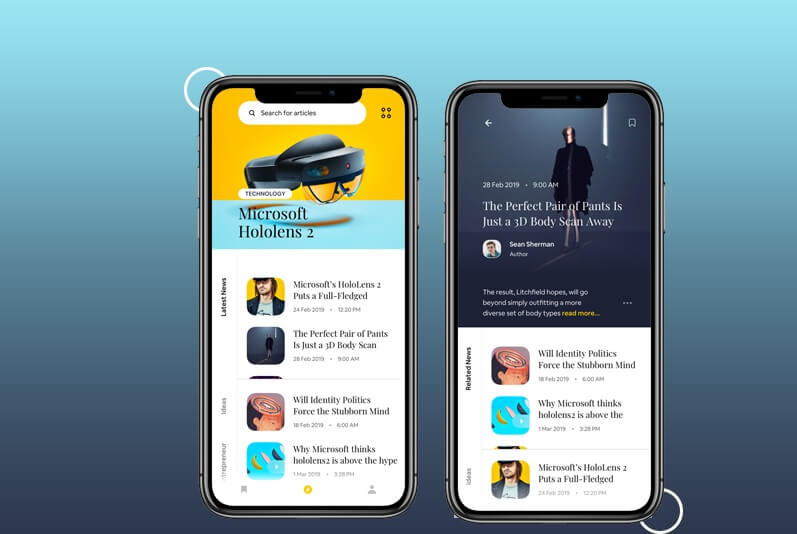 1. Subscriptions: You can offer users an ad-free premium version of the app under paid subscription along with other benefits like annual or quarterly discounts if they opt for medium to long-term subscription plans.
Usually, this way of monetization plays out well when users love your content and they don't want distractions from ads.
2. Advertising: Another popular way of making money from a news channel mobile app is by enabling paid advertisements.
Unlike newspapers, banner advertising in a mobile app works miraculously well due to its dynamic character.
In the case of a newspaper, ads are static and cannot be changed. But in a mobile app, you can enable ad rotation and invite more advertisers for the same ad placement.
Moreover, there are different ways third-party ads can be displayed within an app. The ads can be in the form of a splash, a screen that appears when a user opens the app, or they can be content-based that can be integrated within the news, or can be static banners that are displayed before and after the news content.
You can also explore new ways of advertising with your news app development company and discuss innovative ad placements during app development.
3. Sponsored content: Additional revenue can be generated by creating sponsored content for associated brands. The content can be in the form of an article explaining a brand's new product or service, or it can be a customized video, detailing a brand's new offerings.
Brands collaborate with news channels for showcasing their products in a descriptive manner and also for reviewing to give end-users a better outlook for what's coming.
It helps users to make better decisions and make purchases more quickly than usual. As a result, you'd deliver good ROI to brands you join hands with.
4. Affiliate commissions: As a news channel app owner, you can incorporate affiliate marketing funnels within the app for additional revenue generation. The users who click and buy products through your affiliate links will help you earn commissions.
5. E-store: You can also integrate your e-commerce store within the app. A multi-vendor marketplace or a sole store depends on the funds and complexity you want to put into e-store cum news channel app development.
6. User loyalty donations: In return for your impeccable services, you can ask for donations. People who like your services won't hesitate in contributing. You can gain additional benefit from user-led donations and use the same for business improvement and the betterment of the community, users, or society.
News App Development Features You Shouldn't Miss
News app development is carried out in phases. To get things rolling we suggest launching the app with the essential features and introducing advanced or more features at a later stage.
In the following section, we have included essential as well as advanced features you should be considering when working on news channel app development.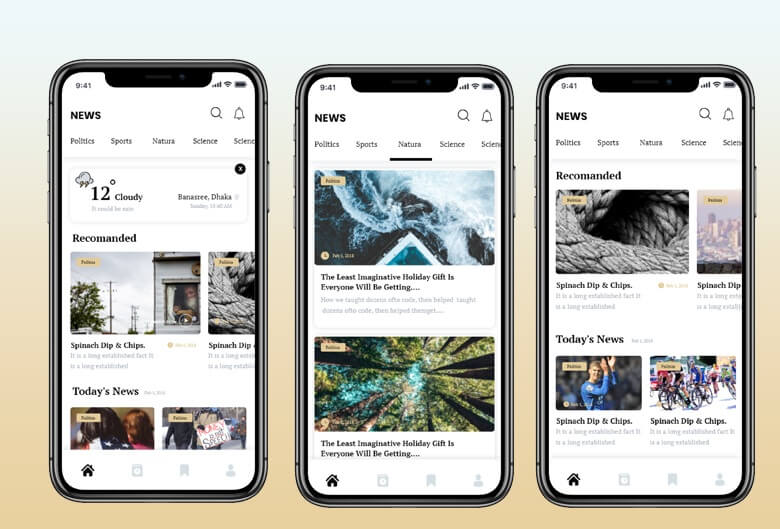 Social login for quick entry: Include a social login option to allow users quick entry into the app. The apps with manual form filling have a greater chance of abandonment so avoid having them in your app.
User profile creation option: Your app should give users an option to create their profiles where they should be able to select topics of interest, save preferences, manage account details, etc.
Discover option for better app exploring: Users should have a clear option to discover different sections of the app that they might be interested in. Ensure to highlight this option within the app.
User feed: This option gives users the power to select topics that will be displayed on their feed when they open the app.
Easy-to-locate search button: The search button within the app shouldn't go unnoticed. Ensure to design it in a way that gets the user's attention. It helps to directly search for the news users came for.
Read later option with offline access: Don't forget to include this option within your app as it is one of the most desired ones but often ignored. Users should be able to read the saved news later without internet connectivity.
Smart filter: Thoughtful filters can give you an edge over other players in the market. Try including some innovative filter option aside from the ones like "Most Popular", "Trending", etc
Social media integration: People like sharing, whether it's news content or memes. Social media integration allows them to share content with their friends and family.
Save for future reference: This feature of news app development lets users come back to a particular content for reference. It allows users to land on the right piece of content without hassles.
Commenting feature for increased engagement: You can encourage users to comment on news, drop their thoughts, and interact with news writers or other people. This helps in improving app engagement and makes users stay on the app for longer than they usually do.
Push notifications: It is a vital component of a mobile app that not only brings users back to the app in the most subtle way possible but also keeps them informed.
More features to Include in Your News App Development Project
Live streaming: If you want to make it interactive, then consider including live streaming of the news channel within the app. It'll give users an added advantage of viewing a news channel from anywhere and anytime.
Artificial Intelligence (AI): AI-powered apps are smartly coded that learn over time about user preferences, habits, and behavior. You can use insights to offer a personalized experience to the users. It can also be a must-have for your news channel app.
Virtual reality: Not just the entertainment industry, virtual reality can be a revolutionary introduction to the news app development landscape. Join hands with a potent news app development company and explore possibilities of VR in accordance with news content delivery.
Video and Audio integration: You can load your news channel app with previously-recorded debates, interviews with celebrities and well-known personalities, and talk shows for users to keep using the app. It can be another good reason to download the app and stay on it for a longer duration.
Moreover, adding an audio feature to your text-based news section can make a difference because there is a section of the audience who prefer listening over reading. You can address that section of the target audience with all the more ease and effectiveness.

Factors Responsible for News App Development Cost
Broadly three main factors impact the overall cost of building a news app. These are:
1. Platform: There are two options to build a mobile app, native and hybrid.
If you go with native news app development, then you need to build apps for both platforms separately i.e. iOS and Android (we consider only the popular ones) that would require a big wallet.
However, with hybrid app development, you can build two apps with the same codebase that would not only be light on the pocket but also let you target users of both platforms.
2. Complexity: The cost of creating an app is directly proportional to its complexity that includes things like features, design, technology, etc.
It is recommended to have a comprehensive discussion with your news app development company to get heads-up for the foreseen expenses.
Take a note: do not include all the features at once, instead release them in periodic updates.
This will help in rapid app development and you can make the app available for public use faster than usual.
Also, new features in every app update will keep users interested.
3. Security: Security provides a sense of trust to the users. The better protocols or multi-layer authentication systems are in place, the better are the chances that users would choose your business over others.
The money spent on security techniques will never go in vain.
Team Involved
Next comes the team involved in the making of a news channel app. The news app development company that you hire is likely to involve professionals like designers, hire mobile app developers (native or hybrid), backend developers, QA experts, and a project manager.
The marketing team is an added expense.
So, for building a news app with essential features from scratch you need approximately $15,000 – $20,000.
The app development cost with advanced features like AI, VR, live streaming, etc can go up to $30,000.
For exact estimation, get in touch with an associate of an experienced mobile app development company.
Create a News App That Outperforms – Discuss Now!
We are here to resolve your queries, clear your doubts, and provide end-to-end assistance on how to create a news app.
Feel free to share your requirements with one of our representatives. He'll take you through the entire process of mobile app development.
Drop an email or fill the form to initiate a conversation. We'll take it forward from there.