The arrival of IoT technology has led to many opportunities in healthcare, and they are a lot more than simply technological tools that monitor patients' vital signs from a distance. Today these systems, aka Remote Patient Monitoring System, are efficient at automating routine tasks, improving analytics, optimizing costs, and the quality of care offered across the healthcare organization.
This article discusses the remote patient monitoring system development, its many benefits, and more. Let's get started.
What is Remote Patient Monitoring System?
Remote Patient Monitoring System (often abbreviated as RPMS) is a helpful computer program to track patients' health conditions at a distance. These devices gather patient data and send it to a practitioner, helping them deliver cures promptly and precisely. 
The reasons for building a remote patient monitoring system
This new technology used in healthcare institutions became famous even before the Covid-19 crisis. However, its value was further realized when the pandemic forced people to stay locked in their homes, reducing contact between people. And since then, the demand for remote healthcare technologies and investment in software development for remote health monitoring has significantly grown.
The worldwide RPM market will be worth more than $175.2 billion by 2027, enjoying a CAGR of 26.7%. It reflects the industry's interest in technology. Around 20% of hospitals & clinics in the USA have implemented medical monitoring already, and 23% plan to implement this technology within the following year. This way, by 2024, there will be almost 30 million people using remote monitoring tools in the USA alone, and this figure will further rise with broader adoption of the 5G technology.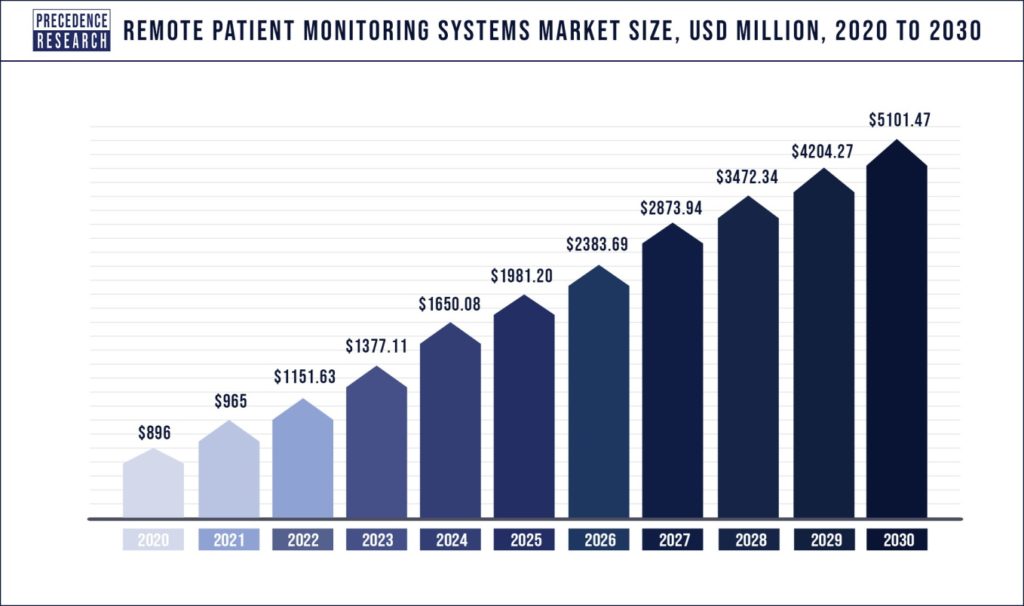 Remote Patient Monitoring System Market Trends
RPM is an effective tool for healthcare organizations, and several studies reveal that the use of RPM for chronic disease treatment diminished the risk of hospital readmission by 76 percent and increased patient satisfaction levels by 90%. At the same time, 38 percent of the healthcare enterprises that use RPM claimed that they reduced costs by 17 percent.
The RPM market size, estimated at USD 1.2 billion in 2021, is expected to grow by USD 4.1 billion by 2028 at a CAGR of 19.7 percent. The reason for this immense growth is overall digitalization, aging population, rise of chronic diseases, and human resources shortage. And now is the ideal time to create RPM software.
As per Spyglass Consulting research, 88% of providers have already invested in RPM to support patients with severe health conditions. This interest will only grow as Medicaid covers RPM since April 2021.
Related Post: Virtual Visits: How to enable Remote Doctor Appointment App Development
What is the future of Remote Patient Monitoring?
As IoT big data solutions have advanced, RPM will have new ways to improve healthcare. For instance, RPM can be integrated into wearable devices for collecting large volumes of medical data from patients. 
RPM will even use artificial intelligence and machine learning to enhance healthcare quality and efficiency for several categories of patients. Additionally, it can help:
To minimize the size of wearable RPM devices, making them less invasive for the users.
The multifunctional trackers can track multiple vital signs in a remote setting simultaneously.
Standalone remote monitoring devices can even work without EMR & EHR integration.
Hospitals & Clinics look forward to developing several modern & discreet wearable trackers that can integrate seamlessly into the existing hospital workflows. Consider these trends while designing advanced remote patient monitoring systems in the future.
Key Benefits of Remote Patient Monitoring System
The main benefits of RPM software are:
Easy access to Medical Assistance
These solutions allow patients to connect with healthcare providers from the comfort of their homes without traveling to a healthcare organization. This way, the doctors get more time to treat critical patients.
Enhanced Patient Engagement
With the help of these apps, the patients can stay connected with their care team 24/7, and the individuals get greater control over their health as they receive time-to-time reminders to stay on track and follow treatment plans.
Early Detection of Symptoms and Timely Invention
RPM allows patients to manage a balanced health status at every point of the care cycle – from arising concerns to preliminary diagnosis to quick treatment to post-discharge recovery.
Better medical resources
RPM helps reduce admission and hospital stays for less critical patients. Thus, healthcare providers can effectively utilize medical aids, like medical staff, medication, and equipment.
Types of Remote Patient Monitoring Systems
There is a range of RPM solutions for patients, doctors, and nurses, such as: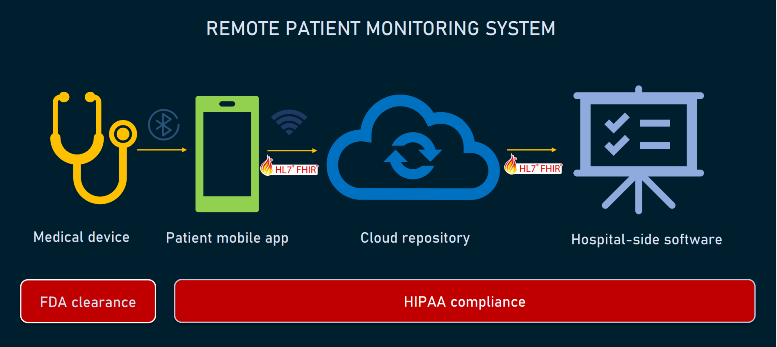 IoT medical applications
This type of RPM solution collects data from wearable devices, like smartwatches. These apps are helpful for their real-time alerts & notifications that allow people to monitor their health conditions and symptoms easily.
Live video conferencing
These apps are among the most popular RPM apps, enabling doctors to conduct video conferences with their patients in real time.
Questionnaires-based software
These apps work in a survey format, asking patients about their health conditions. It's the most common form of digital treatment available. Here the doctors ask the patients about their symptoms and conditions, and the patients answer them based on the results of these questions, and accordingly, the doctors begin the treatment.
Mobile healthcare
These software apps & intelligent devices are created to support continuous healthcare. Some examples of Mobile healthcare systems can be: Medical alert systems, Heart rate monitors, Electrocardiography devices, Respiratory rate monitors, Pulse oximeters, and Continuous glucose monitors.
Precision Care Apps
These apps collect data for medical research purposes; however, it doesn't include the interactions between healthcare providers & patients. 
How does a Remote Patient Monitoring System work?
The RPM technologies vary as per the app. However, each solution has a typical architecture that consists of the following elements, such as:
It places sensors on portable & wearable medical devices for measuring the vital symptoms of a patient. The Local Data Storage collects the data received from sensors on the patient's side and interacts with the centralized storage on the provider's side. Then there is centralized storage that collects and stores data from several sources like analytics systems, patient devices, and e-medicine.
Software is used to analyze data. It works by processing information from a centralized repository and sends alerts to carers, patients, and providers as required. Apps on a patient's device might comprise recommended diagnostic apps for patients with a heart condition, and it guides them about what to do next.
But exactly how does remote patient monitoring system work?
Data Collection & Exchange
The provider finds out the patient's conditions to be remotely managed and runs a remote patient monitoring program to offer RPM service. Then, with the patient's consent, they are provided devices to collect health data, like IoT devices, sensors, and wearables. As the devices are configured correctly, the health data is collected & transmitted from patient to provider using a cloud server, mostly electronically. Your device needs a Wi-Fi or LTE adapter to make transfer possible. The cost-effective RPM devices even enable the transfer of medical data to IoT mobile apps through Bluetooth.
Transmission
As the patient's data from RPM is collected in a database, the clinic's software (using advanced data management & analytics) can turn the data into actionable information and automatically pick the course of action. Next, the doctors will study the findings and recognize potential issues. The systems use artificial intelligence to process data and send instant alerts to patients.
Evaluation & Broadcast
Data accumulated from remote patient monitoring system is transmitted to healthcare providers through the internet, telephone, text, or other means of communication. RPM with audio & video conference capabilities simplifies communication between the doctors and the patients. You can transform a basic RPM system into a complete telemedicine platform by adding several communication functions. 
Notifications
Special emergency services send alerts to contact patients and quickly start the treatment procedure if needed. However, remember that HIPAA doesn't permit patients' information to be included in the notifications.
Comprehensive Architecture of Remote Patient Monitoring System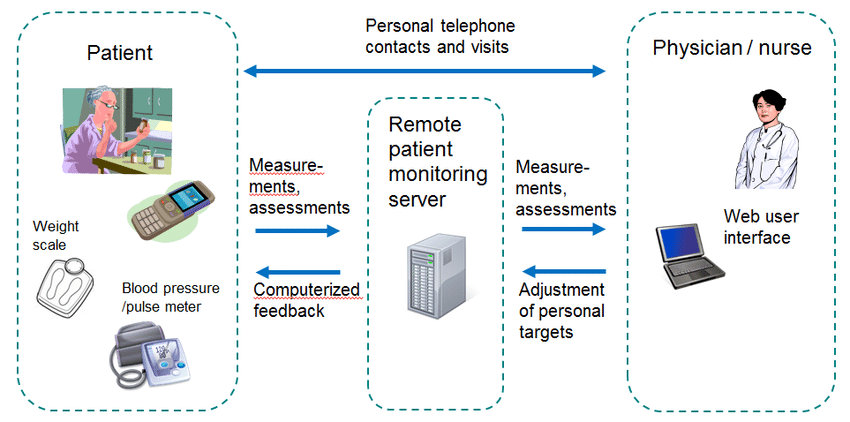 Smart-connected devices or sensors to monitor patients
It allows for collecting patient vitals, such as blood pressure, body temperature, and perspiration, and transfers them via connectivity protocols, for example, NFC, and Wi-Fi, to the cloud RPM server for further analytics. 
Patient Interface
Through a mobile app, patients can view their health parameters, log in their symptoms, receive alerts on likely medical device failure, request a video consultation with a physician or maybe a nurse, and more.
Cloud RPM server
It helps in storing, processing, and analyzing transferred medical data, the link collected vitals with data from symptoms and lifestyle logs & PHI from HER (for instance, prescribed medications, medical history) to detect any changes in the patient's state and find the causes.
Medical Staff Interface
It helps provide medical staff, for instance, care coordinators, nurses, physicians, and advanced practice nurses, access to the data on patients' health conditions and alert them on any detected abnormalities in the patient's vitals, like prolonged tachycardia, hypoglycemia, to any possible medical device issues. 
Admin Web Panel
It allows for managing the user role settings for patients and medical staff, like enabling/restricting the view of monitoring data, adding and confirming virtual appointment requests, updating medical staff's schedules, and more.
Necessary Integrations for an RPM Solution
The following integrations are crucial for an effective RPM solution:
Smart-connected patient monitoring devices: This help collect the patients' health parameters in real-time to further analyze and track the treatment efficiency.
EHR/EMR system: It allows access to patient health information (like test results, diagnoses, chronic conditions) for physicians, log the online appointments in EHR for streamlined collection of billing data, and more. 
Security Compliances: Healthcare organizations align with Protected Health Information PHI, including patient-sensitive data such as addresses, names, biometrics identifiers, medical record numbers, SSNs, etc. As a healthcare service provider, you must comply with the legal regulations that protect PHI. Here we have mentioned a few of the essential protocols.
HIPAA: The Health Insurance Portability and Accountability Act Privacy Rule regulates rules & disclosure of PHI.
FDA: The Food or Drug Administration forms guidelines to ensure medical device security.
IEC 62304: It is standard defining medical software lifecycle development needs.
ISO 27001: It is an international standard for the information security
Step-by-Step development process of Remote Patient Monitoring System
Market Research
The first step must involve familiarizing yourself with the latest market trends, like new features, apps that have been already developed, and the pros and cons of each existing solution. For this, it's essential to do a competitor analysis and go through user reviews.
This makes you more aware of the avoidable mistakes that allow understanding what the app must look like to gain popularity among potential users. Based on insights gained from market research, you can create a crucial RPM value, outline a set of functionalities that deliver that value, and set measurable goals for the developers.
Define Problems
Next is the time to decide what your app's purpose will be. Usually, all monitoring solutions are associated with some issues that you have to solve to attain a particular goal. While considering healthcare app ideas, consider asking yourself questions like:
How will your app improve the lives of users?
What problem will the app solve?
Is your app going to fill an existing gap in today's services?
How is your app going to stand out from the competition?
There are numerous mobile RPMs in the market, and you must understand that your app will compete with many more. Hence you & your development team will require a clear plan and unique value proposition with key and uncommon values.
Define your audience
The third step involves defining stakeholders' goals (medical personnel, doctors, investors). As patients – elderly, children, and people with chronic diseases – require various functions, the developers can segment them by condition or time of care, whether short-term or long-term.
Choose the Tech Stack
Pay attention to study requirements and define product specifications. It is vital to clearly understand the technology stack, time estimates, and budget. A reliable IT service provider and the team can be of great help. 
Comply with privacy and compliance regulations
The medical data's safety and security, as a form of protected health information, is crucial. And here, the data collected by medical wearable and connected medical devices are no exception. Ensure that your solution's developers follow the privacy policy for HIPAA compliance.
At the same time, your IoT software solution must comply with the safety guidelines related to RPM, like ISO27001 and SOC2 Type2. When you develop medical monitoring apps, the best practices to follow are Two-factor authentication for personal identification; Secure network connection (for instance: HTTP), and Encryption of health data both at rest and in motion.
Create a Prototype
To make creating an app as efficient as possible, you can try creating a prototype to create software key components and test that out with less money & time instead of building the entire product at once. You can apply an MVP (Minimum Valuable Product) concept to the development procedure. MVP is the first app version with enough features to bring value.
The idea of MVP implies conducting various development iterations based on feedback received from the early adopters or focus groups. An MVP must include only essential app features, test them on potential users, gather feedback, and enhance functionality. It allows for making an evidence-based product that meets the market demands. The cycle development mitigates errors & unexpected crashes, facilitates scalability, and lessens the development period.
Finalize the design
It is at this stage that the development team creates UX/UI design, including sitemap & interface elements for web, mobile, and desktop apps; database (cloud solution or local server); methods of synchronization between RPM app and your database; types of monitoring devices, etc. 
Select features you want to include in the Remote Patient Monitoring System
If you want a customized health monitoring system, it's better to start with a minimum viable product (MVP) with the basic functionality that can be used to test further. Then you can gradually include the additional functionalities in the final product (even after the release). Soon, we will discuss the RPM app's main features.
Final Testing & Release
Remote patient monitoring system development is just a part of the work needed. It is vital to thoroughly test the devices to ensure the data accuracy that is received and transmitted. Additionally, once you and your team release the app, it'll update regularly and test all the processes to ensure running smoothly. 
Essential Features of RPM software
Data Tracking
The doctors work on the patient data every day, where they manually collect and analyze all the data can take up lots of resources. Due to this technology, healthcare workers get to speed up data tracking & analytics. The Remote patient monitoring software took up different health information from the blood pressure and pulse to glucose level and oxygen saturation.
As per the RPM type, the software developers can allow data tracking with forms & questionnaires, GoogleKit and HealthKit, SNA conventions implementation, wearable sensors connected by Bluetooth & Wi-Fi, software API for smooth integration with EHR, etc.
Data Exchange
RPM devices gather medical data via sensors to easily share the data with healthcare providers through a cloud server. The device needs to have an LTE adapter or Wi-Fi for the transfer. There are cost-devices RPM devices that allow medical data transfer to mobile apps via Bluetooth.
Decision Support
The integration of RPM solutions & computing systems enables data management & analytics. As the patient data comes from an RPM device in the database, the hospital management software automatically turns that into actionable insights and decides what to do next. 
Patient data security
It is well known that the healthcare sectors tend to be a large target for hackers. As per HIPAA 2019 Healthcare Data Breach Report, the industry suffered more than 41000 stolen medical records in 2019. The fines for the HIPAA act violations differ from $100 to $50,000 for each incident. This is why both the patient-side and hospital-side of the RPM app must be HIPAA-compliant. Also, the system must align with the other regulations and standards (such as IEC 62304, PDMS, ICD-10, FDA, MDDS, and more).
Online Communication
An RPM app with audio & video conferencing functionalities helps make communication smooth between doctors and patients. By adding communication functionality, you can turn a basic RPM app into a full-fledged telemedicine platform. Patients can opt for online consultations for their issues and even easily involve the caretaker and family if required.
Alerts & Notifications
Another important RPM feature is reminders that allow the users to improve their treatment & medical adherence. It is easy to share important alerts regarding changes in the health parameters and medication via in-app notifications, emails, SMS, and voice calls to patients & caretakers.
How much does it cost to develop remote patient monitoring system?
Creating a Remote Patient Monitoring System can be extremely time-consuming and takes up many of your resources. However, considering the market demand for RPM apps, your efforts will quickly reap benefits. Considering the success created by Optimize.health, an RPM startup from Seattle, raised $15.6 million from a Series-A round in 2020. And then increased its revenue by more than 800% compared to 2019. The final cost of developing the app depends on various factors that play a crucial role are:
Number of features incorporated in the app
The complexity of the platforms
Size of the development team
Location of the development
Determining the exact cost of creating an RPM app is not easy. But we can say that an RPM app with basic features will cost around $25,000-$30,000, whereas an app with advanced features built for Android and iOS platforms will cost $50,000-$60,000.
Wrapping Up!
If you desire to enhance the quality of your healthcare services, it is easily possible through proper planning and using the right technologies like RPM software. It helps attract patients and optimize the treatment processes while reducing costs. If you want to create a Remote Patient Monitoring system, you can connect with us to get an effective solution.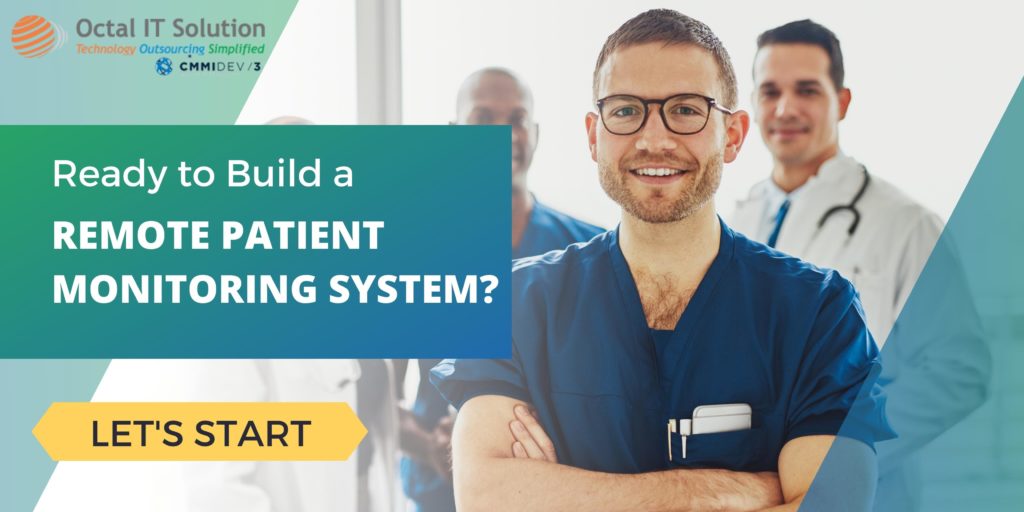 FAQs