EHR-EMR Software & Mobile Applications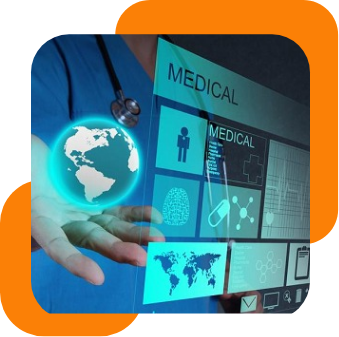 Powerful Software Solutions for EMR, EHR and PHR technologies.
Octal IT Solution develops EMR / EHR / PHR application software that can be used for additional modifications and customization according to other experts. This electronic medical record system will help you collect and share past and present information on your health. You can save the inconvenience and cost of repeating routine medical examinations. We have already tested it for general practice, psychiatric practices and more.
Our EHR / PHR / EMR software solutions and electronic medical record system consists of targeted e-health point solutions and services that can utilize technology to reduce complexity, coordination of treatment, enhancement of safety and productivity innovation delivery. With EHR integration solutions, medical insurance premium payers, manufacturers, HIE and RHIO can innovate business and clinical management to build greater competitive advantage by improving efficiency and improving patient outcome. Each solution can be implemented independently, or implemented together with other point solutions.
Our EHR/EMR Solutions
01

EHR And EMR Software Solutions
We develop and implement HIPAA compliant EHR and EMR software with robust network architecture, secure database, integration with evidence-based tools, reliable patient portal, comprehensive chart management and intuitive graphical for desktop and mobile devices.
02

EHR And EMR Mobile Applications
Implementation of cross-platform mobile health care software with real-time access and editing lab test results of EHR and EMR, radiation images, treatment planning, physician notebooks, nursing guidelines and billing information, history tracking and demographics tracking.
03

EMR And EHR Implementation
Implementation of conventional medical record system and data migration, pilot test, user training and ongoing quality improvement of always connected equipment, GE Healthcare, Allscripts, AthenaHealth, Cerner, eClinicalWorks, Raintree Systems, Meditech and openEHR.
04

Certified EHR System
In order to benefit from QPP (Quality Payment Program), we can electronically Clinical Quality Measures (eCQM) of Meaningful Use (MU). Our software utilizes SSL and TLS encryption authenticated for role-based authentication to ensure data integrity.
05

Medical Technology And EHR Integration
Interoperation for interconnecting EMR and EHR system with other health management software including PACS (Picture Archiving and Communication Systems), HIE (Health Information Exchanges), CDSS (clinical decision support systems) and PMS (Practice Management Systems).
06

Personal Health Record Software
Programming of personal health records (PHR) software and web applications. We design a module to adjust data to EMR and EHR by integrating wearable health equipment, communicating with PHR program, communicating with doctors, self-scheduling promise.

All-in-One Solution
All the required features come up under a single portal so that user can manage and monitor all the related activities without any confusion.

Data Collection & Privacy
Implementing the most effective big data analytics solutions, we easily map the data of the right patient so flows out to the therapist, and makes sure that it comes with the effective solution.

Wearable Tech & Cloud
While using all the cutting edge technologies, we create fitness apps that delivers on-demand medicine services and patient care prescriptions and beyond.

Targeting Patients Personally
We deliver solutions that comprise of medical history, health care plans and other critical data so as to make the patients realize that he is being treated personally and with utmost importance.
What Makes Us the Buzz of Tech Town
Here's what our business partners say about us.
Tech Talk: Stay Up-to-Date with Our Latest Insights
We have our eyes on what's new in the tech world and bring you the latest updates here!
Octal In The News
Octal IT Solution Has Been Featured By Reputed Publishers Globally
Let's build something great together!
Connect with us and discover new possibilities.






Gain More With Your Field Service
We're always keeping our finger on the pulse of the industry. Browse our resources and learn more.
Let's schedule a call