Ever since the evolution of the human kind there is one thing that gets the most attention and it is the health. The healthcare sector has evolved over the years and is on the verge of digitalization. If you are running a hospital you must be well-aware of the fact that managing information manually in hospital is no child's play. For effective running of your hospital the simplest solution is hospital management software development.
Do I need to mention that having an expert staff is never enough rather, you need great hospital management software that is a must to meet the demands for high quality of service. With the support of a great Hospital Management Software Development Company, you can attain a lot in the arena of healthcare.
Now that you have decided to ditch the traditional method of hospital management and adopt the modern ones, let's see what you can expect from an ideal hospital management software solution.
If your HIMS software is developed rightly it will ensure greater efficiency, faster and high-quality care for patients and a list of other advantages. All you require is to consider the needs of the staff and patients, management board, and then overlay those needs with the requirement of management system while also considering both out-of-the-box healthcare software development service providers that are certainly in demand nowadays, as well as custom hospital management solutions that could be created on the basis of specific needs of a healthcare institution. There are various sectors in the healthcare sector and each of them can take advantage of hospital management system software. These advantages are the features your solution must have.
Let's check each module and what difference does your hospital management solution make to it.
Modules of a High-Quality Hospital Management System Software
Hospital management system modules need to be worked on precisely for effective hospital working. When you hire a team of software developers to build HIMS software they do consider all the complexities well. While creating efficient online hospital management system, it is vital to consider the interests of potential users, who are divided into three groups: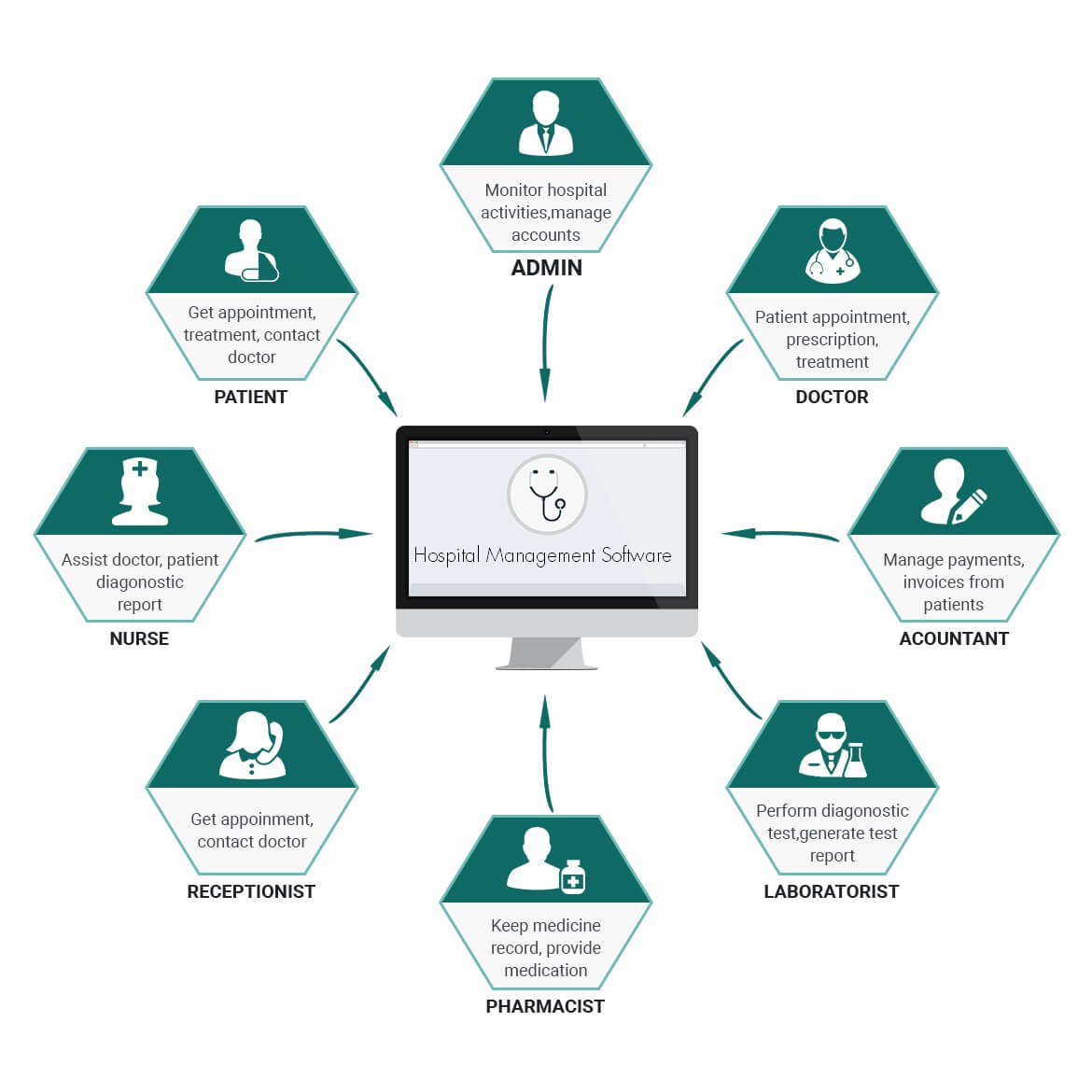 Hospital staff.
Hospital authorities
Now let's find out Modules of Hospital Management System:
Patient Registration
Vital patient information is mentioned here to maintain patient information chart, which marks the outset of demographic capture.
This section consists of UID (Unique Patient ID) to track visits.
Verifies patients' benefits eligibility automatically with the use of secured electronic data interchange.
Supports patient's emergency needs, telephonic appointments, and walk-ins.
Does it consist of the patient's details, such as name, contact information, birth date, address, employer & insurance information?
Appointment & Scheduling
This section of healthcare management software facilitates appointment scheduling of patients for doctors, laboratory & radiology service.
Update and Alerts are sent to the patients via text messages or emails to reduce no-show.
Staff & Patients can check appointments status here.
Online & Offline Appointment Availability.
Effective & Quick Patient Scheduling.
In-patient Management
All in-patient requirements are managed in hims hospital software. The details consist of patient demographics, Surgeon, Consultant, Room, Admission, Diet, etc. along with advance payment made are mentioned in this EHR software.
Forms requiring a patient signature are either in English or in regional language.
Records & generates various documents such as Consent forms for electronic signature.
The system generates a Unique admission number for every patient
Efficient to well manage admissions, transfers, and discharges.
It generates a comprehensive discharge summary.
The system ensures that the correct discharge process is followed.
Outpatient Management
The details of out-patients, the ones not admitted to the hospital, are managed here in your HIMS software.
Easy generation of reports, daily, monthly, yearly, or by date.
Simpler patient Billing & Collection.
Sends alerts to customers via SMS regarding the next vaccine dose, payment, or other purposes.
Manage payment due, advance payment and invoice
Clearly organized services, such as X-Ray, Labs, MRIs, Medicines, Consulting Services, Procedures, etc.
In-patient Billing
Hospital management software features consists billing of the patient consultancy & services with complete details of patient info & services provided on daily bases, such as Consultation, Laboratory tests, Medicines, Ultrasound, X-ray, oxygen & other gases, nursing charges, operation, room rent, etc.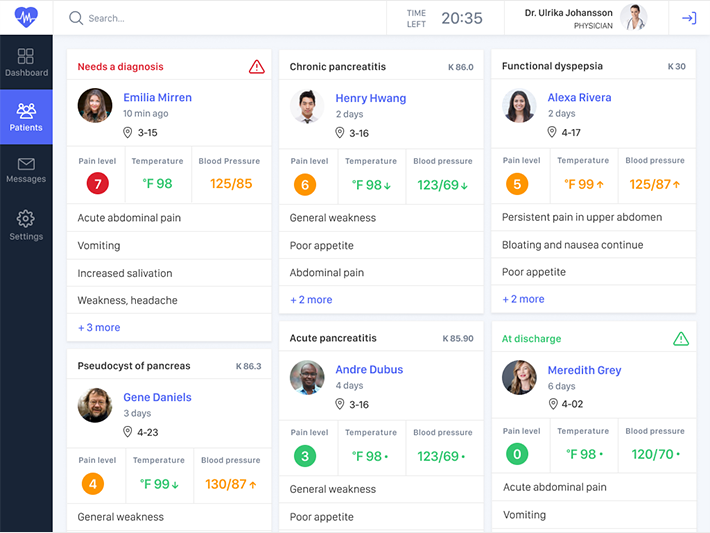 Ensures efficient revenue cycle management by sending alerts for payment overdue.
Provides Vital Data for MIS reports
Paper-based & Electronic Claim billing services to insurance firms.
Discharge Summary
This summary is automatically generated by the hospital administration software system post the patient's discharge. It occurs at the end of hospital admission and a string of treatments, and it stems from a physician's office or a hospital.
It is customizable and may also include information on laboratory reports.
It lists recommendations in an easily understandable format as discharge takes place.
Keeps records about the type of therapy administered & response.
Displays the patient's chief complaints, findings & diagnoses in an articulated manner.
Laboratory Management
The best hospital management system software is integrated with laboratory information systems. This module is used in the pathology laboratory for recording and disseminating the info related to performed tests.
Also, Read: Features & Functionalities of Lab Information Management Software – LIMS
It contains wide-ranging workflow modules.
Lab equipment is integrated with the EHR Software & Hospital Management System.
Efficient at managing exam reports of patients, medical test info, lab department activities, and commercial records.
Sends alerts via email/SMS to patients when results are available.
Makes laboratory reports available via patient portal thus facilitating a complete paperless solution.
Final reports can be viewed on the screen sent to the ward.
Tests reports are finalized by authorized professionals and only the final ones can be printed.
Billing is generated for both in-patients & out-patients.
Radiology Management
Once the radiology tests are booked at the hims system, the test-requests are automatically sent to the radiology dept.
Tests reports are finalized by authorized professionals and only the final ones can be printed.
Billing generation for in-patient & out-patient.
Sends alerts via email/SMS to patients when results are available.
Makes radiology reports available via patient portal thus facilitate the complete paperless solution.
Final reports can be viewed on-screen, sent to the ward, via email.
Smart methodologies are suggested for interpretation.
The software is entirely compatible with all of the radiological imaging technologies.
Provides a centralized reporting tool for MRI, X-RAY, Ultrasound, CT Scan & PACS.
Pharmacy Management
It is possible to manage the entire pharmacy store via pharmacy management system. Moreover, it can also be linked to the main billing. This is one of the benefits of hospital management system.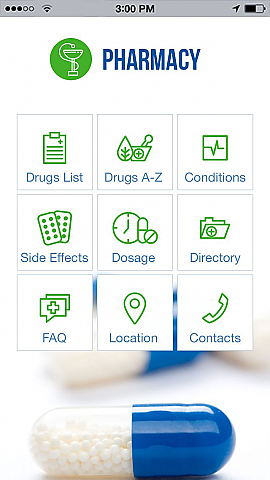 Once patients collect medicines from the pharmacy store their charges are automatically transferred to patient billing.
Avoids incorrect distribution of medication.
Arranges FIFO and LIFO dispensing methods.
Receives prescriptions from consulting doctors, sends the dispensing unit down to a particular patient, without the need for manual intervention.
Manages stock and oversees drug distribution.
Read More: How to Develop a Telemedicine app on the concept of Doctor on Demand?
Store Management
Hospital management software price includes the prices for integrating store management systems too. Here the staff can be informed what is going on with other departments and what purchases are made and when. Inventory management becomes quite easier here.
Allows bill adjustment against payments made at other departments
Manages stock & reorder levels while also show an appropriate warning of a shortage.
Maintain Issue slips & MRN
Maintains Purchase orders with due delivery dates.

Consultation Management
This is one of the most significant hospital management system features. Recording the history of the patients makes it easier to work on the basis of last visit.
Classifies the patient's visit as existing/new for that consultant.
Tracks consultant fees for in-patient & out-patient visits and also the procedures. Offers the option to define the consultant fees based on department/procedures.
The advantages that these modules get from hospital management software are the most significant features that you need to focus on. Along with this there are a lot more features that your app developer must include in your HIMS system.
What are the Industry Demands for Hospital Management Software?
The healthcare industry remains to be the most complicated and sensitive domain where experiments can be done. The information is often confidential and one cannot risk adverse impact. Features of hospital management software are to be well chosen and must provide advantage to the users.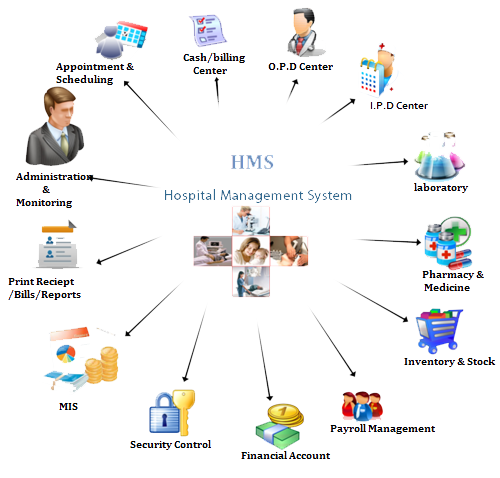 It is vital for any Hospital Management System to have these features:
An automatic call processing system
Displays visiting hours for each specific doctor on the clinic webpage. Enable patients to book an appointment at a convenient time online or even in an application.
Sends email, text, voice or push notifications to the patients regarding their appointment timings.
It goes without saying that the hospital management system offers great assistance to doctors by enabling them to spend more time caring for their patients instead of filling the documents. When talking about the cost estimation of hospital management systems these benefits are already included. Let us further talk about the features of hospital management software here.
Features of Hospital Management System
All of the modern hospitals provide infrastructure to their staff that collects patient information in one database that enables them to check disease history and test results in an efficient and faster manner. The system is valuable for doctors, as it makes analysis and decision making faster, accurate and efficient, at the same time it provides the much-needed time-table flexibility as well.
A hospital management system database template is also helpful for the nurses and doctors, as they are provided with medical protocols in concern of patients and can edit the data in patient cards. Hospital Management Software also proves crucial in the handlings of hospital administration as the ROI of these systems gets better with shortening of appointment times and increased quality of service.
Hospice management software, such as the one offered by Jotform Enterprise, plays a significant role in healthcare facilities by providing streamlined patient information and enabling efficient decision-making for medical professionals. This software not only enhances doctor and nurse productivity but also contributes to hospital administration by optimizing schedules and resource allocation.
One of the most prominent features of hospital management system is, administrative staff are able to analyze doctor schedules and calculate the hours of work put in. It can work to utilize peak hours better, reduce the time spent on the maintenance of equipment, and eliminate potential loss associated with it.
Insights can be drawn on the profitability of various lines of work, indicating the most profitable and presenting the ones that should be explored potentially. Besides, it enables the marketing department to track the effectiveness of their campaigns. The cost of hospital management system is not only about the modules but also about these features that make your software solution a perfect solution.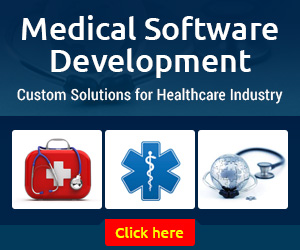 Medical Data: This section takes care of the patient's medical data, the patient's intake/outtake, medication, reading, etc.
Security Management: Role-based security is provided to users following the client-server architecture.
Service Management: These modules manage the services provided by a hospital. As per hospital rules, a rate of service is charged and it considers emergency charges, night charges, age of patient & other parameters as the rate of services for each patient is calculated.
Accounts Management: All the purchases, expenses, payments can be feed into the system to ensure accurate finance management. It allows for the reports to be imported directly from the OPD and IPD department.
Payroll & HRD Management: Here in this module, the complete salary can be computed and the module can also be attached to time machines.
MIS Reports: It is capable of providing all the key & integral and reports to management. Features to graphically analyze the reports can also be added.
MRD Management: It keeps secure the history of all patients. Moreover, the data analysis can be done in many fields and it also keeps track of ICD numbers/Bed days per consultant and other MRD Records.
Balance Sheet: Certainly, one of the most crucial aspects. The owners can have a detailed look at the balance sheet at any time and from anywhere, so those better future decisions can be taken.
Hospital management software cost is often determined by the features it includes. We have already discussed about the basic features that you cannot miss to integrate with your HIMS software. Further here hospital software development team shares some of the advanced features that make your HIMS more effective and highly efficient.
Additional Features of HMS
Well, it is a massive system and consists of countless modules and features that go into the making of Hospital Management Software. Find here the additional features comprised in this system:
Dietary Management
Pathology Lab Software
Blood Bank Management
Ambulance Services Management
Nursing and Ward Management
Bed Census Management
Financial Accounting System
Physiotherapy and Rehabilitation
Operation Theatre Scheduling and Management
Biomedical Waste Management
Housekeeping and Laundry Management
Inventory and Purchase Management
Causality and Emergency Management
Hospital Bed Management Software
These are a few important points that decide the hospital management system price. With these features integrated with your hospital management software you can easily manage the working of your hospital and focus on the noble task that you are trained to do.
What are the Benefits of Hospital Management System?
Hospital Management Software requires a lot of decision-making, which is really not possible if you lack a strong management system. As you require precise & accurate execution at each stage, the automated system in the hospital must be self-sufficient. In fact, today it is just impossible to imagine a super-specialty hospital without it. So, here let's explore the many benefits of installing full-fledged Hospital Management software:
Establish your hospital as technically-advanced
When you have this new-age hospital management software, your hospital will certainly establish itself as modern and tech-savvy medical center. After all, having a great reputation in this fiercely competitive modern environment has its own advantages.
Improved data security
Hospitals relying on the manual system are more vulnerable to data leakage and theft as compared to automated ones. An efficient HIMS ensures data security from unauthorized access. However, do ensure to invest in a state-of-the art-system with centralized controls.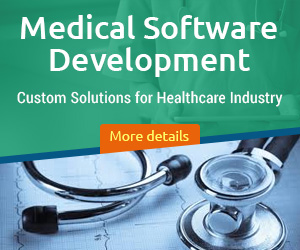 Better clinical decision-making
A good-quality hospital information management system ensures that the operational and clinical decision-making process is efficient, accurate and fast. Having an easy and single view availability of data points facilitates the doctors and medical support staff.
Avoid errors & track details
As said earlier, to manage a hospital is a huge responsibility where there is no scope for errors. However, there are chances of mistakes and errors with a manual system, while an automated management software removes chances of mistakes entirely and helps in avoiding compliance issues and lawsuits. Besides, it is easier to track a minute detail of staff availability, room occupancy and operational information in no time.
Better Revenue Management
So, the integral role of the hospitals is serving humanity, but profitability again is an important aspect as it is a business as well. Keeping a track on revenue management efficiently is only possible with an automated hospital management system, which offers accurate and fast transactional and management reports so that you know how business is performing.
Attain good quality ratings
If you dream to feature in the list of the top-rated hospitals by insurance companies, then having HMS installed is a must, as insurance and Medicare companies heavily rely on electronic data and for you to have that is possible only when having an automated system in place. Hospitals that are able to electronically send and receive patient information and medical reports get a huge preference.
These are a few advantages that you would get with HIMS software development. It helps you make your working easier and more focused. With least human intervention in your administrative departments managing and taking care of your hospital would be easier.
What Is the Cost to Develop Hospital Management Software?
A number of factors need to be considered to determine the development cost of a Hospital Management Software. After all, it is a massive software and a lot of research needs to be done to understand each viewpoint in detail and then only the costing can be known. Meanwhile, a myriad of factors impact hospital management system cost, and few of them are:
Main Features
Additional Features
Development Partner Location
Size of the development team
These factors not only help developers deploy highly efficient and acute hospital management software but also play an important role in determining the hospital software price.  With a slight budget and some technical information you can always reach to the best web developers around the world to get your hospital management software in the market. Sounds like an idea? Well it is. 
Hiring the Right Hospital Management System Development Team
If you are looking forward to hiring a hospital management system development team for your website, you can surely reach to the best website developers.

Before relying on the third-party developers make sure you check the following points:
Clientele
It is important that the dedicated developers you reached to have experience of working with similar clients. They must understand the complexities and the key aspects of developing a HIMS system.
Testimonials
The testimonials cannot be the only aspect to decide if the software development team is worth the investment. Hospital management development is quite a sensitive case and you cannot risk developing such applications with a naïve team.
Availability
When you hire a hospital management software development company for your assistance make sure you can connect with them even in wee hours. This makes it easier for you to keep track of the work and come up with reliable and effective software.
Technical Understanding
Before hiring a team for your hospital management system, just check the technical stack the team has. It is important that they understand and work with the latest technology so that they can provide you with technically sound, scalable and flexible web solutions.
These are a few points that you need to consider before you hire a software management team for your hospital management system. At Octal IT Solution, we have been helping various clients with technically advanced solutions that help them enhance their business to new heights.
Wrapping It Up!
It is evident from this detailed analysis that HMS is crucial for every modern hospital in order to have a successful run in the arena. In case you desire to make a mark in the industry and establish a valuable reputation, get this system installed in your Hospital facilities as soon as possible. There are a number of Hospital Management Software Development companies offering great services in this arena and you can choose the right firm for your Hospital on the basis of the services required.