At some point in life, almost everyone faces a shortage of money. This can happen due to varied reasons, like the sudden loss of a job, poor money management, economic crisis, or other unexpected circumstances in life. For example, the COVID-19 outbreak resulted in sudden job loss for 114 million people in the world. peer-to-peer lending app is a form of direct lending of money to individuals or businesses without an official financial institution participating as an intermediary in the deal. Therefore, in such scenarios, people want to borrow some money which they can pay later once things come back to normal. Banks provide several kinds of loans which is one of the primary options for people to lend money. However, it is not easy to get bank loan approvals. Most of the applications are rejected for several reasons. In this blog, we will discuss the most popular P2P loan apps and their development process.
But, the days of waiting for banks to approve personal loans are no longer the only options to borrow money. There is no doubt that all the banks provide personal loans, which is very useful for people. However, it is not easy to get loan approval.
In many instances, people need to wait for the bank's response, submit and prove all the collaterals, remain in a long queue, make unnecessary and multiple visits to the bank, or find an agent to get the approval. Even after all these efforts, a majority of people don't get a loan.
However, things have changed now with the advent of modern technologies and systems that provide plenty of easy options to find a loan in less time. There are peer-to-peer (P2P) lending apps that make the lives of people easier who need to borrow money.
What these p2p lending apps do is connect the people who are interested in giving a loan with the people who want to borrow money. Once both parties agree, the loan is approved instantly. There is no involvement of banks or financial organizations.
But what is a P2P money lending app? How does it work? What are its benefits? How to make money with peer-to-peer lending? How much does it cost? In this comprehensive article, we have answered all these questions, along with reasons to develop a p2p lending app and the critical features required for it.
What is a Peer to Peer Lending App?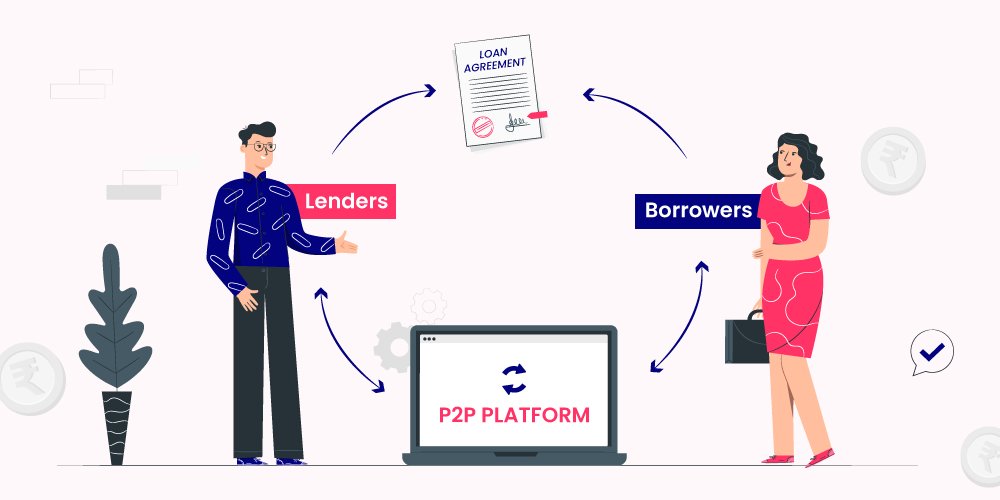 A p2p loan app is a platform that brings together money lenders and borrowers. Both the lenders and the borrowers are equal parties. The platform doesn't involve other intermediaries like banks, financial organizations, loan brokers, etc.
The money lenders and borrowers are the users of a p2p loan app. Unlike banks, these apps don't have an extensive physical infrastructure all around the region or country, and there are no staff salaries to be paid. Other additional expenses like the computer, software, etc., are also optimum. Because of these reasons, the rate of interest for loans is also lower as compared to banks.

Read More: Personal Finance Management App Development Cost & Features
How Does a P2P Loan App Work?
The working of a p2p loan app is quite simple. The app hosts two types of users: one who can lend money and another who wants to borrow money. For providing money as a lender and taking money as a borrower, here is how the app works:
The borrowers and lenders need to register on the p2p loan apps.
After registration, the borrowers need to link their bank account to the app. Usually, most such apps require the bank account to be more than one year old. Additionally, the borrower will need to add his personal information and describe their business or occupation, which the lenders can see.
On the other hand, lenders need to define what kind of loans they can offer. After this, they also need to connect their bank account so that money can be added and credited to borrowers.
The borrower will submit the loan request by defining the purpose, the amount required, preferred tenure, etc.
The request becomes visible to the lenders. If it meets their preference and criteria, they can bid on it.
The borrower can go with the most competitive rate of interest and benefits out of the multiple bids.
Both the interested parties engage and accept the terms and conditions of the loan.
The app will charge some commission and transfer the requested amount from the lender account to the borrower account.
The app will show the dates for the repayments along with the monthly amount to be paid.
Why Invest in P2P Loan App Development?
P2P Loan Apps are an alternate way to find loans for people who want to borrow money. These apps provide several benefits to both borrowers and lenders. The borrowers get the needed amount and repay in installments. Whereas, the lenders find it as a way of investment by earning interest on the principal amount.
The market for peer-to-peer loan software is rapidly growing. Here are some stats that prove the point: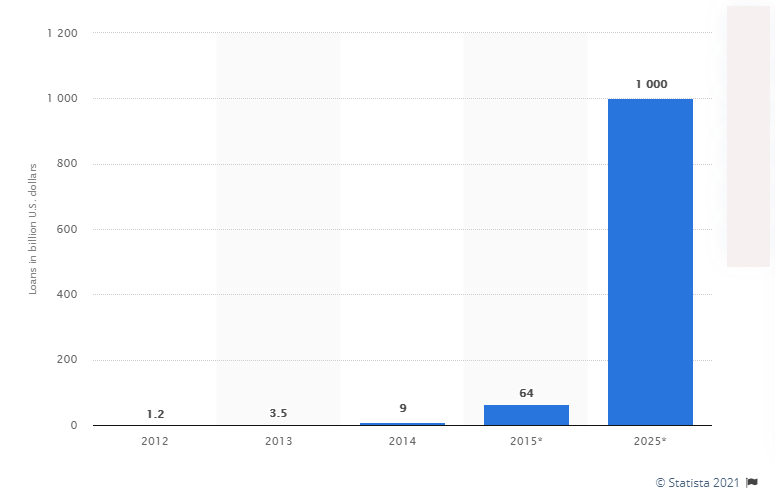 In 2013, the value of the P2P lending market around the world was $3.5 billion. Between 2013 and 2014, the market witnessed a massive growth of sevenfold and reached $64 billion. It is expected that the value of the P2P lending market will be nearly $1 trillion by 2025.
One-fourth of the people in the US already use P2P payments. The number of users was 53 million in 2014, which increased to 126 million in 2020.
The leading AI-based P2P lending app, Upstart posted revenue of $121 million in the first quarter of 2021. The company said that its revenue grew by 90% over the last year.
Allied Market Research reports that the global P2P lending market is predicted to grow at a CAGR of nearly 30% from 2020 to 2027. In 2019, the market value was $67.93 billion, which will reach $558.91 billion by 2027.
These statistics prove that the demand for P2P money lending apps is growing at a fast pace. If you are thinking of creating a peer-to-peer lending platform, then this is the right time for you to bring your idea to life.
Related Blog: Insurance Comparison Mobile App Development – Cost & Key Features
Key Features of Peer-to-Peer Loan Mobile App
The following are the primary features that you must have in a P2P loan mobile app:
Borrower Features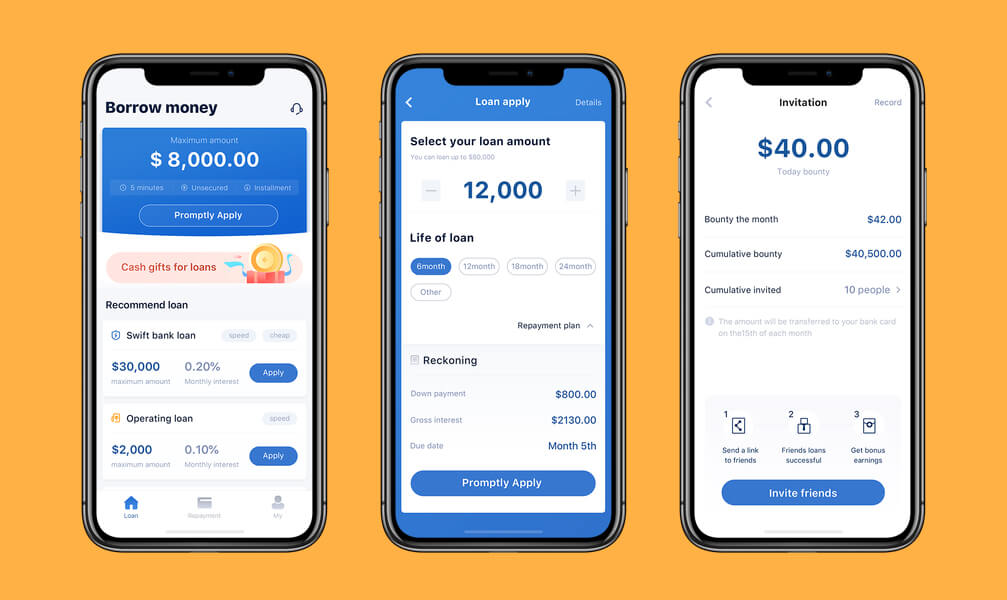 Sign up: An essential feature to allow the user to register on the app as a borrower. The user can sign up with his email address, phone number, and password.
Profile: This is an important feature to request the user to add his personal details like name, contact number, age, country and region, etc.
Bank account linking: The borrower needs to connect his bank account to the app for transactions. When a loan is approved, the money will be credited to the account.
Loan application: To allow the user to apply for a loan, there should be a form that asks for all the required details.
Notifications: The notification feature is to alert or notify the users about the loan deals available on specific types of loans. It is also a handy feature for reminding the borrower about the status of his loan application.
Reminders: Once the loan is approved and the money is credited, the app should send regular reminders about the date of repayment and the amount to be paid.
Geolocation: The app should access the user's location or ask the user to manually enter his address to know the area of the user.
Credit score: The app should allow users to check their credit score. Before applying for a loan, it should be added to the user's profile so that money lenders can see it and make bidding decisions accordingly.
Two-factor authentication: It is a must-have feature for most of apps, but it is all the more critical for an app related to finance. It makes the user account more secure and avoids any security breaches and unauthorized login attempts.
Payment methods: You must integrate multiple payment methods and gateways like e-wallet payment apps, debit/credit cards, UPI, e-banking, etc.
EMI calculator: Before submitting a loan application, allow the borrowers to calculate the EMIs based on the amount they want to borrow and the preferred number of months to repay. This gives them an idea about the amount they will need to pay per month, EMI tenure, and the rate of interest.
Repay: The repay feature is used to allow the borrowers to pay their loan EMI using preferred payment methods.
Documents uploading: Since it is about money lending, it is crucial to ask the borrower to upload their documents to prove their identity and address.
In-app camera/scanner: For uploading the documents quickly, you can integrate an in-app camera or scanner that clicks a photo or scans the document and uploads it.
In-app calling: With the feature, the borrowers and lenders can communicate on an audio call without exchanging the phone number.
In-app chat: This feature will help in enabling communication between both parties through messaging within the app.
Chatbot: The chatbot will help both the borrowers and money lenders find support and answer common queries related to app features, functionalities, and how things work on the platform.
Lender Features
Registration: The user needs to sign up as a money lender on the app with an email account, phone number, and password.
User profile: With this feature, the lender can add his personal details and information.
View documents: There should be a feature for the lender to save the documents of the interested money borrowers in a single place.
Manage leads: A lender may get multiple requests or leads for a loan. They should be able to manage all the leads and clients easily.
Notifications: The money lenders receive updates and notifications about the new loan requests and when the borrower pays the EMI.
Payment history: It will help the lender see all the payments transferred by him and the EMIs received.
Link bank account: To provide loans, the lenders will need to make transactions from the app. For this, they need to connect their bank account to the app.
Admin Features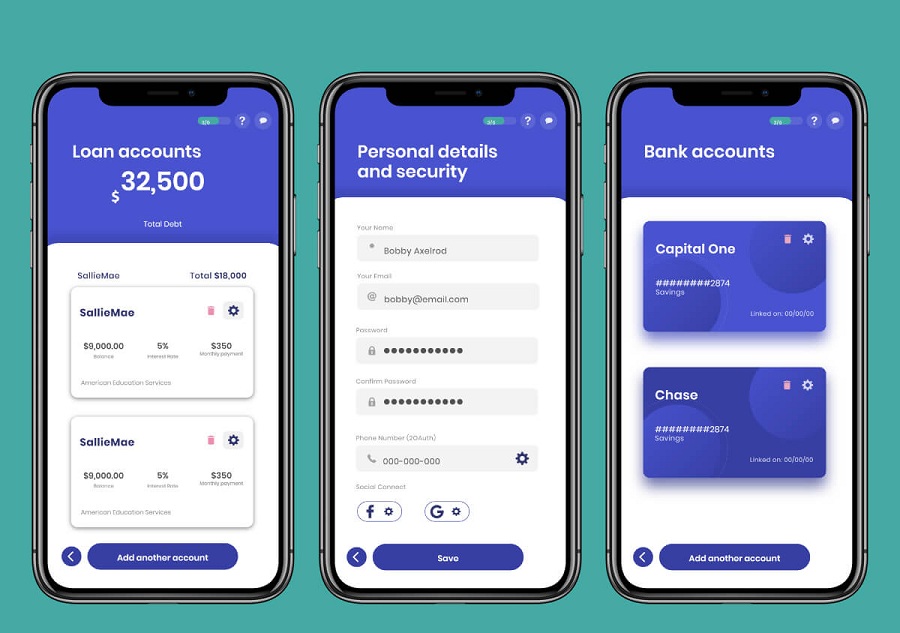 Lender management: The admin can manage all the lenders on the app, and check their profiles, activities, loans provided, etc.
Borrower management: This feature will help the admin to check and manage borrower profiles, their information, credit score, loans taken, etc.
Push notification: Admins can send notifications to the app users about the latest updates, policies, reminders about payment, new offers, etc. It improves engagement rate and drives conversions.
Analytics: It will allow admins to see all the reports and analytics in real time about the users, new registrations, number of loans approved, amount of transactions made, and the commission earned.
Account approval: Sometimes, users register on the app for fraud activities or ill reasons. It is essential to review the new registrations and approve them as users.
Loan management: With this feature, the admins can keep track of and manage all the loans, amounts, details of lender and borrower, transactions, EMIs, etc.
Rewards: This can be an additional feature to offer reward points to borrowers for paying the EMIs on time.
Read Also: How Much Does It Cost to Develop a Loan Lending App?
List of Best P2P Lending Platforms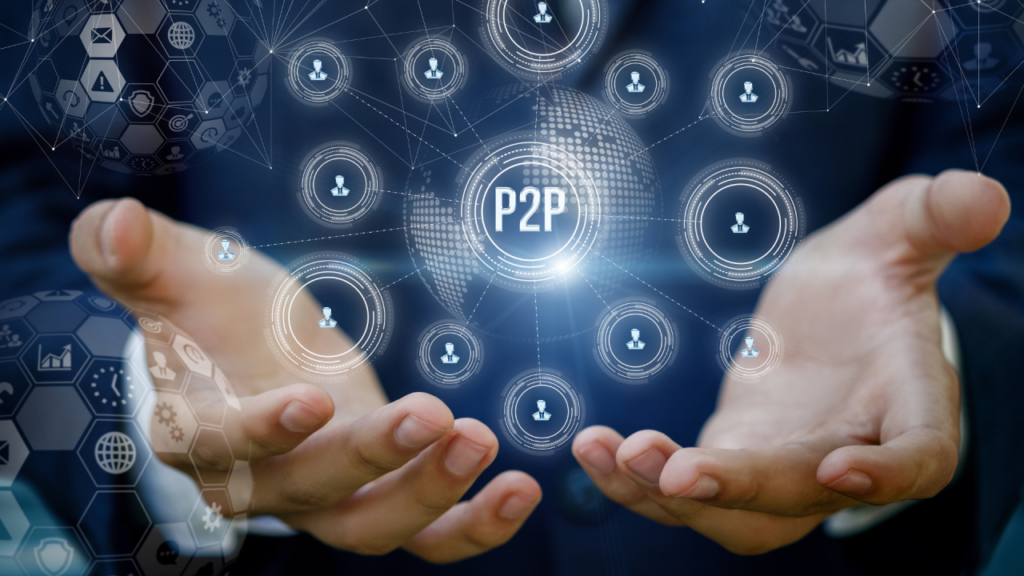 Below is the list of some best p2p lending platforms which famous across the globe.
1. Lendbox
2. Finzy
3. LenDenClub
4. Faircent
5. Lendingkart
Things to Consider Before Developing Peer-to-Peer Lending App
Before you bring your idea to action, it is crucial to know about some key factors that can cause risks to your platforms if you don't take care of them.
Government rules & regulations
You have to follow and abide by the rules and regulations set by the government of your target region. There are certain activities, governance, laws, business continuity plans, customer interface, etc., that can't be ignored.
Verify borrowers
To prevent fraudulent activities, it is crucial to have a verification process in place for borrowers. You can ask borrowers to submit some documents of proof, like government-issued IDs, tax returns, bank account details, etc.
Terms of use
You must clearly state the terms of use and privacy policy to the users before proceeding with any transaction or sharing their bank account details. They need to accept these terms and conditions.
Compliance with laws
If your app is for a particular country or region, then your app must meet all the required regulations for that region. In case you are targeting an international audience, then there are many other laws and regulations to comply with.

For instance, your app must comply with the General Data Protection Regulation (GDPR) and the California Consumer Privacy Act (CCPA). What these regulations do is provide users with the right to be informed, access, rectify, delete, or restrict the data and information that they submit or your app accesses.
Have a lawyer
Since the money lending business involves financial transactions and risks, you must have a skilled lawyer who can handle the legal issues in case things go wrong. Moreover, the lawyer can keep you informed about the legal procedures required for such businesses.
Find a financial expert
Along with a lawyer, you also need to hire a financial expert. He will take care of the policies and procedures required to meet financial regulations. The person should be experienced and skilled in all aspects of the finance and loan business.
Choose a bank partner
You need to collaborate with a bank for yourself. There will be a need for many banking services to keep your app running, which can be provided only by a bank. Numerous transactions will happen on the app, along with deals with investors. For this purpose, you can choose to partner with multiple banks if needed.
Security
Having security tools to prevent and fight cyber threats and illegal activities is a must for your app. Ask your app development company to integrate all the required security practices, such as SSL certificates, strong passwords, and advanced tools that can mitigate modern cyberattacks.
Read Also: How to Create a Mobile Payment App That Is Trusted by Experts and Loved by All
How to Create a P2P Lending Software?
Here are the essential steps for p2p lending software.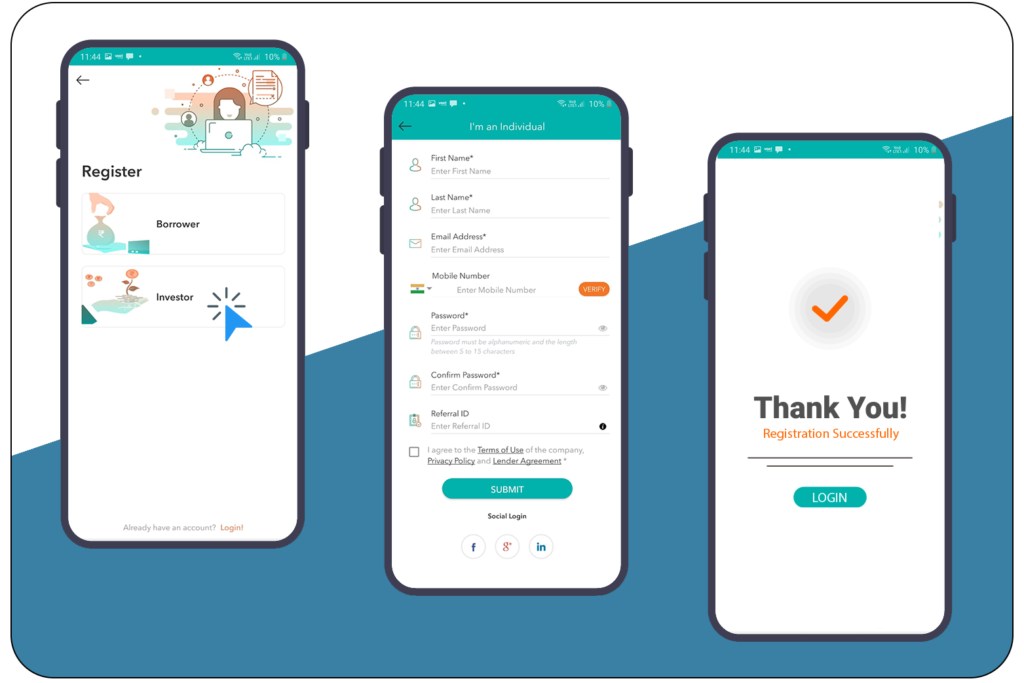 1. Study target audience and market:
The process will start with the groundwork of researching the market and the audience you want to target. You need to understand users' perspectives, challenges, and requirements in your targeted market to ensure that the app achieves success.
Find the top competitors in the market, download their apps, analyze their operations, and find their positives and negatives. See the app reviews to understand what users are expecting, which is lagging in the applications of your competitors. This will help you to include some additional functionalities and create some Unique Selling Points (USPs).
2. Choose platforms:
Will your P2P money lending app be available on Google Play Store or both? During the research, you should find the number of Android and iOS users in the targeted region. Based on this, you have to choose the platform to develop your app.
3. Finalize features:
There are already several similar apps available in the market. You need to integrate some advanced and unique features along with the essential features. Remarkable and valuable features that can make things more convenient for users will help you compete in the market.
4. Find an app development company:
For app development, you need to find a team of app developers who can work on your ideas. You can find a reliable app development company that has experience in developing financial and money lending apps. Discuss your requirements, features, technology stack, etc. Additionally, ask them whether they will handle the UI/UX design, testing, and app maintenance as well. This will save you from going for multiple companies for a single app.
5. Testing:
Once the app has been developed, the next stage is the testing. Here, the team of testers will look out for bugs and flaws that remain during the development phase. It is crucial to fix all the bugs so that the app users don't find it difficult or challenging to use it.
Read Also: How Much Does it Cost to Develop Payment Switch Application?
Peer-to-Peer Loan Platform Development Cost
Coming to the final question: how much does it cost to develop a P2P money lending app? The total cost of the app development will depend on several factors. These include:
Platforms (Android, iOS, or both)
Tech Stack
Features
Security tools & practices
Experience & location of the app development company
On average, the peer-to-peer lending software cost will be somewhere between $20,000 to $45,000.

Wrapping Up:
Hope this comprehensive guide on p2p lending software development helped you understand all the aspects you need to know. Undoubtedly, this is a profitable business idea that is in demand. If you have more questions related to peer to peer loan platform, feel free to get in touch with our team or share them with us using the comments below. Develop your own peer-to-peer lending app like Solo with our experienced and dedicated app developers.
FAQs: