The market for money transfer apps is evolving at a brisk pace, and the need for online payment transfer app development is on rise too.
The market is clearly growing and so do the opportunities for entrepreneurs. If you are one of those trying your hands to enter the market by partnering with money transfer app development company then this article is for you.
Do you know that about 80 to 90 percent of mobile apps are abandoned just after one use?
What this implies is that you need to be aware of the intricacies and challenges of money transfer app development before investing a penny into the process.
That being said, your entire focus should be on multiple factors. One of the crucial parameters that can't be overlooked at any stage is security.
If you can offer a secure money transfer app development solution to your customers then rest assured; you are going to make a lot of money. When we talk about digital transitions it is just the security and the safety of the information that is the major concern. We have been delivering better solutions and secured technology to keep your chin up in the air. Win the market with the most trusted solutions.
The transfer of money from one account to another should be seamless regardless of its type or purpose. Additionally, there are things like users' personal information, account and transaction details etc. that need to be encrypted.
As you are involved with us more in this article, you will get deep insight into many useful pinpoints for the money transfer app development.
So let's start out!
Market Stats of Money Transfer App in 2022
PayPal is used by 36% of the merchants worldwide, whereas MasterCard and Visa have a share of 45% and 43%.
58% of the people are using mobile internet for online shopping.
In recent times, instant messaging platforms have come up with quick money transfer solutions. Facebook, WhatsApp, Telegram, and WeChat are the trustful niche platforms available for the users as virtual money companions.
Digital transactions impact high tide in the industry surmounted with the gross of $64,173M and keep growing with 15.9% by 2023.
A new digital form of transactions called NFC (near field communication) is being used, especially in India and China.
Mobile payments in the Indian market have seen a promising hand, especially after the adoption of popular money transaction apps like AmazonPay (1.93%), Paytm (14.8%), PhonePe (42.5%), and Google Pay (36%) with a decent percentage of share.
As per Statista, digital remittances are highly acquired by users. This causes a great bday reminder for their loved ones. This performer greatly increased the number of users by 15.6M by the year 2025.
Popular key competitors in the market are WorldRemit, Azimo, Venmo, MoneyGram, and PayPal.
These tremendous stats help the upcoming startups and businesses to enter into this lucrative industry of money transactions just a few with fingertips on the smartphone.

Challenges Involved in Money Transfer App Development
With the growth of mobile payment apps, the risks are on the rise too. As the technologists come up with a stronger security product, the hackers use their intelligence to break through the system and this leads to the growth of a better system. It is the failure in the system that helps the technologists bring on the stage interesting and advanced solutions. A dedicated approach is the need of the hour to deal with such risks that start in the initial phase to create a money transfer app. A profound risk assessment and mitigation plan must be in place no matter what.
Let's break down the possible risks that might trouble you while building a digital wallet app or money transfer app.
1. Risk of privacy
Apps with sensitive information are vulnerable to cyber threats like data leaks and hacking. Hackers keep an eye on such apps to use the stored data for their vested interests and often the security of the apps gets compromised. To keep the data safe as a baby inside a cocoon and avoid any kind of unauthorized access, adequate measures need to be taken. We'll discuss them in the latter part of this article.
2. Risk of correctness or accuracy
With money being involved, everything needs to be correct. There should be an absolute zero-tolerance policy as far as quality assurance and data accuracy is concerned. Hackers might try to manipulate the data received. The mobile app development team needs to be on its toes to defend the system and keep mischiefs at bay.
3. Risk of fraud
Frauds are common in online payment systems. As far as the password entered or security questions asked are answered correctly, everything is fine. There is always a risk of fraud if your data gets leaked or someone in your vicinity gets hold of your private information. Hence, it is recommended to not share sensitive information with anyone, not even your close ones. There have been cases in the past wherein users were deceived to share their OTPs or passwords, emptying their digital wallets in the blink of an eye.
4. Risk of conflict
Technical glitches or slow internet connection can cause the system to stop working in the desired manner, which might result in all kinds of anomalies and conflicts between the two transacting bodies.
These are a few issues that one faces when working on digital money transfer. It is because of a lack of trust in technology that people avoid making transactions digitally. Over the years our experts have worked on ways to ensure that the transactions are never failed and the data is always secure.
We share here a few technically sound ways to money transfer app development that would result in safe and secure products.
Popular Money Transfer Apps in the World
Popular entrants in the money transaction world are the real leaders that keep motivating the industry giants, with their securable and fanatic services. We have taken out some of the top niche apps already existing in the world.
1.WorldRemit
Transfer your money without any worry. Secure payments can be done now to your family and friends, in no time. WorldRemit is known for the international transfer of data, with your bank. It has already partnered with renowned banks like MTN and Metrobank for easy transfer of money. Whether you are seated in Bangladesh or Kenya, you can transfer the money with WorldRemit, with the presence of more than 5M happy users.
2. Azimo
For quick transfer of money, Azimo offers great deals to people across the world. For first-time users, there are two absolutely free transactions with Azimo. Start with the international transfers for your hassle-free payments.
Typically best suitable for small and medium-sized businesses, they have guaranteed full security.
With more than 2 lakh outlets across the world, Azimo is known for its fast transfer funds.
3. PayPal
Get a fast and reliable money transfer at your hands. Transfer your amount via the PayPal account within a few minutes with the full protection at the buyer's security end. Top features like pay bills, transact to another bank account, or self-transfer, you have your best money companion at pace with PayPal.
With PayPal you can shop and pay at the same time, for a revert of your products, you can get refunds instantly. PayPal has gained the trust of more than 192M users, merchants across the world. It's a free and convenient app, secured with the password without worry to remember different passwords for login and transaction. Save your app with a four-digit pin and relax with your hassle-free payments.
4. Venmo
Another leading digital wallet that offers plenty of features to their users in money transferring ethics. Gone are the days when consumers kept waiting in long queues to fetch their sum from the banks or the ATM. There is a mere chance to lose the connectivity with the nearby due to peak hours or some other hassle.
Venmo comes with the solution to the merchants and to the users with easy payment options in one go. QR codes, transfer via wallet, mobile number, social media integration, e-receipt etc. have an impact greatly to pull revenues of the business. Better to transact your hard-earned income via a safe platform, with an optimal fee of 3%, and a one percent fee for transferring money to the bank account.
Related Post: Venmo Business Model: How Does Venmo Work & Make Money?
5.Moneygram
It is another giant in the name of money transfer. You can now transfer your funds from anywhere. Send money via the mobile app in a cheaper way with debit or credit cards. For more transactions, Moneygram gives rewards to users. You can transfer your money across 200 countries in 50+ currencies.
Tips for Money Transfer App Development
There are many money transaction apps in the market, each one has its unique features and functionalities, so we have prepared step-by-step methods to create the unique mobile app.
Here are some useful tips for the end-users to pay attention to when using mobile payment apps.
Lock up the e-wallet app with a secured password or pin or biometric solution (Face ID or Touch ID)
Initiate transactions to only people you know
Keep verification codes, OTPs, and other pins safe
Do not share codes with anyone
Download and use only the best money transfer apps
Take time to review the app's security and privacy policies
Keep your personal and business money transfer accounts separate
Refrain from posting your transactions on social media
Keep transactions as private as possible
Default security settings are vulnerable – review them for the best solution
Industries where money transfer apps can be fruitful for the users.
E-commerce industry
Ticketing
Utility bills
On-demand cab booking
On-demand food apps, etc.
Features to Develop the Architecture of Money Transfer Application
An application is derived from basic functionalities that are crucial to differentiate it from other apps in the market. Money transfer is a very critical verse, the business needs to take care of every intrinsic value of the feature inside the app.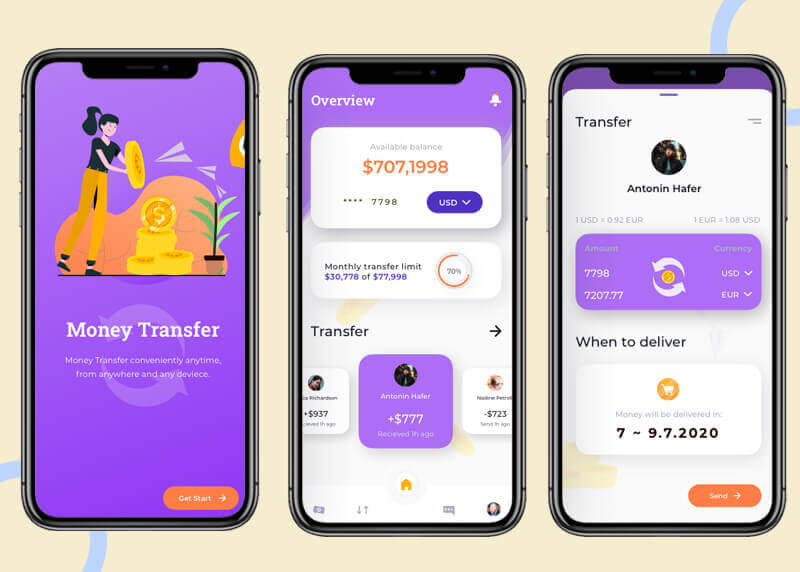 The app consists of different features for clients, vendors, and the admin. How the app functionality varies for each one, let's take a brief in detail.
Client-Side
Registration process: This is the first step for your app to get started. Under this feature, your user puts their first details for the confirmation of their real existence. Registration or sign-up process can be done directly to the app, through email, or through social media accounts.
Place money to wallet: Users can direct their money into the account or to their app wallet.
Pay your bill: With this feature, your user can transfer or transact money on different platforms for the services/products. Users can pay the bill for credit cards, phone, electricity, gas, recharge, with their phone via their wallets.
Get cashbacks: For every transaction, avail few deals to surprise your users, like discounts, offers, or cashbacks.
Split your bills: Users now have a choice to split their bills with their friends or family.
Add bank account: Facilitate your user with the top banking options to add as their accounts.
Referrals: This is a bonus feature to plug more customers inside your application. Users can refer this app to their friends or family and get a decent referral bonus in return.
Vendor Side
Place profile details: Vendors place their details in this section, add information about their shop address, account details, name, and bio.
Create QR code: This feature facilitates the user for a quick scanning option. Users need not input details for transactions.
Management of customer panel: In this section, the merchant keeps managing the details of the customers, and gets their detailed transaction history.
Easy add or remove items: Now users can quickly add or remove their orders from the products.
Place good offers: Merchants facilitate their users with the options to place great discounts and deals options on specific occasions of the year.
Rewards: This feature allows you to offer good rewards to your valuable users for using your services.
Admin Side
Dashboard: Admin is the central authority of the platform. Admin gets the detailed analysis of money transfer software development for both client and admin panels.
Vendor Management: Under this section, the admin can add, remove, and edit vendors' profiles.
Real-time analysis: Admin gets a keen insight on its platform of their e-wallet.
Security: This feature helps the admin check whether full security is adoring inside the platform or not.
Advanced Features
Advanced features give more realistic and vital space to the users and businesses, and thrive the existing performance in the market.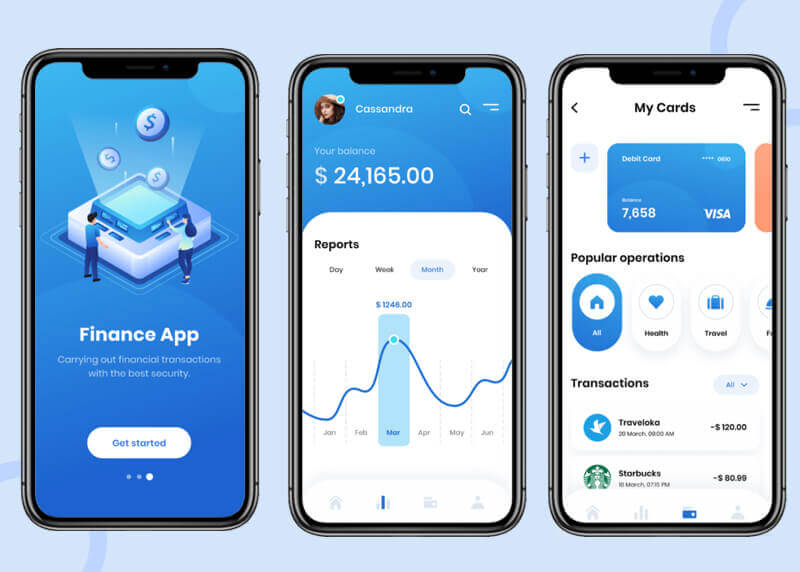 QR codes: In the fast digital world, quick payment transactions are the urge of time. Here QR quick codes and scanners are the real champ. It supports the vendors/app owners to offer their customers the quick scan option for fast transfer of money with full security.
CRM: It is the best management option for the business to integrate, monitor, and support the users at any place if they get stuck.
Push Notifications: Your application is derived with plenty of options, so it can't be easy for you to make your users commute every time. Push notifications can be a big supporter to get real-time updates on their device.
Chatbot: Users need a quick response if they have any kind of query. Chatbots are machine intelligence likewise human assistance in the time with shoot response.
Virtual Cards: This feature gives a unique personal number to the user for quick transactions.
Two-Way Authentication: The most common and widely used practice is multi-factor or two-factor authentication (2FA). A user is made to go through two or several levels before login or even before the final money transfer step. Most often a real-time one-time password (OTP) is sent to the user's registered email or mobile device (via call or SMS).
Biometrics: Biometrics can help to identify the ownership of the device via Face ID or Touch ID. This validates the right user and allows the transfer of funds to the destination account in the most seamless manner possible.
On-Demand Server Solution: Keep a track of the server load. Though initially, it shouldn't be a concern, at later stages, an incapable server can disrupt service. The best way to avoid exceeding load on the server is by a phased solution. "Uninterrupted Transaction" is one demand that most digital payment applications face. If your application cannot offer instant and uninterrupted transactions it would surely fail.
Blockchain Technology: Blockchain App development is an excellent way of transferring funds from one account to another at cheaper prices without compromising the security front. It is fairly difficult to hack something that's written in the decentralized and distributed blockchain ledger that makes it safe and highly reliable
Realm of features helps you to answer this question "how to make money transfer app". Coming after the development of an app, the next important term is monetization methods for earning some majestic profits for your app business.
Monetization Methods for Revenue Generation
Every business needs an enticing rotational shift for generating their revenues, but in such a competitive environment retrieving a good amount of money from the business is a really tough nut to crack. Companies focus on many new ideologies, features that can thrive their business in the longer run.
So it's very crucial if you want to play binge for your marketplace. Let's understand a few monetization models for the money transfer app development.
Advertising Model
Ads are one of the top methods to grab the user's attention. Pick out some of the top-grossing places inside your application, where users are mostly settled. Offer some space to third-party brands who want to promote their services on your platform.
On the most visited places, there are high chances for clicks. And for every click, you earn some part of the amount.
Ecommerce Model
E-Commerce is one of the glorifying platforms for businesses to attract customers, serve them valuable services and gain high revenue in return. You can opt for other businesses to sell their products on your platform via mutual benefit for both. For every transaction across your platform, you can charge some part of the money.
Commission Based Model
This model is very habitual, where you can charge a small amount for every transaction at your app. This drives smooth benefits at your platform and revolves around the revenues.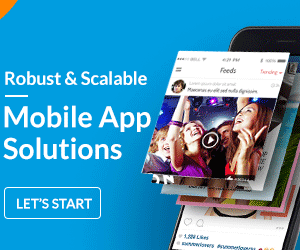 Technology Stack For Money Transfer Application
The right implementation of technology is very crucial for the development process. Today we have piled up some top technology stack important curated by the money transfer app developer to make your app presence globally.
Front end development; Reactjs, React Native, Typescript
Back end; Node.js, Kotlin, Swift
Database; Postgresql, Redis.js, MongoDB
Cloud Platform; Amazon AWS, Datastax
Push Notifications; Amazon SNS
Real-Time Messaging; Twilio,
Third-party SDK; Firebase, Nexmo, Digimiles
Analytics; Apache Kafka, Amazon Kinesis
Payments; Stripe and Braintree
Send Bill, invoice: bamboo invoice, rest APIs
Barcode Scanner Reader; Bytescout
Final Cost to build the Money Transfer App
Cost is the most subtle state for any development process of the applications. It depends on many of the evaluation factors. Like the nature of the app, its complexity, API integration, different destinations, advanced features, maintenance cost, marketing cost, and many others.
Let's discuss each one in detail:
America: In the Latin American region the cost for development would lie between $25~$100 per hour
Europe: In the regions like Ukraine and Poland, the cost to develop the application is found to be $25~$45 per hour.
Asia: In the areas of Asian countries the price to build the app is slightly low compared to the other parts of the world; $20~$25 per hour.
The money transfer application consists of plenty of internal features, which give a smoother experience to the users.
Based on the above factors, in the final conclusion, the cost to develop the international money transfer app development would lie around $25k-$40k.
While, with the inclusion of new technologies, integrated with the IoT affects the cost of the creation to slightly higher; around $50k and more.
Conclusion
Companies offering money transfer mobile application development service should focus on deploying all possible measures to safeguard data, maintain confidentiality, privacy, and integrity. Aside from these, as users, you need to be extra careful while using fund transfer apps. As they say, caution is better than cure.
If you want to have a solution that brings you the best results then, all you need to do is hire a team that understands the complexity of money transfer app development and can work on simplifying it. Hope it keeps you and your hard-earned money safe. If there's anything you'd like to add or discuss, feel free to contact us.