Oh! I don't have any change.
Holy Crap! Someone stole my wallet.
I am sorry, I forgot my wallet at home!
These are some of the troubles that one might face when they choose to make transactions via cash. We have moved a long way and in the busy lives carrying our wallets, looking for a change, etc. becomes quite a complicated task.
The ewallet app development companies understand your need for an easy payment solution and thus have developed applications that are making transactions as easy as just a tap on the phone.
One of the leading online payment applications is Zelle. Before we see what makes this application unique from others let's see who owns Zelle. The application is owned by the popular FinTech company, Early Warning Services LLC. The company offers fraud management and prevention services for most financial institutions with its spread in the cities of Chicago, Tempe, San Francisco, and Scottsdale. The company itself is owned by a group of other banks that include Bank of America, Chase, PNC, U.S. Bank, Wells Fargo, Capital One, and BB&T.
Zelle revenue is managed by the group itself and the services too are defined with consideration and consultation.
What Is Zelle?
Well, Zelle is basically a simple digital payment application network that lets its end users make transactions directly from their bank accounts to other registered member's bank account. One need not bother about bank visits or carrying cash for any transactions anymore. The developers followed a Peer to Peer Payment app development strategy when working on this application. It offers a safe and secure platform for individuals to transfer money to their friends and family in just a click using their smartphones.

Merchants need to pay a minimal sum of 1% charge to the Visa or Mastercard, which is shared with the issuing bank. The application extends its services only to users who are account holders in the United States whose banks are members of the Zelle network.
What is the Success Story of Zelle?
Zelle was formerly publicized as clearXchange and was established in 2011. A few banks in the US, the Bank of America, Wells Fargo, and JPMorgan Chase framed a consortium to enter the market in competition with other ewallet mobile applications like PayPal or Venmo. In the earlier conceiving phases, clearXchange was quite unprofitable and really slow. For instance, it might require as long as five days for clients to accomplish the transfers between accounts.
Moreover, clearXchange was just available through the platform's site or partnering bank's application, making it hard for the assistance to acquire worldwide popularity. Also, the organization partnered with a limited number of banks. And the major issue was, the features offered were quite different essentially between accomplice banks. It added intricacy to the client experience and made it harder for clients to adjust to the assistance.
A lot of that changed in 2016. Bank of America, JPMorgan Chase, and Wells Fargo after a few years of contrasting business sold the business to its current owners, the Early Warning Services (which itself is possessed by a consortium of banks).
After the Early Warning Services Takes Charge
Made Up for the Lost Time
Under Early Warning's authority, the speed of the product and the development of the service ultimately made up for the lost time to the end user's desires. Zelle formally opened to the general population in September 2017 while clearXchange was closed down. They delivered the assistance as a team with in excess of 30 US banks. It added up to very nearly 100 million record holders.

Acquired Foothold with Sponsorships
With sponsorship from probably the biggest banks in the United States, Zelle quickly acquired a foothold. The consortium contributed up to $1 million for every TV commercial to advance the application. Furthermore, the in-application experience for Zelle was made available with a common feature set across all partaking banks, making it simpler for new clients to begin.
Supported Two Way Development
Gen Xers and Baby Boomers, specifically, have set up themselves as huge development channels. A significant number of them were new to more current financial administrations like Chime and stayed faithful to traditional banks. It empowered conventional banks to focus on their current clients all the more adequately by acquainting them with the universe of distributed installments through Zelle.
Turned to a Popular Application
These arrangements impelled Zelle to turn into the biggest distributed installments administration in the United States just a short time after its presentation. In 2019, Zelle's clients prepared roughly 743 million exchanges adding up to $187 billion in payments. The assistance turned out to be so essential to individuals' endurance that it got required. For instance, in Venezuela, which is experiencing outrageous excessive inflation, residents have started utilizing the application to pay for fundamental labor and products.
Grew with Partners
Zelle and the banks associated with it have answered that they are not liable for the beneficiaries of cash sent by their clients. Zelle's site and the application currently give steady suggestions to clients to send reserves just to family members, companions, or others in their nearby circle to neutralize these tricks. In spite of these difficulties, 2020 will be a really successful season for the installment organization. Clients managed 1.2 billion exchanges and sent an aggregate of $307 billion to each other.
To develop app like Zelle, you would need to understand how does the application works.
How Does Zelle Work?
When comparing how does Zelle work with its most significant competitor Venmo, Zelle unlike most digital payment applications allows users account-to-account transactions. Since the transfers via banks sometimes take a couple of business days to accomplish the whole transaction, Zelle offers a hassle-free transfer platform where the users can accomplish transactions in a matter of minutes from their bank accounts to their peer's bank accounts.
Most banks in the modern era frequently use one of the two payment processes, letting almost all the banks be a part of the Zelle network. Zelle can work as an independent individual application or can be used as a service through your bacon website app. The user can sign up for Zelle easily. First, install the Zelle application on your Android or iOS device. Then, enroll your bank account's email address or phone number and send payments to their email and phone number by entering their email address or phone number.

How to Send Money Using Zello?
Sending money via this application is quite easy and anyone can easily adapt to the application. It is a well-defined, simple three-step process that demands you to register with the application, fill in the receiver's details and make transactions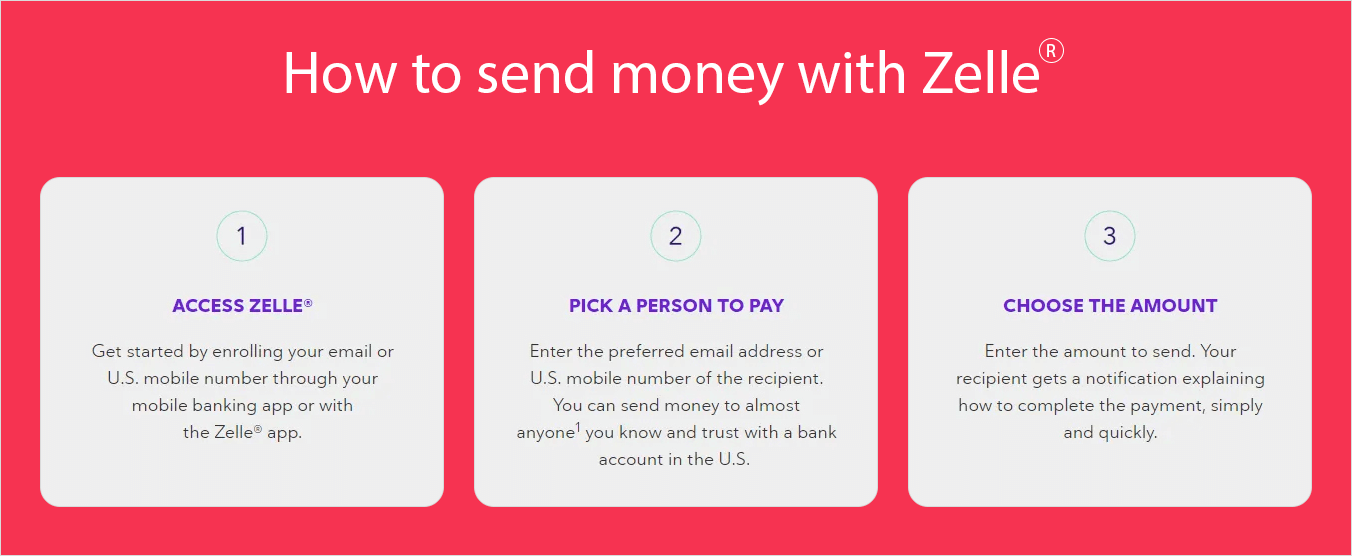 Access the Application Easily
You can start using your Zelle application by enrolling in the application with your email or U.S. mobile number through the simple application that would let you make transactions via the application.
Once you have registered with the application, transferring money would become easier for you to make any payment.
Choose the Person You Want to Pay
Enter the email id and mobile number of the recipient and make it a point that they are registered with the application. You can trust the application to transfer money to your friends that would make things easier.
You can also use the network via a partner's bank like Fargo or Chase. The application is operated by the Mastercard Send and Visa Direct payment rails
Fill in the Amount and Pay
Now just fill in the amount that you want to pay to your friend and make the payment. You can enter the reasons for the payment so that your friend gets a notification of how much is to be received and why.
With such ease to make transactions, it becomes simpler for the people to earn profits that would make it quite convenient for the end-users to make transactions in just a click. This would make it easier for people to transfer money without even visiting the banks or waiting for days to clear the payments.
What Exactly Is the Business Model of Zelle?
Any application can be operated in three different business models.
Free Application Model:The free model is available on the play store and all the features can easily be explored without making any payments. Most applications that we use are available for free in the market.
Premium Application Model: Some applications come with a paid version. In such an application, when you want to avail of their services you would have to pay for them. These applications offer quite a lot of services with limited payment.
Freemium Application Model: When we talk about the freemium model, in such applications few services are available for free and some features are to be paid for. Users can just enjoy the free features and if they like the application they can go for paid versions.
Zelle business model is a freemium business model that offers its clients a lot of free services. This application takes no charges from individuals and business clients. This doesn't mean the app offers all services for free.
Zelle runs on an affiliate and network partnership business model, where it partners with more than 1,100 leading banks and credit unions in the US. The application is quite popular amongst small businesses that use it for sending and receiving money. The only limitation is all clients must have a bank card issued by VISA or Mastercard.
The application's banking and card partners often charge customers for the transactions that are made through Zelle. This clearly reflects that Zelle offers a lot of benefits to its partners. The Zelle application charges its customers indirectly by receiving some commissions from its business partners. Although no banks have made the information public on the commission structure of Zelle.
One key feature of the Zelle business model is its seamless integration with other banking finance solutions. No customers would need to create any new account with Zelle if the banking partner is on the existing list. The application has partnered with around 1100 banks that make it clearly possible that most customers are covered without a need to create a new account with Zelle.
What Are the Key Takeaways from the Zelle Business Model?
Zelle is a shared online digital payment network that empowers clients to make payments effortlessly. It entered the market by a community of 30 North American banks. How much does Zelle cost is still a surprise for many in the public domain?
Zelle is a payment platform that generates no income. When asked how much does Zelle cost to use, the answer simply is a "zero." In any case, the product was very likely made to hold a piece of the pie in the shared business and lessen outsider expenses charged by others in the competition. Furthermore, there are a lot of instances that Zelle expands client selection of supplemental monetary administrations.
Zelle, alongside Visa and Mastercard, charges a 1% trader expense in the current business space. In any case that the assistance acquires a foothold, financial products related to it very well might be proposed inside the application.
How does Zelle make money?
With a freemium model, how does zelle make money? Well, it doesn't charge its customers but it does take commissions from its partners. Zelle accomplices with banks and credit groups to offer online cash transaction services. It was dispatched by Early Warning Services, LLC. It is sponsored by around 30 top US banks to give computerized installment administrations.

Consequently, Zelle is a wellspring of an upper hand and income for these banks. In this way, it doesn't really have to make benefits straightforwardly from its clients.
Zelle likewise requires its clients to utilize a card gave by VISA or Mastercard. Along these lines, it serves them also. The entirety of its banking and card accomplices set aside cash, charge expenses, and gain strategic advantage over contenders. Consequently, Zelle gets an offer out of their benefits.
Zelle – Unique Selling Proposition
Zelle's most extraordinary selling recommendation has been its dispatch. It is sponsored by a top US manage account with a promptly accessible client base. Since its origin in 2017, it has now developed to yearly exchanges of over 1.2 billion.
Within excess of 1,100 financial accomplices, it can get to a great many people and around 31 million enlisted organizations in the US.
Another critical benefit for Zelle is its interesting situation to offer direct cash move administrations without the need to make a different record. The consistent experience is another interesting selling recommendation for Zelle. It additionally appreciates brand acknowledgment with the sponsorship of huge US banks and Credit Unions.
Wrapping It Up!
Zelle has been a pioneer in the business arena and a lot of digital marketing applications have been looking forward to developing an mobile application to move forward. If you want to make an app similar to this for your country, reach to the expert mobile app developers and enter the market for great profits!