The advent of the latest technologies and tools has facilitated people with a lot of beneficial mobile applications including social media, networking, taxi booking, food ordering, financial & mobile payment. Initially, people didn't trust such apps but with the passing years, they find them convenient and easy to use.
The same goes with the financial and mobile payment service that provides apps like Venmo. We all can't deny that smartphones are the new essential for us, wherever we go, it is a thing carried by us or we can say that mobile phones are the new smart wallets owned by people.
When it comes to do the payment, we can easily do it by using mobile apps like Venmo with the help of our smartphones. Cash has been the second option for people to do any kind of payment and now they prefer multiple money transaction apps like Zelle, Cash, Venmo, etc. Here we will talk about the Venmo app, its working process, Venmo business model, and how does it make money? Keep scrolling to get insights about it-
What is Venmo and How Does It Work?
There is a famous phrase used by the American millennial 'just Venmo me' and it shows the revolution taken by the firm to the sharing economy. It is the most used mobile payment service in the USA. It streamlines the money transaction between person-to-business and person-to-person with the additional twist of social networking.
This mobile payment application can be called a mixture of a prepaid wallet working as Paytm and social networking app like Facebook that is quite famous among the worldwide millennials. Venmo can be used to do money transactions between two parties, splitting bills, and requesting money from anyone else, paying to different merchants offline & online, and seeing the past transactions to know where you have spent your money on.
In order to transfer money or funds, two parties require to be registered as users on the application. Venmo provides services like Facebook messenger as it permits users to chat with each other on the platform using emojis.
Users can transfer funds to each other via multiple ways such as debit cards, bank accounts, and Venmo balance, available at free of cost including a 3% fee applicable on credit card transactions. This app keeps all the transactions safe by applying an encryption method.

What is the History behind the Arrival of Venmo?
The app 'Venmo' was launched in 2009 by two roommates named Iqram Magdon-Ismail and Andrew Kortina. Initially, headquarter of the company was in Philadelphia but then, it relocated to New York. These two people met each other during a freshman event in 2001 at Pennsylvania University.
They created this app to send payments only via text messages. They released the first app for both iOS and Android platforms in March 2012. Venmo's working process was easy to adapt for users and it got popular in less time due to the instant cash transfer. It is used to simplify the fund transfer between businesses and people.
After a few months, Braintree declared that it would attain Venmo for $26.2 million combined. On the other hand, Braintree was managing the payment processes of market giants like Airbnb and Uber. The achievement of Venmo is the outcome of its premeditated step to form a strong connection in the mobile payments market.
After some time, PayPal announced to acquire Braintree for $800 million cash including all its assets. This collaboration with PayPal provided great success and support from the consumer and developer's community to Braintree and Venmo. Both the founders of Venmo left the company in 2014 due to their disengagement, after them, Venmo's COO Mike Vaughan played the role of general manager of the firm.
Despite all the issues, Venmo managed to become the largest peer-to-peer payment service provider in the USA similar to apps like Zelle and Cash. At the current time, Venmo processes around $10 billion each month.
Market Value & Growth Embraced by the Venom?
Above we can see the market evolution of Venmo from the year 2015 to the third quarter of 2021. Over the past few years, a large population of America has enjoyed using the money transfer app Venmo to split the bills and send money to each other just by a few taps. By looking at Venmo revenue 2021, the app processed the amount of about $60 billion that is quite higher than $5 billion in 2015.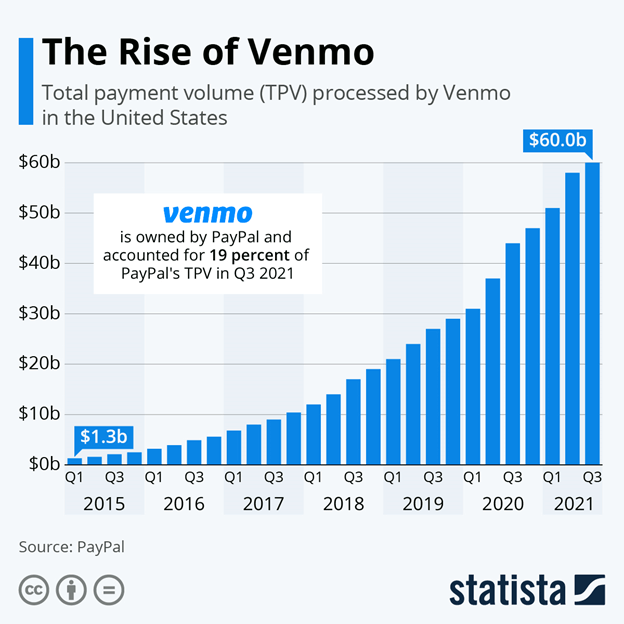 The numbers are reflected in various sources and the proof is reflected in the popularity of the application.
There was recorded a sudden increase in the Venmo user's base and monetization base when Paypal Holdings Inc. acquired the Braintree for $800 million. With each passing year, many of the popular USA retailers are adopting Venmo payments, applying for its credit card, and keeping the records of their expenses within the app.
Mobile payment service providers like Venmo now have also extended their services to "Cash Back to Crypto" where the app users can use their credit cards for cash rewards in form of cryptocurrencies. The cryptocurrency wallet development along with ewallet app development is expanding and setting up new trends that would see the light of the day in the early phase of 2022.
Not just this, even eCommerce giants like Amazon are integrating Venmo and similar applications to accept payments directly. The expansion case is quite complimentary and the solutions that are offered would help you earn great results.
With such popularity, it is obvious that such applications are the future of fintech services.
Business Model of Venmo
Isn't it amazing to develop a money transaction app that acts as a social app? The Venmo app handles and delivers transactions; it doesn't deal with any kinds of goods and products that refer Venmo financial model doesn't need an alternative way to accelerate the revenue except the money transactions. It is the reason why the app doesn't promote any advertisement.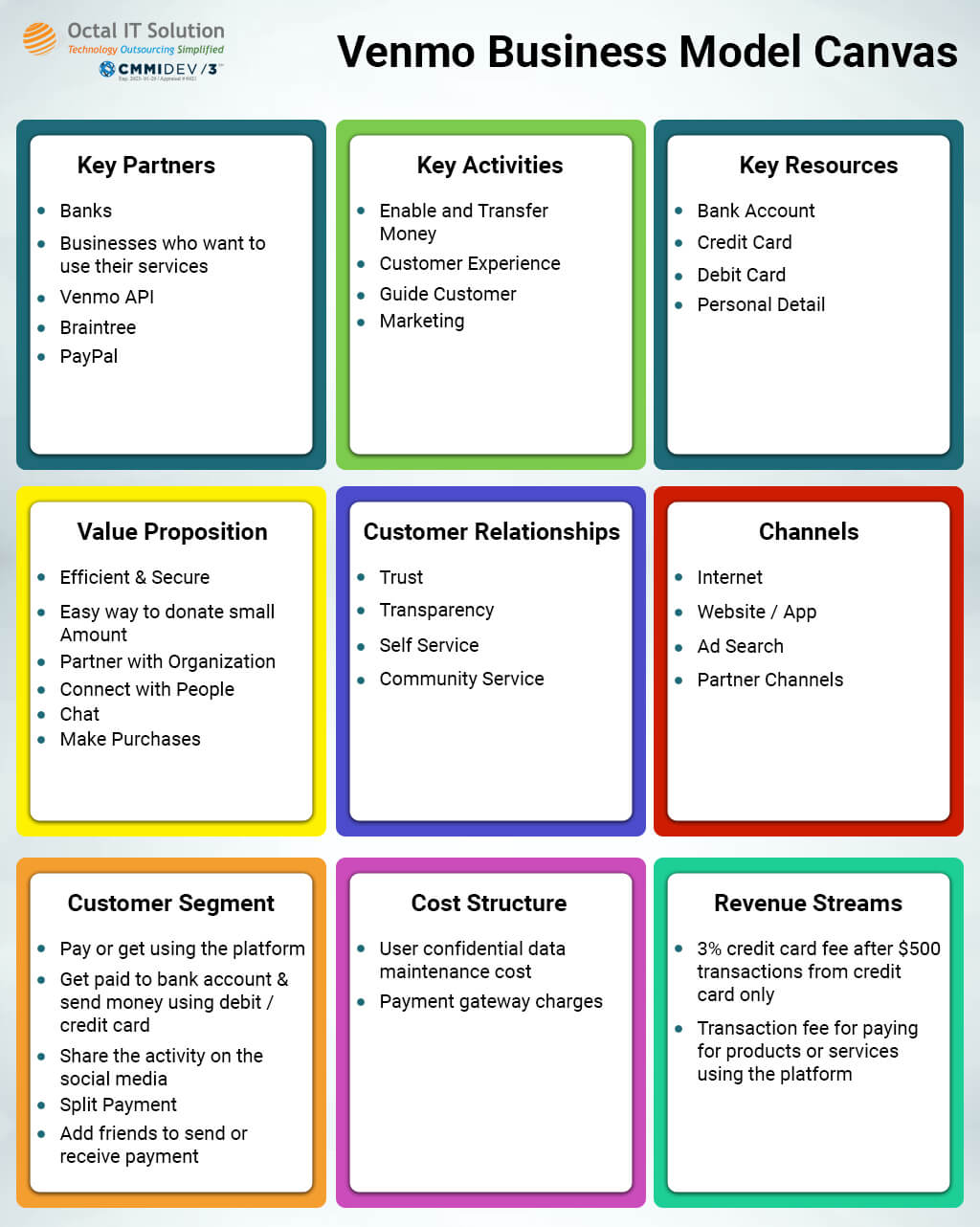 The process "how does Venmo work" includes the app partnership with several merchants & delivery apps to give a tough competition to other payment service providers like Apple pay and Android pay. Online payment methods applied by the app have been improved in recent years along with the increased purchasing habit of consumers. Apps like Venmo can't charge the transaction convenience from the consumer, that's why the only source to earn the revenue is to take a commission from the merchants.
The Venmo pricing model comprises these methods to run the app swiftly as credit card companies apply 3% charges to merchants and vendors. When they will make it free for the consumers, merchants won't be happy for sure to recompense the exact commission to the Venmo app because now they will have an alternative while offering credit to consumers.
Undoubtedly, the PayPal acquirement has provided a lot of opportunities to Venmo and its social feed is still very famous among users and merchants. The social feed works as an advertisement for merchants. To get more profits, the social feed must be advanced and dynamic. Below, you can see the entire Venmo app business model's representation
How Venmo Makes Money?
After getting registered on the Venmo app, users will be enabled to link their different bank accounts with it. They can also add their credit or debit card and can begin the money transactions. Whenever a user places a transaction, Venmo applies 3% charges to credit card users on the complete value of transactions.
Venmo pricing model includes different approaches such as interchange & withdrawal fees, pay with Venmo feature, instant transfers, interest on cash, check cashing fees, and affiliate commission from their cashback program. Get a look at the entire details-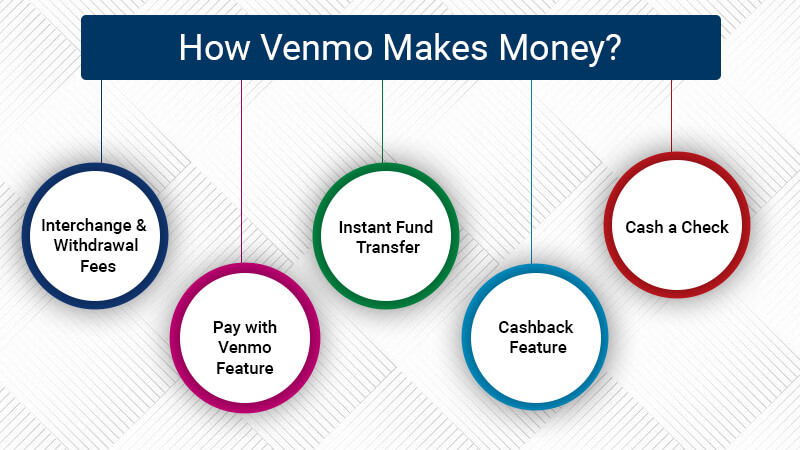 Interchange & Withdrawal Fees
Since 2018, Venmo offers the MasterCard-branded debit card to its users. This card is used to make purchases and then, pay with the Venmo balance in the real world. All the registered app users can use their cards to do payments for anything and split all the bills with others. These transactions show up on the social feed if there is an option. This way, Venmo makes revenue by charging interchange fees on the card of merchants.
Pay with Venmo Feature
This approach enables users to buy things and pay using their Venmo account including specific merchant partners. Some of them are Urban Outfitters, Forever21, Foot Locker, etc. When customers make payment at one of these stores, a fee is included in the overall amount of the order. Merchants are charged 2.9% of the transaction portion including $0.30 for each transaction. Even merchants are ready to pay the amount as it increases their customer base.
Instant Fund Transfer
It is another method to understand while knowing how Venmo makes money. In 2019, Venmo unleashed that it would permit users to shift the money instantly to their bank accounts. It consumes two to three days to extract the amount from a Venmo account and transfer it to another bank.
Cash a Check
Cast a check was introduced by Venmo in January 2021. Users can use it to cash in pay and the government induces checks as the name occurs. For this, users must have an enabled location, either via direct deposit or using a Venmo Debit card along with the verified email address. Users can submit the taken photo of the check to Venmo for review. After it, Venmo deposits the amount into the user's account post-approval. This verification process is completed by charging a 1% fee and a user must deposit at least $5 amount.
Cashback Feature
Venmo's debit card includes diverse cashback rewards for some of the specific partnered merchants such as Target, Papa John's, Chevron, Dunkin' Donuts, etc. This cashback program facilitates users' accounts with a specific percentage of the overall price of their purchase. It motivates customers to purchase more with the same merchants in the future.
In this, the partner provides reimbursement to the advertiser (Venmo) for customer reference. In this way, Venmo earns the profit margin with every purchase decided according to the total volume of the transactions and as per the partnership agreement's terms.
Interest on Cash
Venmo uses all the capital in its accounts to provide loans to other institutions comprising other banks as well. Then, they get paid interest by these enterprises known as Net interest margin. As per Statista, all banks' net interest income was 3.35% in 2019 in the USA.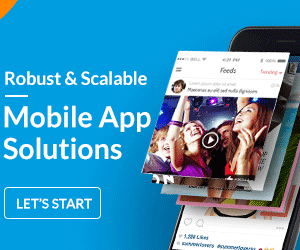 Popular Examples of Similar Apps like Venmo
While knowing the Venmo business model & revenue model, you must get to know about the Venmo competitors as well including what they are offering. Following is a list of popular apps like Venmo-
Zelle App: This app is the most used app by a large group of USA banks. It facilitates money transfers between different bank accounts in fewer minutes. In the USA, many primary banks have a partnership with the financial organizations comprising J.P. Morgan, Wells Fargo, & Bank of America.
As per the sources, the firm transferred $307 billion with 1.2 billion transactions. Zelle also facilitates users with the splitting bills option and applies no transfer fee. Like Venmo, Zelle also has large scope and size of customer base involving partnerships with all the big banks. Venmo is mostly used for smaller transactions like food ordering bills, while Zelle is used for paying rent and other bills.
Android Pay/Apple Pay: This app was introduced by Apple Inc as a payment system to pay at stores with the help of a fingertip reader on iPhones. Users with iOS products can use this app only and it is not available for Android users. Although Google created Android Pay that goes a similar way.
Cash App: It was created by Square Inc. to do money transfers and makes people able to send and get the amount into their associated credit card, debit card, cash app balance, and bank accounts. Even this platform also provides an extra option of debit card known as a cash card that permits spending amount via the cash balance and gets 'cash boosts' that are applicable on various vendor merchants. Users can make transactions, purchase & sell bitcoins, and can invest in stocks through this.
Google Pay: Google Pay works similar to Venmo even it follows the Venmo working process. These both apps act similarly and are free to use. This app can be linked with the bank account and debit card as well but the difference is that Google Pay is also available outside the USA.
Popmoney: It is a payment provider that facilitates transactions among a large group of financial institutions including around 1,700 participants. Although it acts similar to Venmo, and charges $0.95 to transfer money from a bank account or a debit card. This app is driven by Fiserv known as veteran bank technology. This app can be used by small enterprises as it permits money transfer to different categories such as customers, employees, and vendors. While Venmo doesn't permit enterprises to use the services currently.
Facebook: The Facebook app also provides a feature of transferring money through Facebook Messenger that allows users to connect their debit cards to shift money as easily as texting. In the case of a business page, you can't send money to someone on the behalf of your business.
The Bottom Line
With the advent of smartphones, people have become fond of doing everything very conveniently and easily. Like various other mobile apps, money transfer apps have also got immense popularity as these facilitate users not stepping out from the house and transferring the money instantly.
Here, in this article, we have provided complete knowledge about the Venmo app that is a famous peer-to-peer payment app. This article also includes the Venmo business model and revenue model along with how Venmo works. Undoubtedly, the market of payment service provider apps is extremely competitive and crowded but Venmo is doing amazing for sure. We just have to wait to see what the future holds for the Venmo app as it seems very bright.