Mobile app for banking saves 45 minutes of use a month, as per the report. Mobile banking facilities including credit cards usage have increased over the years, leading to a drastic edge; more than a trend allows consumers to access banking services anywhere around the globe.
Over the years m-banking skyrocketed consumer needs with faster speed, finance, features, and upgrades.
Before further acknowledging, can you identify why banking sectors and their applications trigger their presence in the globe for so long, even though they are rarely marketing their services to people, they are quite confidential and follow each regulation? Still, why?
People trust the banks, not from today but for a long time. With smart banking, this sector has shot to the moon and back. Millennial banking industries adopt technologies to
Give instant payment
Secure money transactions
Financial expenditure insights
Quick loan sanction
Vulnerable blockage of cards, etc.
….to the consumers that would transform their journey to the application platform and astonish bank value in the marketplace.
In the blog, we attuned to you all of the important features and points relevant to banking app development.
Starting with the market insights for the year 2023 and overcoming the challenges faced with banking apps and many more things, we are going to talk about them in this blog.
So stay with us, let's proceed.
Market Growth & Analysis for Mobile Banking Sector in 2023
If you are reading this, let's quickly recap all significant market insights and predictions of the mobile banking development sector.
As per stats, more than 95% of the users transact their money via mobile banking once in a month; after post covid.
In addition to the allied market research, the global market of digital banking will be expected to exceed $1824M by the year 2026 with an annual rate of 12.2%.
The Indian banking market leveraged towards the digitization of worth $776M in the year 2021. Comes up with the predominating factors to reduce the security hack, cyberattacks, and any mischievous activities.
Top Indian mobile banking partners with lucrative services are Oracle FLEXCUBE Core Banking, SAP Banking, and Financial Services, Wipro core services as a service, tata consultancy services, etc.
Top players including the mobile banking platform are Bank of America Corporation, American Express Company, JP Morgan Chase & Co., Ally Financial Inc., etc.
NuBank is considered the best digital banking mobile app in Latin America with an availability of 40M users.
Chime is referred to as one of the top mobile banking apps with more than 12M active users responsible for handling features like quick money transfer, cryptocurrency exchange, and stock trading.
As per the consumer affairs report, customers with ages up upto 54 used 30% of their time for banking with their mobile phones while people of higher ages used only 12% of banking apps.
Stats and market analysis are the key veterans which forecast many more solutions in this sector in the coming times. We as a customer of the banking mobile application wish for secured banking in 2023. The stats show there is a growing demand for remote banking solutions, this could support smaller banks to rehab their adaptability in the marketplace.
Coming to next we understand the scope and features of developing a banking application.
Challenges before the development of Mobile Banking App
Challenges before, "how to create a bank app" is important to identify, else your app's easy configuration and integration can't succeed. Users would complain about their experience, so it is best to overcome the challenges and attach proper requirements for the success of the app.
KYC is termed as Know your Client; which means knowing about the crucial details of the client/customer and processing their details to limit fraud and money laundering. For proof of identity; valid ID, Aadhar, passport, driving license, etc. proof of address requires the user's current address and name not more than a few months. For the KYC doc user to submit; proof of residency, election ID, lease agreement, etc.
It includes the standard rules and regulations authorized by the government for fintech companies.
GDPR, CCPA, PSD2, PCI DSS
GDPR (general data protection regulation) rules for the protection of personal data in the European Union. PSD2 for the secure transaction of money across the EU. CCPA for protecting consumer rights.

Strong presence with passcodes
Every banking system is outfitted with top banking practices and data. It is essential for such a platform to offer the best user authentication and sophistication for the users to have fully-fledged security. Passcodes should have regularly changed with strong figures and alphanumeric numbers. (e.g. alphanumeric with a-z, A-Z, 0-9, special characters).
Unauthenticated payment blocking
For any invalid access to payments, the banking system blocks those cards on the platform. Enable two-factor authentication (2FA) to maximize the illegal act of transactions. If a user mistakenly did this; they can unblock it with 2FA.
Scope of Mobile Banking App in 2023
The finance industry is setting its aim for ongoing digitization in 2023. Fintech industries already cover crucial needs and benefits of the consumers for banking, trading, budgeting, and investing.
This allows the scope and stigma of pictures for mobile app banking in the marketplace.
Banking operations play their part in handling the transactional process of their users on phones, tablets, or systems. To leverage their mark, banks are looking for a mobile app development company to develop mobile application banking as their next step.
Over the years and especially after the pandemic, the surge for digital banking has grooved and gained popularity. As per the report from FIS(Fidelity National Information Services), after the Covid mobile banking rose to a huge percentage of 85.
And all could be possible via:
Security in transactions; Procure a more secure platform for banking with Millions of users
Money transferring without halt
24*7 access to the bank server
Loan sanction becomes easiest over the years.
Improve the overall experience of users
The beneficiary for users; motivate them for more banking
More customized data control insight; allows banks for the behavior of users
Limit the overlay expenses of users.
Innovative solutions
Crucial Steps to Create a mobile banking app in 2023
How to create a mobile banking application? This might be your question, as we have reached this stage. For every development company, it is essential to keep in mind definitive steps that help the whole development process of the app.
Begin with a goal, – what's more, let's find out!
A clear goal is an extensive process beginning at the initial development process for the banking platform. This covers all of the essential points to develop a good USP model for building customer acquisition, and retention over the application.
Plan out all of the crucial things like competitors' demographics, current trends, users' needs, etc to get a clear vision to begin the development.
Converting your app idea into reality and altering any changes needed is what wireframing is all about. Starting from the beginning, build a prototype of the collective logic, elements, and content. This process at the beginning is very crucial for the development of the app, and this will limit the losses in future building of the app.
Introduce vital features only
Your app must be propelled in the market, that must be the ideal state for your business and its brand value. Input all of the essential features within your app that matches the requirement of the client and their users. This factor would directly affect the final cost of the product. Make sure that it will not overdose the need, and debar customer experience.
Plan a perfect design UI/UX
A perfect design of your app rules the heart of users. Make your design ethics real and captivating. The user interface is what the user stays on for a long, that should consist of intuitive components. Users interact with the interface, navigate on different screens looking for their context, and likewise.
Being the designer it must be full of;
Icons, menus, keys, elements, vibrant colors, typographies, and many more.
MVP stands for a minimum viable product, focuses on features that need to take action, iterations that have been made, collective feedback taken from the user, to get work on. Finally, the product fits into the market.
Developers/Programmers transform your app features, ideas, and functionality into working mode. With code implementation, the mobile banking app development proceeds and is done. Meanwhile, in the development process; the hire mobile app developers faced bugs, errors, and warnings, which improved on time.
Developers need to commute with the latest front and back-end communities and similar technocrats to get app ideas working success. Implement languages that are best supported by Google and Apple. Beta mode testing is good for developers to choose from. This helps them to figure out any vulnerabilities before the app released. Latest APIs integration, a perfect tech stack would low down the cost of the product and reduce the approximate time.
App release and post support
The final app release is the step where your product showcases for the first time with the user. App release on play stores like Google or Apple. Attached necessary doc with the app; helps the user to understand the app, and makes them convincible for downloading.
Users always want to connect with you after the app installation or purchase, to make them feel satisfied and comfortable. Post support is the process to instill new updates and releases to the user. This secures your brand value to the users and avoid them to bounce out to your platform.
Must-Have Features implementation in the mobile banking app
An expert application has plenty of features and functionalities. What is essential how to develop an online banking application is the core features customers need in the mobile banking app are;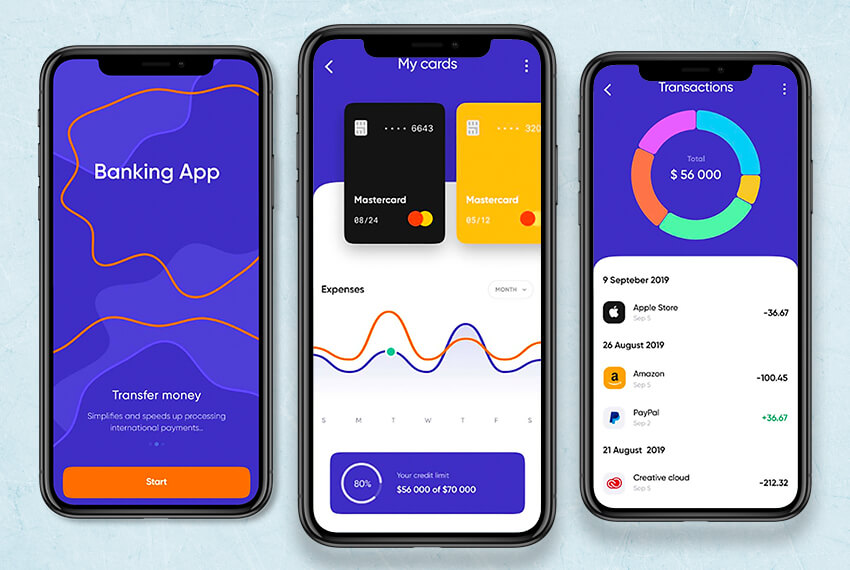 Quick Transactions: The system for banking is derived with hassle-free transactions to not only transfer the money but flexibly manage the transactions and notifies to the user end. The seamless process of money transactions gives customers a quick brief about their money debt and the remaining sum in their accounts.
Account Management: Account management must-have features with many small features in themselves. It helps to monitor and manage the bank accounts, check their recent balances, view their check deposits. Users can analyze their habits, set goals for spending money, and likewise many things.
ATM or Bank Branch locator: You can integrate a map with your android and ios platform to easily find nearby ATMs. This helps the users to get a quick idea of the ATM and it shows how we care for them. Users permit the app for their location to make them convenient in finding nearby ATM spots.
Secure and smooth transactions: Security is the utmost thing every banking organization needs to take care of. To add a level of security you can add multiple features to the system. QR code scanning is a great idea. Biometrics, fingerprint, two-way authentication of passcodes, etc are the best practices for your banking application; make it easy on the authorization.
Notification alerts: Make users aware of their transactions on the platform. Be assertive while sending notifications to the users; annoyingly dispatch of messages puts the user in a disheartened state.
Mainly notification is of three types; Transactional, Promotional, and Application based.
The most important type of notification is the transactional one; which notifies the user about incoming and outgoing money transfers, deposit interest payments, and credentials verification.
Advanced features imbibe in the app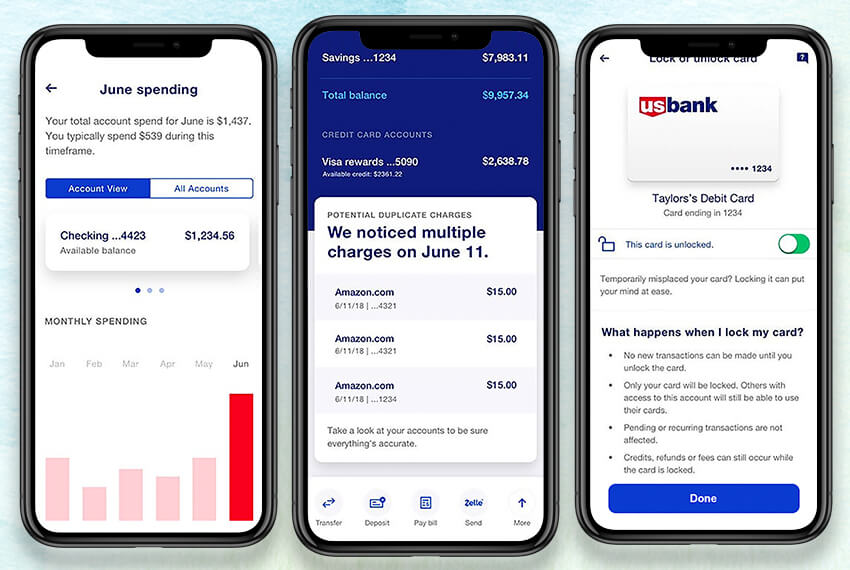 Two-way authentication: We are living in a smart technological world. Hackers are active to retrieve important data from the banking system. To break the loop; two-way authentication is the real need, where any anonymous hacking could restrict. With the strong pin, password placement, fingerprint lock, biometrics, or smart signatures.
Wearable inclusive app: Wearable technology is on the new verge, experienced users for quick banking with small devices on their wrist.
Incomparable services: Mobile banking allows users for many services in a single. It includes buying tickets, reserving a table in a restaurant, order delivery, car booking, other utilities, etc., in short, it is the whole in one place for ordering everything at comfort.
Monthly spending tracker: Allows you to get a quick insight into the user spending habits on a monthly basis. This shows your care and concern to the user and improves their experience on your platform. Basically, a spending tracker report has; personalized reports with a visual representation of their spendings; goal savings to set timelines and goals; budget categories focusing on the areas where users mostly spend their earnings, like for healthcare, salon, food, or entertainment.
Payment channel integration: To make your payments more effective, integrate smooth payment integrations like google pay and apple pay to allow your users a seamless experience.
Special offers and cashback: The mobile e-commerce market is up and poised with splendid growth in the years, a small bonus in between the transactions convinces the user to buy their choice of product.
Offers on many occasions engage the user and allow them to spend more user time on the platform. Don't hesitate to spend some money and deal in promoting your services and gain to your users as well.
Top Trends in Mobile Banking App for 2023
It becomes noticeable for the enthusiast's industry leaders to see the changes happening in the android banking app development platform. Let's have a glance at the peak app development trends in 2023.
Banking with AI
Understanding the fact…why AI and bots??
The answer is simple; it cuts down the prime cost of business for customer support. Especially in the healthcare and banking sectors, there should be a mechanism to handle the automated queries of users 24*7. AI helps in quick banking. Users at the other end are satisfied with the personalized conversations.
AI algorithms are coming with many new updates; speed, data, and personalization. This AI terminology will not go in vain soon.
Biometrics for secure authentications
In 2023 with some statistical reports more than 40% of the users abandon the digital onboarding in-between due to poor or untransparent processes.
The biometrics revolution has offered greater customer onboarding experience with quick timing in the banking industry for a long time. For the masses, banking deployment for smart payments ensures to the user about their security and privacy concerns. It has a small chip device introduced that comes with a card for quick scanning at the terminal end. This eliminates any unauthorized access to the system.
Faster banking with 5G
On a daily basis, the banking sector deals with the magnitude of data. Data is very crucial in the banking sector for needs security, faster speed, synchronization; all in palindrome.
To manage everything properly, swift banking is needed. And this is possible with a 5G connection. A few things 5G instill for the banking are;
Minimize or zero error latency speed
Faster bandwidth and speed
Easy technological implementation like AI, AR, facial recognition, etc.
In short; faster data connection strives for users with a great experience on the platform.
Gauge users interest in the platform
Aspiring people on your platform is one of the most captivating ways. Banking in 2023, can't be any more for transacting money. Banking sectors also urge for good retention rates to influence themselves for mobile banking.
As per the report also, an interesting platform convinces the users to spend their time and money. Make your banking platform with badges, awards, and challenges; get their zeal work.
Voice assistant for quick banking
In between all thongs, the voice assistant technology is nascent; not just for listening. It uses smart techniques for replies and responding to what customers say. As per some surveys, voice technology shifts user behavior, 57% of smartphones use smart ai voice assistants in their everyday searching. Chatting with text is obsolete now, consumers use voice messages for quick replies.
Top 3 Popular Apps for Mobile Banking
Your banking apps development solution is one step towards your financial plan. Popular bank advisors help you reach for smart banking and financial solutions. Here we have assembled for you the best 3 banking app solutions that can be a deciding factor for your building of similar applications.
1. Capital one mobile; What's Best in this app?
Rated with 4.7, Capital One claimed to have the best customer experience.
Without foreign transaction fees
Instant lock your card
send, and share money with family, receive too instantly.
Take loans or pay bills for home or auto loans.
2. Discover: What's Best in this app?
This major banking solution helps to discover refresh deals for the users. If you're a serial shopper or try and picker; then discover banking is for you on the latest brands.
24*7 live customer support.
Fast login; get instant account details without any login.
Get easy to secure your account for new purchases, balance transfers, and cash advances.
Pay bills, deposit checks, get loans, and transfer money.
Attach discover cards with apple pay wallet right from the app
Redeem the score of credit cards.
3. ICICI iMobile app: What's Best in this app?
ICICI is an Indian mobile banking application for secured and personalized banking rated 4.4 by more than 170 banks.
Pay and collect instant UPI payments with a simple virtual identity.
With the ICICI bank, FASTag services check balances, purchase, recharge, view statements, like, and manage multiple accounts.
Start with your mutual fund sip
Get instant credits or loans just with your fingertips.
Best Technical Stack required to Create Mobile Banking App
Technical stack is the plethora of tools used for the development of the application. Technology implementations are crucial in the case of mobile banking and payment solutions. To start with the best app building for mobile banking your app would be acquired of;

Front end: HTML, CSS, JS, React-Native, Xamarin, Swift, Objective-C
Back end: Java, Kotlin, Python, C++, Ruby
Database: Postgresql, Mysql, MongoDB, and Oracle.
Innovative technologies evolved: DLT( distributed ledger technology), AI, RPA( robotic process automation and cloud computing)
Cloud server: Amazon AWS
Frameworks: socket.io, google analytics, firebase, apple app frameworks, alamo fire
Payments: Stripe, Braintree
API: Plaid, Zelle
GPS: Google Maps
Blockchain: Stellar, Neo, Bitcoin
UI/UX: Adobe after effects, Adobe Illustrator, Adobe photoshop, invision, etc.
Cost to build Mobile Banking App
Mobile banking software plays a big role in the industry of applications. The cost to build an android app development depends on many parameters; nature, complexity, tech stack, features, and other factors. The MVP and prototype of the product, the cost of the app, plus post-release some updates and any bug that arises in the middle of the development would cause the cost to be higher.
All in all, the average cost to build an Android banking app can be projected to be $35k- $60k. In addition to that, the advanced featured application may increase the cost to $65k.
Final Verdict!
Reaching the end of the blog, it is sure you have plenty of questions in your mind. As you have understood with the blog, creating a banking application would function with a hell lot of effort. Provide some frictionless platform, begin with the strategy building to end up with an excellent product.
The engaging experience convinces the user to increase the adoption rates of the banking solution. So why wait, start with us your banking solution.