"In the long run, it's not just how much money you make that will determine your future prosperity. It's how much of that money you put to work by saving it and investing it." — Peter Lynch
Focusing on Fintech app development, this is absolutely the right time to do so. Investing on various platforms, especially cryptocurrency has changed the way the world looks at finances now. It is often said that money is a bad master but a great slave. Let your users put your slave to work with some basic investments.
The problem is Gen-Z isn't much aware of the investment platforms and the older generations saw the investment as a risk.
There is some percentage of risk involved but that does not deny the fact that smart investments prepare you for the future.
Why Investment App Development is a Great Idea?
There were days when investment, trading, and generating passive income were seen as a herculean task and one needed a specialized degree in the same. With technology at its best, elearning app development on the go, and enough time to adopt new things, investing and learning new skills has become easier than ever before.
Gen-Z is all over the internet and they make the best of the constructive things that are offered. In recent years the rise of cryptocurrency has been the major driving force behind investing. Investment and trading of cryptocurrency have become more popular to the point where most popular stock trading apps now offer crypto trading as a service.
Investment applications deal with more than just the stock market, they offer open-end funds to diversify risks by allowing people to invest in a variety of equities, gold, cryptocurrencies, and bonds.
Developing an Investment app is a great idea because in the present scenario you can see mobile applications are ordinary people's profusion of financial alternatives.
What Is Basically an Investment Application?
As said before, an investing application is a mobile app that showcases publicly traded companies, equities, cryptocurrencies, bonds, etc. under one platform for easy investment. These applications are designed in a way that they can be used by both rookie and experienced investors to keep track of their investments.
By providing a variety of adaptable resources at low application charges, these investment applications aid users in saving money and expanding their assets.
Taking a decision to enter the market with a Fintech Application is a big step and a greater risk. The prospect it offers is even better and worth the risk that you are taking. It necessitates devoting a significant amount of resources to transforming your project from an idea to a functioning app, even if there is no assurance of return.
If you think there is something that may let you down, let us dispel any doubts you may have about establishing an investment platform with facts and figures. Here are some of the statistics that show the profit margin of owning an online investment mobile app:
With an increase of around 115% per year, the worldwide eTrading industry is calculated from $8.7 billion in 2021 to $12.16 billion in 2028, indicating a CAGR of 5.1%.
In the past few months, around 10% of people of diverse demographics have utilized an online investment application.

While demand for trading platforms is at an all-time high, the figures reveal that much more increase is likely in the next few years.
And the data reveals that your decision to launch a new investing application is backed up by market data as well as personal gut instinct.
Before you decide to move forward with an investment application there are a few things that you need to look forward to.
Beginning the Development Process? There are a Few Things You Should Do
Starting up with the application is not a big deal. You can hire an investment app development company to get your things done. Before that, it's best to pay attention to legal requirements and have a good marketing budget before you start coding and other key development phases. Let's take a closer look at these issues.
Aspect 1: Compliance Research
Before your team starts the development process, let your legal team study and analyze and prepare to meet legal obligations to safeguard consumers and reduce the danger of liability from breaching others' rights. To defend the national economy and financial space, every country abides by its own set of laws and regulatory authorities. The structural frameworks of those laws, on the other hand, are all identical, and they're mostly related to the following:
Promotions and advertising
Rights to intellectual property
End-user confidentiality
Market manipulation and money laundering detection.
Aspect 2: Make a Marketing Budget Plan
To affirm that your finance-based application gains popularity, you'll need a marketing budget. For market dominance, you'd be needing an extensive budget and a team of market experts who understand how the demographics work. They would come up with marketing strategies that will allure your target audience in the most efficient way possible and help you be the best in the game.
The annual marketing budget for an app that deals with such a complex domain would be around 2-3 times the total amount spent on product development.
Basically, if the cost of the development of an investment app is around $50,000 overall, be sure that you can extend your marketing budget somewhere between $100,000 and $150,000.
This is simply the initial investment, once you mark your presence in the market the budget can be dropped a little.
Read Also: Stock Trading App Development – Cost and Key Features
Once you are done with the basic market research and decide the look and feel of the application you can simply move forward to building an application that reflects well.
Your investment application needs to stand out in the market with some exemplary features as these days most banking and financial institutions offer an investing platform. You need to come up with some perks that make you stand out from the rest of the crowd.
Move Forward with an Investing Solution Your Users Love
With a constant rise in the demand for investing applications, we make sure to bring to the picture the solutions that are interesting and engaging. Some of the most dominant features of the application are: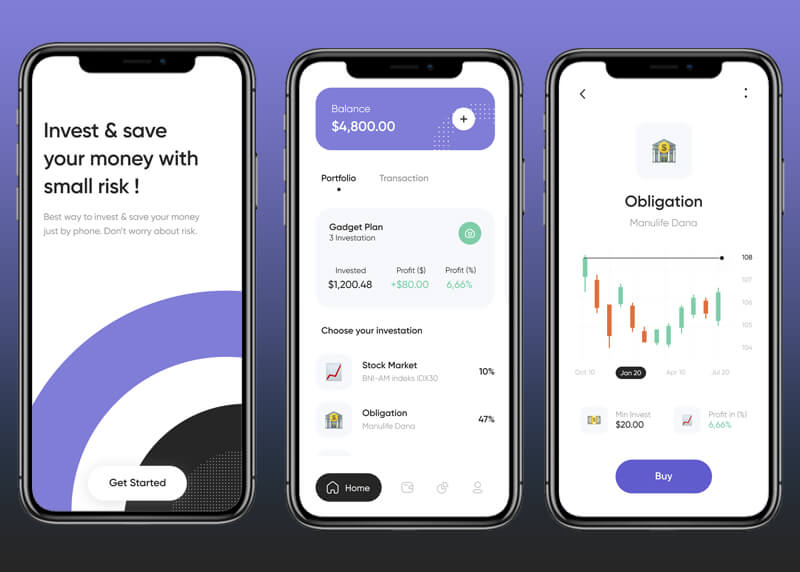 Login & Accounts for Individuals
The sign-up and log-in process must be simple and to the point. The users of your application are looking forward to a time-saving solution. Let your onboarding process be user-friendly and conversion-oriented.
It is a real disaster when you try to log in but are told you can't create a profile. Keep the registration process fast and simple to prevent scaring away potential investors.
Let your investors create a personal profile with basic and significant features. Your investment app dashboard should look like a private office, where the user can build a portfolio, manage assets, and study the graphs of the investment entities they are interested in.
Easy Space for Managing Money
When you hire a mobile app development company for your investment application development make sure that you do not miss to tell them to integrate Money Management Feature. This is one thing that your application cannot miss.
Yeah, it may seem a little out of topic but money management is a skill that most people lack. They look forward to applications that can keep a record of their investments, expenses, etc. Thus, a strong dashboard that talks about all these things in detail is an asset for the user.
Let your dashboard talk about the currency, savings, and credit management capabilities of your target audience.
Comprehensive Information Display
How easy would it be for your users to comprehend their finances in the form of infographics, pie charts, and interactive bars? Real easy and convenient. For naive investors, pictorial representation makes things easier. The graphics used in the application should be aesthetically pleasing and useful to enhance their effectiveness.
Update your consumers with daily, weekly, and monthly reports to affirm that they have a clear and sophisticated picture of their financial and investing activity. It's a great way to increase customer loyalty. You may also allow users to register for social profiles to make accounts easily.
Read Also: Best Financial Business Ideas For 2023
Security and Privacy Protection
When talking about any financial application it must adhere to the golden rule of increased security.
The technological advancement in the past few years has resulted in the rise of increasingly complex ways of financial theft and hacking. When working on your investment app you need to make sure that your customers feel safe and secure when they engage with your app.
Thus, you need to be prepared and affirm that privacy infringement is a big no and take personal information security seriously.
One solution that our mobile app development team suggests is to use a staggered sign-up method to protect investors' money and personal information. Two-way authentication and biometrics are some more ways that affirm the data is safe.
To build your credibility in the market, make your data security and privacy rules available to the public.
Product Evaluation and Comparison
When it comes to putting the eggs in the basket, the investors want to choose the best from the yard. It is significant if you can offer them a solution that lets your audience compare investment options is another important factor to consider.
Let each stock and equity have their past records, future predictions, and similar stocks listed to make easier and more profitable choices.
Investment is a risk. It's not like shopping for everyday objects where if you do not like something you can return or exchange it. Here if the stocks fail the user faces financial loss. Make sure your application can help your users quantify the benefits, and assess the risks connected with alternative investing goals.
As a result, the simplest solution could be to develop a separate section with a variety of possibilities where buyers can specify criteria and evaluate available options.
Real-Time Alerts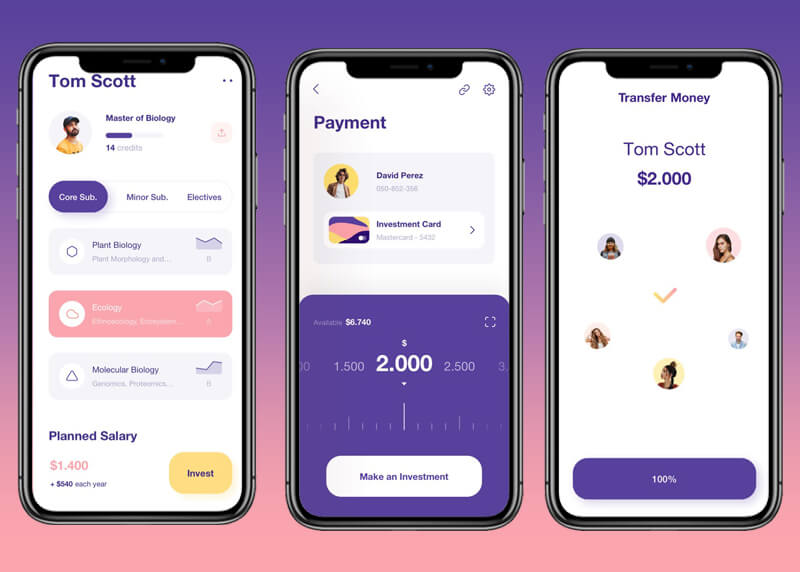 Let your investment app developers add push alerts to your investment application, tailored reminders, and real-time feedback.
Let your users be aware of their returns, inform them about the frauds, and offer them exclusive deals and discounts. This is a great way to increase engagement on your application. Hire app developers to develop feature-packed digital wallet apps.
To make sure that your app doesn't bother your customers a lot, give them a choice to make changes in the notifications.
Users' assistance
Your app users would need a little assistance when they decide to invest. A little assistance from the experts can help them make better decisions and profits. A customer-centered business reflects better as customers feel more committed and cared for.
Lately, businesses are coming up with solutions that demonstrate their dedication to their customers and this is clearly reflected in the widespread use of call centers.
Not just in-person availability, AI-based smart chatbots too play a significant role in holding your customers to the business.
Schedule Trade
Let your customers schedule their trade on your application. If you are looking forward to building a strong presence in the market, understanding your audience is important. They may be busy or waiting for the stocks to touch a certain point, let them decide the time window and book their trade.
Notify them if the trade was a success or a failure.

Provide Virtual Assistants
Virtual assistants, for instance, are becoming increasingly popular. To save money and improve customer experience and engagement, you can create a chatbot to answer routine inquiries. We offer AI-based chatbot app development and integration services that affirm that the chatbot with your application can respond to most queries by your customers.
These are some of the very basic yet significant features that you may need to include in your investment application. With advanced technology, you can enter the market with a solution that is specifically tailored for the use of your audience.
Advanced Technology to Build Tailored Investing App
Artificial Intelligence and Machine Learning
As we talk about investment applications, it becomes easier for us to get solutions that are engaging and impressive. We have been working on solutions that use advanced technology to bring to the table a product that helps you be at the top of your business. With AI-based chatbots, NLP technology, and other advancements we affirm you offer the best in the market.
Read Also: Decentralized Exchange Development Cost & Key Features
Predictive Analysis
With advanced predictive analysis, we make sure that your product can suggest to the users the stocks and equities as per their interest. We make sure that the solutions that are dropped to you are interactive and personalized and help you build a strong presence in the market.
Technology advancement has changed the way we see our solutions. We have been working in the direction of delivering world-class solutions with the latest trends and technology to make sure your products are scalable and flexible.
Developing a Mobile Investment App: How Much Does It Cost?
Well, there is no perfect app cost calculator in the market and the simplest way to have an estimate of the budget is to find the product of time taken to develop the investment application with per-hour rates of the investment app development team.
Since the time factor here remains almost the same for any development team, the hourly rate may vary greatly.
For the first world countries, the developers may charge around $70 to $90, for some it may extend to $110 per hour. The mobile app developers in Southeast Asian countries earn between $15 and $25 per hour.
Elements Your Development Team Would Work On:
Native Android (Smart Phone) Application
End-User Native iOS (iPhone) Application
User Interface/User Experience Design and Development
Administrator Panel and the Database
Web Services
Quality Assurance for Software Testing
Project Administration
These are the basic elements where one would need to focus when hiring a development team. The cost for developing an investment app with a basic feature set would be around $50k to $75k and with advanced features, it would extend from $95k to $120k.
When it comes to talking about the development of investment applications you can trust our team in terms of finances and markets.
Read Also: Digital Wallet App Cost and Features
Wrapping It Up!
Working on a solution that is not just an investment platform, but an investment guide is a great idea. With your suggestions and market research integrated with the application and the latest advancements in the solutions, we affirm that we can help you build an app idea that holds its ground in the market. Over the years, we have built a strong presence in the market with secure and safe fintech solution development and affirm that you too can enjoy these solutions easily. Our team of on-demand mobile app development brings to the screen solutions that can help you establish a strong presence in the market.
So, if you have a vision and aren't sure who can help, we are just a click away. Share your business requirements with our experts and they would get things done for you easily.