In this blog, we discuss crowdfunding app development and website development, including the features, business model and cost of fundraising app development.
How about making others' ideas into reality?
Ideas can't wait for the right place, they just pop up, and they are unbiased. They rage into anybody's mind. But if they lack it is due to a shortage of money.
But not anymore, thanks to the internet!
As internet usage expands in our day-to-day activity, it fuels new ideas in our minds. And digitization and globalization help the marketplace leverage opportunities for the individuals to not let the ideas go in vain.
Here lies what the term crowdfunding is all about. It's not for creative minds only; it's for the people like you and me who are so passionate and thrilled to have ideas and beliefs to bring some change.
Although using such platforms gives a mixed feeling, with the large involvement of campaigns it becomes possible for our project to get some decent support.
Always remember having a safer hand at the back, not only gives wings to your idea but also gives it a space to reach the right place.
Opportunities are everywhere and mobile application development has cleverly adopted the sync to unfold new doors for the right potential who do not get funds elsewhere.
Creating a solid proof platform for the people is looking from the front but it is a money gaming platform. It needs enough money to develop the application and make it functional.

It is quite a tough nut to crack for you if you are not involved with your top expert mobile app developers in this deal. Integrating everything into the platform with new concepts about crowdsources could actually distill more clarity to the ideas.
In context to the above things, today we are going to discuss with you all of the foremost factors that would be required to gear up your dream to give a real platform for Crowdfunding App Development to individuals. A platform where they can get real dreams to make possible with real funds.
So let's start from the beginning to know a little more about what crowdfunding is and how you too can turn the gear on.
Related Post: 25+ Innovative Mobile App Ideas for Startups to Launch in 2022
Crowdfunding in a Nutshell
Crowdfunding is all about how easy money is generated for small or middle-level businesses or individuals. It is the form of raising real funds via the usage of some digital platform.
In many ways, crowdfunding counts as an asset for micro-businesses. Having a mobile application helps to get real investors and effective bidding for the ideas.
More important is protecting against the misuse of funds and any fraud in between.
Crowdfunding Market Analyzation and Overview
As per the prediction based on a recent analysis by Forbes, the market of crowdfunding is projected to reach $300B by 2025.

The crowdfunding platform would raise an effective growth in the campaigns of around 66k.

Pandemic hit the market positively. From the figures, the market is expected to triple by 2025.

Major key players in the market are Kickstarter, Angellist, Crowdfunder, and many more donation-based crowdfunding sites.

22.4% is the success rate of funds raised by some campaigns over the platform.

Why forget smartphones? 17% of the global audience are likely to pay or invest in the funds via smartphones.

In the race, social media is the game-changer. 30% of people are likely to make quick funds on social media.
The stats are not enough, they are expected to grow and cater to visible changes in the next few decades.
Interested more??
Now, let's get to the point to get some fundamental knowledge to start your crowdfunding platform development.
Pinpoints to not escape from starting the crowdfunding platform
A crowdfunding platform acts as a catalyst to support people to achieve their specific goals. To cater to a platform that combats all demands and needs of the individuals to raise their funds in the shortest possible time; you must have some solid proof strategy to initiate.
See the market is already filled with tough competitors. Spell names like GoFundMe, Patreon, or Kickstarter, and see where they are standing. As a newcomer into this tangent industry, you can give the people trust and the right source who could help them with funds.
To commence with that you should have a few groundnuts with you;
Have a USP business model with every functionality that serves fast funds in hands.

Add a layer of security using technologies like blockchain or crypto or you can integrate your payments gateway with decent economic countries in case of immediate funds.

A clear mindset takes you separate from the heat of competition in crowdfunding website development. Think about these common questions like where your niche application would be useful? How your platform could be able to solve the real problems? While answering each question you would naturally come to the place to initiate now with your app idea.

Before blindly entering into the industry, it is always a good idea for you to consult with a legal advisory because it is a matter of monetization and funds and to have everything work smoothly you must understand the guidelines and policies of the money exchange commission and the legal lawyers.

Another important thing is the marketing budget. The competition is high and reaching the right market at the time is quite a tedious task. But the promotional activities in a timely would reflect sudden growth in your campaign and results.
After keeping everything under the frame, Now is the time for you to develop the functional structure with features.
Types of crowdfunding apps in the market
Let's discuss every fundraising app development where you can create and serve your services specifically.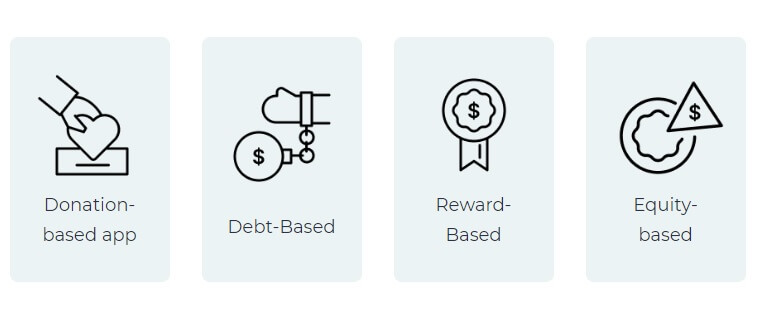 This type of funding is very specifically carried out by individuals just like nonprofit organizations to collect a decent amount of money and support the people who are looking for some investors.
Keeping in mind the important parameters the collectors raise the campaign to get a good sum. They organize campaigns in various places like events or platforms to ask for money in return for discounts or donations.
GoFundMe is one such example developed for donation purposes and crowdfunding.
This is the favorite crowdfunding platform for businesses to invest their assets in the belief to get some decent equity or shares if the project would run successfully. This is a decent approach that helps the small business to run under the mutual collaboration of many investors. This is investment crowdfunding. The best example of such crowdfunding is AngelList and Crowdfunder.
Peer to peer crowdfunding
This platform is for the business to get their loans directly from the borrowers. Here the investors are guaranteed to have their money back not like other crowdfunding platforms. Yes, it is likely that they will get the money, not in a single shot but would get it within the estimated period. It's more like a loan-based platform.
People are likely to invest in projects which can achieve a good market and maximum users attention in the shortest period. The reward-based proud funding platform is best for the individuals who have a good share of finance with them and want to invest in some of the best projects without having the returns back in their minds. The only aim for such investors is to get rewards in compensation for their money.
Such platforms are a milestone to get maximum rewards without any capital investment for any legal compliances. Take a starter is the best example that comes under this type of crowdfunding.
Related Post: How To Start A Crowdfunding Website In 2022? (Experts Guide)
Features to implement inside the crowdfunding platform
We are in a position to compile some of the beneficiary features for the fundraising platform Development. This would help you to make a rigid state solution for other businesses.

Start with the admin:
Every admin is looking for an autonomous platform that works as an ecosystem. He needs an easy signup process and a customized dashboard to have everything under his control and functional too.
There must be transparency in the panel so that every admin would dispatch full control over his area. Admin can use filters to easily manage and look into things faster.
Transaction flow and funds
For any of the errors that occur in the middle of the transaction, this section lets the admin raise their hands. He gets the full knowledge or the error from the false payment details.
If the user gets stuck while getting their funds, they can connect with the right panel of support. The admin controls the support end and permits the right assistance to the users.
The correction and right assistance would help the user in faster money collection.
Confirmation and remainders
There must always be a reminder tool for every successful fund transfer. Let the admin confirm the funds, under his observation the money sanction and disposition would happen.
This would secure the platform from any hack.
What if your users get the fast and convenient tool to calculate their funds excluding the currency exchange charges or platform fees.
This will grant them the right things to plan for how to invest the funds with the right strategies. It should be the must-have feature for your money funding app.
Control and manage different project categories
The process of investing must be superimposed and fast so that not a single investor or institution would feel any backdrop.
A crowdfunding platform is for everyone for easy interaction and raising funds activity.
The platform should be run flawlessly but people are always curious to know what is running in the back. To answer their queries they must have better control over their dashboards.
The platform of crowdfunding is an easy and fast registration process with different channels. Like social media is one such where backers can directly log in and access the application. Or they can follow the easy sign-up process.
Backers or payee can manage their profiles from here. Like, add a bio, their names, phone number, and many more.
Set payments and investments
The most important part is the app owner who regulates everything from their end. You must give a level of support to users so that they can manage their transactions and in case of project failure retrieve the money back. The process should be flawless.
Now we need to configure some of the features for the platform owner. How they can easily manage their accounts.
The owner can register into the app using his email account or with social media to not remember any passwords for the future. Further, they can edit their profiles.
For the clarity of the platform, the owners can add the details related to crowdfunding. This will bring enough knowledge to the backers to assure that their money is in a safe place.
The campaign creators get a quick insight into the details of the campaign and what more they need to achieve to complete their campaigns.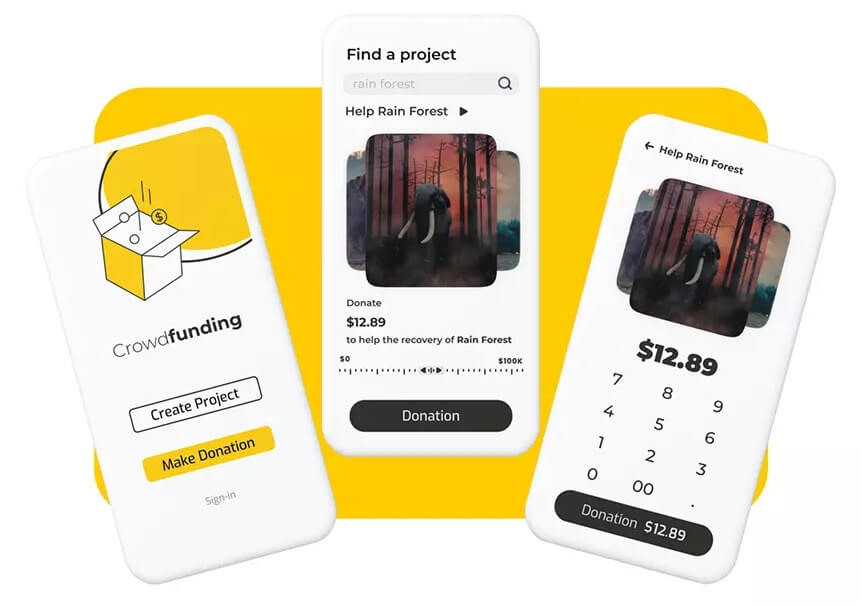 Tech speculation you must consider for the crowdsourcing application
To bring a seamless crowdfunding application for businesses and individuals this would be an important factor. Align your platform with the latest standards to match the technologies. Some of the important technical aspects are;
Front end;

JavaScript, HTML, CSS, Swift, Java and Kotlin

Back end;

React, Flutter, Angular, Laravel, Node.js, Python

Database;

MongoDB, MySQL, Redis

UI/UX;

Figma, Adobe Illustrator, Balsamiq

Real-time analytics;

Google Analytics

Web server; Nginx, AWS
Programing languages support;

PHP, Ruby, Python, Node.js

Libraries;

jQuery
Top-rated crowdfunding applications in the list
We have prepared a list of popular crowdfunding applications for your reference. To get a clear outlook about how to start with your crowdfunding mobile application.
The crowdfunding platforms or crowdfunding website development is for everyone including, artists, marketers, professionals, researchers, etc. Let's look at some of the electrifying crowdfunding platforms which serve different niches in the industry.
It is one of the super exciting platforms, designed for content creators and artists. If you are an admirer artist and want to brush your skills and looking for some platform to exposure. But in a lack of money sources, then Patreon is surely one of the best in its category.
Patreon all started with being free to register and ask for their money on different platforms. The investors can deposit the money either monthly or one time. Till now this platform has helped more than 20k artists.
Taking their actions into account, how they have achieved milestones would be the most important things for your business to garner.
This is the platform for every domain. Its main goal is to help you in raising your funds most time-mannered and without any risk for the backers to securely deposit their amounts.
It is seen that the success count of such campaigns and platforms is more than 40% on time. It's a good way for new business owners to take into account their functional working.
Kickstarter has prompted that they have completed more than 75k projects on 15 different niches. It helps the different businesses to achieve their deadlines for fundraising and meet their aim. Once the project is completed the next step is to pay back, the partners have to get their assurance money but if the project fails they would not get any money.
This platform is for entrepreneurs and for the ones who are experts in their domains. Crowdfunder runs in a cross-functional way. Like for the fundraiser the investor gets a small share in the firms of the needy. Till now it has supported more than $2M investments for the creators.
Cost of Crowdfunding App Development:
Commence to the above things it would be understood that the cost of the crowdfunding app development depends on multiple factors.
We have come along with each important step and measure to solve your crux of the crowdfunding platform. We can understand that before entering into the niche you can't predominantly examine everything. But so here we are.
The cost factors depend on many things; inclusion of app complexity, technologies, features, type of crowdfunding, resources, third party integration, and many more things.
So the cost of the app would hardly come under a small amount. It would get exceeded and estimated to be around $25k-$35k.
End Highlights!
Crowdfunding is so much in the hype just because of its easy technique to shoot the desired individuals or businesses in part to reach their goals. That's the ultimate purpose behind it.
In legitimate to the newer technologies rather than blindly looking for some safe and secured hands, why not use them in person. And get aware of how efficient their platforms are actually.
So before the thunder of similar apps comes into the play stores, it is probably the right time for you to find a good crowd-fund-oriented application for your users. Where they feel more secure and cherish their dreams.