Imagine a day without the internet. No browsing to important emails, attending business meetings online on Zoom, Microsoft Teams, or Google Meet, not able to message anyone on WhatsApp, and no access to your favourite social media platforms.
Life would not only sound boring and monotonous, but also puts a halt to your work-life. Because of the normalization of internet use, telecom operators have made the data plans economical. However, these mobile data plans also come with a daily limit. Additionally, if you need a large amount of mobile data, it will be heavy on your pocket, especially if you are in roaming mode.
That's where the role of a nearby Wi-Fi connection finder app comes into play. Using such apps, you can detect the Wi-Fi networks in your range, check their bandwidth, and connect securely.
Let's understand this with an example. For instance, you are on a holiday or vacation for personal purposes or business meetings. You might be in areas where your mobile data providers don't offer network connectivity. In such a scenario, you not only need the internet to access emails, chat, or browse social media feeds, but also for searching for the best places to visit, hotels, restaurants, cab booking, and exploring relevant routes.
What does it mean? Separating yourself from the world of the internet? No. Fortunately, there are several cafes, bars, restaurants, malls, airport lounges, etc. that provide you with free Wi-Fi connectivity. It helps you to stay connected to the online world even if your mobile data doesn't work or you lack high-speed internet.
But the question is, how will you find out the nearby public Wi-Fi spots? There must be a solution that can come to your assistance using which you can scan for all the Wi-Fi networks in your area. You got it right. There are companies who have opted for Wi-Fi finder app development, to make things easier for you.
You might think that you already have the Wi-Fi feature built-in on your smartphone. However, this feature is a traditional way of finding nearby networks. Also, you only get the basic functionalities. You will only get the closest networks, most of which will be protected by passwords. You are very less likely to connect to the internet successfully.
To get rid of these limitations or shortcomings of the built-in Wi-Fi network feature, you should download and install a mobile app that can scan all sorts of Wi-Fi hotspots nearby.
In this exclusive write-up on public Wi-Fi finder app development, let's understand exactly what is a Wi-Fi finder application, what does it do, its features, the top apps in the market, how do these apps earn, how to develop a Wi-Fi locator app, as well as the cost involved in development. 

What is a Wi-Fi Finder App?
A Wi-Fi finder is a mobile app based on Android or iOS that helps users to scan and find the internet hotspots in nearby public places.
But what is so different about these apps? Because this can be done using the in-built Wi-Fi feature on your smartphone. The answer is that along with detecting the hotspots with active internet connectivity; these apps also provide you with the password to connect to the hotspot.
What it means is that you can use free internet by entering passwords for public hotspots of your choice or the ones that offer high-speed internet.
Along with the basic connectivity details, the Wi-Fi locator apps also tell you a lot more information about the hotspot. This includes the level of security, brand, the strength of the signal, channel, etc. On the basis of these details, you can decide which Wi-Fi hotspot is the best option for you in terms of both internet speed and security.
Now you might wonder how these apps know the credentials of Wi-Fi connections in public places. So, what happens is that generally, these apps have a large audience base and work on a crowdsourced model. It means that if someone knows the password of a public Wi-Fi network, they can add or update it to the database of the Wi-Fi locator app. As a result, you can connect to most of the password-protected Wi-Fi hotspots near you.
There are several other benefits of using a free Wi-Fi network finder app. For instance, you get the feature to download Wi-Fi maps on your device. It means that you can access or navigate to the nearby Wi-Fi hotspots even when there is no internet connectivity.
What Does a Wi-Fi Locator App Do?
The role of a public Wi-Fi locator app is to offer you the details of all the nearby wireless networks. These details are shown to you in a user-friendly or easy-to-understand manner so that even a layperson can connect easily and make use of free internet.
The depth of information provided and the size of the database varies according to the app you use. Some apps might have credentials for public wireless networks in 10 cities, whereas others might have the same in 100 cities.
Are Free Wi-Fi Locator Apps Legal?
Since these mobile applications provide you with the credentials and information of a protected Wi-Fi network, such a question is obvious: "Is it legal to use or develop a Wi-Fi locator app?"
Yes, Wi-Fi finder app development is legal, along with the use of these apps.
However, there are always pros and cons of everything or any tool. The same is true for these apps. It is because some people might use a Wi-Fi connection for fraudulent purposes, the passwords for which were found using a wireless network finder app.
But there is nothing to be afraid of because the development of such apps is legal and you are helping people find connectivity wherever they need it. 
Wi-Fi & Internet Usage Statistics and Trends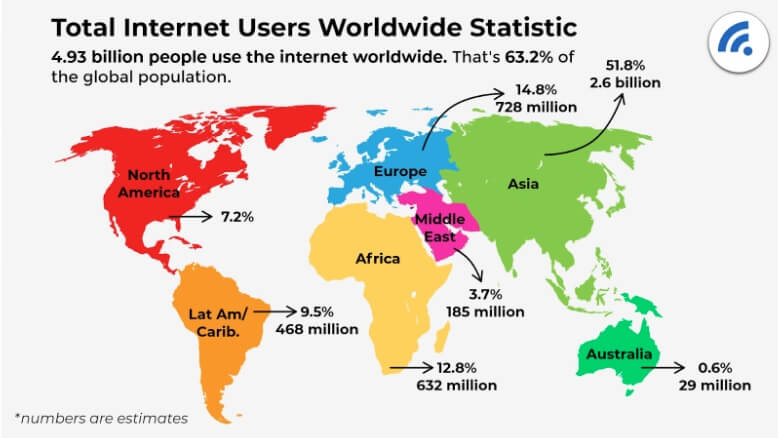 If you are looking for Wi-Fi network finder app development, there will be certain questions in your mind. The first one is about the market size of your targeted industry. How big is the base of the audience who will be using your app? How many people actually use the internet or look for Wi-Fi connectivity?
Let's understand these things backed by credible research studies.
As per

Statista

, there were more than 4.66 billion active internet users around the world in 2021. This represents nearly 60% of the total population of the world. Moreover, more than 92% of the users access the internet with mobile devices.
These are massive numbers because more than 4 billion people tend to use the internet on smartphones or tablets which are carried along while going here and there, or travelling to other cities where they need a connection to a public Wi-Fi.
Another research by

Broadband Search

reveals that 63.2% of the global population uses the internet. Asia is the largest continent in terms of the highest number of internet users (51.8%).
Now that you know the potential size of your target market, it is time to learn about the revenue opportunities with Android app development or iOS app development. How worth it is to develop a mobile app, and how much profit can you make from it?
In 2021, mobile app users spent nearly

$133 billion

on premium applications, subscriptions, as well as in-app purchases. The data represents a combination of spending on the apps available on both the Google Play Store and Apple App Store. It proves that users spend on mobile applications if the services are worth it.

Moreover, app downloads through the App Store have surpassed 35 billion, and over

100 billion

through the Play Store. The overall revenues from mobile app development grow by 15% every year.
Key Features of Wi-Fi Searcher App
While opting for Wi-Fi searcher app development, what features you must integrate into the application? Which features are essential, and which ones will give you an edge over competitors?
Here, we have mentioned all the great features of a Wi-Fi network finder app:
This feature allows users to explore all the Wi-Fi networks available nearby. This can be represented in the list form or interactive tabular way. Here, the list or table can showcase the name of Wi-Fi and signal strength.
The app should collect the information of the networks in range in real-time and show whether a network is available for connectivity or not. For example, if a public Wi-Fi is switched off by the owner, it should not be visible in the app. Once it is back for connectivity, the app refreshes and shows its name to the users.
The users can see the details of the access point details of the network they can connect to. These details can include the channel information, data transmission rate, vendor, frequency band, etc.
The details of the network can be represented in the app in the form of graphs for better understanding. For example, the speed of the internet can be shown fluctuating with the live and real-time charts.
When users can see the frequency of the network, like 2.4 GHz or 5 GHz, they can understand which are the least occupied channels and which ones are the most occupied.

Comparison of Access Points
In the graphical charts, you can show a comparison of the nearby Wi-Fi channels in terms of speed, occupancy, etc. It helps users analyze which channel is the best for them.
This feature allows the users to export the historical data of a network or access point as a CSV file to review later. They can also export the active visualization data into PDF.
Users should be able to see the speed of download and upload with a specific Wi-Fi network nearby. This helps them to see whether a connection is worth it for them or not. The speed can be shown in the MBPS format.
Along with speed, the nearby Wi-Fi finder app should also show the strength of the signal. It is usually measured in decibel milliwatts (dBm). With measurement in dBm, also show whether it is poor/low, medium, high, etc., for improved user experience.
This feature is meant to help users apply filters on the type of venue and see only relevant networks. For instance, the venues can be a hotel, restaurant, bar, cafe, store, etc. Users can decide if they wish to connect with a specific wireless network.
Once a user has connected to a Wi-Fi network and used it, it should be saved automatically. So, when the next time a user comes in the range of this network, the connectivity happens without any manual action or the need for entering a password again and again. It's a great feature for a better user experience.
This is one of the most important features of a nearby Wi-Fi network finder app. The role of the Community is to allow the users to add or share the passwords of the new networks they know but are not available on the app.
For example, if a user knows the password of a cafe nearby his home, they can add it to the app. So when new users of the app come into the range of this cafe, they can connect to the network.
Another essential feature to integrate during free Wi-Fi finder app development is the Offline Maps. It helps users to download the maps in offline mode and access the nearby hotspots in an area even when they are not connected to the internet.
After using a particular Wi-Fi hotspot through the app, the users should be able to rate their experience with the connection. If they found the connection unstable, poor, or not secure, they can rate it below average. On the other hand, they can rate it excellent if the network met their expectations.
Eventually, it helps other users to see the rating of a network while exploring the nearby hotspots and make better decisions quickly.
To help users track their Wi-Fi data usage, the application should have this feature. It can show the total amount of data consumed by the user in the last 24 hours, weekly, monthly, etc.
The users will lose trust in your app if the data transmitted over the network is not secure. Moreover, it can lead to a bad reputation, which can eventually result in loss of business. Hence, your app should follow some Wi-Fi security best practices.
If you are offering the application with a subscription model or in-app purchase where the services come at a cost, then it is necessary for you to provide support to the users. In case they face issues or glitches, they should be able to reach out to someone and seek support.
Users should have the feature to share the passwords of a specific Wi-Fi connection with their friends or co-travellers.
Another important security feature to integrate during Wi-Fi locator app development is support for network encryption protocols, like WEP, WPA, WPA2, or WPA3.
It can be added with the filter feature or as a standalone feature. Sorting allows users to see the list of available networks with a ranking on the basis of speed, strength, frequency, etc.
The integration of a virtual private network (VPN) within the application accelerates internet speed and makes the connection more secure. A great feature to add to your app to gain an edge over the competitors.
For in-app purchases or subscriptions, users will need to pay for certain services. For this, you should integrate multiple payment gateways so that they can make payments with the method of their choice. For instance, you can go for eWallet application development, UPI, PayPal, credit/debit cards, net banking, etc.
Auto/Manual Wi-Fi Turn Off
The role of this feature is to allow users to turn off the Wi-Fi when it is not in use. They can also set auto turn-off when the display is off. It reduces the power-consuming background processes and increases the battery life of the device.
How Do Wi-Fi Network Finder Apps Earn?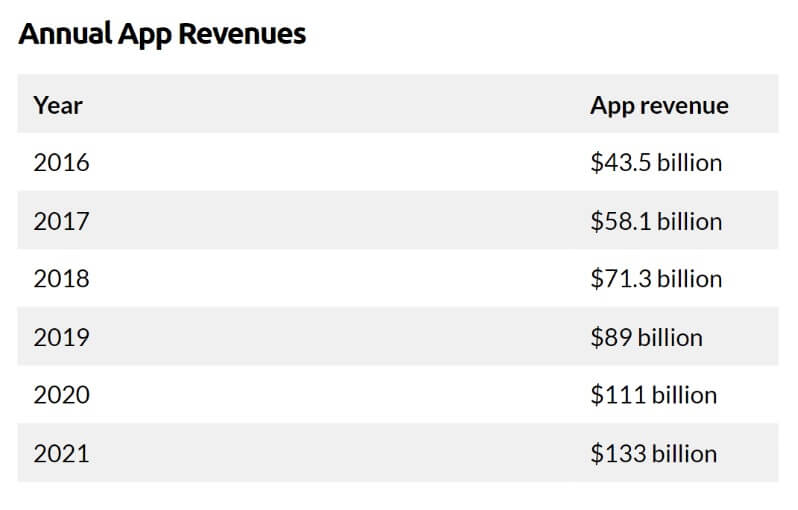 Along with Wi-Fi network finder app development, you also need to understand the monetization strategies for making money from your mobile app. There are numerous ways to monetize an app and earn high revenue from it. Let's discuss some of the top strategies here.
1. Free app with premium features
This is among the most popular strategies to monetize a mobile app. What you need to do is make your app available for free. In the app, you need to put a limit on the use of some advanced features.
The advanced features can be accessed only if the users pay a certain amount. With this strategy, you can reach a wider audience as they get the app for free and use several features at no cost.
2. Subscription model
For using the app and unlocking all the features, you can ask users to pay a subscription fee. You can categorize the subscriptions into weekly, monthly, quarterly, or annually with different charges. Generally, to make users subscribe for the longer terms, you should offer the long-term plans at a discount.
3. Sponsored Ads
Since you will have a good audience base on your app, you can promote relevant brands or businesses on the app. In return, you can charge a good amount from those businesses.
This is another great way to earn from a Wi-Fi finder application. On this front, you should also ensure that you promote only relevant brands to make users actually go for the services you are promoting of other businesses.
4. Google AdSense or Third-Party Ads
This is among the most used strategies for mobile app monetization. You can get approval for ads from Google AdSense or other third-party ad platforms. The top advantage of this monetization method is that it is easy to implement.
Most mobile apps wouldn't exist without in-app advertising. Hence, you should also consider this strategy.
5. Affiliate Marketing
Once the public Wi-Fi finder app development is done, you can become an affiliate of relevant networks to boost the revenue.
There are numerous affiliate networks and programs that offer handsome commissions for every conversion. Here, you need to ensure that you go for relevant programs which can be of interest to your app users.
Cost of Wi-Fi Finder App Development
Coming to the final question: how much does it cost to develop a Wi-Fi finder app?
The total cost will depend on a number of important factors, such as:
number of features to be integrated into the app,

tech stack,

the complexity of features & functionalities,

UI/UX design,

app testing after deployment,

the operating system for which you want to develop the app (Android, iOS, or both), etc.
Another factor that determines the Wi-Fi finder app development cost is the geographic location of the app development company. On average, the final cost will be somewhere between $30,000 to $60,000.
Wrapping Up:
Developing a public Wi-Fi locator app can prove to be a great business idea as we live in an internet-dependent world. There is a huge demand and the market is only growing. Moreover, there are not a high number of competitors in this domain.
By opting for a reliable mobile app development company, you can get a robust app built and then monetize it. For any questions related to mobile app development, feel free to connect with our experts or write in the comments below.