"Books should go where they will be most appreciated, and not sit unread, gathering dust on a forgotten shelf, don't you agree?"
Of course!
If you are someone who loves to read, then surely you have that little library of yours at home. At some moment of time, you would have surely thought about changing it to a home library. Everyone does.
Can you help these bibliophiles to have some solution like that?
Why not? A mobile application that helps your users exchange books online with some advanced features can simply be the trick.
Agreed? Then hire the Custom Application Development team today and enter the market with an interesting and engaging book lending app.
Book lending app development is not a new concept but it does require you to be very upfront and fast. Since the rising demands for such applications, the competition would develop gradually.
Any mobile application development company would love the challenge this book borrowing app brings with it.
The important points to consider when developing a mobile application that helps your users are:
Along with these, there are a lot more things that you need to talk about, but we would for now stick to these three.
Also Read: Mobile App Development Process – A Step By Step Guide
Without much ado let's start with the feature set of your book exchange mobile app. 
Features of Your Book Lending App
As you hire a team for book lending app development. The first thing they want to talk to you is about the features you want in your application. This would define the utility and the functioning of the application and how much revenue it earns.

Easy Onboarding
Around 82% of enterprises believe that the key driver of value for their business is the smooth onboarding process. Our mobile app developers follow the best mobile app onboarding practices. They work to make sure that your user doesn't face any difficulty when using the application.
You can let them sign up on the application either via email, social account, or simply the phone number. You would not need to get a lot of details filled in from your user for simply using the application.
Create Profile
When you hire our book exchange app development team to build a solution for you. They take care of the app experience and user journey of the application. They add small elements that can help your users customize their profiles and design them as they like.
How about adding a few bibliophilic themes to the application to make it more interactive? Share the theme ideas in your mind with our expert custom app developers. They would bring to the experience your users would love.
Select Genre
We make sure that the solutions that you take to the market are user-friendly and can make things easier. Our developers let your users build various categories for the books in their collection. They can choose to showcase the books according to the author or genre or simply title.
One can even directly search for the book they want to have. And if they find it with various users, they can connect and see who has the best offer.
Also Read – Best Online Manga Book Reader Mobile App
Upload Book List
Let the users upload the list of books they can offer to lend. They can either enter the list of books with all the details manually or simply scan the barcode of the books and the rest is automated.
With an in-app camera integrated with your solution, all you need is to simply scan the books and the rest of the information can be fetched from Google. Thus, no more updating the list manually. One can even download the list in the form of an excel sheet.
Interesting!
Record Status
Our book swap app development team understands there could be various readers waiting for the same book, and thus they integrate a real-time status tracking feature to reflect the current situation of the particular application. We have been working in the direction of delivering solutions that are interesting and easy to use.
One can simply check if the particular book from the lender they want is lent or not. Also, the lender can check if the borrower is currently reading the book or is done reading.
In-App Chat
It is another vital feature that our experts integrate with your application. We make sure that the solution that you get lets your users connect with each other without sharing their personal details. We value customer privacy and confidentiality. One can simply connect with others via their user names and communicate via chat or our in-app video and voice call feature.
Thus, it is not necessary for the service users to share their personal details, making them confident about the application you are bringing to the table.
In-App Wallet
Another significant feature that we integrate with the application is the in-app wallet. This is to affirm that the users do not have to switch between the applications. Not just this, we make sure to integrate various payment modes like e-wallet applications, cards, and other things that would make it easier for the users to get the transactions done and get their favorite books dropped within the deadline.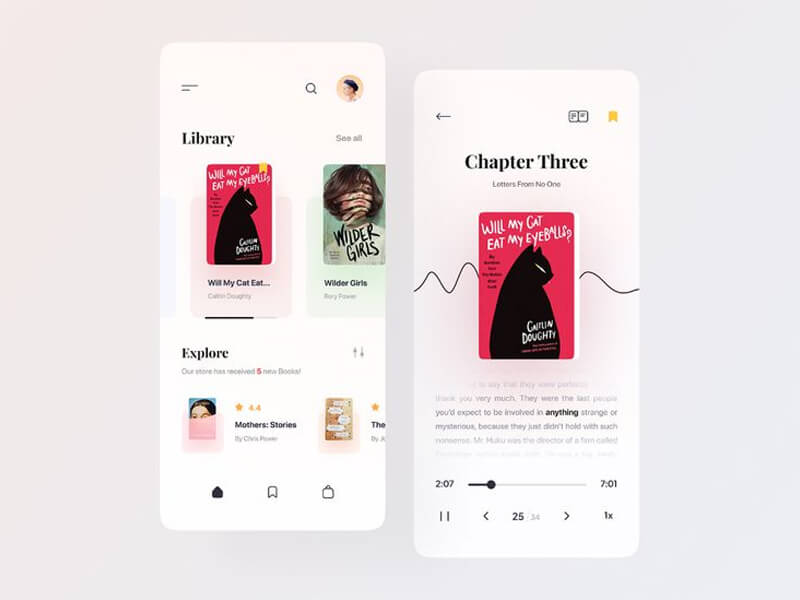 Book Suggestions
Another feature that our book exchange app development service providers think would help your customers in their problems. If your customer cannot decide on what book they want to read, they can get the list of top books from their genre that others have exchanged recently.
They can also check the book reviews of these applications and move further to choosing one. This feature would basically function like a book review app that helps readers be the best in the market.
Showcase the Books
Let each person who is using the website build their personalized libraries by adding various books to the bookshelves. This would make it easier for others browsing the books to search faster. Not just this, one can even check if there are some other renditions or edits of the book they are looking for.
With advanced search and easy showcase, it becomes easier for the seekers to find the right book with fewer taps and efforts.
Also, this saves time for both parties.
Feed to See It All
Unlike any other social media application, let your book lending app show the users some posts and quotes from their favorite books. This would add to their interest and increase engagement with the application. If you are planning to enter the market with an application that can help bibliophiles around the world, then yes you need to add a few things that can keep them glued to your application.
Make Requests
When a user finds the book of their interest, they can simply make a request to the owner to either lend the book or exchange it. In case the book is currently available the owner can give another estimated date or connect with the one who is currently reading it.
We understand the excitement that readers have and make sure that your users don't have to hold up their excitement for long. A quick book exchange app is something that would revolutionize the reading culture at least in your city.
Push Notifications
We make sure that the book borrowing app development team affirms the users are always updated with what's new. They integrate push notifications that would let the users know the new books, new lenders, if anyone returned the books, if the deadline is approaching, and other things to make sure that in no case the use is disrupted.
Our team works dedicatedly to affirm there is no pitfall or loophole that the competition can take advantage of.
GPS location
We integrate efficient GPS Location API with your application so that you can decide the periphery of the lenders and borrowers. Users can decide if they want to connect with the lenders from a specific area of the city.
Also, you can see the nearest libraries to your location. In case you don't want to borrow a book from some stranger then the library is a reliable source. Our book sharing app development team would add the details of nearby libraries too to make sure that your users' reading passion isn't hampered.
Add to Cart
Let your users add to the cart the books that they would love to read. And when any of these is available to lend, then simply send a notification. You can also add this as a to-read list. In case the user cannot find the right match, the admin can search and connect the user with the right person.
Update Book Status
When talking about book sharing app development it is important that your application shows the status of the books that one is interacting with. It could be that the book is lent, returned, or is being currently read.
This would help everyone to make other choices and interact with more people.
Optimized Route
With an optimized route from the lender's location to the borrower's location, the delivery partner associated with your application can make things easier. It would give the easiest route to reach the farthest corners of the city without any trouble.
These are a few basic features that you need to integrate with your book lending mobile application to make it interactive and revenue-generating. We understand that you have a limited audience and want an application where your users stay on your application.
Also Read: Common Key Features of Successful Mobile Apps
Other than features another thing that you need to talk about in the market is the technology. Since the mobile app development industry is evolving real-fast you have to make sure that the technology that you are using for the book lending mobile application development also gives you a competitor's edge.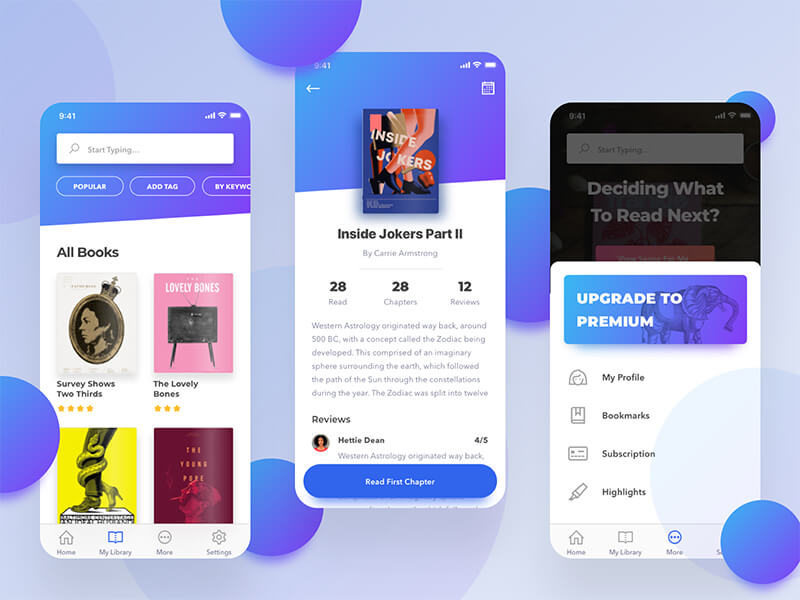 Advanced Technology Used for Your Book Lending App
When you hire mobile app developers from a firm, you partner with them not only for their development skills but their play with technology too. The experts at Octal IT Solution, work on the latest technology to provide you with a solution that can help you earn the best.
Predictive Analytics
This is one of the best use of technology that any online business can use. Big Data Analytics has made it so easy for the sales team to come up with the ideal choices for the users. With technology taking care of what your users like and what they may not like, you are never getting in the bad book.
The book lending app development team ensures predictive analytics and that the data records are easy to read. You can work better on the aspects that are doing amazing for your application, and for the aspects that are failing work harder (**wink**wink**).
Artificial Intelligence
With artificial intelligence-based solutions, we make sure that your users and you do not have to put in a lot of energy. An important aspect to talk about here is the search methodology. Over the years the way we search Google has changed. From simple texts we have moved to the new types:
Image Search

Voice Search
Our team has been engaged with app development for startups and they understand what would be the basic requirements for your book lending application. AI-based OCR generating solutions help you create customized barcodes to keep track of things and maintain the database.
Advanced Cloud
Our book swap app development team makes it a point to enter the market with a solution that is interesting and values privacy. With advanced cloud computing solutions integrated with your application, we make sure that the data retrieved is never used or sold to any third party.
Wearable App Integration
Another important aspect to talk about is the wearable application. Our wearable app development team integrates basic functionality with your product to make sure that you can access the application with your wearable device too.
AI-based Chatbots
Another interesting feature that we integrate with your product is an AI-based chatbot that would take care of your users' queries and problems. With a smart chatbot integrated with your product, the users can feel they are always heard and valued.
This is a good way to increase user engagement and build credibility in the market.
Although over time the need for hard copies has declined, the fact that some still love them cannot be denied. Kindle and other solutions make almost all books available online, but then the original has its own value.
Also Read: How to Develop an Attractive Best-Selling Reading App?
Over the years the book exchange app development has seen a great rise in its demand. Thus, although the community is small they are hardcore book lovers who want to have what they want.
If you are planning to enter the market with such solutions, then the last thing that you need to think about is the cost of the development of a book lending app.
What Is the Cost of Book Lending App Development?
The cost of book borrowing app development is determined by various factors. These are the basic aspects that would make an application worth its cost.
Feature Set

Technology Stack

Region of the Development Company

App Complexity

Platforms
The book sharing app development process is a little complex but would not need a lot of investment. The basic application can be prepared in 25k USD to 35k USD and the advanced application can ask for an investment of around 40k USD to 50k USD.
Wrapping This Up!
If you are looking forward to hiring a book swap app development company that can help you stand the test of time and technology then you are at the right place. We understand what you are planning to take to the market is an innovative solution and our experts can help you with their creativity and expertise to market a product designed specifically for you.