Here comes the end of the month to remind you about your pending bills! Isn't it dreadful? It might be but do you know what is more dreadful than this? That feeling when you don't even remember what are the bills that need to be paid. Now, do you have any other way through which you can remind yourself about the bills and pending amount? Not only this but there are also so many other questions that arise like will there be sufficient money in your bank account so that you can pay all the bills? What if you won't be able to make this all happen? All here comes the concept of bill reminder app development.
Don't panic, all these can be solved just by using one mobile app called 'bill payment reminder app'. This app is a lot beneficial if you are among those who don't keep track of their bills or don't really enjoy noting all the bills that are paid or pending to be paid. It is very difficult to manage all the bills and finances unless you are a human cyborg or a hyper-organized person. It is the story of every month when there is a long list of bill payments including electricity, rent, utilities, credit card, and other subscriptions that require to be paid.
To sort out all the things like these, users are embracing the bill reminder app to track all their bills and get a reminder to pay them on time. If you want to know about this app more, then you are in the right place. The below article contains details about how to develop a bill reminder app, involved cost, must-have features, and other essential things. Keep scrolling to get through all the information-

Get to Know About Bill Reminder App
Bill pay reminder app is useful for those who often forget to pay their bills; this app reminds them to pay their dues by sending notifications or alerts before the last date. This app works like having your personal assistant who will keep track of all spending done by you while alerting you about the last date to pay the remaining bills. After having it, users can be tension-free about paying the bills as now; they will never be going to forget about it.
This bill organizer or payment reminder app works with things such as low credit scores, reminding penalties, and pending bills. This app includes dashboard-style views permitting users to review the dues and sends reminders for upcoming bills as well before the due date.
Key Features to Add in a Bill Reminder App
Integration of features in the bill reminder app is an integral part. Let's focus on must-have features your app can't be successful without-
The most common and significant feature of the monthly payment reminder app is that users must sign-up to the app by providing their details. After that, they will get their login credentials. They can use them to enter the app; also, they must create a profile that will represent them to other users. This process should be simple, short, and secure.
This feature will assist users to manage all their bills, users just need to add those bills with the app along with their due bills. They can do it either by using an automatic or manual process. Then, the app will send them an alert according to the reminder they have set.
Related Post: Bill Management App Development – Cost and Key Features
The past-due payment reminder app sends notifications to users for reminding them about their due bills. With this, users are not going to miss out on any of their bills. 
Users can manage all their expenses according to their ability with this feature. This feature enables them to get benefits like setting spending limits, classifying expenses, and others to manage the costs.
The cost management feature will only be beneficial when users will sync their data with the app. The data should be updated in real-time; hence users have to include the sync option. The data will include users' information such as their bank account details, credit card, and loan details, etc.
This feature is the most important of all as it is essential to provide full security to users' data and banking details they have linked with the app. When it comes to bill reminder app development, there are added different protection methods including face or fingerprint recognition, multi-factor authentication, pin, or alphabet passwords, etc.
Gathering and examining the users' data along with their behavior and converting it into detailed reports is another essential feature to add to a payment reminder app. It will help mobile app development companies to build customized finance management apps like Mint, Mobills, Truebill, etc.
If app users have any type of issue while using the app, they can get connected with the chat support provided by the app. They can contact the support team anytime regarding their complaints or queries.
This feature facilitates the app users by helping them in making profitable investments and smart deposits. The bill reminder app will provide users with references from different sources to invest their money by analyzing the users' interests.
Related Post: How much does it cost to develop an Investment App like Acorns? 
A budget planner app like Mint integrates AI technology to provide users with the right course of action. It refers to the optimization of their expenses and improvements in their financial expenditures habit. The AI-enabled program evolves and provides improved recommendations based on the users' behavior analysis.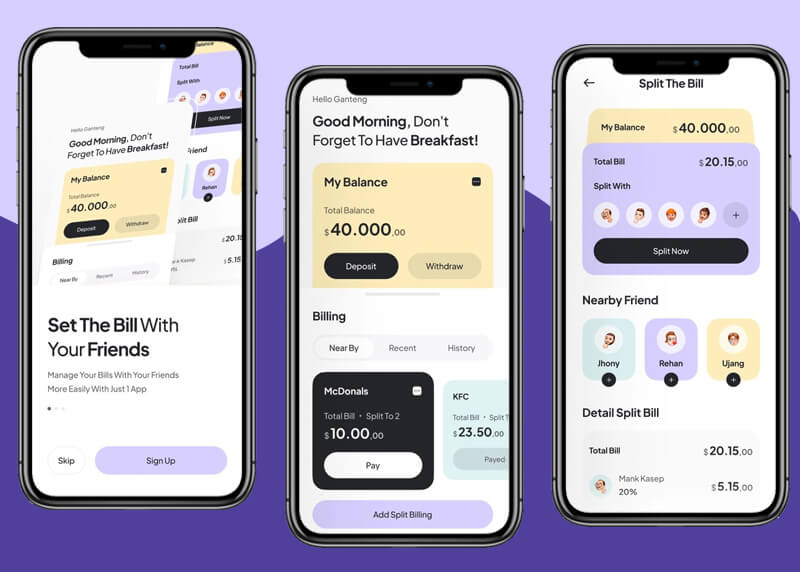 Why These Payment Reminder Apps Are in Demand?
Creating a feature-rich and compatible payment reminder app or personal finance app is not an easy task without having an understanding of your target audiences and their requirements. How these apps are beneficial to users and why these are in high demand by users? Get all these answers here-
Being organized or managed is truly not the cup of tea for a messy person. It might be easy for others but for some of us, it is like doing something unwantedly. Paying all the bills and on time are also included in it. In this situation, it would be advantageous to use the bill tracking app to keep yourself informed about the bill payments. From your app subscriptions to your credit card payment date, this app will help you all along.
Along with reminding the users about their pending bills and managing finance, the app is even beneficial to increasing their credit scores. Pending bills related to credit cards and loans can really decrease the credit card scores of users. Keeping these bills pending for a long can affect their financial plans in the future. Hence, the bill reminder app can do wonders for such people to help them improve their payment pending history as well as their credit score.
Businesses ensure to add advanced features at the time of bill reminder app development to attract audiences. It works for them in all possible ways as users get various advantages by using budgeting features that can help them to track their finances and manage them simultaneously.
The bill reminder app will provide you with all the information related to your finance via colorful and clearly described graphs and charts. These stats will be understandable and visually soothing for users to do proper budgeting and analyze their last transactions' records.
It is one of the important benefits of a bill payment reminder app like Mint. Data synchronization facilitates users to link all their financial accounts while synchronizing the related data.
This is the most important benefit that can make the target audiences prioritize your bill reminder app. A finance-related app needs to integrate utmost security to protect the user's personal and banking details. Also, there are users' bank accounts linked with the app. Any type of security breach can harm your users' finance and it will lead you to face legal issues that can result in a downgrade in your venture's reputation. It would be advantageous to provide a fully secure system to ensure data protection. It should also provide regular checks on the data to improve data security.
Bill Reminder App Development – The Revenue Models:
Businesses invest in mobile app development so that they can earn huge revenue and profit. Before getting knowledge about bill reminder app development, it is needed to know about the monetization model to apply to the app. Let's navigate to some of the amazing money-making strategies to increase business turnover-
It depends on whether businesses want to make their app free or not for the users. If they want, they can make it totally free so that users can download it to use, or they can make them buy the app just once. After that, users can enjoy all the wonderful features provided by the app.
It is one of the most popular monetization strategies that can be used in the payment reminder app. In this, the app can allow other relevant businesses to show their advertisements on their app. The app can also provide more sell advertisement space on the board to businesses by charging them an additional fee.
Though users can use all the app features for free, there are some of the features that can only be unlocked when the users pay extra charges. These features will be more amazing than the existing ones.
In this monetization strategy, the app proprietors can provide the referral charges to users through which they can get high profits when the audience will download the app.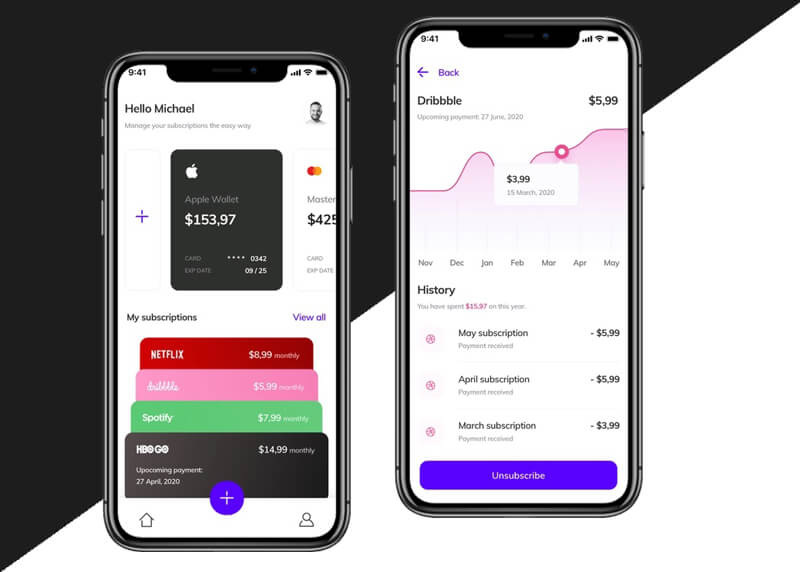 How to Build a Bill Reminder App?
You must do proper market research and analysis to develop a successful bill reminder app for users. The right set of development steps must be followed by the mobile app development company you choose in order to provide you with a feature-rich and competitive application. Before getting into the app development process, conduct a market analysis to know about the competitors and things to add to the payment reminder app. 
After this, here are the next steps to follow to create a well-designed mobile application that can remind users about their pending bills.
App prototyping and designing is the most important part of the development process. Firstly, a prototype will be created and will get approved by the client. After its approval, the app design process will start. It must contain attractive and responsive UI/UX design to steal the attention of audiences. An improved app design with micro animations and appealing elements can do wonders in the market and bring an extensive user base to your app.
Create an MVP for Bill Reminder App Development 
The mobile app developers you have hired will help you to build an MVP (minimum viable product) with core features only. It is developed to read the mind of the targeted audiences and know if they like the developed solution or not. The feedback they provide will help developers to improve the existing bill reminder app. An MVP version will be used for testing purposes only. Mobile App Developers create it by implementing basic technologies and functions, they also keep the scope of improvement with these mobile apps.
Advanced Security Integration 
Navigating to the development part, this stage is very crucial among all the phases. The coding part will be written in this phase to include essential features and functionalities. Along with it, security is the major concern of users in this type of app; hence developers try to adhere to all the security standards and measures to safeguard the users' data. Here are some of the considerable things for security are- implementing the bank-grade data encryption, data hiding, bio & two-factor authentication, ending the idle sessions, following SSL and HTTPS.
Testing the app is the most important step while crafting a smooth working bill reminder app. Expert QA engineers will apply various types of testing on the app to check if all the integrated features are working properly or not? If there is any error or bug in the application, developers will fix it, and then again, the app will go for testing. This cycle will be continued until the app gets error-free. App's working will be measured based on various factors such as performance, speed, responsive time, and so on. 
After passing the testing phase, the bill reminder app is ready to launch in the market. The app will be deployed on the selected platform, be it Android, iOS, or cross-platform. Right platform selection is the most important thing in app development as it directly affects the user base of the app. You must go with the platform used mostly by your target audiences.
The app launch is not the last phase as keeping the app updated according to the users and market needs is also very important to stay ahead of the competitors. Here comes the app development to an end!    
Advanced Tech Stack Used to Develop a Bill Reminder App
Below we have defined a proper technology stack used to build a feature-rich bill reminder app. what are the latest technologies to include while developing a competitive past due payment reminder app, have a look below-
| | |
| --- | --- |
| Development Part | Required Technology |
| Front-end Development | Angular JS, Node.js, PHP, HTML 5, ReactiveX, TypeScript, jQuery |
| Back-end Development/API | .NET, Ruby, Postgre DB,MySQL, MongoDB |
| Android app | Kotlin, Java |
| iOS app | Objective-C, Swift |
| Data Analytics | Google Analytics |
| Admin Panel | Angular, React, jQuery |
| Customer Support | Intercom, Forumbee, Help Scout |
Bill Reminder App Development Cost:
The cost estimation of Bill Reminder app development is not an easy task as there are several aspects to consider. Some of them are:
Features are an integral part of the development process but having them in excess can increase the overall cost. Integrate required features only and avoid the unnecessary ones to maintain the bill reminder app development cost.
If you want your bill reminder app developed for one platform only, be it Android or iOS, it will cost you in a decided budget. On the other hand, a hybrid app (developed for both Android and iOS) costs more than the estimation. Don't decide anything without considering the market needs and target audiences.
Developers' Location & Charges
Location and charges applied by your chosen mobile application developers can highly impact the complete mobile app development cost. Hiring developers from European countries will cost you more than hiring developers from Asian countries. Along with it, there is a huge difference in prices charged by these developers. Asian developers charge lesser than European developers. Members included in your app development team also affect the entire cost of mobile app development.
Consumed Time in Development 
The time taken to create the bill reminder app can increase the estimated cost of app development. The more time app development will consume, the more development cost will be. In general, it takes around 4 to 5 months to create a feature-rich application, but if it takes more than that, then surely it will cost higher than estimated.
Integration of advanced technologies can be a cost-effective factor. Hence, it will be advantageous to develop the bill reminder app by applying core technologies only such as Kotlin, Java, C, PHP, Swift, etc. to maintain the development cost. You can go for an advanced tech stack if you have a high budget for app development.
Along with the core features included in the bill reminder app, there are some third-party integrations as well to combine into the app. These integrations include payment gateways, Google Maps, Google Analytics, and others. If you incorporate these tools into your app, then the payment reminder app development cost will surely increase.     
Considering all these aspects, the bill reminder app development cost varies from $35,000 to $50,000 for both the platforms Android and iOS. If you want to integrate some of the advanced features into it, then the mobile app development cost would go higher than this.
Final Verdict
In this article, we have clearly described the bill reminder app development cost and must-have features. We hope you have got the knowledge you required. Nowadays, it is not easy for people to remember every single thing including paying the bills. Hence, businesses are adopting the opportunity of bill reminder app development to make money and facilitate users with something that can remind them about their pending bills on time.
If you also want to enter this domain, then Octal IT Solution has a skilled team of developers that will assist you to develop a feature-rich bill reminder mobile app. We are a top-notch bill payment reminder app development company having years of experience working in this field. Contact us for further queries!