From the time being, the future of the entertainment industry would watch shows over the internet, not with a cable connection. And that constantly emerging trend is known as OTT (Over-the-Top).
Nowadays, iGen enjoys OTT streaming as it offers new, interesting web series, and an opportunity to watch all the ad-free, pre-loaded shows repeatedly. They can even pause and watch them later while performing other jobs. OTT platforms offer ad-free, uninterrupted streaming at an extra cost.
Well, for clarity, let's get a little deeper and pull out something more about Over the Top, its working, its pros and cons, and a lot more. 
What Is OTT?
OTT, Over-the-Top, is the newest TV and film content delivery method over the internet across varied devices with no participation of traditional cable, broadcast, or satellite pay-TV providers.
Simply put, OTT streaming demands users to just pay for an internet connection needed to watch TV shows, movies, music albums, documentaries, and more, offered by various content providers.
How do OTT Platforms Work?
As OTT media is internet-based, viewers access the audio and video content directly from the platforms of content providers. OTT just sends content over a high-speed Internet connection despite sharing content via traditional means, like cable TV operators.
Customers only need a high-speed internet connection to stream Over the Top and a well-connected compatible device that can support browsers or apps.

Mobile OTT Devices
Tablets and smartphones can download OTT apps from the App Store or Google Play to stream.
Personal Computers
Users can enjoy OTT content from desktop-based web browsers or apps.
Connected TV Devices
The best and widely known examples are Fire TV, Apple TV, Roku, etc. Game consoles, such as PlayStation, also usually support OTT apps.
What Is the Difference Between OTT and VOD?
| | |
| --- | --- |
| OTT | VOD |
| The distribution model according to which video content is delivered over the internet. | The consumption model according to which video content is played on demand. |
| It deals with consumer-facing media services. | It covers every sector and industry. |
| Scheduled programming is delivered through streaming; users don't get access to any content. | Pre-recorded and downloaded content may be from your collection that you rent, purchase, or record from your VOD service. |
| Example: The 2022 Winter Olympics (Streamed Live) | Example: Zombie Kid Likes Turtles |
OTT vs. TV, How Are They Different?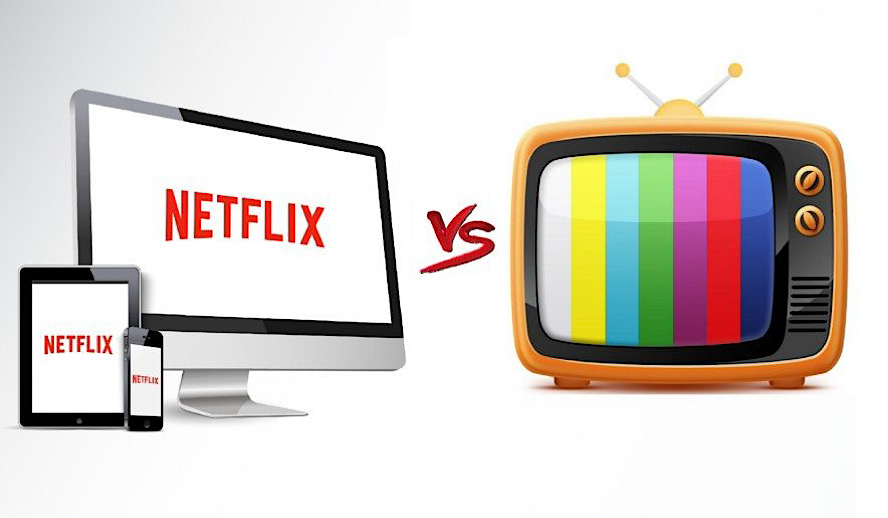 All age groups can enjoy smart TV as it's targeted to all audiences equally. People aged between 45 to 65 pick television over OTTs. Whereas in OTT, the target audience is aged between 18 to 29 who prefer laptops and mobile phones more than TVs for entertainment.
Television operation is comparatively easy to operate and broadcast a show, time is specific, and shows start and wrap up within a few months. On the contrary, to access Over the Top you need an internet connection, streaming sticks, etc. Users can pause, watch later, or repeatedly watch the same show.
The users watch what's aired on the channels on television, but they don't get the chance to watch their favorites.
On the other hand, when it comes to OTT, you will get overwhelmed with choices with no long waiting for airing on the TV.
OTT (Over The Top) Industry Size and Statistics
The OTT market worldwide, in 2021, was valued at around $265.1 billion.
In 2022, in the Over the Top Video segment, the average revenue per user (ARPU) is likely to reach $429.90.
OTT Video Advertising is the largest segment in 2022, which will catch $180.40 billion.
In the Over the Top video segment, in 2022, the revenue is anticipated to reach $275.30 billion.
When compared globally, in the US in 2022, the Over the Top video segment is expected to generate approximately $119,100 million and by the end of 2027, the figure is expected to touch US$476.60bn
By 2027, the number of users in the OTT video segment is likely to reach 313.4 million.
During the forecast period 2022-2027, we can expect the worldwide OTT market to showcase a CAGR of around 25.34%.
How does OTT Make Money – OTT Business Model
To earn profits, Over the Top providers may choose any of the key models below.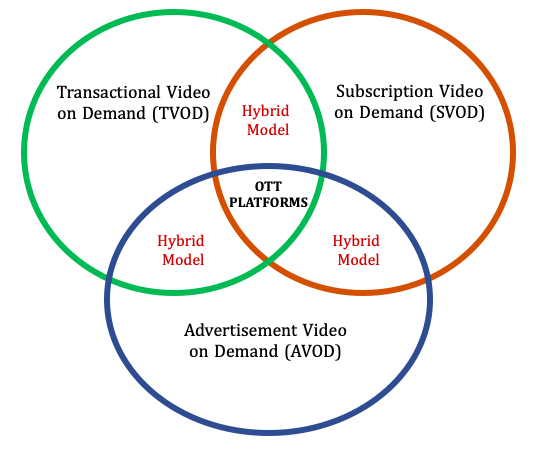 Sell Individual Videos Or Series (TVOD)
Fact: In 2020, the TVOD market size was valued at $6.48 billion and is likely to increase at a CAGR of 8% from 2021 to 2028.
During the pandemic, when movie premiers and events were closed, brands took advantage. They started availing new movies online to grab a large audience.
The process of renting or buying a piece of audio or video content is known as transactional video on demand (TVOD). TVOD allows users to pay-per-view (PPV) or pay per piece.
Precisely, it's known as TVOD (Transactional Video on Demand) when an audience chooses to purchase or rent individual videos despite subscribing to access the whole video library.
For example, Amazon Prime Video
TVOD is crafted for the larger audience where anyone can join for free and buy content. Brands use it to promote new or exclusive content at multiple pricing options. It's usually known as a supplement to an SVOD strategy.
Benefits of TVOD
Offers a chance to provide single videos, feature films, or series.
Permits the release of exclusive, timely content.
Emerges with options to purchase or rent videos.
Sell Paid Subscriptions to Your OTT Channels (SVOD)
Fact: By 2026, revenue from worldwide SVOD is likely to reach $126 billion.
Subscription video-on-demand (SVOD), is identical to traditional cable television. It offers customers access to varied video content for recurring monthly, weekly, or daily rates. It's flexible for the audience as it permits them to join or even opt out with no long-term contract, akin to satellite contracts or traditional cable. Besides, users can repeatedly stream from their library.
For example, Netflix, Disney+, etc
The SVOD providers can personalize their content for their specific audience. This way, subscribers will more likely sign up. By releasing content regularly and notifying subscribers about that, they will not likely unsubscribe or stop paying for providers' channels.
Benefits of SVOD
Provides flexible subscription options.
Engages the audience and makes loyal subscribers.
Creates a constant revenue stream.
Allows publishing of exclusive content.
Sell Advertising on Your OTT Channels (AVOD)
Fact: By 2025, the total number of AVOD service users is expected to increase to around 3.349 billion.
Advertising-based video on demand, AVOD is when OTT providers stream their video content for free but need viewers to watch ads. Individual ad views need large volumes for revenue, but pay small amounts. So, OTT providers with a large following or audience will get the most out of AVOD.
For example, YouTube (the free edition), Pluto, etc.
Simply put, in the AVOD model, OTT providers stream their audio and video content to their end users for free. Post that, they sell advertisements to earn profit from their viewership.
Benefits of AVOD
It doesn't need a satellite or cable subscription.
It allows the audience to watch their OTT providers' content for free, which makes entry easy. 
Offers a scalable revenue solution for growing and catering to large audiences.
What Are the Advantages and Disadvantages of OTT platforms?
Various essential benefits are there for an over-the-top media service. Let's review some of them quickly:
Advantages of Over the Top Platforms
Cost-effective
Based on latest consumer trends
Original content delivery with no 3rd-party mediators
Replay repeatedly
Instant Playback
Best picture quality
Crisp sound content
Multi-platform service
Disadvantages of Over the Top Platforms
The OTT platform has privacy and security concerns that should be resolved.
Demands crucial infrastructure potential that leads to reduced OTT network services.
Hardware or internet constraints result in access limitations.
No censorship to split child-friendly content
Poor network may impact your viewing
Users waste much on OTT platforms
Online limitation
How You Can Launch Your Own Over the Top Platform
You can launch an OTT platform in two ways. Let's check them out.
Option 1 – Hire an Experienced OTT App Developer like Octal IT Solution
You can hire a skilled and experienced OTT app developer company like Octal IT Solution.
An OTT app development agency can develop custom OTT applications for you from scratch. The team of experts can help you meet your exact business needs.
Time Required: The development of an OTT platform may take 3 to 6 months to complete (may vary depending on the features you want to include).
An OTT platform developer offers complete OTT consulting and development services for B2B and B2C clients. The professionals understand every in and out of clients' business workflows and hold the caliber to support them at all the stages of their content delivery venture, from video ingestion to management to monetization.
Option 2 – Lease an OTT App from an OTT Platform Like Brightcove, Uscreen, VPlayed, or Kaltura
One of the most cost-effective and efficient ways to build an Over the Top app is leasing. This method states that you can rent an OTT platform service provider's OTT services, such as Uscreen, that already holds white-labeled Over the Top apps for varied compatible devices, hosting, and CDNs.
But, despite buying them, you will rent them (just for a fraction of the price), on a monthly basis, for as long as you have your apps running.
Final Opinion
Recognizing OTT's potential worldwide, people have already jumped on the bandwagon. The giants like Netflix and Disney are earning heavy profits, whereas the new generation is enjoying the rapidly streaming entertainment.
While turning the pages of a report recorded recently, we found that compared to other countries, India is being labeled as the globe's fastest-growing OTT platforms market.
The future of OTT is bright; no one can stop the OTT empire from expanding. In fact, we can witness a green signal for the development of the OTT platform from all corners.
So, if you are also devising to develop an OTT platform or looking for an OTT development solution, hire an OTT development company that can help you in every possible way to make your notion a reality.