Wedding is the most memorable day in a person's life!
They are beautiful and magical. Indeed they are.
But there's a lot that goes behind a picture perfect and wonderful wedding. A lot of planning, last moment changes, instant decisions. Uff!
It is so much that often the person involved with the whole wedding planning process misses the fun and enjoyment. Well, the fuss here is not unwarranted, after all, it gets so much to manage so much and devote all of the time to it, until and unless event planning is your job.
Why not let your users enjoy their family functions while professionals take care of the function? Reach to the wedding planning app development company to build an app that can rescue your users. The ones involved in the wedding planning process usually make time for preparations during the lunch breaks, later in the day, or maybe on weekends. But didn't you often wish that there was more time in hand, with so many tasks pending?
Did You Ever Consider a Mobile App for Wedding Planning?
The only answer to this challenging scenario is to be productive from the word go. As your free time is limited and hence you need to make the most of the time you have in your hand. Here, a wedding planning mobile app, especially for wedding planning can be the ultimate solution. A mobile app is not just capable of entertaining you as you wait in a long queue to get the tasks done, but it can actually be amazing to manage the preparations in an easier, faster, and also better manner.
As per the statistics garnered by Sound Vision, there are around 2.3m couples who exchange vows in the U.S. annually. Thus, it is evident that the wedding business is certainly relishing its prime. In fact, in the last decade, there has been transformational growth in the industry owing to technology & digital innovations.
Wedding planning app development has seen a great demand over the years. With technology taking charge for our personal tasks we have come a long way.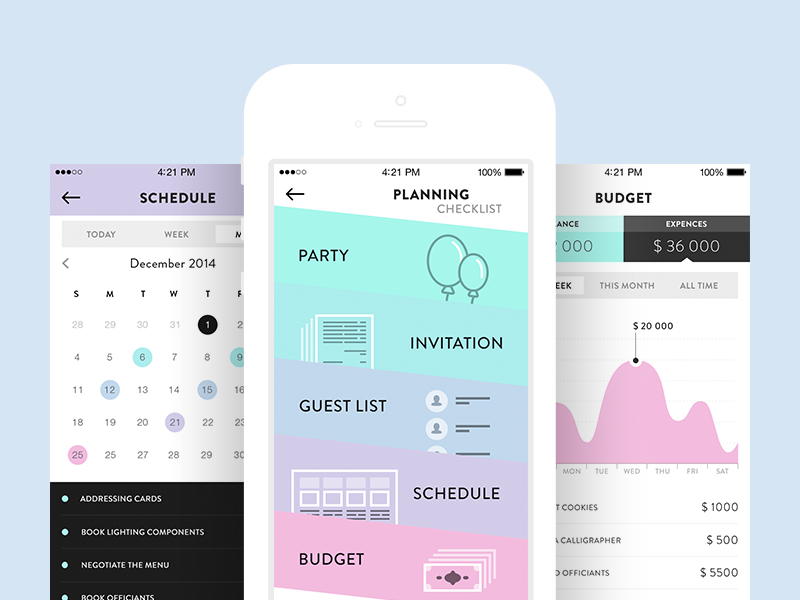 How has technology transformed the wedding processes and the wedding planning business?
So, if we talk about early 2000, we can imagine engaged couples buying a lot many wedding magazines, inviting their friends, and brainstorming in the search for some inspiration. However, times have changed immensely today, like all you need is heading to the internet or install an app to find millions of suggestions and ideas from all across the globe. Brides of the millennia, don't go online just to look for inspiration but they actually complete so many real tasks that way.
Thus, the development of wedding planning apps is on the full swing and each day you will find new products coming up on Google Play and Apple App Store. So, if you are someone who is keen on easing up the lives of brides & grooms around the world by introducing a wedding planning app, then you are on the right platform. Here, in this blog, we have covered various segments useful in wedding planner app development, like the benefits, the types of wedding planning apps, present successful wedding planning apps, and yes, not to forget, "the list of exclusive and advanced features". You will find it all here, making the development process simple yet the end-result brilliant.
How exactly to begin?
So, like, you have decided to create a wedding application, now how you plan to get started with it? Well, foremost, you require to execute solid market research and collect sufficient information. Plan on your target audience, like who will they be and what is the problem your app is going to help them with. Next, it's time to proceed to the creation phase. You must understand the wedding planner app development cost greatly depends on the app design, project complexity, and functionality. Apart from that, the price will vary on the basis of your choice of developers who choose to implement the project.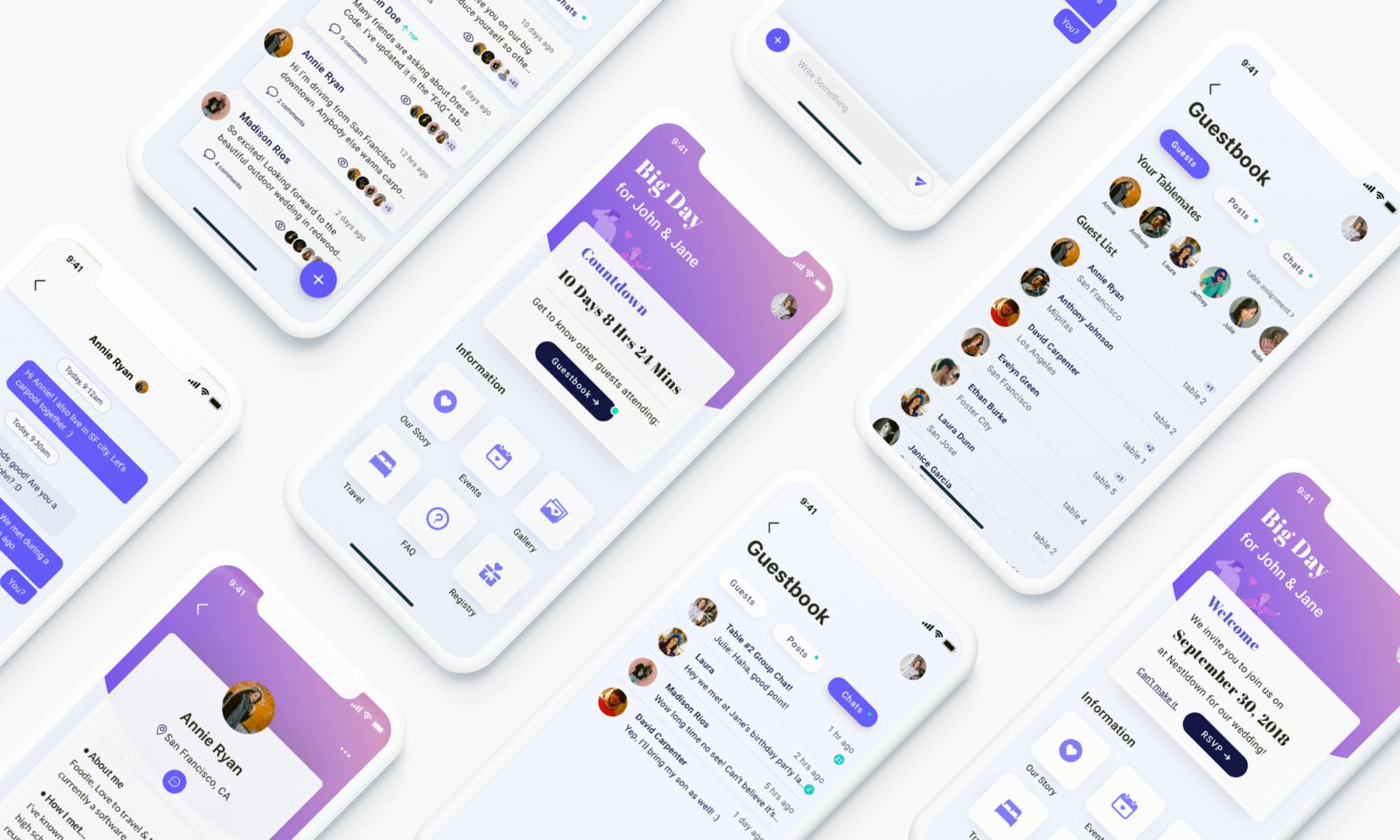 Understanding the use of wedding planning mobile app
So, why is the wedding planning app needed?
How tough can it be to keep track of things for a special day? Well, well, the wedding is just not a one-day affair, as it is the months of preparations that actually make this one day a success. Thus, understand that keeping track of everything can actually be very overwhelming, even when it's an event with few guests. So, a wedding mobile app can certainly be of great help to take over the tensions to come up with a decent ceremony. But, even with a wedding planner for the rescue, there can be a lot of other things, which require people on their toes. Thus, a wedding planning app can be the ultimate solution, as it allows the wedding planners as well as the organizers themselves to be on the same page and manage tasks smoothly and easily. Now, as once you have understood the significance of wedding apps, next you need to know the types of wedding apps, so you can pick your genre accordingly.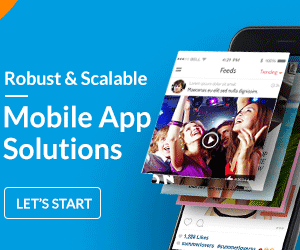 What type of Wedding App should you develop?
Now, as you head to the app stores, be it Google Play or Apple App Store, you will find a long list of a variety of applications, as soon as you type the word "wedding". Among these apps, there will be games, checklists, card makers, planning, countdown widgets, look books, and many apps with the galleries where the users can find inspiration in regard of makeup, hairstyle, party theme, design, wedding cake, and a lot more. Looking at the view counts of these various wedding planning software, you will know that these are quite prominent and are found helpful by the people.
So, let's discuss the four of the most popular types of wedding apps, they are:
Planning Apps
Countdown Apps
Checklist Apps
Guest List Apps
First, let's explore Countdown Apps: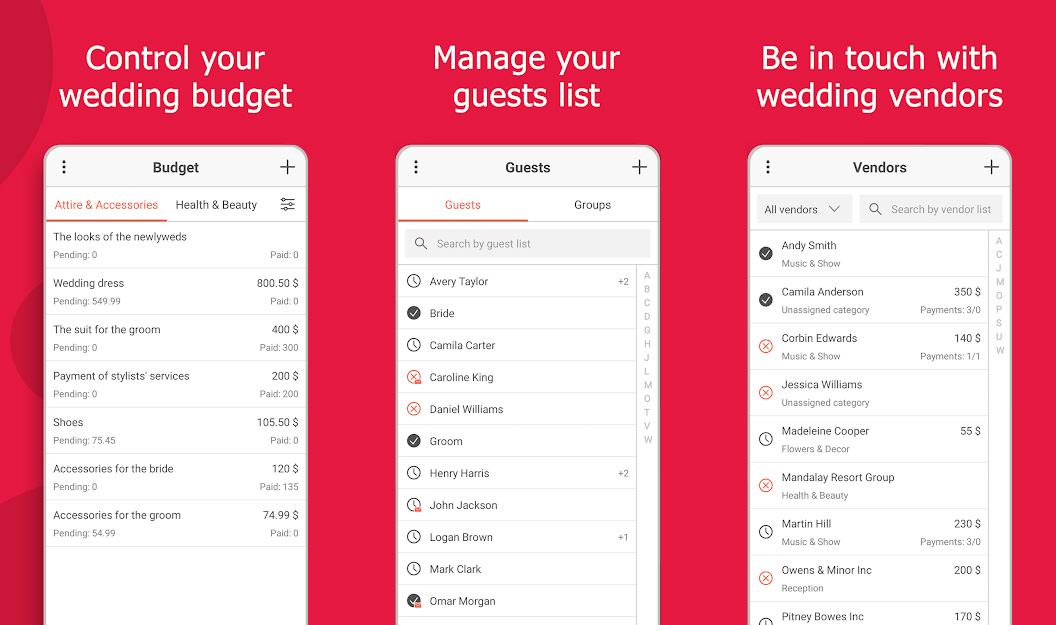 Countdown apps: Soon to be married couples remain very excited about the time remaining for their special day. In order to keep feeling the goosebumps about their wedding date, they tend to get in touch with countdown apps which allows them to keep track of the number of days or hours or minutes left for them getting hitched. Now, these countdown apps are quite advanced as it allows you to use various types of countdown along with frames of your choice. Fancy and beautiful backgrounds add up a totally different feel to your mobile screen. Not only this, but you can also share this creative art on your social media network as well with the option of calendar available for you. Different types of widgets can be created not only for weddings but on other occasions as well. Wedding management software with different features can be reached for best results.
Planning apps: Any good marriage ceremony or special occasion cannot meet the expectations of the highest order without a good plan. And that planning has to be done way in advance. You need a partner to help you out in this matter and a good quality wedding planner app can provide you guidance big time. The person who downloads the app can set his picture along with the better half as a profile pic and embark upon the journey of making his marriage ceremony a never to forget affair.
There are categories in the app under the name of Budget, Favorites, Dresses, Guests, Forums, Wedding vendor, Checklist, Wedding deals, and many more. You can even add a category of your own. With all the areas of concern under one roof, you can easily organize your special ceremony without that much focus.
The person can delete the existing items or can edit them according to the desired need. Apps are compatible with both iOS and Android
Wedding Checklist apps: With these apps having most of the functions that have already been embedded in apps discussed upon, they may seem like a liability to your phone. But this liability can turn out to be a crucial help in their arrangements for the ceremony. App users will always be aware of the bridal bouquets along with thanking you notes and ring-bearer pillow.
A person can create a guest list using the options on hand, can make sure that the invitation has reached the desired address plus they can also keep track of guests, going to attend the wedding. App users can create a checklist, add notes for tasks to be performed, and can also set reminders for the work to be done at a specific point of time.
They are way too easy apps to use with quite incredible design and functionality. These apps are compatible with the iOS system.
Guestlist apps: You made a list of guests some time back whom you were going to invite to your function but now you are confused with the names. These type of problems occur in the environment of chaos and that is why you need Guestlist apps which mention all the listed guests in a single place and even provide the leisure of dividing them into categories. App users can send out badges with QR codes to everyone on their guest list via email. Wedding planner software users can keep track of invited persons pretty easily.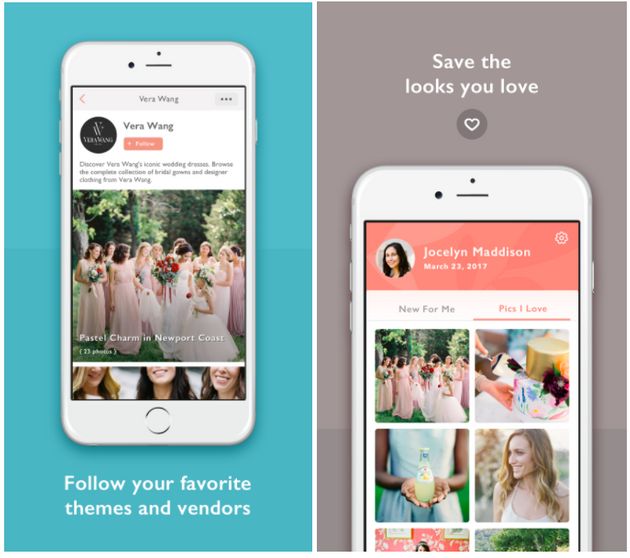 One can import needed contacts from their handset to the application, create a fresh list of entries, manage the status of guests and can also text or call a person directly through the application.
With all the work collected in a single place, a lot of your precious time is saved with the usage of these apps. They are compatible with both Android and iOS.
What are the features of Wedding Planner App?

User Panel

Event Companies/vendors by services and location
Hierarchy of services
View resultant supplier/vendors
Filter/refine the search by wedding date, wedding type, and service category/subcategory
View supper profile, reviews, and portfolio
Make an inquiry to supplier/vendor
Multiple wedding styles (i.e. festival, formal, casual)
Manage checklist (i.e. food, decoration, music)
View suggestions for each checklist
Registration/Login
Manage budget for services
Budget calculator
Manage guest list
Online RSVP for guest
Manage tables
Discussion room
Manage supplier/vendors
Shortlist supplier/vendors
Get inspiration for each service
Online shop for each service product
Multiple payment options
Wedding albums
Share vendor/supplier profile with friends & relatives
Varieties of wedding venues of selected wedding location
Add manual bookings in app
Email campaigns
Google map for location
Wedding countdown
Write a review & rate

Supplier/Event Managers

Login
Register
Set your business/service detail
Set availability
Set booking goal
Manage bookings or import from Google calendar
Manage inquiries
Set availability preferences
Real-time analytics
Activate membership plans
Online payment
Customer reviews
Request review
Manage task list
Track invitations
Collaboration with users
Attendees tracking
Discussion room
Manage workers/employees/volunteers and their task
Export reports
Alerts & notifications

Admin

Login
Manage customers
Manage suppliers/vendors
Manage service category/subcategory
Manage checklist
Cloud storage
Manage shop
Customer review & ratings
Membership packages management
Google calendar integration
CRM integration
Content management system
Powerful reporting and analytics
Manage wedding styles
Google map integration
Mobile apps/PWA
Multicurrency support
Manage locations
Manage wedding albums
Notification
 Advanced Features of Wedding Planner App:
CMS Integration: This functionality is imperative to manage the static content pages, like Contact Us, About Us, FAQs, App Privacy guidelines, Wedding Ideas Page & a lot more. This is usually handled by the Admin, who is also responsible to constantly improve these pages.
CRM Integration: A robust CRM integration is essential so that the customer care department can handle a large customer base inefficient way.
Real-time Analytics & Dashboards: Using this functionality, will allow you to identify all of the business-related activities occurring on your app. These real-time reports & Dashboards tells about the number of users who downloaded the app, from which region the maximum installs have been made, types of services availed, most-loved offers, e-commerce purchases, and a lot more reports can be generated to meet the requirements of users in a precise manner.
Push Notifications: Sending constant alerts regarding wedding preparations, new occurring, a task reminder is a crucial part of a wedding app. Hence, it is vital that your wedding app is integrated with this advanced functionality so that it will get easier for the planners and people involved to stay alert regarding any update at all times. This avoids any delays and ensures everything is done on time.
Payment Integration: This feature will allow the users to make easy and hassle-free payments, in regard to e-commerce purchases or when they avail of any premium service offered by your app. Integrate multi-payment mechanisms, such as Credit/Debit Cards, Braintree, PayPal, Stripe, etc. It is also advised to integrate multi-currency modes, so much it gets easier for users across the globe to use your app.
In-App chat: So you need to connect urgently with a florist that has been assigned for a certain wedding function. Well, what works better than in-app chat functionality? It allows the wedding planner and organizer as well as florists to be on the same page as the group-chat functionality in the in-app chat feature will allow many people to participate in a chat. Thus, the people involved in the wedding planning process can stay connected with this feature. This also boosts user engagement with the app and is useful to fetch real-time updates and notifications.
Gallery integration: This again is a significant feature in a wedding planning app, as it can be used to publish images of wedding ideas, related to the event theme, wedding makeup, hairstyle, wedding attire, and a lot more. At the same time, the app can be used to allow users to share images of the wedding event they organized successfully with the help of that particular wedding app. This will be great for promotions and a lot more.
In-app Camera Integration: This feature will allow the app users to directly upload the event pictures on the platform, and they can also share it within their group. Thus, it saves them from the hassle of uploading pictures from the gallery and then post or share. Thus, it is quite a useful feature and determines the cost to develop event management app.
Chat Bot: Well, the automated chat support with the use of machine learning technology will prove very useful for the users as they chat, with the right suggestion being offered as they type within the app.
Social Media Integration: Using these features, all of the app users (including admin, event planner, users) will be able to share images and event details on social media. Thus, this feature is incredible to increase users' app engagement and app visibility among your audience.
Blogs: Blogs are again a great way to allure the audience as through blogs you can convey various ideas related to the wedding. And when people like your ideas, they will be more encouraged to get requirements met from you itself.
e-Commerce: This is a great feature to include, as it will allow your app users to do wedding related shopping using the app itself. This way, a lot can be offered to users from a single platform itself. Like, wedding trousseau, accessories, footwear, and a lot of stuff from the bride and grooms can be displayed on your e-commerce platform to allure the users. This certainly is a great way for app monetization as well.

Refined search: This feature will allow users to search the venues and wedding planners from the list as per their liking, requirements, & budget.
Ratings & Reviews: This feature will allow your app users to rate and review your app as per their experience. This will then help other users to make their choice for wedding planners, venues, and catering services accordingly.
Calendar Integration: Wedding planning can be a chaotic process and often people make certain tasks that are needed to be accomplished. Thus, by setting their own reminders, there won't be any chances of forgetting tasks, and all tasks will be completed on time.
Multi-lingual: This feature will particularly prove helpful in case of a destination wedding, where it will allow users and event planners to coordinate the regional people regarding commuting, catering, decoration, and other stuff. It will be possible to make a fluent conversation in order to execute things easily and well. The feature will permit the users to avail of remarkable services in every region.
Customer Loyalty Program: This is an essential feature and important to allure the users to use your app and recommend it to others as well. Keep surprising the app users by giving a discount and other offers to please them from time to time. Now, as you have gained an understanding of the basic and advanced features to be included in the Wedding Planning mobile app, next let's explore the benefits.
What are the Benefits of Wedding Planning Mobile Apps?
Time-saving: A mobile app for wedding planning will allow the wedding planners to help their customers in saving their time & energy by enabling them to choose their desired wedding dress, wedding venue, card design, food & beverages menu, and a lot more, with just a few taps on their phone screens.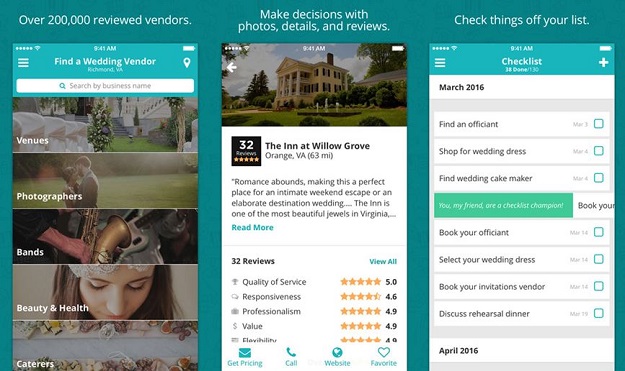 Stay connected 24/7: Through the app, it will be easier for the wedding planners to stay connected with their customers through the day and night, thus helpful in solving queries instantly. Besides, the wedding planners will be able to send push notifications to their customers, thus keep them attuned regarding the latest offers & discounts that are being run on the app.
Offline Features: By making your app functional in offline mode as well, the wedding planners will be able to attain a long-term relationship with their customers. This will be helpful for them in maintaining the interest of their potential customers as well as gaining the attention on the new audience as they will be able to use your app even in the areas where the internet or Wi-Fi is not available.
Enhance Brand Visibility: Such an app is not just useful to smoothen out important wedding-related tasks but also helps the wedding planners in improving their visibility and extending their business reach way beyond local boundaries. Thus, it helps in earning good revenues in the long run. Going by these benefits, it must be clear to you that having an advanced mobile app development platform can do great for your wedding planning business. So, get a mobile app now for Google Play & iTunes and enjoy all these benefits.
How to Develop a Wedding Planning Mobile app?
Once you are clear about the kind of features that you need to integrate into your wedding planning app, next it's time to select the right wedding planner mobile app development company that meets your requirements well and help you in establishing your objectives.
Required Team Structure:
The procedure of Wedding planning mobile app development is pretty extensive thus it is important to have your entire team in place. Get the services of the Top App Development from to create an app that is rich in features and able to meet the desired expectations.

Your app development team must consist of:
Project Manager
Back-end App Developer
UX/UI Designers, Graphic Designer
QA Testers
Next, you need to find the estimated cost to create such an app.
How much does it cost to Develop a Wedding Planner Mobile App?
On the basis of the number of hours invested, features, and technologies involved, you can determine a rough estimate of wedding planner app development cost.

The cost depends on various aspects, such as:
Basic Features
Advance Features
Chosen Platform (iOS, Android, or both)
3rd Party API Integration
The region of the app development center
App complexity & number of hours invested
Now, the cost to create such an app can be as high as the number of integrated technologies. However, an app with reasonable features is certain to cost somewhere around $10,000-$30,000 for single platforms. In case, you choose to develop for both platforms, then it may go up to $45,000.
Final Words!
Let's make the most beautiful day of two people special for friends and family by letting them shake off all their stress of managing the events. With a well-developed and feature-ladened wedding planner app you can surely make it big in the market. Hire the best mobile app developers in the market and get a high profit generating app today!