The grocery industry is quite extensive considering the parameters and it is growing by leaps and bounds regardless of the challenges it is fraught with. We all need survival food, so we all go to a grocery to quench this basic human need. A growing trend of online grocery shopping has been seen. Several reasons can be attributed to this. From high-pressure jobs to the convenience of Grocery Delivery Application, to distances, long queues at the mall, maintaining work-life balance, etc. you can have innumerable reasons why people prefer online grocery shopping to buy groceries from brick and mortar stores. But there are online grocery delivery challenges that the consumers and the service providers enjoy over the years.
If you look at parents today, they juggle with so many responsibilities than what the parents of older generations had to do. Paying EMIs, long working hours are propelling parents towards ease of online shopping to purchase food for their children. Parents are the biggest demographic which is leading towards the Grocery Delivery Application trend.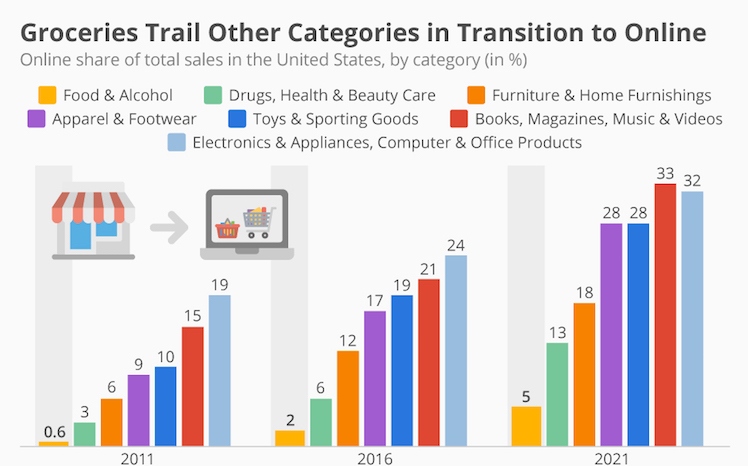 There are a lot of challenges that you may come across when trying to enter the market with a big basket like a business model app. On-demand mobile app developers with their expertise and experience provide solutions to online shopping problems in a way that the results are highly rewarding.
The World Is Going the Digital Way
Apart from the need to shop online, there is a huge chunk of the population that loves technology and likes to shift to an online grocery management system even when going to a store isn't a problem for them. This has led to a huge shift in the grocery business.
Although the domain attracts a lot of users, there are a lot of difficulties of online grocery shopping that need to be fixed over time. If you are looking forward to entering the market with a highly rewarding application then a little research of the issues that you may gradually face must be worked on.

Having said that, the online grocery industry is facing several challenges which are mentioned below:
1. Escalating Storage as well as the Delivery Cost
Storage and delivery of perishable items such as fruits, vegetables, milk, etc. are not easy. If you buy huge storage spaces demand can fall. Also, the place of delivery is usually not very close to the place where grocery is stored. Building the right infrastructure is not easy. For an online store tackling issues such as delay in delivery, wrong product delivery, return, etc. can be a very big thing.
The entire supply chain from the farms to storehouses to final customers' needs to be managed with precision otherwise the entire business will fail. Imagine if a consumer does not get an item of need repeatedly, he will not get back to the Online Grocery App. So tolerance of error is just minimum in the online grocery business. Also, people are not keen to pay delivery charges. This is one of the e-grocery delivery challenges when the order size is small because the cost of delivering the order is more than the order itself. There are a few steps that can be taken to combat this challenge. Some of these are:
Integrate a powerful, Just-in-time (JIT) inventory management system with your online grocery store. This will automate everything, reduce your storage cost and you will know what the customer wants. This will also reduce wastage.
The online grocery store should partner with a dependable delivery service provider so that it readily meets the expectations of the customer
To manage grocery delivery challenges in a faster way, it is better to section the delivery network into different local network systems.
2. Low-Profit Margins-Eating Away Profits
These days a lot of people like to buy online not only for convenience but because they look forward to getting good deals online. Now, these online grocery ordering systems face the predicament of offering reasonable pricing. Having said that, they have to spend a lot of money on building as well as maintaining proper storage infrastructure together with a well-organized supply chain system.
All such costs are not borne by a stand-alone grocery store. So, maintaining fitting profit margins is quite a tough task. Besides this, when it comes to fruits and vegetables, most of the customers like to make a purchase only after the physical examination of stuff concerning their freshness as well as quality. In shopping online, this option is not at all possible. So, persuading customers to purchase their groceries online is a constant challenge for grocery delivery solutions. There are some steps which you can take to tackle this issue:
Include more non-perishable items to your online store, like packaged foods, personal care items, beauty products, household items, etc. The storage and delivery cost of such products is relatively less
Merge your offline and online grocery business to provide a stupendous customer experience. This will minimize your operation cost to a huge extent.
This premise that shoppers are ready to pay extra if goods are delivered at their doorstep is just the opposite concerning online shopping. For non-perishable items, retailers can house goods at warehouses that are located out of the city as rentals are less. But for groceries centralizing on out of city storage options is not a good thing as it will ultimately increase your transport cost. An internet grocer needs to have a fleet of specialized delivery vehicles so that the client gets the items they need within a short period. So, delivery charges for grocery delivery are quite high as compared to other products that are available online.

3. Disorganized and Inefficient Delivery System
Online grocery Delivery App cannot handle impulse purchasing. People do not want to plan what they wish to buy for groceries. If they like to eat something, they want it without any kind of delay. The last thing grocery shoppers want to compromise on is the spontaneous buying experience. Most people still like to buy on their way back home rather than waiting for the delivery of grocery items. The online grocery business is fraught with inefficient deliveries.
You do not know with surety when the stuff will be delivered to you. Also as the majority of generation is working, they are never home to receive the delivery of grocery which is sent to them. This is a major hurdle and it can only be handled in grocery delivery solutions that follow a set system of delivery. For instance, the buyer should get items ordered within 45 minutes. Then only they will shift to online buying from impulse buying of groceries.
4. Deep-Rooted Consumer Behavior
One of the biggest challenges faced by the grocery industry is changing consumer habits. Most people are not ready to buy their groceries only because of habit constraints. Grocery shopping has been a social experience. People like to visit a store and then pick up the things they need. Also, there is this thing in mind that you will not get good quality stuff if you order online. As per a survey, only 4% of consumers in Los Angeles and 16% in New York bought their groceries online. So, there is a huge market that still stays untapped.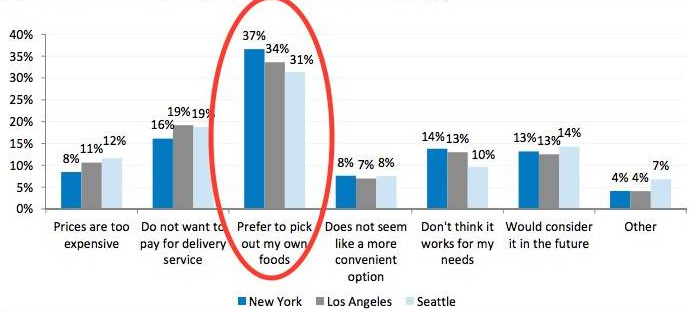 Shifting behavior consumer preferences- You can never predict with certainty what the consumer wants and what he will shift to. Consumers have shown a huge bent towards organic foods off late. As per the Statista poll, the number of people buying organic food rose from 52.6 million in 2016 to 55 million in 2016. But then this trend cannot be sustained for long due to insufficient organic farmland resources. Grocers will have to find out ways how they can get hold of organic produce at reasonable rates otherwise they will end up losing a huge chunk of millennial shoppers.
Brands making a foray into online grocery shopping- Another point about consumer habits is that they are now not just concerned about getting good quality food, they are extremely conscious about the quality of the company they choose. So on the one hand consumers seem to be reluctant on buying online and then there is a kind of consumer who is extremely brand conscious even concerning grocery shopping. In short, the number of variables concerning consumer behavior is more than what you can think.
Integration of voice technology with Online Grocery Delivery Application- With Amazon's Alexa and Google Voice Search some customers now want to place their order by just giving voice commands. So, shopping for groceries needs to be integrated with the voice system thus providing the customer a seamless buying experience. A lot of companies are now trying to get voice search on board, thus keeping on track with consumer habits. Walmart is attempting to obtain a patent for a system that is quite similar to Amazon Dash.
Security concerns- Security concerns are huge concerning online grocery shopping. The delivery guy may be physically threatened if something goes wrong. This can happen, the other way too. Clients usually do not know who will come to deliver a particular product. The delivery guy can find out what time the house is empty and plan a burglary etc. Challenges in the online grocery business are quite complex, but with advanced technology, our mobile app development team delivers a product that ensures it is secure and reliable.
5.  Difficulty in Penetration in Small Towns
People in smaller towns do not have enough means of entertainment. So, for most of them going grocery shopping is a means of keeping them busy and connected. Also, in smaller cities, the markets are not at a big distance. People are not scared of traffic jams, so the urge to do grocery shopping online simply dies. So, setting up a grocery store that caters to people from a small town is virtually impossible. Also, grocery startups run on a very small profit margin which they are not able to capture in small cities. In short, the business will not pick up. Housewives are the major buyers in most cases they are not tech-savvy. They find pleasure in the act of bargaining and are not ready to give it up in favor of online grocery shopping. The task of downloading an app, comparing prices seems like a huge ordeal for such a market.

6.  Price Fluctuations
Prices of fruits and vegetables keep going up and down. At times due to unforeseen conditions such as excessive rainfall or drought or poor crop, there are huge variations in price. For a Grocery Delivery Application, it is quite difficult to balance these variations and offer a competitive rate to the buyers. Also to promote people to buy online, they have to spend a lot on marketing. As a result, reaching a good price for the customer becomes a huge hurdle. Customer loyalty is a big thing in the online grocery world. If one online grocery store offers a particular item at a less rate, the customer shifts to it without even batting an eyelid. People are forever discount hungry and they switch their online grocery partner sans wasting any time. To get an idea on how much does it cost to develop an Grocery Delivery Application read this article "Grocery List App Development – Cost and Key Features"
7. Customer Loyalty
With growing competition in the market, it becomes quite important for your customers to stay loyal to your business. A lot of users switch to applications that are new as an experiment and forget to come back to your app. It could be they get better features or functionalities in the other store than yours.
Offer some great discounts and rewards to your customers and hold them in your app for the rest of their lives.
8. Poor Inventory Management
When talking about poor inventory management the major issue is sometimes the automated systems fail. In the end, the online grocery store software is the human developed system that sometimes fails to deliver the expected results. This is a major issue that you often face. When it comes to inventory management software, you need to make sure that every detail is worked on in detail.
We ensure to test and verify the functionalities of the solution that we deploy. Our QA and Software testing team check for all the functionalities to affirm the product delivered is well-developed and flawless.
9.  Marketing Costs
To spread your domain, you would need to market your grocery software. Entering the market with a new app isn't easy. With a lot of applications that are already operating in your domain, it would become really difficult to reach a new audience. Sounds like great trouble? Well, it is.
A little investment in marketing would help you reach a wider audience in lesser time helping you earn a lot in less time.
Related Post: Shipt Business Model: How Does Shipt App Work?
What Is the Right Solution?
When talking about grocery app challenges, we can see it majorly depends on the fluctuations and the uncertainties in the technology field. The best solution to deal with all the grocery app development constraints is to hire a team of dedicated developers that can offer you technologically strong and reliable solutions that would help you build a market that earns great. Our scalable solutions help you enter the market with a reliable mobile application that is scalable and flexible. With a future-ready approach, we make it a point to deliver you high-earning solutions.
No problem cannot be tackled. Just the right team and see the magic begin!
Conclusion
Grocery consumption is the prime human requirement; people are fast turning to online shopping due to time constraints. So, the online grocery business idea rightly fits the dynamics of the present-day business scenario. There could be a few downs and great ups in the story but make sure that you do not succumb to the challenges of grocery app, instead find solutions and come up with better and technologically stronger solutions after each phase. Just check the challenges and try to carve your way through them in case you wish your online grocery business to touch dizzying heights in a small period.