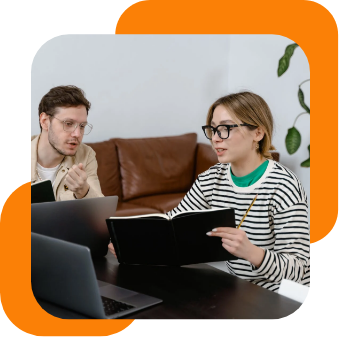 At Octal, we cater to the advantages of Progressive Web Apps, the latest technology in the web development arena.
Progressive web app is a cutting-edge technology to enrich user experience and increase website loading speed. It also ensures your website runs perfectly on all devices and all screen sizes, without creating any issue. Due to its better performance and lower costs, most of the web developers and business owners have started prefering PWAs instead of native apps or responsive websites.
At Octal IT Solution, we make use of latest technologies and advancements to build feature-rich progressive web applications. We ensure your applications are more efficient, more elegant and pleases your customers. We also make sure your customers get better experience while visiting your website.
Benefits of Progressive Web Apps
01

PROGRESSIVE
The web apps are progressive in nature, which means they adapt themselves as per the devices and browsers.
02

CONNECTIVITY INDEPENDENT
Progressive web apps run smoothly and swiftly on slow internet connections, as well as they can work offline.
03

RESPONSIVE
Progressive web apps adapt themselves as per the screen size, which makes them able to run perfectly on a wide range of devices like mobile phones, tablets and desktops.
04

USER FRIENDLY
PWA interface is known for providing great user experience, regardless of the screen size or the browser.
05

UP TO DATE
Progressive web apps update themselves automatically on a regular basis, which keeps your websites fully up-to-date.
06

RE ENGAGING
PWA are easily discoverable by search engines thus provides you with better search presence. They work offline and runs on the home screen.
Why Octal For Progressive Web Apps Development?
Custom Development
With the help of our skilled and experienced Progressive Web Apps developers get amazing web applications suiting your business needs.
Dedicated Developers
Get Dedicated Progressive Web Apps Developers focusing well on your needs so it's easy to meet your business goals.
Support & Maintenance
Enjoy our 24/7 Professional support and maintenance services in the arena of Progressive Web Apps Development.
What Makes Us the Buzz of Tech Town
Here's what our business partners say about us.
Tech Talk: Stay Up-to-Date with Our Latest Insights
We have our eyes on what's new in the tech world and bring you the latest updates here!
Octal In The News
Octal IT Solution Has Been Featured By Reputed Publishers Globally
Let's build something great together!
Connect with us and discover new possibilities.






Gain More With Your Field Service
We're always keeping our finger on the pulse of the industry. Browse our resources and learn more.
Let's schedule a call