The Way I Drive, the Way I Handle My Car Is an Expression of My Inner Feelings!
What is more interesting than working hard and buying your first car? The love for your dream car is really strong and when it comes to maintaining it you want to put all your efforts into it. With a few interesting car wash businesses evolving around you, it is easier to maintain your first love.
These days we have an app for just about everything. So, there is an app for car washing as well where you can book your online car wash by experts. As the number of cars on the road continues to rise by leaps and bounds, there will forever be a need for car wash app development. It is hugely vital to take care of your cars as this has a direct impact on your overall value. Basically, after your house, a car is your biggest buy. So if you move about in a car which is always dirty or not up to the mark, people will build a wrong impression about you. But what happens is that we tend to be busy with a lot of things such as our work, children, family life, etc. And because of this, we do not get ample time to take care of our vehicles. This is where the need for professional car washers arises.
Quick Summary:
For every domain there are a bunch of applications existing in the marketplace. With so much dependency in recent years, it's a tough nut to crack new ideas and intricacies on the application.
When we talk about how to run a mobile car wash business there are a lot of things that one needs to consider. There has to be an application, various services, types, and other things to consider.
Before we talk about the technical part of the car wash business let's talk about the types of corporate online car wash services available in the market. Car washing industry serves many options to the new technocrates. The on-demand solutions are grooved in the automobile industry, so let's begin with it!
Growth Market Analysis for Car Wash App
The industry of global car wash is expanding with a decent growth rate of 3.8 percent per year with the revenue of $27.8M and continues to keep on growing with the revenue of $37.6B, growing with 27.8M in the forecasting period 2021-2028.
The top companies that anticipated their presence in this industry are Splash Car Wash, Zips Car Wash, International Car Wash Group (ICWG), Autobell Car Wash, Quick Quack Car Wash etc.
As per the international carwash association, only 28% are likely to prefer their car wash at home.
As per the report, the US predominates market with 43% only for car washes regularly; has a contribution of $5.8B annually.
Car wash apps come up with eco-friendly and water-saving options to the people and of course to mother nature; reduce the consumption of gallons of water.
32% of car washes are done during winters, considered as busiest time due to road salt; next to it is spring and summer times with 25%.
Many of the entrepreneurs come up with dual combinations to share their services like online car wash and fuel dispensers to promote their local business.
Types of Car Washes
At the point when you consider vehicle washing, you need to design it, in any event, an hour prior. What's more, the issue doesn't end here, you even need to remain in a line to get your turn. It is a bulky errand and thus numerous such vehicle washing organizations thought of an answer. The on-request vehicle wash application is presently turning into the client's best option when anticipating a vehicle wash. There are various kinds of online car wash booking systems available in the market. The most popular ones are:
Full-service wash – In this, there is the cleaning of the exterior as well as the interior of your vehicle. Outside of the car is washed and the entire is vacuumed by a team of workers.

Partial wash – This includes washing only the exterior of the car. No vacuuming service is provided.

Self-service wash – In this, the vehicle owners wash their cars by making use of a wand.

Mobile car wash – The car is collected from the location of the owner. After cleaning it is dropped back where the owner wants.

Even though there is ample need and scope for growth in the online car wash app business, this business is overwhelmed with several challenges that have to be duly tackled if you wish to surge ahead in the race to make profits. Let's give the problems of the car wash business a quick look and see some suitable solutions.
Challenge-1: An increase in profits is simply impossible, as the business is excessively competitive. The online car wash industry is excessively competitive, so it becomes very tough to find bonus revenue opportunities. If somebody else offers something extra or your competitors come up with a discount scheme for a while, the customer quickly changes loyalties. So to retain your customers, you have to continuously come up with effective marketing strategies. Some of the ways how you can earn more profits are mentioned below:
Target the fleet owners – You must offer attractive packages to all those who own a fleet of vehicles. For instance, if a person is getting 500 cars washed in a month, you must provide him with something extra. Targeting a big fish helps in brand building in the long run and this will optimize your profits.

Offer bonus services – If some customer avails car wash service online you can retain him by offering something extra. Some companies provide complimentary car detailing. These kinds of rewards build customer trust and steadfastness.

Adopt a sustainable rewards program – For regular customers, you can have an efficient reward system in place. They should get some benefit from frequently hiring the service. You should keep track of every penny which you spend on marketing.

Challenge-2: The nature of the online car wash business is cyclical. Apart from agriculture, there is hardly any industry that is not cyclical. Does car wash business depend on a wide range of variables like
Weather
Day of the week
Time of year
A regular car wash operator spends the first three days of the week bracing for the rest of the four days. This is a scenario every week. People do not have time to get a car wash at the start of the week. This kind of activity is usually reserved for weekends. Also, almost 32% of the people go for car washing in winter months. 18% of customers like to go for car wash services in the fall. So, the volume of customers in this kind of business keeps going up and down frequently.
Solution: Customers need to be given special incentives to impact their decision-making process. This will tip scales in favor of business owners. Loyal customers need to be given services such as vehicle pick-up and delivery etc.
Challenge-3: Excellent customer service is a big thing in the car wash business. Keeping the customers satisfied is no small feat. It's exceptionally important for the car wash operators as the consumers in this market are quite emotional and impulsive. Most of the people send their cars for washing purely due to emotional reasons. They want the feel-good factor of seeing that their cars are cleaned. They feel it reflects on their image. So, offering customers an experience that leaves them delighted is hugely pertinent in this industry.
Solution: But then how do you keep the customers happy? This is simple. Just ask them what will make them happy. Take regular feedback from your loyal customers. This will give you a clear-cut idea of their needs. Closed feedback loops are an excellent way to enhance customer satisfaction and they can increase your sales by a whopping 20%. Car Wash companies need to put a lot of focus on employee performance because their business is directly dependent on how well their employees can deliver.

Challenge-4: Achieving meaningful Customer Engagement As per a survey, 79% of people between 18 to 44 years of age spend a larger part of their day on their smartphones. Around 44% of such consumers want the brands to send discount deals or coupons to their phones. You have to be interactive with the customers if you want your car wash business app to do well. But then how to achieve meaningful interaction with customers is a big thing.
Solution: Mail them discount coupons. Get hold of a mailing list of prospective and current customers and send them deals regularly. Push notifications are also a very good idea. They have a 50-80% open rate as compared to emails. Mobile engagement is a good way to push sales in the car wash app business. Customers like to do everything via their smartphones and if they can book the services or receive reminders about the same, their engagement will undoubtedly improve.
Challenge-5: Different areas of performance in the online car wash industry. Car wash operators need to work simultaneously in so many areas. They need to have an effective marketing plan to lure customers. They also have to provide superb services so that the customer stays. Also, the employment of the latest equipment is vital as the market is fraught with cut-throat competition.
Solution: The car washing app owner needs to do a lot of forward-thinking. Apart from being a marketing expert, short shrift should also be given to areas such as marketing design and employee performance. A happy customer is the biggest asset and he or she will propel your business in the right direction. This business needs long working hours and several man-hours of physical work. So it is important to hire people who have high energy levels.
When you reach us for a car wash application development service in India, we make sure to research the market well and deal with the above-discussed challenges. We integrate some interesting features in your application to make sure that the above-discussed challenges are resolved and your application gets you the highest ROI in the market.
Car Washing Revenue-Gaining Model
Developing a car washing application accumulates a bunch of new features for its users. Right functionality is working attuned when the product explodes a boom. But without aligned efforts and the budget, the spark can't retain for long.
For thriving, the presence with concurrent success, service providers and the owners adopt different models. It must be the common practice to develop the car washing app like other popular existing apps in the industry. Hire the appropriate service solution builders for it.
1. Sponsorship Model:
This model helps the business vendors to keep their profit system running. This is a very basic and trustworthy model; in which service providers sponsor car washing services to gain them some revenues for their presence and in return promote their brand name.
2. Advertising Model
Being a business owner of the car washing industry, you need to globalize your brand value in the marketplace. This advertising model helped you here. This industry has potential, and many service providers are looking for a good platform to promote their services. If your platform has high traffic and sound presence; then you have the chance to promote services of niche service providers over appropriate space.
3. Merchandising Model
It is a new kind of model, where you have a fair chance to gain a good income. Being the merchandiser, you have the option to sell products relative to car cleaning like gloves, shampoo, paints, etc.
Engaging Features of Online Car Wash Mobile App
Here's a summary of highlights and functionalities you need to incorporate during the vehicle wash application improvement measure. It has 3 fundamental boards –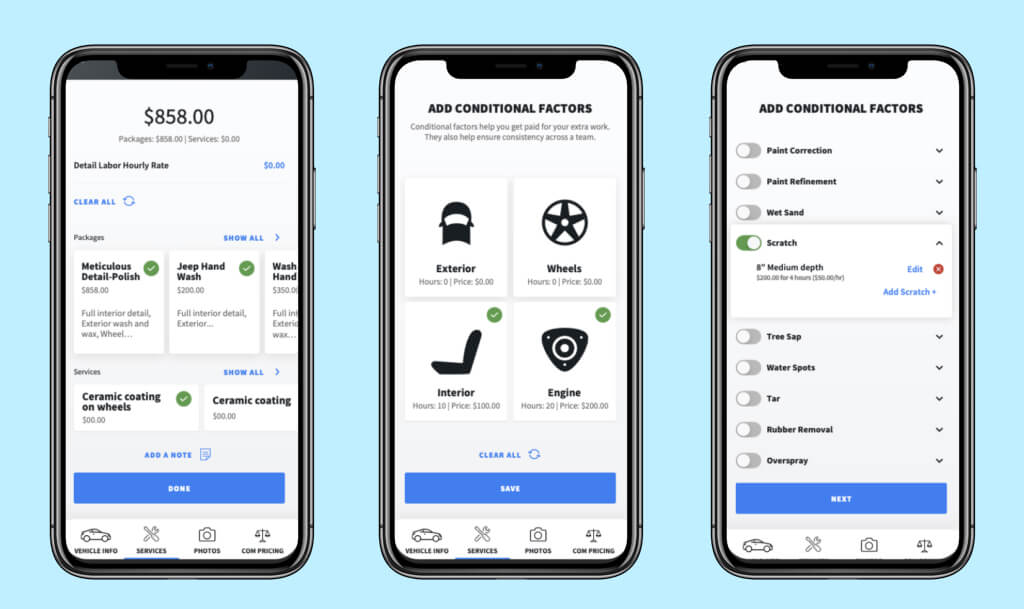 Client (the help taker)
Detailer (Car Washer)
Administrator (supplier)
Client Panel
Be a Patent App User/Login: The Sign up/Login include is regular for all the applications. Let the users create an account in the application and avail assistance to get the work done.
Vehicle Wash Package: With the assistance of this component, clients can choose any one bundle from the accessible rundown as indicated by their financial plan.
Vehicle Location Choice: When it comes to availing online car wash services, the service provider and the service taker must choose the right vehicle area. With our application, the users can choose their close-by administration area according to their prerequisites.
Numerous Car Option: One size never fits all. We make sure that clients can even choose different vehicles for help if they need to support more than one vehicle.
Installment Module: With the assistance of this element, clients can make the installment through credit/check cards. Likewise, clients can utilize any installment door whenever made accessible.
Surveys and Ratings: With the assistance of this element, clients can share their surveys on the administrations they bought, and they can offer ratings to that application. This component will serve designers to improve their administration as per their clients' suspects.
Vehicle Washer/Detailer Panel
Administration area: The

car wash app developer

mostly confine their

mobile application development service

to a specific area. In this manner, they can just offer a support area for vehicle wash demands from that space.
Acknowledge/Reject demands: It is important that the online car wash company you reach reserves the privilege to acknowledge or deny orders relying upon the idea of its products and laborers.

Administration status: A vehicle wash may go through different advances; thus, it is significant that the specialist co-ops give every client the situation with their administration's procedures. This will help them acquire purchaser trust.
Message pop-ups: An interface with the message pop-ups is integrated to keep your audience updated with the latest offers and the current scenario. Message pop-ups help to get refreshes from the vehicle washing organizations whenever somebody needs administration.
Administrator Panel
Oversee User Registration: This component considers the stage's observation of the number of vehicle washers and clients included. This gives data on regular clients and vehicle washers, just as contact with them or with helpful staff.
Oversee Service Time Zones: Under this component of the application, Admin will guarantee that clients interface with vehicle washing specialist organizations who have been working at their premises.
Oversee Payments: As the client pays the administrator for the vehicle washer's sake, this element handles all the data associated with installment. This consists of keeping a rundown of clients who make an installment progressively, specialist organizations who mentioned the charge, and others that have effectively been charged.
Oversee Ratings and Reviews: The review and rating section of any android mobile app or iOS mobile app is ought to let the customers and the administrators have the option to follow and review specialists just as shopper criticism and sentiments and capacity fittingly in light of the business' wellbeing.
We understand when you want to start a business car wash business challenges would be a major roadblock. But with our experts integrating all the features in your solution, things would become easier.
Conclusion
Driving a clean and shiny car is the wish of every car owner. So, this business will do well if you follow the right approach. People want to hire expert services for Custom Software Development of professional car cleaners who use highly sophisticated equipment to make their cars look better and last longer. Bear in mind that regular car washing increases the life and enhances the look of your car and you should work hard on enforcing this notion in your client.