Ordering food via online delivery apps has become the new trend as the users have to do nothing, but just place the order after viewing the menu of the restaurants of their choice and get it delivered at their doorstep. This means of making orders saves the users a lot of time of going out to buy food and waiting to place orders and collect before they get it home with them.
The food delivery apps like UberEats and Doordash have helped restaurants by assisting them in delivering their food packages to their customers in time. Also, these apps are reliable as one can expect a speedy and timely delivery.
Introduction
Doordash is an on-demand food delivery app that was founded by the students of Stanford and named after Dashers – people who deliver food and work in shifts. The company was started off with a funding of $ 60 million which went on to being $ 600 million in no time. It took the four partners almost 18 months to work on the business idea which happened in Silicon Valley until they made themselves available for the markets in San Francisco. It is now extensively being used by retailers, restaurateurs and users`for delivery food in cities like Chicago, Los Angeles, Brooklyn, Boston and Washington.
What intrigues the investors in these food delivery apps?
Ever since the food delivery apps came into being, investors have been readily putting in their money in it to get better returns. Since these apps have topped the rest in the past decade, one can always be sure in investing their money in developing one for their business as well.
Although the food delivery industry was hard hit by the global COVID-19 pandemic, it went back into action as the countries and cities unlocking the curfews and allowing restaurants to take orders from their users. This got the food delivery apps back into action giving them more space than before to offer their services and generate revenue.
A lot of money has been floated into these apps and there are many investors who are always up for investing money and time in these apps. Therefore, if you are thinking of launching one of these apps, it is the right time for you to do so as the future is secure and bright.
Business models of food delivery start up apps
Aggregator Model:
This is a traditional model under which the app owners provide a platform to the restaurants in proximity and connect them with the users. It is the third party that gets the buyers and sellers in contact with each other through the platform.
Under this model, the app also displays the menu cards and prices of all restaurants listed on it and share details of each one briefly. Talking of this model, we can take this example of Zomato where users look at the restaurants near them and select one according to the cuisine they prefer. Then they place orders on the app and it goes directly to the restaurants, who in return acknowledge the customers' orders and start preparing their meals to be delivered in time.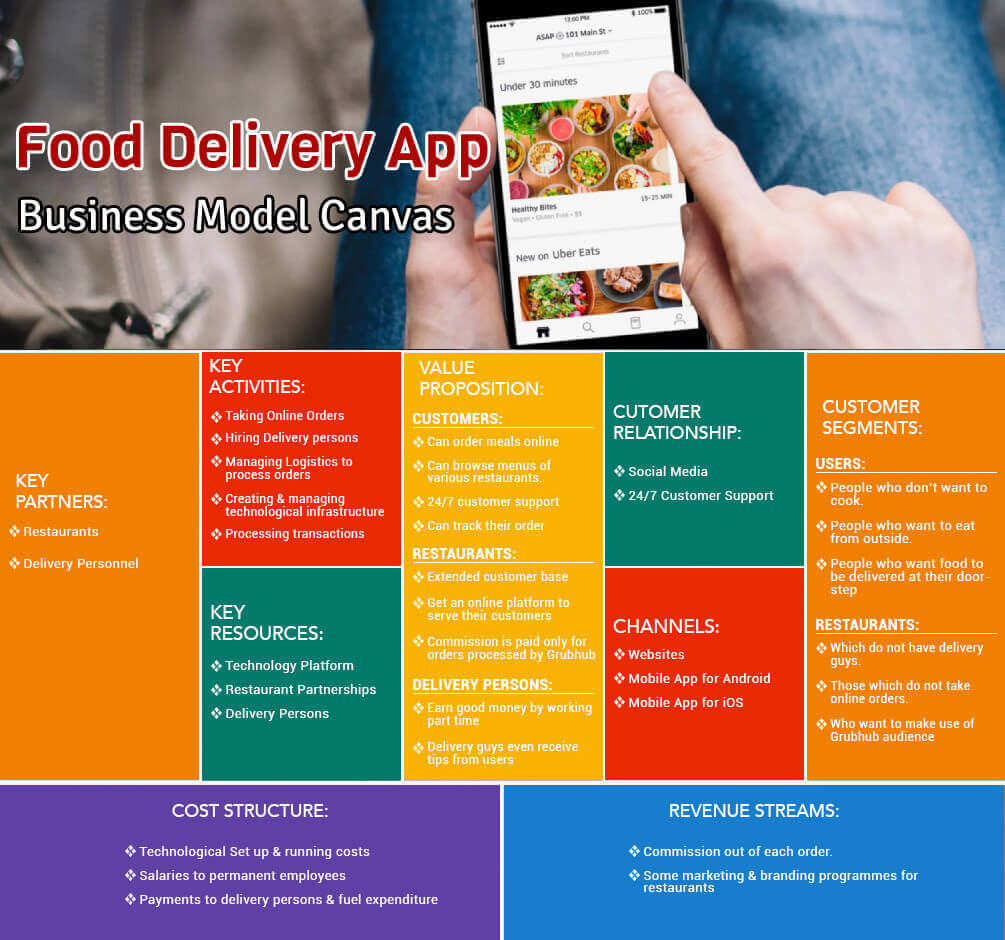 Platform with logistic support:
This kind of model varies from the aggregator model as it is purely meant for the delivery of the orders from the restaurants to the users' addresses mentioned on their accounts. Food delivery apps like Swiggy and UberEats fall under this category which have the right kind of logistics and staff to deliver to the food to customers. It reduces the need of delivery staff, vehicles and other aspects for the restaurateurs. This model is mostly preferred by the start up businesses or restaurants, who do not want to spend a lot of amount on their new business and have limitation of budget.
How do UberEats and Doordash make money?
Well, for any business or app to strive in the market, they must think of ways to earn revenue and make profits for future growth. An app without no returns is of no use. So how do the food delivery apps actually make money?
Take a look at the three topmost ways on earning a revenue out of these:
Advertising: Who doesn't know about this one? Once your app gains popularity and you dwell into the industry, you are sure to have a large user base. This leads to brands and companies from the same industry noticing your app and offering you money in return of some space for their brand name's advertisement on your app. This can also be called the marketing fee as the app charges for the promotion of a brand or product.
Delivery fee: This is applicable to all food delivery apps, irrespective of the model. Once you start running the business, you will charge the restaurant owners some percentage of amount for each delivery, depending upon the distance between the restaurant and the customer.
Revenue sharing: This method of earning money includes some percentage of revenue directly from the restaurants. For example, a food delivery app owner can ask the restaurants to give them straight 15 percent of the revenue generated by them in a month.

Features to be integrated in a food delivery app
Are you looking forward to developing a food delivery app, but want to learn about the features that need to be integrated into the app? Well, no need to worry as we have got you covered.
Listed below are the essential features that should be a part of the app:
Sign up and log in: To offer a personalized experience to the users, the app should be enabled with this feature, allowing each user to have his separate account. The registration process should be quick and easy, therefore should be integrated with any other social media platforms. This helps each user in having his own dashboard that shows them their orders and the history of all transactions made by them through the app.
Search: It should have the search bar that allows the users to directly look up for a restaurant without having them to go back and forth. Furthermore, each restaurant should be able to display their pictures and menus for the convenience of the users.
Placing the order: One of the most important features! Once a user makes up his mind to order food from some restaurant, he should be able to look up that restaurant's menu and place order directly through the app. This feature offers a seamless experience, helping users avoid the lengthy phone calls.
Checkout: Herein, the users can checkout from the order placing panel and go directly to the payment page. This happens only after the order has been placed and added to the cart.
Payment: Make the experience worthwhile by integrating a number of payment methods such as the online payment, debit/credit card payment, eWallets and cash on delivery. It helps in making the app strong and stand out amongst the crowd. It is also advised to integrate other payment options like PayPal and MangoPay.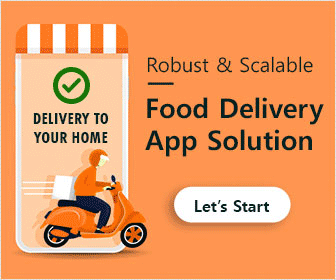 Push notifications: Sending out payment and order notifications always puts an app in a win win situation and is most likely to fall in the good books of the users. However, contrary to it, users might also not want you to flood their devices with multiple notifications as they might just end up uninstalling your app and preferring some other app in its place.
Reviews and ratings: While a user would always want to read the experience of other users with a food delivery app, it is always a good idea for these apps to allow them to rate the service each time they avail it. This also helps in adding some vibrant content to the app.
Delivery time: This feature enables the users to get an idea of how long a delivery guy will take to deliver their food. Food delivery apps are generally GPS enabled, which lets the users know where the delivery boy has reached, and can assist him in taking the easiest and shortest route, rather than covering a lot of distance unnecessarily.
Loyalty program: How about rewarding your users or their perseverance and loyalty to the application? These loyalty programs can help attract more users who return to the app each time they accumulate points in their accounts. This is a big attraction for users as they make a long term association with the app and are always keen to order their food from that very app.
One can always think of adding some advanced features for an enhanced experience. These features include the likes of:
SOS service
In app navigation for the delivery boys
Booking history
Giving the option of various routes to a delivery place.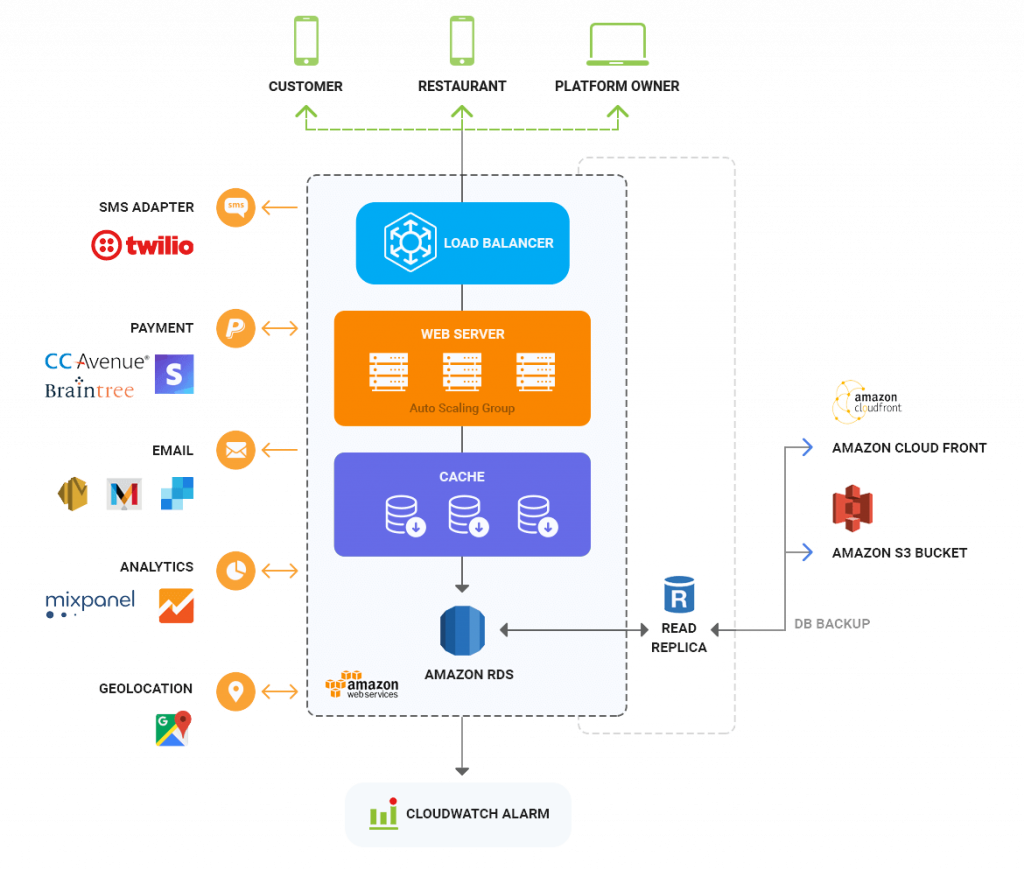 Conclusion
Food industry has always flourished and always seen an upward trend. This is why the food delivery apps have always been in a rise and all of them seem to be doing really well. If you are planning to make a food delivery app, this is the best time for you to invest your effort and money into it as you will get access to the best manpower and development team with excellent experience on the same.