Artificial intelligence (AI) and machine learning (ML) are significantly impacting almost every industry today. These technologies are often defined as the mediums of powering machines that can mimic human behaviour.
Since AI and machine learning offer numerous benefits, businesses of all sizes are using them to automate processes, reduce operational costs, and stay competitive in the market.
For instance, a PwC report says that AI will contribute nearly $15.7 trillion to the global economy by 2030. Of this, 45% will be the result of product improvements, restoring consumer demand. This will be enabled because of the rise in personalization, appealing, and cost-effectiveness of the technology over time.

Adoption of AI and ML in the Fintech Industry
In the field of financial technology (fintech), AI and ML are the trending technologies for the last few years. In the evolving industry landscape, fintech businesses are increasingly adopting artificial intelligence and machine learning in financial services.
If we talk about AI fintech alone, its market value in 2019 was $6.67 billion in the US. By 2025, this value is expected to reach $22.6 billion, witnessing a CAGR of 23% year over year. Let's explore some more key stats revealing the state of AI in the fintech industry.
In 2023, AI chatbots will save financial organizations over $7.3 billion in costs.
From 2019 to 2023, a massive growth of 3,150% is expected in successful AI chatbot interactions. Moreover, these chatbots will save banks and other financial organizations 862 million hours by 2023.
As per research by Mordor Intelligence, AI in the fintech market around the world was valued at $7.91 billion in 2020. Growing at a CAGR of 23.17% from 2021 to 2026, this market will reach $26.67 billion by 2026.
There are several factors driving the growth of artificial intelligence in fintech. Some of these factors include the demand for personalized customer experience on mobile devices, faster transactions on the go, high security, fraud prevention, and many related actions.
How AI and ML are Transforming Fintech
Let's discuss the role of AI in the fintech industry and how it is driving transformation in the financial services landscape.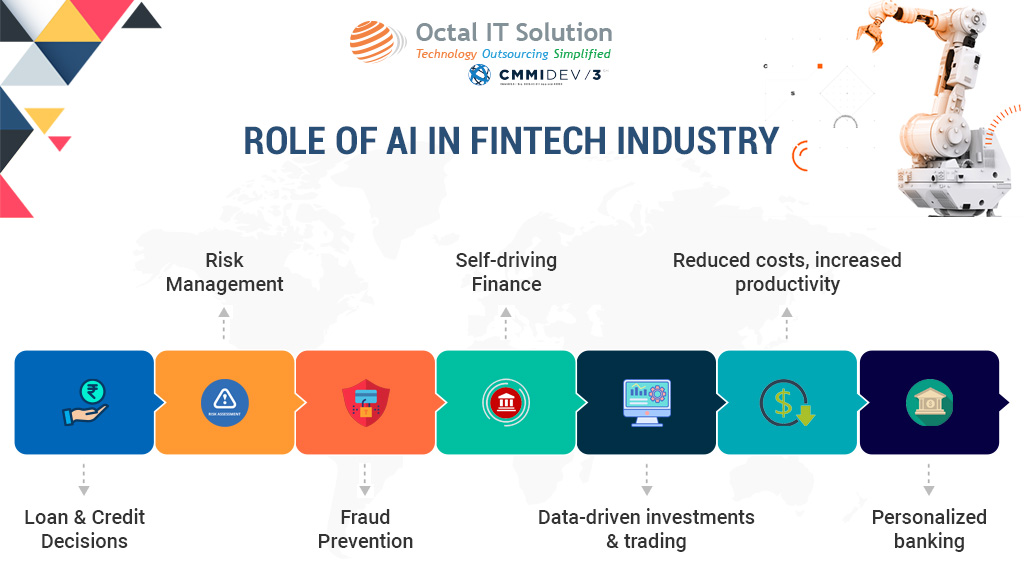 Loan & Credit Decisions
When it comes to the assessment of potential customers, AI can enable quicker and highly accurate results. Moreover, this assessment will provide a wider variety of critical factors related to the customer, rather than just calculating the credit score based on his banking history.
What AI systems do is consider other complicated and sophisticated factors, along with the banking history of the prospect. This helps banks and financial organizations to determine which prospects are risky and which ones are credit-worthy despite an average credit score.
Moreover, there are times when the bank staff gets biased and may allow credit to customers regardless of their credit score. Artificial Intelligence-powered systems are not biased and save banking organizations from such things.
Risk Management
The processing of a massive amount of structured and unstructured data will take multiple days or weeks for a human to do. The market trends in financial services keep on changing fastly and if things are not being processed in real-time, it can cause enormous losses.
Fintech deep learning enables data processing in a very short time. AI algorithms identify risk cases and predict future potential issues. The predictions are more accurate and are provided in real-time, considering various factors. As a result, financial businesses can manage risky scenarios and avoid significant losses.
Fraud Prevention
AI and ML are already helping many financial businesses to reduce fraud. As the technologies get more advanced, financial fraud will be significantly brought down, and more criminals will be caught.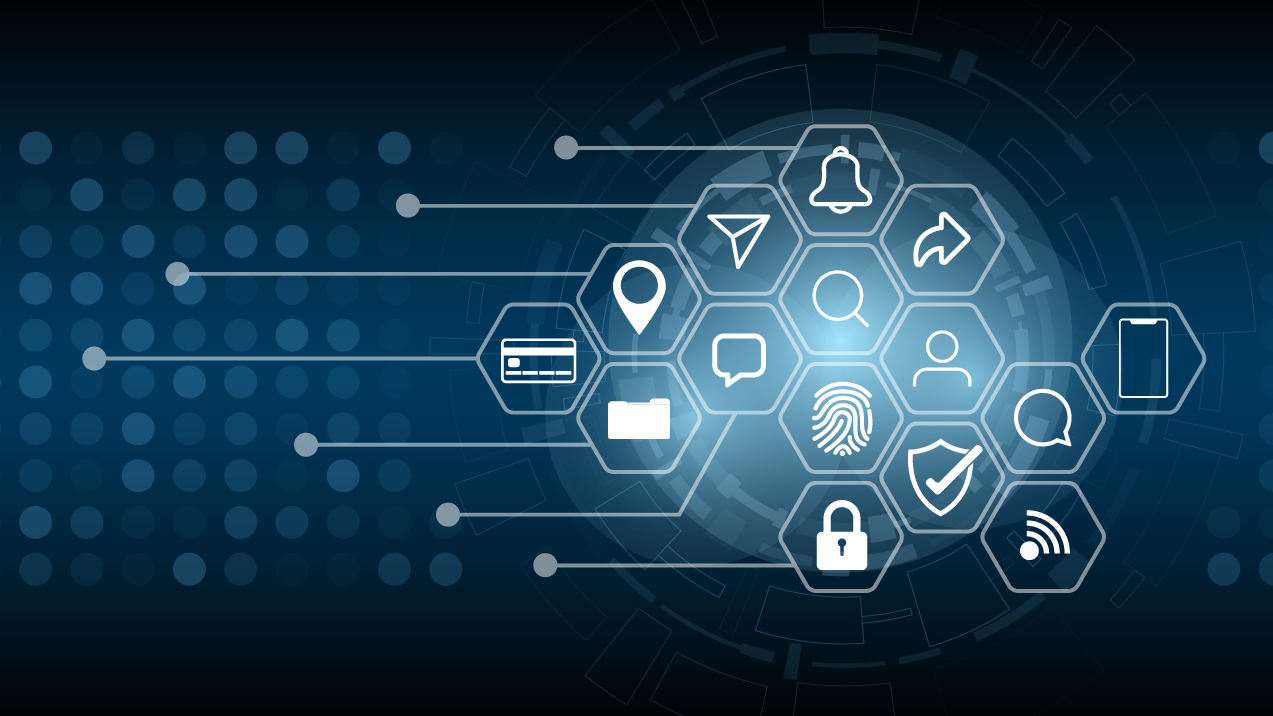 Smart systems are especially useful in the prevention of credit card fraud, which is rising over the last few years due to increased online transactions and eCommerce websites. AI-powered fraud detection solutions keep track of customer behaviour, check the location, purchase habits, and many other factors to identify the instances when there is some odd behaviour.
Money laundering in banks is a common issue these days. Machine learning solutions in fintech can prevent this by identifying suspicious activities.
Self-driving Finance
In conventional methods, financial pieces of advice are usually generic and non-personal. At times, a piece of financial advice can be based on the personal experience of the service agent, which is subjective. Not every customer is the same; neither are his economic conditions and past experiences.
The use of machine learning and AI in fintech is bringing self-driving finance to the picture. Rather than providing generic advice, AI agents can offer a personalized experience to customers and make their complex decisions more manageable. For example, AI agents will provide different recommendations and advice for home loans, retirement planning, corporate financing, etc.
For personalized customer experience, AI compares multiple services and suggests the ones that meet their expectations the best. Human agents can't personalize the experience for every customer because it is a highly time-consuming task. If you have any queries regarding mobile app development then feel free to contact us.
Data-driven investments and trading
In the stock market, we have seen a growth in data-driven investments based on algorithmic and high-frequency trading. The use of AI in trading helps fintech businesses to reduce their chances of losing money by giving valuable predictions of the market, showing deep market analysis, and monitoring everything dedicatedly and accurately.
Smart trading solutions are capable of analyzing and monitoring both structured and non-structured data within seconds. If done manually, it will consume a lot of time. In the trading market, nothing is more valuable than time. If the processes are faster, the decision-making will be quick. As a result, the transactions will be faster.
What these intelligent trading systems do is analyze the past data, and short and long-term goals of the financial businesses, and then suggest things.
Reduced costs, increased productivity
Business leaders in the fintech field are looking towards AI to cut down their operational costs and increase productivity. AI systems can automate a variety of repetitive and mundane tasks that consume a lot of time for employees in financial organizations.
The repetitive tasks waste not only time but also resources and money. Automation addresses these challenges by verifying data, and generating reports based on required parameters, documents, etc. This allows employees to work on essential tasks and save resources & costs for the organizations. The likelihood of human errors is also decreased.
Another way AI is enabling a smooth customer experience is by using intelligent chatbots. For example, customers can process transactions using voice commands. For employees, AI chatbots can create drafts and credit appraisals just with a few voice commands.
Personalized banking
Personalization is something every company is looking for, in terms of serving customers and delivering custom solutions. Artificial intelligence and machine learning technologies enable a high level of personalization.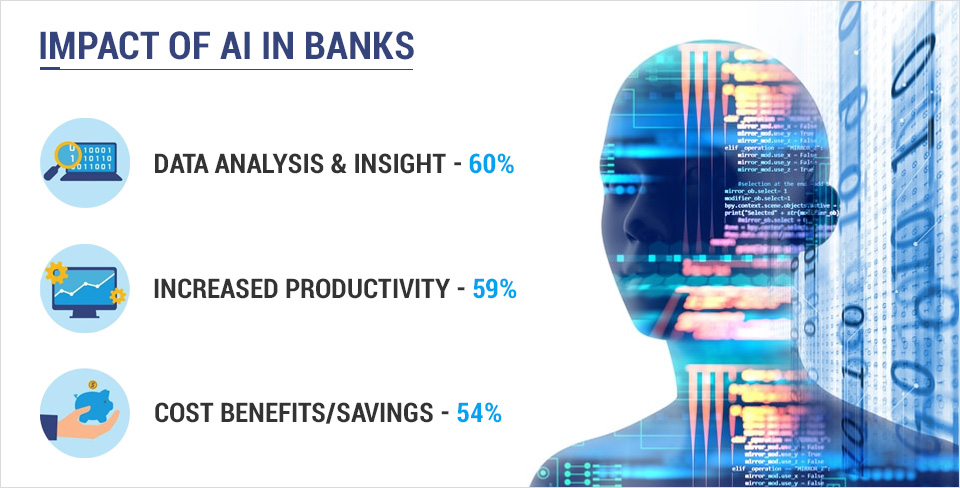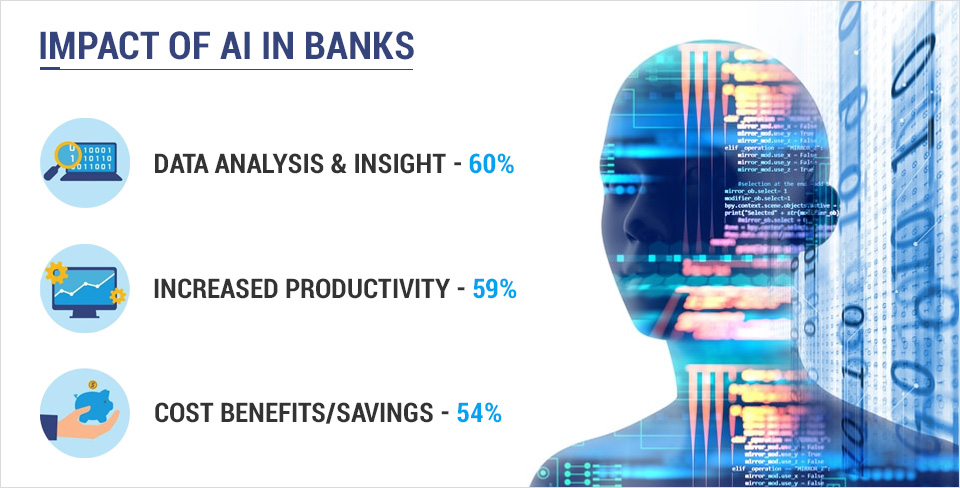 For instance, banks are using AI chatbots that provide solutions and answers to customers based on their experiences and requirements. There are no one-size-fits-all solutions. Personalized experience means customers get the solutions that are the best for them. Moreover, AI chatbots get smarter with time as they access more data.
Smart systems can be used for sending customized emails to customers for upselling and cross-selling services. For example, banks can send emails to customers for insurance or other services on the basis of their age, income, monthly expenses, etc.
Another benefit of personalization is that 90% of bank customers who get custom services are highly satisfied. These customers are highly to opt for more assistance or reuse the credit union/bank for other services.
Hence, personalization can help fintech businesses achieve their revenue goals and onboard more customers.
What is the future of artificial intelligence and machine learning in fintech?
This is yet another vital question for financial organizations in 2021. What advancements should they expect in AI and ML, and how these advancements will make an impact on financial technology?
The hopes are high as businesses in the fintech industry look forward to increased cybersecurity solutions powered by AI that can help in preventing cybercrime and online fraud. In this era of digital transformation, other latest technologies like blockchain are also joining forces with AI to revolutionize fintech. Know more here about Ewallet app development services by our expert developers.
Together, these technologies will decrease or remove the transaction fees as intermediaries will be eliminated. Digital assistants and applications will get more advanced using the power of cognitive computing. Customers will get a more effortless experience with managing personal finances, like bill payments and tax filings.
Wrapping up:
As stated with facts and figures in this article, the use of machine learning & AI in fintech is undoubtedly transforming the industry in unexpected ways. The benefits of these technologies can't be ignored by any financial services business or bank today. That is the reason the adoption of AI in this field is on the rise. Some challenges are also there, but these will be addressed as the technology becomes more mainstream over the next few years.
What are your views about the impact of artificial intelligence on financial technology and businesses? Share with us using the comments below.