The world is expanding on a daily basis in each and every aspect of life via the route of technology. We can't agree more that it has changed our lives, for the better, to a great extent. Everything is super easy like from placing food orders online through food ordering app to booking a cab ride through the taxi booking app. Hence, there is absolutely nothing that you can't do in today's age. It allows us to carry out so many important tasks in our day-to-day lives and now has also spread its wings in the field of online ticket booking.
The popularity of Ticket Booking Mobile Apps
How to make an online ticket booking website or application? Booking a ticket for movies, travel, plays and more has saved us from the hassle of physically going away to a location from where the ticket has to be booked. People in their rigorous lifestyle often can't make time to go out to book their tickets in advance. The Ticket booking mobile app development is coming out in full swing, and lets the audience can book tickets really easily. For instance, in the case of movie buffs, they don't have to flex a muscle in order to enjoy their movie as compared to the otherwise tiring lane of going to the hall to book the tickets.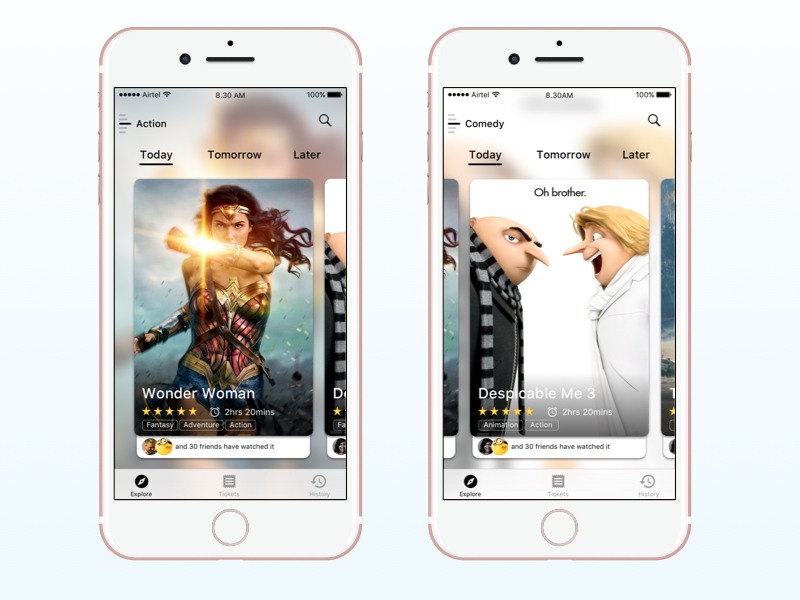 Movie buffs can go to the online booking site and there they can see the list of all the latest movies around the nearest cinema theatres. From there they can choose their taste and place an order for any amount of tickets by paying for it through digital payments. Usually, the users can book a ticket either via phone, app, or website, and it is followed by the real-time tracking & estimated arrival time via the app or website.
So much is the popularity of Online Ticket Booking Apps that research shows that popular event ticket brand "Book My Show" attained 30 million+ downloads and attains 3 billion+ page views each month, with 10 million+ ticket bookings each month. Quite a good amount of traffic isn't it. No wonder many businesses are planning to enter into the arena of Ticket Booking apps to scale up their revenues and reach new heights. In this blog, we discuss in detail the development of ticket booking apps, its essential features, and estimated cost.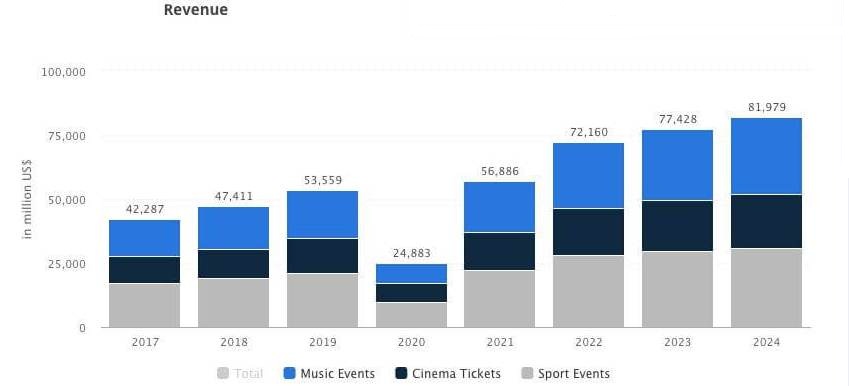 Top Ticketing Booking Services offered.
Movie ticket booking
Sports event ticket booking
Music event ticket bookings
Tickets for Play
Entry passes for seminars
Other than these things there are a lot more things where the booking apps need to be worked on. One can get tickets for various events and seminars in a hassle-free process.
What are the Essential Features of Ticket Booking Mobile Apps?
There are a lot of features that you need to integrate with your ticket booking mobile application that could make it easier for you to earn a loyal and happy customer base that would enjoy interacting and engaging with the application that you have launched in the market.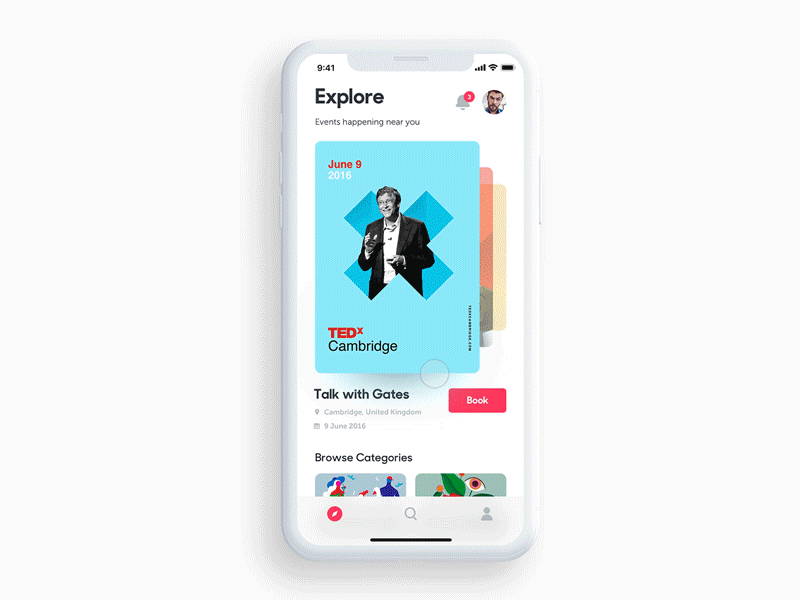 Features of the User Panel
The user panel is one of the most complex aspects of the ticket app booking development as they would be the one interacting with the application making it easier and simpler for them to bring interesting results.
Registration: The app users can register from here by submitting basic details, like name, mobile number, email, and password. It is important that the ticket booking app development experts let your users register with the app before they make their bookings.
Log-in: Once the users have registered into the app, they can now log in using login credentials (mobile number & password). Or else, they may also choose to log in via social links, like Facebook & email. In this screen, the user will be able to register into the application by submitting the given details. There will also be an option to log in to the application for existing users.
Choose Location: Before the user enters into the home screen, s/he will be asked to choose their location from the list of the places manually/automatically through GPS. Once the location is selected, the user navigates to the home screen.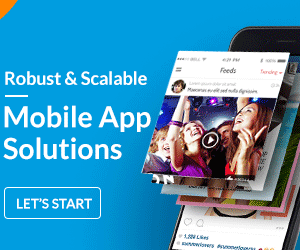 Home Screen: Once here, the user can now view the ongoing and upcoming shows categorized as movies, plays, events, and sports. As the user taps on any section, s/he is navigated to the detail screen of the chosen category. The home screen may also comprise of offers, deals, events, play & sports, movies, settings, notifications, language (can change language), and location.
Show Listing: From here, the user can view the list of features shows, such as category, show name, language, ratings, offers, venue & location, along with the prices. This section allows users to search by entering keywords or filter by shows listing, by Price Range, Running & Upcoming, Format 2D, 3D, language, genre, venue, category, sub-category, and select time & time-slots.
Show Detail: Once the user has selected their desired movie, s/he can then view movie details, like Name & banner image, ratings, language, Star cast Name & image, Format 2D/3D, Duration, Date & time, and more. In your online ticket booking app development process we make sure to add accurate details for better results.
Book Show: Here, the user can easily book a ticket by tapping on the Book Ticket icon featured in the app. The user can view the show list, and show timings, and can then choose showtime under a particular cinema, can pick the seat quantity to be booked, choose a seat (by viewing it in the graphic seat map, if selecting a movie) and then book.
Booking Screen: Here the users can view the order summary, which may consist of: Show Name & Image, Date & Time, Venue Name, Ticket Price, Seat Number, Total Price, View & confirm Email ID/Phone Number. The booking confirmation is received on the user's phone number and email ID.
Rate: Users can give ratings to the show by selecting a movie/show from the list of ongoing shows. The show can be rated by giving stars (out of 5) or text comments.
Settings: This section will comprise of the following fields, like
My Account: It includes user profile (basic info like phone number, email ID, etc.) & Booking History (tickets booked in past).
Notification: Users receive notifications regarding booking confirmation, upcoming shows, offers, & scheduled shows. Our experts make it a point that the ticket booking app that we deliver notifies the user of every important aspect related to their schedule.
Wallet: If there is any cashback offered to the user, it is credited in their app wallet It may also comprise of points won by the users while booking shows.
Language: Our online ticket booking app development experts make sure they integrate multilingual functionalities from here, the user can pick the language in which they want to view the content in the app (if the app offers multi-language support).

Real-time Booking: This feature allows the users to book at a convenient time and receive instant confirmation of the booking.
Age Verification: As per the Terms & Conditions, often a certain age group of users, like below 18, are not allowed to watch certain shows & movies, hence it is vital to provide an age-verification document at the time of booking.
Multi-Payment Mode: This feature allows the app users to make easy payments within the app to purchase tickets for shows, movies, etc. For the same multiple payments, the model can be integrated such as Debit Cards/Credit Cards, PayPal, Braintree, Stripe, etc.
Ticket Category: From here, users can select the ticket category they want to book and make the booking accordingly.
Redeem Loyalty points: Here the app users can easily redeem loyalty points through a third-party system code.
Booking Confirmation: Users receive the booking confirmation through the ticket with a unique QR code that is sent to the user.
Download tickets in PDF: This feature allows users to download tickets in PDF, so that can save it for later use.
Print Ticket: Using this feature, users get the printed ticket of the show or movie.
Ticket Verification via QR Code: Upon arrival at the location at showtime or movie time, users need to show the QR code they received as a message on their phone number and email ID, so as to get their ticket verified.
Multilingual: This feature is again an important one in the ticket booking app development, as it allows users from all regions to easily use the pap by setting it in the language they are comfortable in.
Get new updates: Users constantly receive notifications regarding new updates in the app, so they can update it for a new feature.
When you are looking forward to develop a ticket booking platform like Ticketmaster these become an important element of your application. If you want to build an app that can earn better ROI then do not miss to list out these features to your mobile app developers for your product.
Features of Admin Panel:
The Admin panel is quite interesting and can easily be worked on. Our ticket booking app development experts have listed here the most prominent features that would make it easier for the admin to work on the ticketing app.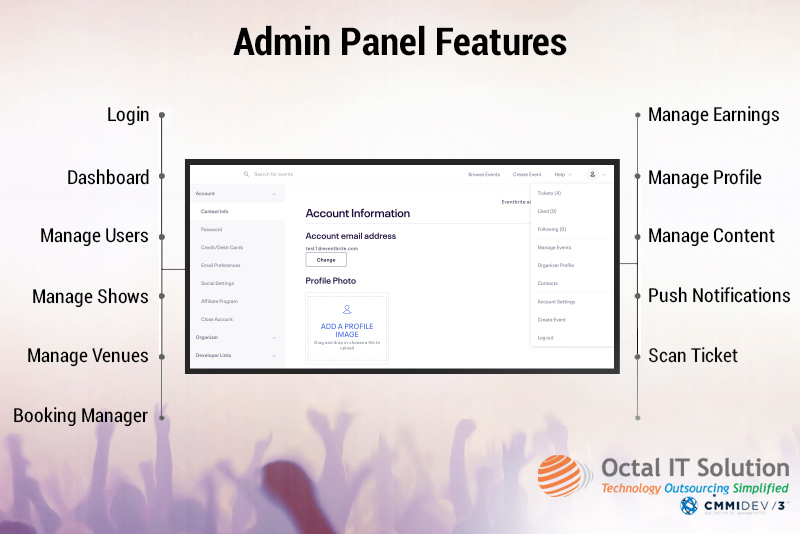 Login: Here, the admin can log in to the app using the login credentials.
Dashboard: Admin can find all that is going on in the online movie ticket booking app here on this dashboard. It gives overall stats of business performance, like the total number of listed cinemas, total listed movies, total booking, and total earnings, which are further filtered on the basis of data & date range.
Manage Users: Here admin manages the app users, like the user list, can be viewed and is filtered by "Register on data & date range". Admin may view the active users, add new users or may edit/remove a user.
Manage Shows: In this section, Admin can view all the listed shows, and filter by show category (events, play, sports, movies), Ongoing & upcoming shows, language, location, genre, format (2D/3D), and time. Admin may choose to add/edit/delete a show or can activate or deactivate a show.
Manage Venues: In the movie ticket booking app here, Admin can manage the venues, like the listed cinemas, and filter them by venue/cinema/ground, location, date, show-time, and price range. The admin may choose to add a cinema or edit/delete one. Besides, the admin may add a new venue.
Booking Manager: From here, Admin can manage all the listed bookings, like view bookings, search keywords, and filter by the venue, location, date/date range, and category (Event, Play, Sport/Movie). When thinking how to make a ticket booking website, the booking manager is the most important factor to consider.
Manage Earnings: Admin is responsible to manage earnings and at this section, he can view entire earnings, and can also filter by date/date range, venue, show, user, or location. Actual earnings (from commission-only) can also be viewed here, along with the amount required to pay to the venue, view paid & unpaid amount report. Admin is also responsible to view/edit/add a percentage of commission from the completed venues, and will then transfer the amount to the venues.
Manage Profile: Admin is responsible to manage user profiles, and he may choose to add/delete/edit users. Manage Offers: From here Admin manages the offers that are sent to the user like promo codes (applied/redeemed/new). Admin sends the offer detail to the user, like a promo code, coupons, etc. on the user email ID & phone number.
Manage Content: Admin is responsible to manage the app content, both in the form of text as well as Image form. When developing an on-demand ticketing platform like BookMyShow it is important that the admin gets enough access to add content and images.
Push Notifications: Admin sends the push notifications to the users to inform about new offers, updates, show timings, etc.
Scan Ticket: The ticket checker will scan the QR code of the ticket that interprets the ticket to find whether it is valid and genuine or not. The verification is done on the Admin's end.
Advanced Features:
The cost of on-demand ticketing app development majorly depends on the advanced features that are integrated with mobile app development. Some of the features that would make your application stand out from the rest are shared by the experts here.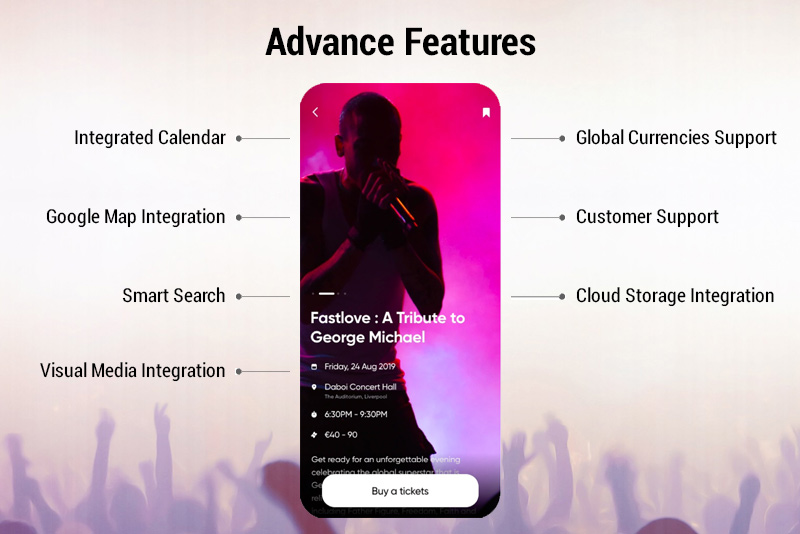 Integrated Calendar: This feature is quite useful to the users. They can easily manage calendars using the customization facility, which helps users to keep track of their schedules and stay prepared in advance.
Google Map Integration: The mapping facility serves as a route between source & destination and is considered extremely useful. Using this feature, users can find where exactly the location is and can also find the most optimized routes. Here users are allowed to add their favorite places, hence saving the hassle of starting it all over time and again.
Smart Search: This feature adds to the comfort of the app user like it offers suggestions based on the user's search history & nearby available options. Also as multiple options like price & others are included in the search algorithm, it proves to be a useful tool for users.
Visual Media Integration: In order to make the app more appealing to app users, visual media can be integrated. Visual data is a great way to enchant the users and increase their engagement with the app. Like, you may choose to offer appealing photos & videos related to product details, venue, staff, the ambiance of the location, etc.
Global Currencies Support: In the times of today, where the market is constantly thriving, it is nearly impossible for the apps to gain overwhelming success by just targeting a local audience or local market. It is important to target a worldwide audience and increase the app's reach globally. For this, it is vital that along with multi-language support & multiple payment options, you also offer major currency support worldwide.
Customer Support: Good customer support is the necessity of any customer today and hence, in the case of ticket booking mobile apps as well, you must develop a good phone & online support system in order to please your app users.
Cloud Storage Integration: For a ticket booking app, which holds an immense amount of data, it is vital to integrate cloud-storage technology in order to store user data and ensure its safety and privacy.
These are the most significant features that experts associated with our ticket booking apps development company suggest to include in your product to make it stand shoulder to shoulder with your competition. Being new in the domain, you need to include features that none in the market offers.

Technology Stack for Online Mobile Ticket Booking App
How to make a ticket booking website that reflects well? With a simple technology stack, it becomes quite easier for the hybrid app development team to bring on the stage interesting and innovative solutions that are supported with cutting-edge technology.
UI: ReactJS &BootStrapJS
Server: Java, Spring Boot, Swagger, Hibernate
Security: Spring Security
Database: MySQL
Server: Tomcat
Caching: In memory cache Hazelcast.
Notifications: RabbitMQ. A Distributed message queue for push notifications.
Payment API: Popular ones are Paypal, Stripe, Square
Deployment: Docker & Ansible
Code repository: Git
Logging: Log4J
Log Management: Logstash, ELK Stack
Load balancer: Nginx
Revenue Model :
The revenue & business model of a Ticket Booking mobile app is pretty simple. It helps the app users to easily book movie & show tickets online, and for each ticket booking, a sum of money is charged. These events ticket booking app development platforms also share details regarding movie cast, storyline, reviews & other important details, whereas some also sell sports, events, theaters & other tickets in order to scale up the profits.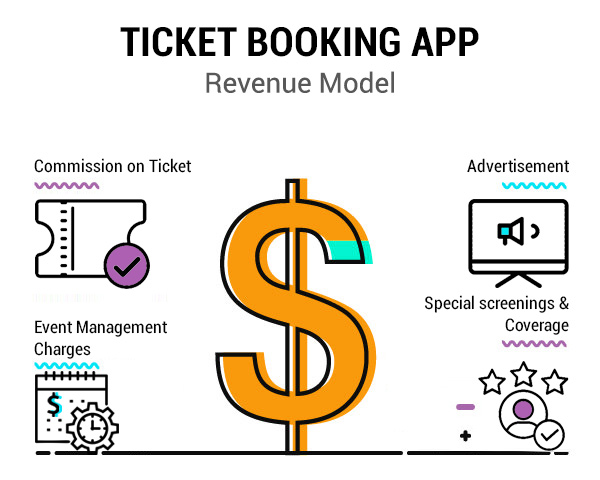 Other than this, some ticket booking platforms also make money from Special screenings, Feature coverage on the homepage, and Website advertisements.
Which Are the Most Prominent Ticket Booking Apps Out There in the Market?
When thinking of how to create an online ticket booking website in the market that allows users to easily book tickets for shows, movies, events, sports, etc. Here, we have mentioned some of the most popular ticket booking platforms:
Top Ticket Booking Mobile Apps
Before you reach the experts with how to make an online ticket booking website it is important that you read your competition and see what has helped them reach the top. Take lessons from their applications and see what aspects can work well for you.
StubHub
StubHub is an online ticket exchange company owned by eBay, which provides services for buyers and sellers of tickets for sports, concerts, theater, and other live entertainment events.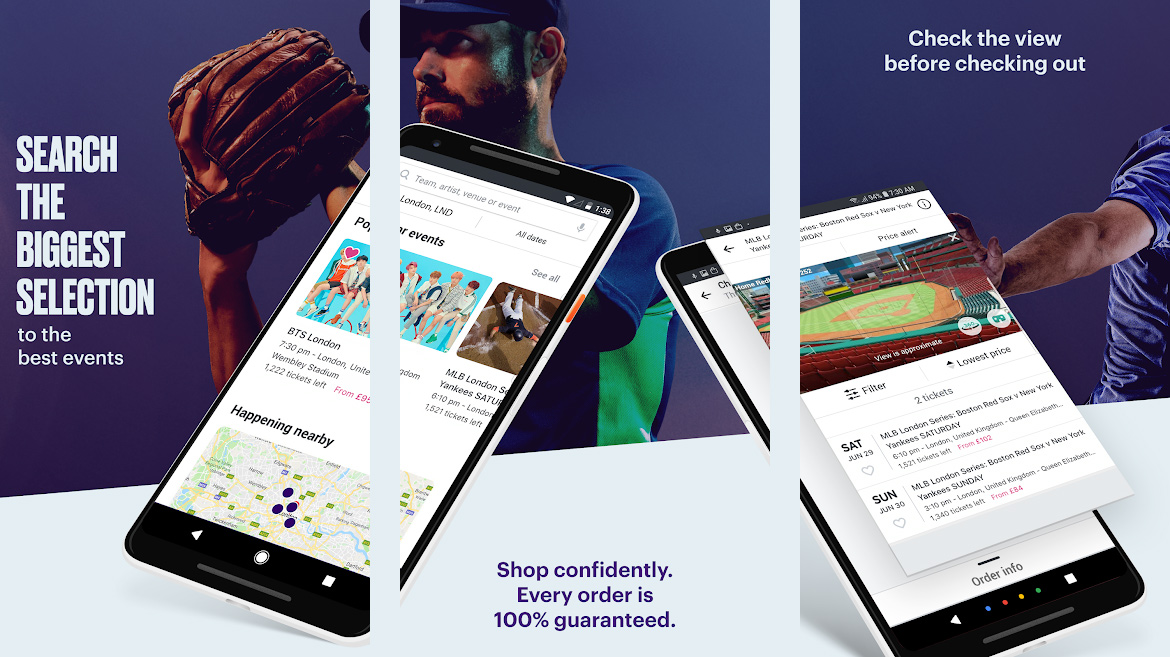 SeatGeek
SeatGeek (est. in 2009) is an event ticket marketplace and aggregator of sports, concert, and theater tickets. Does SeatGeek allow both the movie ticket booking app and desktop users to browse events, view interactive color-coded seat maps, complete purchases, and receive electronic or print tickets.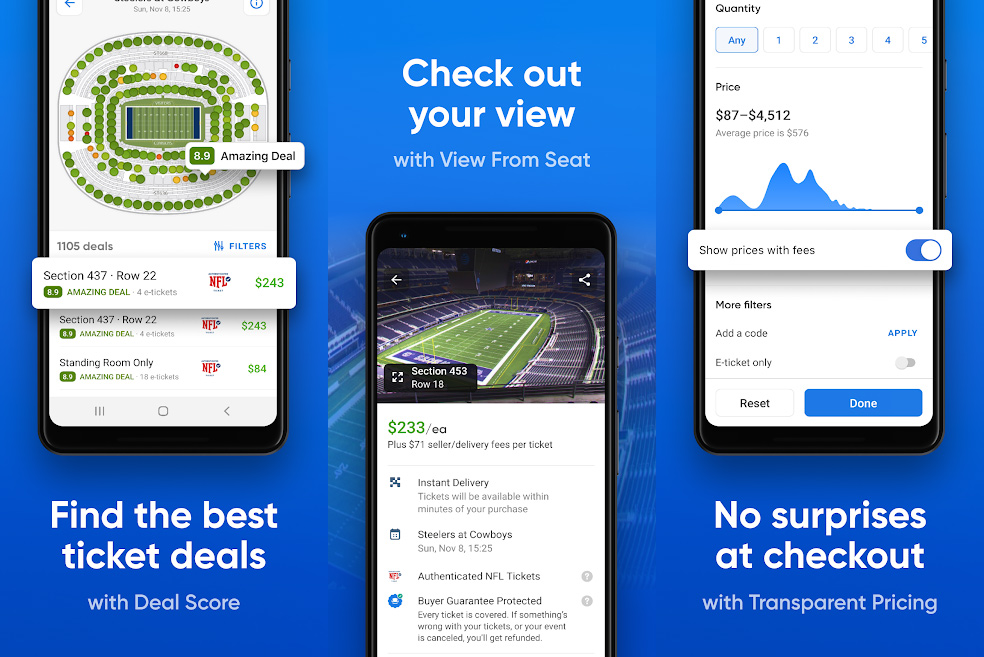 Ticketmaster
Ticketmaster Entertainment, Inc. is an American ticket sales and distribution company. As a primary ticket outlet, most US ticket sales for US venues are fulfilled at Ticketmaster's two main fulfillment centers. Ticketmaster acts as an agent, selling the tickets that the clients make available to them.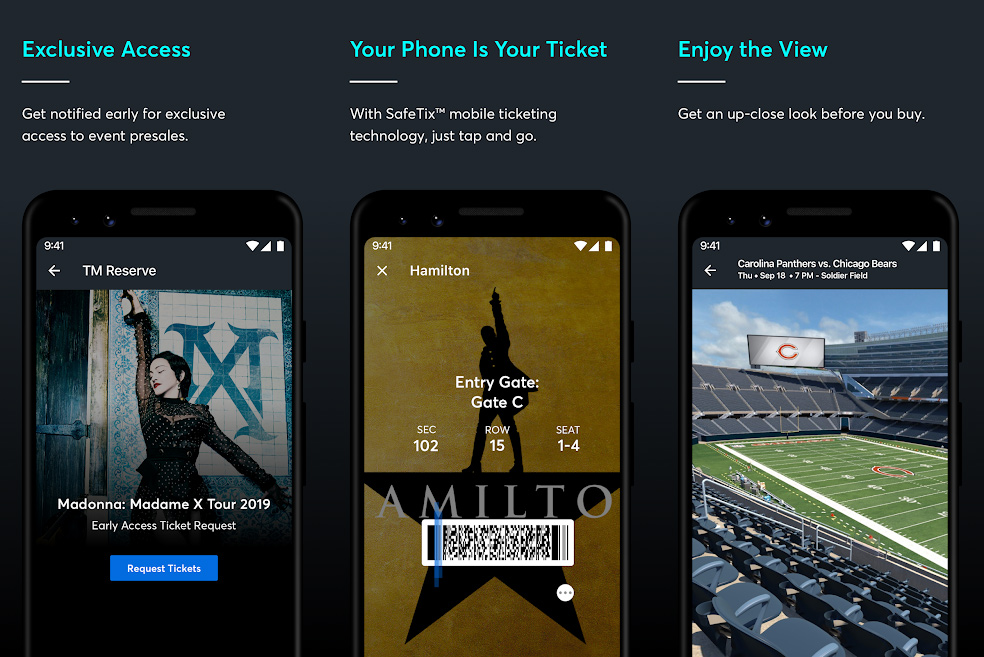 Ticketek
Ticketek is a one-stop portal for your tickets, your way to movies, concerts, plays, and sporting events. The app offers the audience a facility for buying tickets online along with a host of offers & features that would keep them entertained. They encourage you to download the app and have fun while you explore. You can buy all your tickets and satisfy your appetite for entertainment with this app.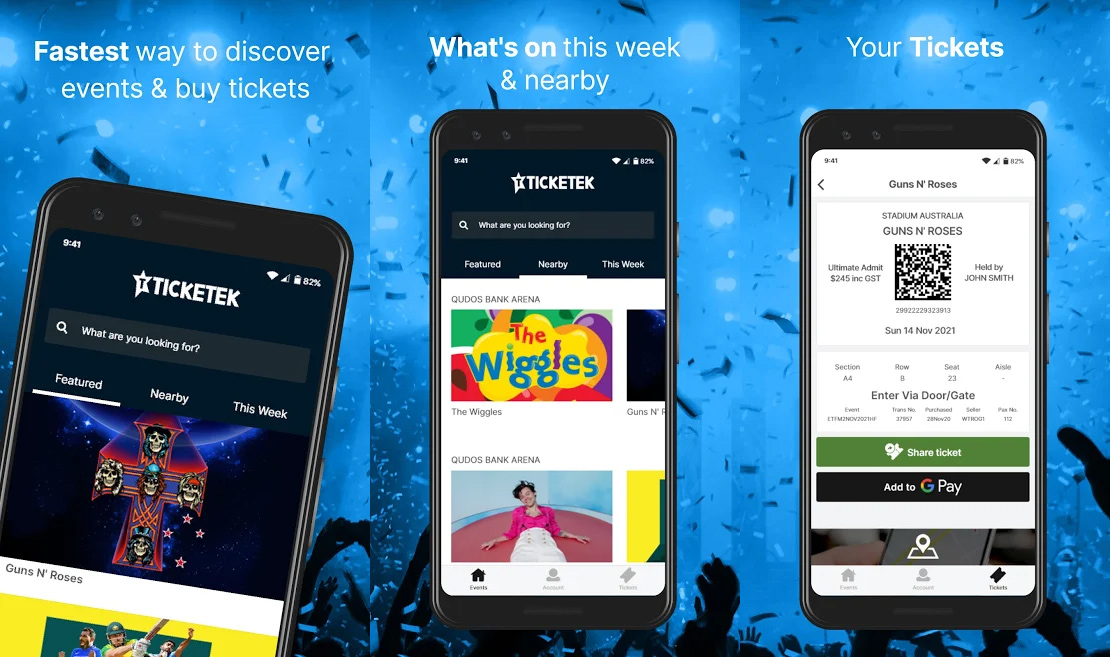 Ticketek has tied up with leading multiplexes along with several single-screen theatres to provide customers the convenience of ticketing almost anywhere. Events ticket booking mobile app development not only caters to film fans but also intends to mobilize the passion for music and sports fans to buy tickets to concerts and events.
Vivid Seats
Are you someone who is a theatre person and wants to enjoy their shows from a certain seat. Well, with Vivid seats you can check the latest events in your city and pre book your seats without any hassle. With some discount offers and reward points to offer the application is becoming popular among the millennial.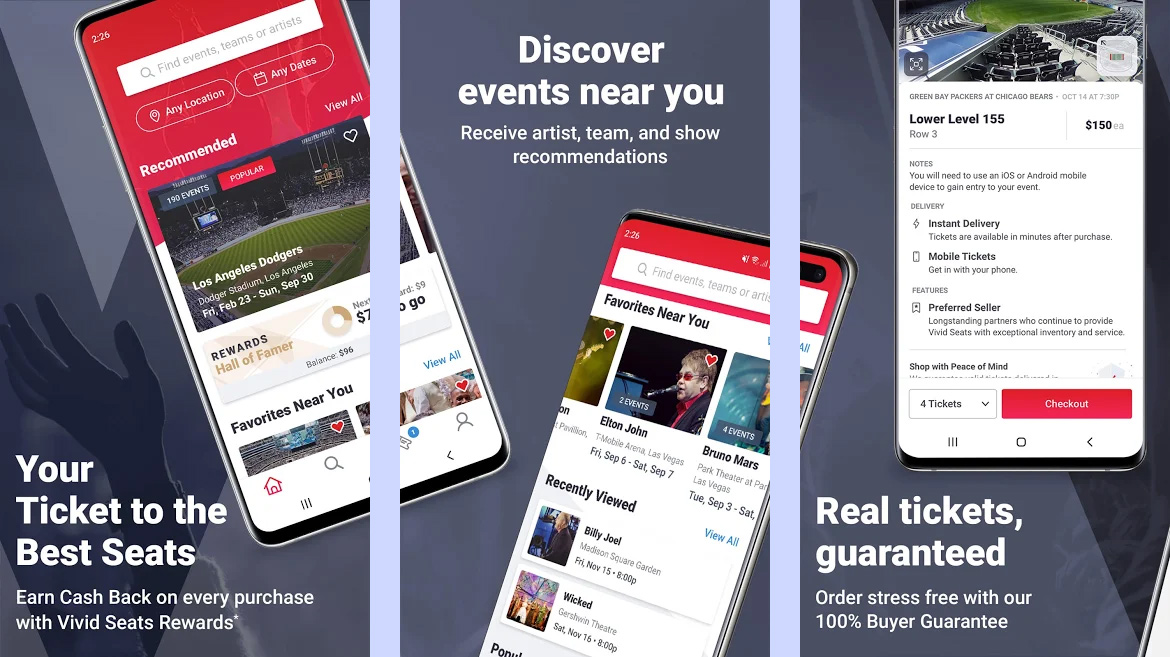 When talking about these popular mobile applications it becomes quite easier for you to understand the features and functionalities that you want to include in your product. Analyze your competition and find the loopholes in their work that you can cover in your work.
Reach to our online ticket booking application company that can help you stand out of the competition and win you loyal customer base.
Required Team Structure for Ticket Booking Mobile App Development
The procedure of Ticket Booking mobile app development is pretty extensive hence having your own mobile app development team in place is important. Get the services of the best app development team to create an app that is rich in features and able to meet the desired expectations.

Your app development team must consist of:
Project Manager:
Back-end App Developer
UX/UI Designers, Graphic Designer
QA Testers:
When you reach us to get your online movie ticket booking app developed, we would share with you our team structure and the points of contact easily. With agile methodology, it becomes quite easier for you to track the app development and see how it proceeds.
Next, you need to find the estimated cost to create such an app.
How Much Does It Cost to Develop a Ticket Booking Mobile App?
The cost to develop a ticket booking mobile app can be determined easily by considering various factors. On the basis of the number of hours invested, features, and technologies involved, you can determine a rough estimate of ticket booking app development cost.

When you reach to us for mobile app development the cost depends on various aspects, such as:
Basic & Advance Features
Chosen Platform (iOS, Android, API, Hosting, Languages)
The region of the app development center
App complexity & number of hours invested
Now, the cost to create such an app can be as high as the number of integrated technologies. However, an app with reasonable features is certain to cost somewhere around $10,000-$30,000 for single platforms. In case, you choose to develop for both platforms, then it may go up to $45,000.
Conclusion
When we talk about ticket booking mobile applications it is significant to include features and functions that would make your product better than the existing applications. If you want to enter the market with an application that is easier to understand and communicate with the audience then, hire the right hybrid app development team that can let you have an edge over your competition.
Can't decide the skills required to develop a ticket mobile application? A click and you can have a feature ladened interesting solution that works exactly like your vision.